Last week, we introduced you to the all-new Hennessey Mammoth 1000 SUV – an exclusive and luxurious seven-seater unveiled for the 2021 model year. The Texas-based company proved that things really are bigger in the Lone Star state. Hennessey Performance did more than just throw a supercharger on the RAM 1500 TRX for this build, though. It fully transformed the RAM pickup truck into a true SUV capable of producing 1,000-plus horsepower. The bespoke five-door SUV conversion is quite impressive at a mere standstill from an aesthetic perspective, but the performance specs are even more profound. For those who aren't looking for an SUV variant, HPE does have a regular pick-up truck version of this Mammoth beast.
Earlier this year, Hennessey first revealed its Mammoth 1000 Supercharged RAM TRX pick-up truck. While enthusiasts everywhere exclaimed their "oohs and aahs" at the Mammoth 1000 (both the pick-up and SUV), many were curious to know just how much power the Hennessey vehicles could produce. Well, the wait is over and we have some answers for you as the hypercar manufacturer just launched its dyno figures in a short video clip (see below). But first, let's take a quick look at what the base RAM 1500 TRX numbers are so we can better understand just how much more power you will be getting with the Mammoth 1000 package.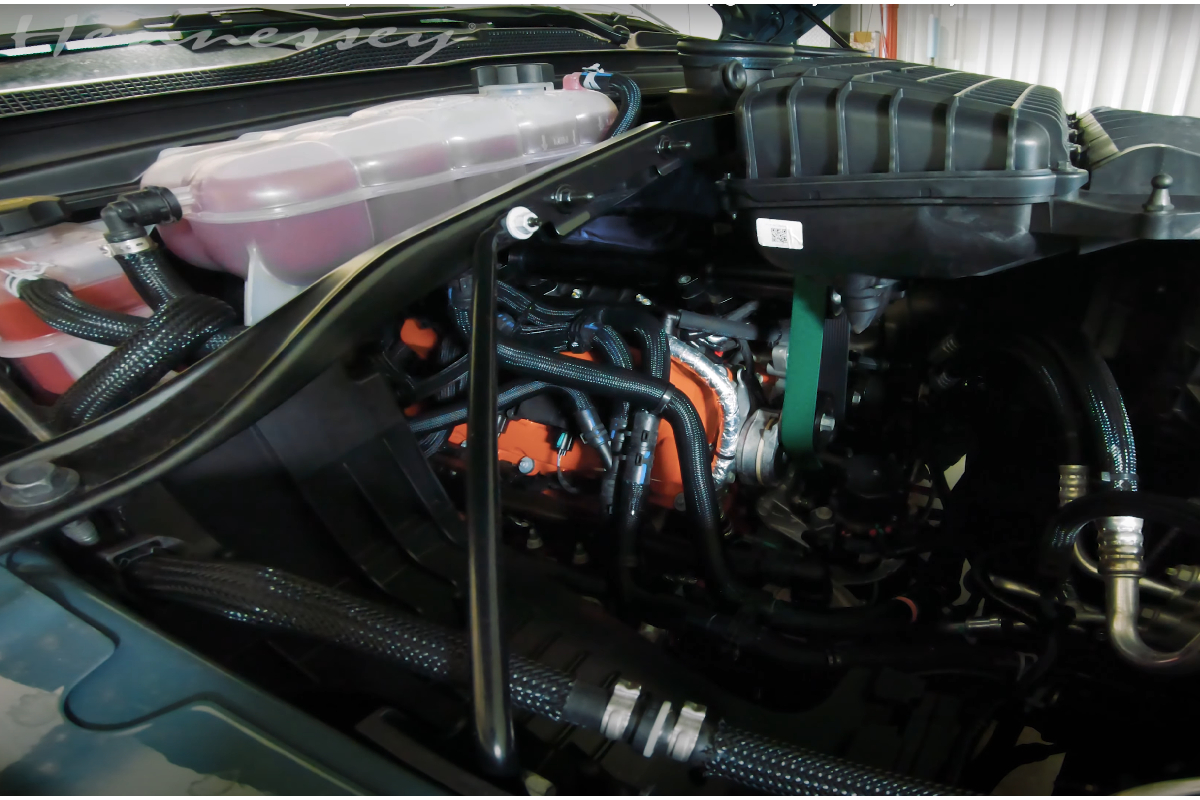 The RAM 1500 TRX Baseline Dyno Numbers
Right from the factory, the RAM 1500 TRX comes equipped with a 6.2-liter supercharged Hellcat V8 that is rated at 702 horsepower and 650 pound-feet of torque. Having that kind of power in a pick-up truck sounds absolutely ridiculous but, evidently, there are people out there who want to take those numbers even further. And that is where Hennessey Performance Engineering comes in. During baseline testing, a stock RAM 1500 TRX made 583 rear-wheel horsepower and 570 rear wheel pound-feet of torque on HPE's Dynojet chassis dyno. Now let's take it up a few notches and see just how much power one can get from Hennessey's glorious Mammoth 1000 build.
The Mammoth 1000 Dyno Numbers
Hennessey Performance Engineering upgraded the TRX's supercharger system, pulley upgrades, high-flow exhaust components, and new HPE engine calibration. The rebuilt engine produces 1,012 horsepower and 969 pound-feet of torque, that's an increase of 310 and 319 respectively. While those are both beastly figures, how much of that power actually makes it to the rear wheels after drivetrain loss is taken into account. Hennessey put the monstrous Mammoth 1000 on the dyno to find out. Spoiler alert, it does not disappoint.
After testing, the Mammoth 1000 laid down 761 rear-wheel horsepower (176 RWHP over stock) and 701 rear-wheel pound-feet of torque (140 RWTQ over stock) on the Dynojet chassis dyno. That is still quite a lot more power than one can, arguably, need in a pick-up truck. Even so, it's an impressive build all around and will certainly sell to adrenaline junkies/truck aficionados so who can afford it. Be sure to stay tuned for further testing of this incredible supercharged 6.2L Hellcat-powered truck!
"The RAM 1500 TRX is exciting in stock configuration, but I'm seeking extraordinary," said Founder and CEO, John Hennessey. "The MAMMOTH 1000 upgrades completely transform this impressive pickup into something astonishingly powerful, visually exciting, and indisputably unique."
The Hennessey Mammoth 1000 truck will be limited to just 200 units for the 2021 model year. Each vehicle will be fitted with serial numbered plaques. Orders can be placed through authorized FCA/RAM retailers or Hennessey Performance Engineering directly by calling 979.885.1300 or visiting www.HennesseyPerformance.com. Deliveries begin in Q2 2021.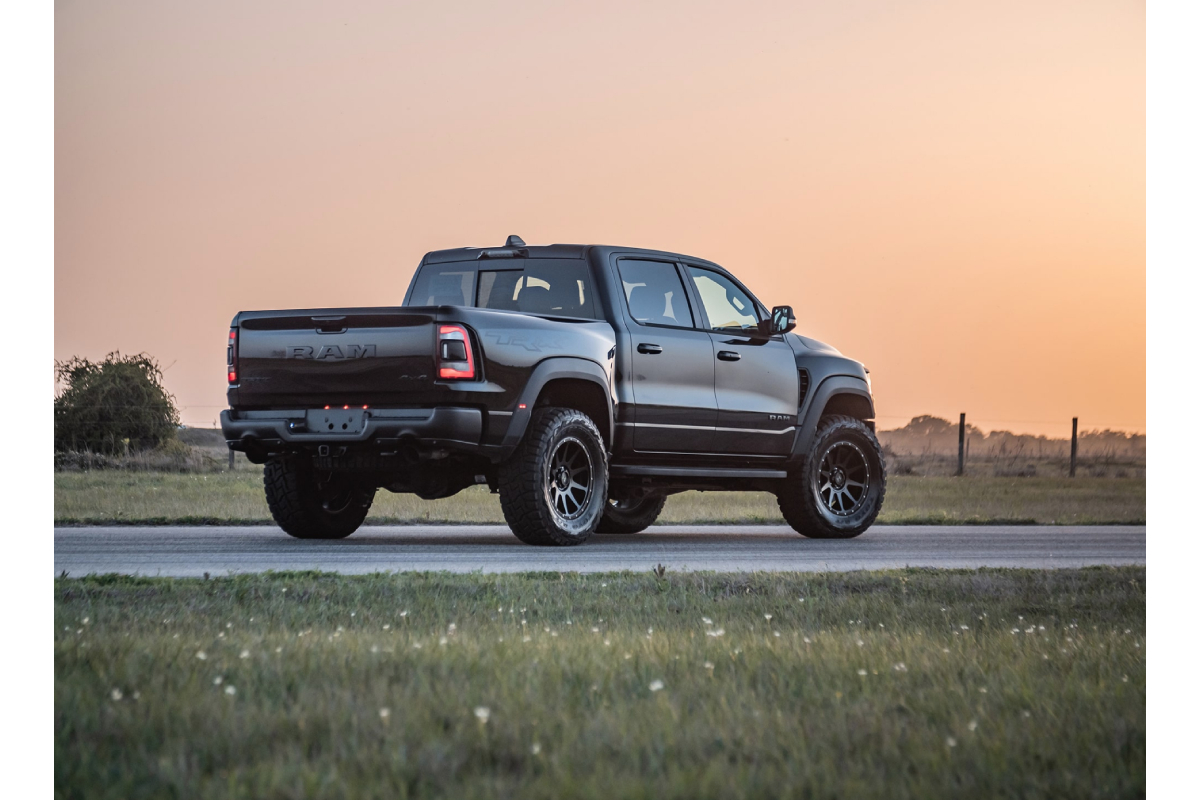 • 1,012 bhp
• 969 lb-ft torque
MAMMOTH 1000 Upgrades Include:
• Upgraded High-Flow Supercharger System
• Supercharger Front Drive Pulley Upgrade
• Supercharger Rear Drive Pulley Upgrade
• Crank Damper Pin Assembly Upgrade
• Upgraded Thermostat
• Heavy Duty Supercharger Belt
• Upgraded Spark Plugs
• High-Flow Fuel Injectors
• High-Flow Filtration System
• Crank Case Ventilation System
• HPE ECM Calibration Upgrade
• HPE TCM Calibration Upgrade
• All Necessary Gaskets & Fluids
• Professional Installation
• Chassis Dyno Testing
• Road Testing (up to 200 miles)
• Hennessey Embroidered Headrests
• Hennessey Exterior Badge
• MAMMOTH 1000 Exterior Badges
• Serial Number Plaques
• Limited Edition 1 of 200
• 2-Year / 24,000-Mile Warranty
Add-On Options
Mammoth Off-Road Kit (Optional):
• MAMMOTH Custom Front Bumper
• LED Lights in Front Bumper
• MAMMOTH Rear Bumper
• Retractable Electronic Bed Cover
• Upgraded Electronic Fold-Out Steps
• 20-Inch Hennessey 10-Spoke Wheels
• 35-Inch Off-Road Tires