You probably recall our last video on the Python Green Porsche 992 GT3, which outlined buying, building, and taking delivery of the car. Now, it's finally time to do some mods to it. First up is an exhaust system and we connected with the experts at Frequency Intelligent (FI) Exhaust to get one of their latest systems for the 992 GT3. Long story short, the FI Exhaust gives this Porsche that epic, highly coveted F1 sound that it honestly deserves.
The FI Valvetronic Exhaust System is a work of art with its high-quality T304 stainless steel construction and gorgeous carbon fiber tips. This system is a direct bolt-on replacement for the stock exhaust, designed with Valvetronic technology to control overall airflow and volume, as well as enhance the performance of the 992 GT3. On average, you can expect to see a horsepower increase of about 5 to 10 percent after installation. Not only that, though, as this system also produces a tantalizing soundtrack that will turn heads for blocks.
In the video below, we give you a closer look at the FI Exhaust for the Porsche 992 GT3 and all of its components. We then get the system installed and take it out on the road to really unleash its full potential and show you what it's made of. This Python Green GT3 definitely was loud from the factory (color-wise, especially), but it's now a complete force of nature. Is this the best-sounding exhaust for the 992 GT3? Let us know your thoughts in the comment section below.
The FI Valvetronic Exhaust System for the Porsche 992 GT3 is a remarkable and super versatile system. While the GT3 has that quintessential Boxer engine tone from its naturally aspirated 4.0-liter flat-six engine, it just doesn't sound that amazing. There's a lot to be desired and that's where the professionals at FI Exhaust came in to make the 500-horsepower Porsche sound like it should. FI nails it when it comes to creating an exhaust system that checks all of the boxes. Their beautiful stainless steel Valvetronic system bolts right onto the factory headers with the factory cats and works with the stock valve system so you can change between the mods and really take it up a few levels, sound-wise.
When the valves are closed, exhaust gases are routed through the muffler resulting in a low-profile and comfortable drive. However, when the valves are fully open, an intense and sporty soundtrack is produced to really let the car roar. Switching between street and race sound profiles can be done using the factory exhaust/sport button or drive mode, or the optional FI Exhaust remote control and mobile app. The unique sound and performance of this system are achieved through individually designed muffler internals that have been fabricated for each specific car model (in this case, the Porsche 992 GT3), to deliver the ultimate driving experience.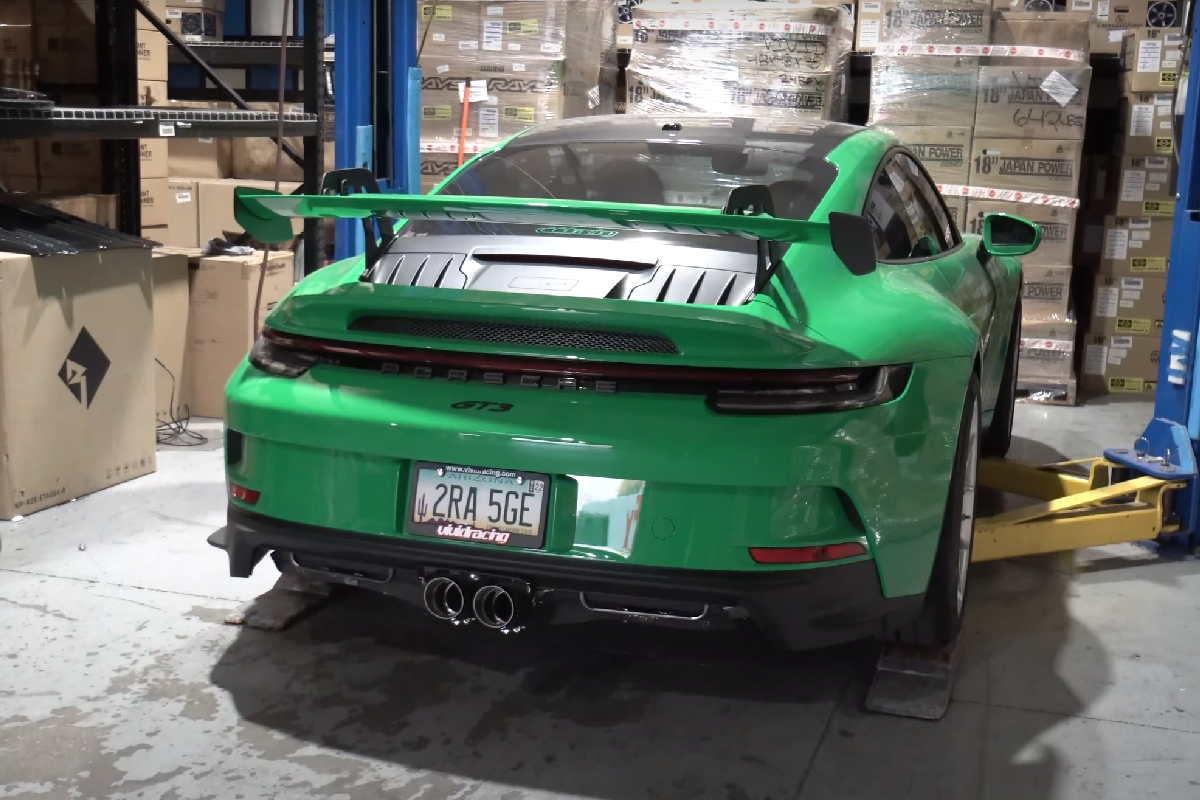 FI Exhaust Valvetronic Exhaust System
Material: 304 Stainless Steel
Pipe: 70mm
Fits 2021+ Porsche 992 GT3
Works with factory Porsche electronic valves
Exhaust system is available for both OPF/Non-OPF vehicles.

If you have any questions regarding Porsche parts, please contact our expert sales team by phone at 1-480-966-3040 or via email at sales@vividracing.com.