Tubi Style is the leader in motorsport and aftermarket exhaust systems, located strategically in Maranello, Italy – just around the corner from Ferrari's prestigious plant. Tubi products have won nearly every GT race around the world, and the team offers their expertise through aftermarket products for Ferrari, Lamborghini, and Porsche. That being said, we knew that installing a Tubi Style exhaust system on our Porsche GT3 RS would take it to the ultimate level in terms of power, performance, and soundtrack. Boy, were we right and that's an understatement. Not only does the Tubi Style exhaust look amazing with its intricate styling and triple-tip design, but it packs a punch and really gives off an exotic note. Quite frankly, it's a masterpiece and music to your ears.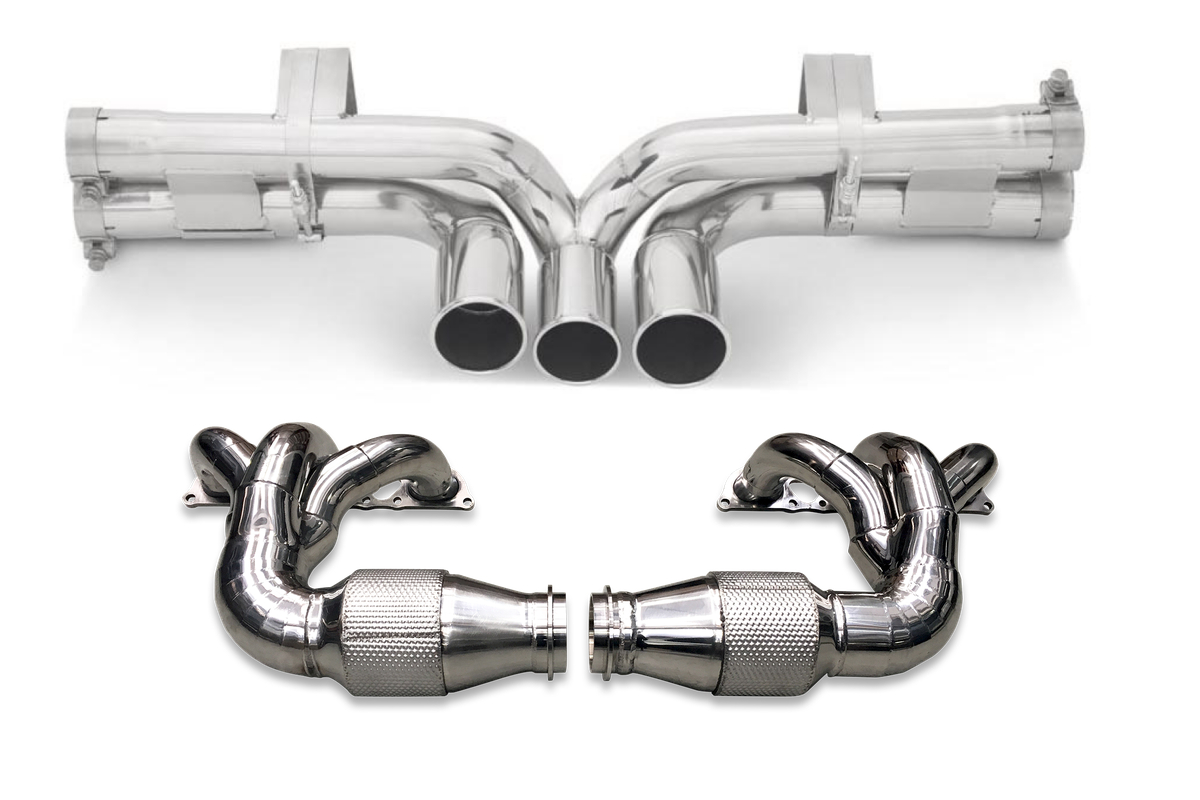 First things first, though, we give you a close-up look at the parts of the Tubi Style exhaust. We then learn our baseline dyno numbers to get a feel for where we might be headed with the new exhaust. Upon installing the upgraded system on our GT3 RS, we throw the car back on the dyno to analyze the newfound power figures. Keeping the fact that this Porsche is running 91 Octane and it is about 110º here in Arizona in mind, the baseline figures showed peak horsepower at 365 horsepower and peak torque at 270 pound-feet. With the Tubi Style exhaust, this Porsche GT3 RS achieved huge power gains of 30-40 horsepower and pound-feet of torque. Last, but not least, we give this bad boy a test drive to really get a feel for the Tubi Style exhaust.
There's only one way to truly experience what makes Tubi Style exhaust systems so special; you just have to hear it. Check it out below and see it all for yourself! Is this the best-sounding Porsche ever? You'll have to let us know your thoughts in the comment section below.
Featured Products:
Tubi Style Headers with High-Flow Cats
Tubi Style Stainless Steel Race Exhaust w/ Triple End Tips
Sound: Tubi Sound
Piping Main Dimension: D65
End Tips – Position and Number: 2+1 Centrally
End Tips Design: Rolled Lip
End Tips Dimensions: 1XD65 & 2XD70
Material: Stainless Steel
Finishing: Sandblasted
Mounting Instructions: Special Mounting Instructions
Notes: The product can be fitted on 991 R, GT3, GT3 RS models, both mk1 and mk2. Not for the 997.
If you have any questions about products for your Porsche GT3RS, please contact the Vivid Racing team. You can reach us by phone at 1-480-966-3040 or via email at sales@vividracing.com.