The Volkswagen Golf GTI Mk7 is quick, sporty, and an overall joy to drive with plenty of aftermarket options to upgrade it even further. It is powered by a turbocharged 2.0-liter four-cylinder engine that produces 210 horsepower and 258 pound-feet of torque. The optional Performance package increases the output to 220 horsepower. The six-speed manual transmission comes standard and a six-speed DSG automatic transmission is optional. The front-wheel-drive-only car is versatile and roomy with good fuel economy. The sporty handling and quick acceleration make the Volkswagen Golf GTI über fun to drive around turns.
With that said, one of the first modifications you will want to do to further the GTI's driving excitement is upgrade to a performance catback exhaust. Vivid Racing has engineered a quality exhaust system with a beautiful soundtrack and impressive performance benefits to take your Golf GTI Mk7 to the next level. The VR Performance Stainless Steel Exhaust System is a simple bolt-on package that offers a stylish alternative to enhance the Volkswagen's appearance. It bolts directly onto your car's factory hangers and fits to the stock catalytic converter. This catback system was engineered to deliver a race-inspired sound with horsepower and torque gains thanks to improved airflow for maximum performance.
As you can see in the photos below, this system was designed to replace the factory exhaust from the stock downpipe back. The lighter muffler delete exhaust now weighs only 30 pounds, which saves 14 pounds over the stock 44-pound exhaust. The exhaust system features 2.5-inch to 3-inch 304 stainless steel piping with 2 resonator mufflers that Y to a muffler delete rear section to bring out the perfect sound of the turbocharged 2.0-liter engine. The dual exhaust ends with 4-inch sleek matte black tips for a sporty rear appearance that means business.
Features:
Incredible Exhaust Tone
Improved Horsepower and Torque
Simple Bolt-on Installation
No Cutting or Welding Required
2.5-inch to 3-inch Piping
Saves -14 lbs over Stock Exhaust Weight
Made using high-quality T304 stainless steel
Matte Black 4-inch Tips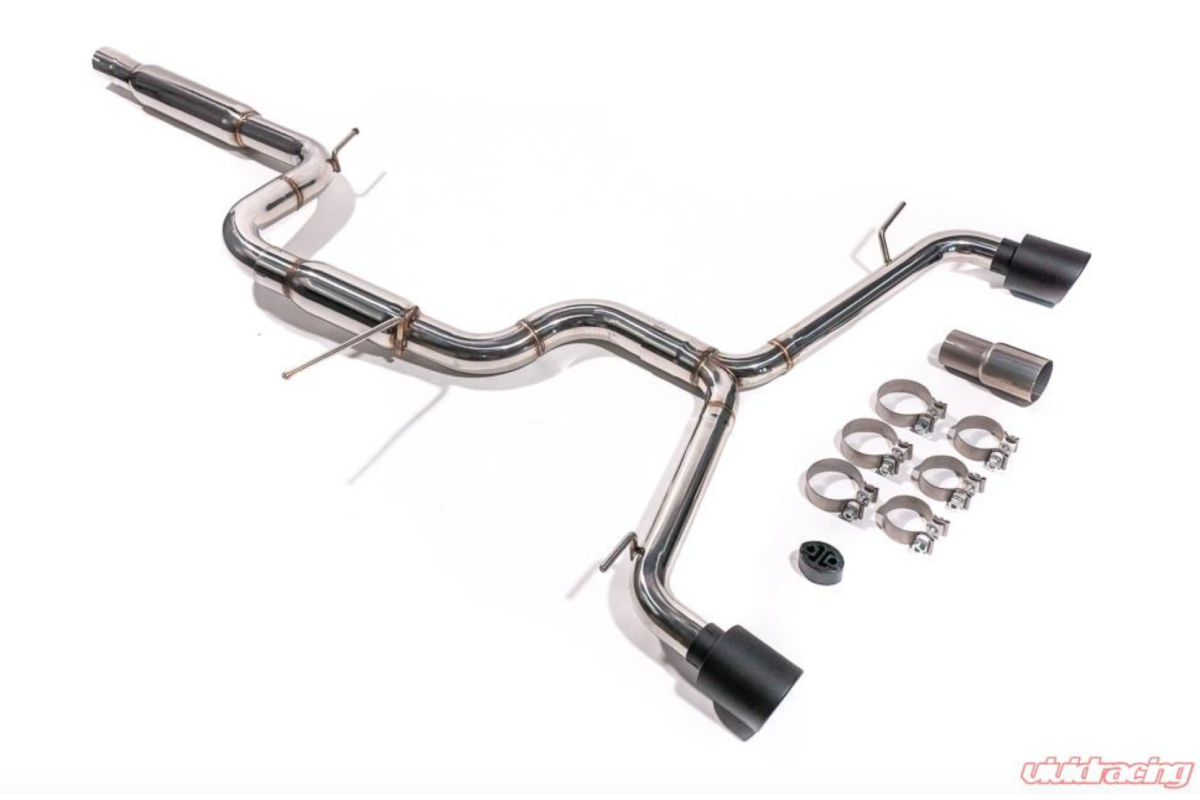 Fitment:
2016-2017 Volkswagen Golf GTI Mk7 2.0T
Note:
Check out the sound clip below to see just how the VR Performance Catback Exhaust will sound on your Volkswagen Golf GTI Mk7.
If you have any questions, please do not hesitate to contact us. You can reach the Vivid Racing team by phone at 1-480-966-3040 or via email at sales@vividracing.com