Rocker panels are something that you step over every day, but do you actually know what they are for? Here, we will discuss their importance, the types of rocker panels, and how to maintain them properly and know when they should be replaced.
What Are Rocker Panels?
Rocker panels, also called rockers, are stamped pieces of metal that form an integral part of your vehicle's body. They are located along the sides of the vehicle between the front and rear wheel well openings, just under the doors. Their primary role is to strengthen your vehicle's structure and prevent the middle portion from sagging. Other than the roof supports, rocker panels are the only part of the body that connects the front and back of the car. These panels help to form the overall structural rigidity of a vehicle, which is a crucial factor in the safety of you and your passengers.
On unibody vehicles where the body and frame are one, rocker panels provide structural reinforcement to keep the bottom from sagging in the middle. On modern cars and trucks that feature front and rear crumple zones, rocker panels are essential in creating a cabin area that does not deform in the case of a collision the same way hood and truck sections are designed to. And newer trucks with separate frames have started incorporating rocker panels and other body components to boost structural rigidity and create torsional stiffness, which is super important for off-roading. Since most off-road trucks have high ground clearance, rocker panels are also double as a stepping platform for ease of ingress and egress.
It is easy to see how much we take our machines for granted because many don't pay any mind to the rocker panels regardless of how many times their feet pass over them. These humble yet significant pieces are, unfortunately, placed so close to the ground that they frequently get rusty and dirty and may need to be replaced. The cost of repairing or replacing rocker panels depends on how serious the damage to your current one is or which type of rocker panel you choose – as there are many aftermarket options.
Types of Rocker Panels
There are two different types of replacement rocker panels: welded and slip-on. Here are the pros and cons of each type so you can determine which one is better for you and your ride.
Welded Rocker Panels
As the name suggests, welded rocker panel needs to be welded onto your vehicle's body. This is a top choice for those whose rockers are severely damaged by impact or corrosion and aren't in their original form. At that point, it is better to chop off the whole panel and replace them with full rockers. It is recommended that you remove the doors and fenders before installation to avoid damaging them during the process. This will also help to fit the panels correctly below your doors. In most cases, you will still need to do weld clean-up and get the panels ready for paint after installing them. An even application of heat is needed for a uniform weld seam that will fasten the panel without weakening the metal by making it too thin. It's important that you avoid making long welding beads as this could warp the thin metal. If you are not an experienced DIY-er, hiring a professional welder to do the job for you is highly recommended.
The least expensive rocker panels are generally the slip-on variety, which is available for a wide range of makes and models. Automotive adhesives or fasteners are normally used to attach the slip-on rockers to your vehicle. Since these go on top of the existing rocker panel, in most cases, they are designed to follow the contours of the original part but are slightly oversized. Slip-on panels can either be installed in front of or in place of the older, rusted panels; though the rule of thumb is that it is best to remove the worst parts of the older panel before installing the new replacement. While installing this kind is easier than the welded type, it will still require some work as you need to clear away traces of rust and drill holes for the rivets. Under rough driving conditions, the screws or rivets may come loose making this type of rocker panel disadvantageous to more spirited adventures.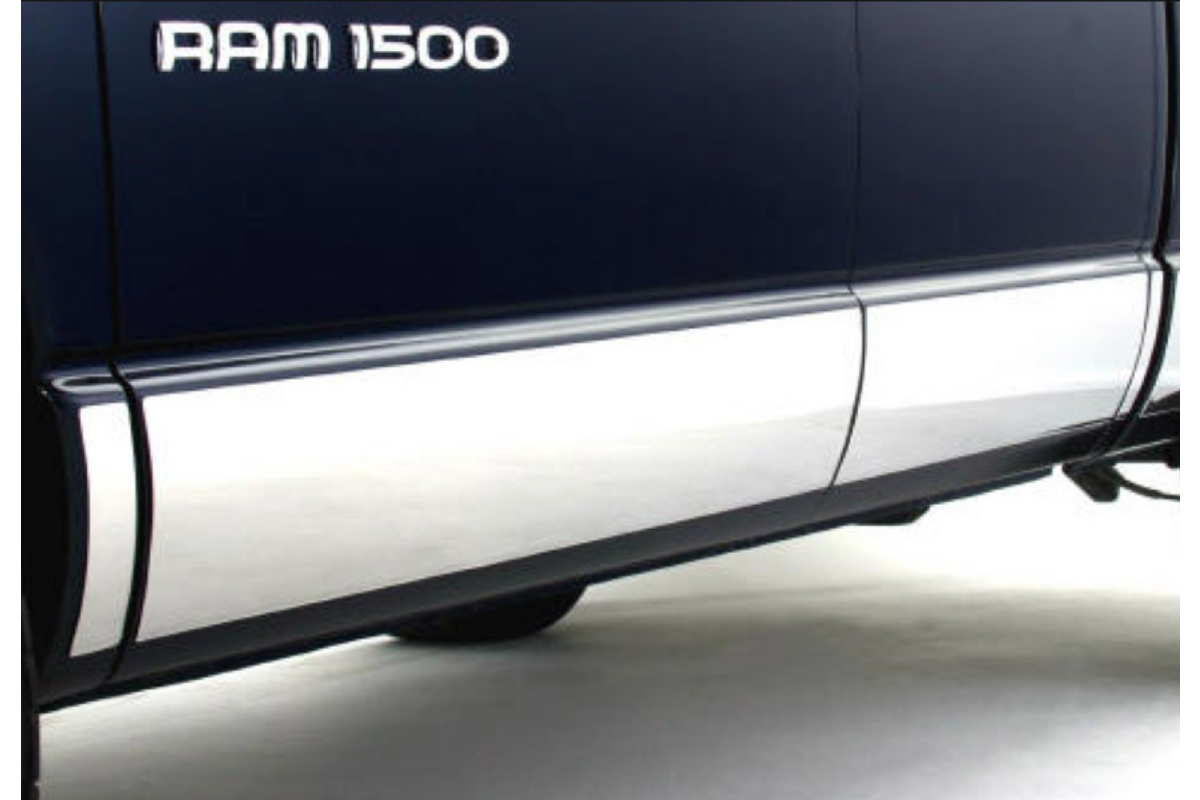 Rust and Rocker Panels
Rocker panels are at the top of the list when it comes to auto body parts that are prone to rust. This is especially true because of where they are located on the vehicle. Panels located on the lower portion of your vehicle take the most beating from debris, which off-roaders can certainly relate to. Off-road enthusiasts know just how grueling trails can be and the dirt and grime their rigs go through during those adventures. Rocks can shift unexpectedly, bodies of water can hide deep holes, and difficult ruts can appear out of nowhere. The result? The bottom of your rocker panels may come in contact with things that can chip away the paint or tear the metal causing it to become more open to rust and corrosion.
Rocker Panel Maintenance
While replacing your rocker panels will reinforce your ride's structural integrity, it can be quite costly. For this reason, it is important to properly clean them to prevent corrosion from happening. After all, maintaining your rocker panels is much easier than having to replace them. It is also a good idea to inspect your rocker panels, from time to time, for any signs of rust. The inside of the panel usually rusts first and if you start to notice signs of rust on the outside, it means that the inner portion is probably already severely rusted. So if the naked eye can see rust on the surface, it is safe to assume that the metal has been compromised. In the case of a compromised rocker panel, you will want to replace that right away; but good inspection and cleaning practices can prevent that from happening.
Gently wipe off grime and dirt on your rockers to avoid damaging the coating of the panels. Professionals have said to try a WD-40 spray to remove tar without removing your paint; simply spray it, wait for it to soak, and wipe it clean. When it comes to cleaning your rocker panels in general, you will want to have everything on hand. This includes pressure washers, foam blasters, good detailing products, and the proper methods. After it is clean, coating your rocker panel with protective wax or ceramic is a great way to keep it from getting rusty. Having a good maintenance plan is a great way to ensure that your rocker panels, should they get dirty, will not rust. Rust is poison as it grows, spreads, and eats away at metal until it's bad news.