Cusco has built a reputation in automotive aftermarket industry because of the quality products they provide. Known mostly for their suspension components and braces, Cusco also offers LSD???_s, clutches, and coilovers. Based out of Japan, Cusco designs all products to bolt on directly for superior fit and finish. Cusco products are designed enhance your driving experience by giving you greater control over your vehicle.

Cusco s Type MZ Limited Slip Differential utilizes clutch discs to provide high initial torque. This is best suited for those who drift and drag race and require solid engagement. With forged internals housed in a chromoly case, this LSD is extremely durable and will serve you well in the most extreme conditions. The clutch discs in the Type MZ has radially cut grooves to allow for instant oil movement. This helps with improving durability and efficiency. Each MZ clutch disc is also polished for even and consistent contact with the pressure rings. Cusco stresses the use of wear resistant parts like their incorporation of the "Oil Through System" by using high quality chrome molybdenium steel.

The internal side gears and pinion gears used are precise forged parts that enable compact yet durable gears to cope with high horsepower applications. This, in turn, increases the internal oil capacity as well as the number of MZ clutch plates taking the load off each plate for further durability. The Cusco Oil Through System enables stability in high performance LSDs. Cusco s unique Oil Through System enables better oil flow inside the LSD for better efficiency. The casing made from Cusco s unique technology allows the oil to flow from the wide end to the pressure rings and the MZ clutch plate for efficient lubrication. Making the LSD more stable and durable! This was only possible with Cusco s unique technology in manufacturing chrome molybdenium steel casings and gears that enabled a higher level of durability and a better flow of oil due to the large oil openings. Contact Us with any questions.

Two ways to set your Cusco limited slip differential - 1-Way, and 2-Way.
A 1 Way LSD is specially suited for front wheel drive cars and the front axle of AWD cars. It activates only under acceleration, allowing the better handling when you lift off the throttle. This is a great way to improve lap times.
A 2-way LSD is recommended on rear wheel drive cars and AWD rear axle cars. Because it activates on both acceleration and deceleration, it is recommended for those who prefer hot driving action and big angle drift.
One Limited Slip Differential, Two Ways to Enjoy! With Cusco s LSD, you may change the setting during your overhaul with no additional parts required.
Initial setting is 1.5-Way, possible to change to 1-Way. Includes spacer.
Fits 2008+ Mitsubishi Evolution x models with Sportronic Shift Transmission, with ADC.
Proposition 65

WARNING: Cancer and Reproductive Harm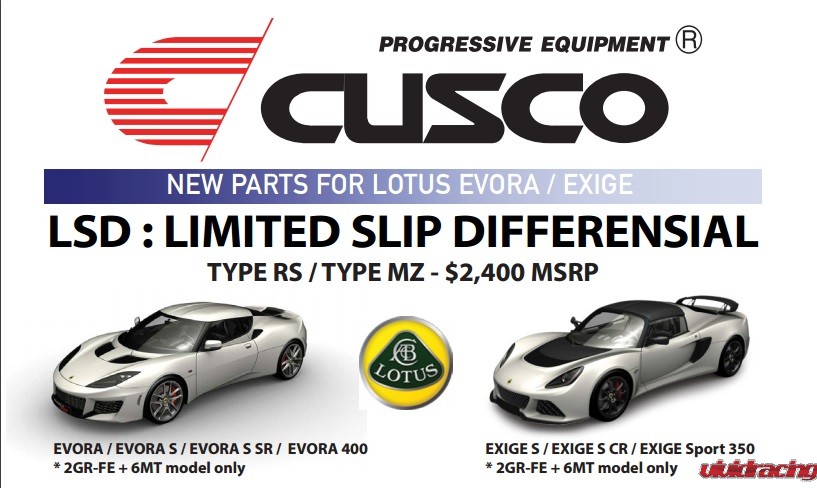 Who is Cusco?
Cusco is an independent aftermarket company in Japan specializing in manufacturing high-performance parts such as drivetrain components, suspension, chassis bars, including strut towers, engine parts, roll cages, and more.
They are widely known in the automotive industry and have participated in various race series within and outside Japan.
Today, they have become the go-to brand of aftermarket tuners all around the globe.
Racing Background
Cusco has created many racing vehicles for different racing disciplines, such as rallying, track racing, autocross, time attack events, and gymkhana.
With a history of producing the best race cars in its class, they have used that knowledge and have translated it to all their products creating the best performing and safest parts out there.
Improves Driving Experience
Cusco's goal is to improve each car's potential to provide the driver with the best experience possible. It helps the car provide better feedback to the driver, which helps the driver create better judgment and confidence to trust their vehicle.
Inhouse Manufacturing Process
Cusco maintains its high-quality standard by doing their parts inhouse. From design to manufacturing, they have created a dedicated facility that would help them ensure that it passes their strict requirements, providing the clients with the best products they deserve. The company is also ISO 9001 certified, meaning all of its processes have passed the standard requirement of the regulatory commission.
Struts and Roll cages
Cusco has been very popular when it comes to chassis stiffeners and roll cages. They create one of the best roll cages that comply with the racing body's standards. Their design helps improve chassis stiffness and rigidity, making it handle better and helps protect the driver in case of an accident. It is intended to save dozens of lives on the race track and in the streets.
Purchase Cusco Parts at Vivid Racing
Cusco has been supplying parts for almost a decade among thousands of enthusiasts worldwide. With its track record of providing parts that outperform the competition, they are a brand that anyone can count on. Visit Vivid Racing and check out the list of Cusco products specific to your needs.