Exedy Hyper Twin Clutch Kit Nissan Skyline GTR R34 99-02

For high-powered applications EXEDY offers Multi plate clutches. These are designed for hot street action as well as drag, road, and rally racing. All of our multi plate clutches come with a lightweight chromoly steel flywheel, and the famous purple anodized forged aluminum clutch cover. Depending on the application, both strap drive and lug drive models are available. All have T5001 cerametallic friction materials for extreme heat resistance. The twin plate clutches are rated up to 500+ foot pounds of torque, and the triple plate clutches are rated up to 800+ foot pounds of torque, at the flywheel. And come with spring damper or solid discs depending on the application.

Specs
Number of Discs: TWIN
Spring Damper Discs : YES
Clamp Load (Lbs): 2205
Disc Outer Diameter 200
Spline Teeth / Major Diameter 24T / 25.6

Fits:
Nissan Skyline GTR R34 "Pull Type Clutch, (2, 4)" 99-02
Nissan Skyline GTR R34 2.6L RB26DETT 99-02

Picture is for representation only. Actual product may vary.
Other Part Numbers:
Exedy #EXENM052SD

Proposition 65

WARNING: Cancer and Reproductive Harm
Make

Vehicle

Model
Submodel
Year
Engine
Notes
1999-2002
Nissan Skyline R34


Skyline R34
1999-2002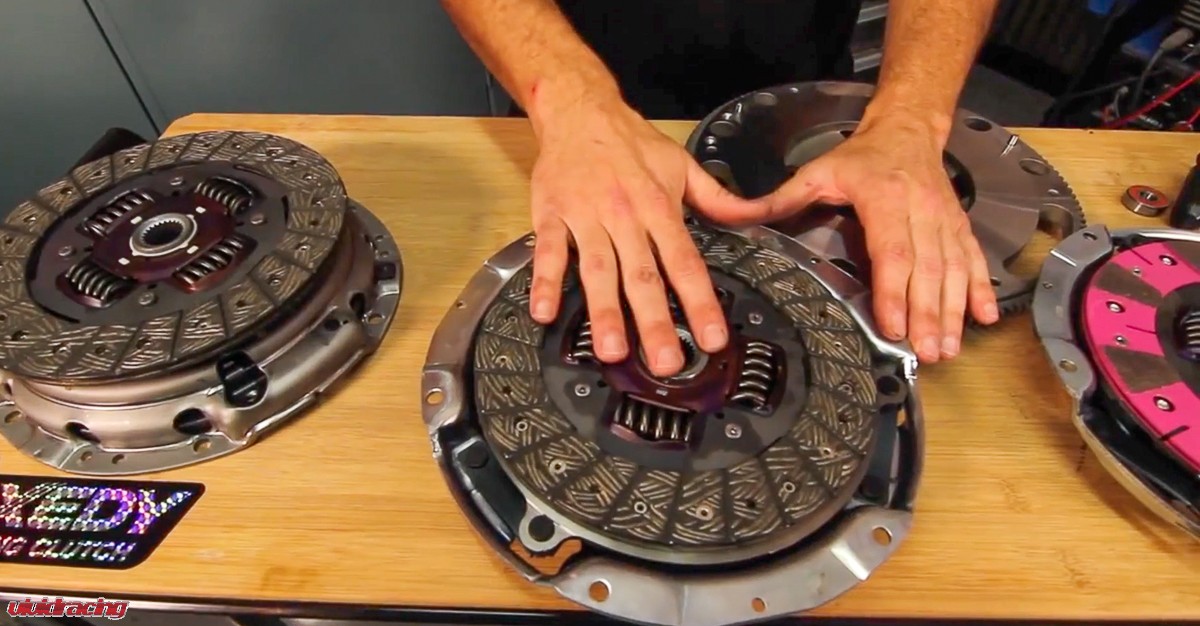 Who is EXEDY?
The company claims that whenever you need performance and reliability, they've got you covered - and we couldn't agree more.
EXEDY was founded in 1923 in Japan as a clutch manufacturing business.
Presence Worldwide
If you must know, EXEDY can be found in different regions. You can find them in Australia, Japan, China, Latin America, Malaysia, Middle East, UK, and even in Thailand. This speaks a lot about their network and standing in the industry. With them, you know that you are in good hands.
Always After Perfection
The company vows to only aim for perfection. And they always ensure that their products are safe. They are well trusted by big companies that in Japan alone, they supply manual clutches and flywheels to 11 vehicle manufacturers.
Both For Performance Sports and Racing
EXEDY is considered the industry leader in performance sports and racing clutches. Having said that, you can already see the outstanding design and engineering their products underwent.
Listens to Their Customers
They also value what their customers have to say. This is a great practice as their end-users are one of the best sources for product improvement.
Purchase EXEDY at Vivid Racing
If you are looking for the right clutch for your vehicles, then there's no better company than EXEDY. With long years of experience and thousands of customers under its belt, you know you will only get quality products. If you want to see their full list of offerings, check Vivid Racing right away. We've heard excellent reviews about their products, and we bet it will certainly deliver.
All goods/products supplied by the Company are warranted against faulty material and/or workmanship. Warranty does not apply if maltreatment, damage caused by collision or incorrect fitting exists. Claims will be rejected where clutch kits and/or clutch components have been fitted to incorrect or unlisted applications. Flywheel must be resurfaced/machined to manufacturers specifications before new clutch kit is fitted otherwise warranty will be void.
Standard OEM Replacement Clutch Kits
Standard OEM replacement clutch kits are guaranteed for a period of twelve (12) months or 20,000 miles, which ever occurs first..
Automatic Transmission Kits
Automatic Transmission steels and wet friction products are guaranteed twenty-four (24) months or 50,000 miles, which ever occurs first, against manufacturers defects. Claims on wet friction products will not be entertained on any claim level, sight unseen of the product that claims to be faulty.
Sports/Performance
Due to the intended use and nature of these goods/products, they are warranted as follows:
Stage 1, 2 and Flywheels - 60 days from date of purchase.
Stage 3, 4 and 5 - No warranty available.
OEM Replacement clutch kits and Automatic Transmission kits used in performance applications are not covered by any warranty.
Any goods/products deemed by the Distributor to be faulty must contact our Technical Support Department at 800-346-6091 or by email: TechSupport@exedyusa.com to obtain an Inspection Request Form. A completed Inspection Request Form shall be returned for review, if approved a RGA number will be issued. The goods/products being returned must be sent to us freight prepaid.
No Claim Credit will be issued until the said goods/products have been tested and deemed faulty by the Company.
The Company will not pay any claim for goods/products repaired by the Customer and/or claims sight unseen.
It is the responsibility of the Company's Distributor to advise their customer on all aspects of this warranty and/or warranty procedures on any claim.
No Claim/Warranty will be given for NON-Kit OE replacement components and/or hydraulic components.