Items are shipped direct from TechArt Germany. Customers are responsible for any additional import duty and taxes that are not included in the shipping price.
The TECHART GrandGT Program favors a spectacular performance. The TECHART-typical exterior design catches the eye of onlookers immediately. The powerful front bumper with integrated splitter and large ventilation intakes, for an improved supply of fresh air to the intercooler and an optimum cooling of the brake system, flawlessly underlines the dynamic contours. TECHART-typical: the sporty four-seater s suitability for everyday use. The multifunctional daytime running lights that are integrated in the front bumper give the Panamera not only a distinctive appearance. It combines daytime running lights, position lights, parking lights and turn signals as LED system unit in a common housing and integrates seamlessly in the design of the Panamera s front. An additional design highlight is the TECHART Aero engine hood that is constructed of high-quality carbon fibers, with integrated air outlets for an optimized regulation of the heat balance in the engine compartment and which impressively completes the GrandGT program for the Panamera s front end.

Powerful side skirts and flared fenders increase the width of the Panamera by 21mm on each side of the front axle compared to the standard vehicle and 42mm on each side of the rear axle, resulting in a wider track and thus improved cornering abilities. Typical TECHART: attention to detail. Headlight trims or trim slats for the side air outlets made of high-quality polyurethane RIM set elegant highlights on the side of the vehicle in individual colour combinations and emphasize the dynamic appearance of the GrandGT.

The design of the rear end incorporates the front s design and emphasizes the unique character of the GrandGT - sporty, confident and masculine. In combination with the TECHART roof spoiler, the much larger rear spoiler compared to the first Panamera Program, results in even less lift at the rear axle and greater driving stability and active safety - even at high speed. An additional GrandGT design feature: the distinctive rear apron with integrated air openings and matching diffuser. The oval dual tail pipes of TECHART s sporty exhaust system, which are fully integrated in the vehicle s rear end, optimally complete the exterior tuning package. As an alternative, a sporty exhaust system with valve control can be selected - for audible more sportiness.

Available in bare PU-RIM finish or in a custom color of your choice. Please enter vehicle info and color choice in the box below before placing your order. Additional Fee for paint added at checkout.

Features:
Precise Fit
Easy to Paint
Stylish Appearance
Installation on OE Mounting Points
Fitment:
Porsche Panamera Turbo 10-13
Images are for marketing purposes only. Actual Product may vary. Please contact us for more information.
Proposition 65

WARNING: Cancer and Reproductive Harm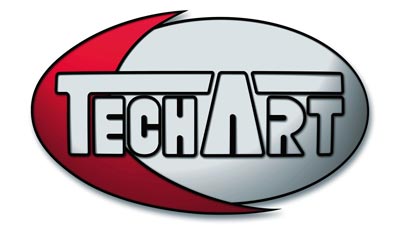 Who is TECHART?
TECHART was founded in May of 1987 right in the heart of Porsche country, halfway between Weissach and Stuttgart in Germany, and the company was started by an aerodynamicist and a businessman with the idea of fusing technology with art to create automotive masterpieces. Now, its headquarters houses an impressive range of the brand's latest products, with everything from full cars to miniature models to give you an idea of exactly what TECHART is about.
TECHART has become known as the international premium brand for the individualization of Porsche models. The company is driven by the highest demands on competence, design excellence, advanced technology development, and a responsible attitude toward emotion and reason. Furthermore, TECHART is a registered auto manufacturer, identified by its own WMI (World Manufacturer Identifier).
About TECHART Today
Today TECHART offers complete tuning conversions for the Porsche Boxster (986, 987), Porsche 911 (993, 996, 997), the Porsche Cayman, and the Porsche Cayenne. This includes lightweight aluminum alloy wheels, sport exhaust systems, performance enhancements, sport suspensions, and wind-tunnel-proven aerodynamic parts. TECHART's extensive interior program ranges from brushed aluminum and factory-matched carbon trims to a variety of stainless aluminum and leather accessories.
All TECHART products are manufactured in Germany with the core principle being OE manufacturing quality. They are produced in-house from only the highest quality raw materials using high-precision tooling and computer-aided development processing and guarantees trouble-free installation and servicing. TECHART also boasts verification of material functionality and crashworthiness as all components have undergone track testing to secure its performance and ensure its everyday usability. TECHART's consistent quality parts and innovative solutions helped make it one of the most recognized Porsche tuners around!
Today, TECHART offers a wide range of Porsche specific products for nearly all models of modern Porsche. They offer suspension, exhaust, intakes, aero, carbon fiber, trim, chassis bracing, and full packages. To put it simply, they are your one-stop-shop for all things Porsche!
FIND TECHART at Vivid Racing
No matter what you are looking for, TECHART has you covered with genuine German-made parts for your Porsche. This includes everything from tantalizing exhaust systems that provide impressive gains; stunning aerodynamic kits that provide boast and function; alloy wheels that take your vehicle's look to the next level; and a wide range of carbon trim packages to customize the interior.
Vivid Racing carries an extensive selection of TECHART products like mirrors, springs, Coilovers, strut bars, sway bars, mufflers, and more! If you have any questions regarding TECHART or any of its products, please do not hesitate to call our expert sales team at (480) 966-3040.