Following the successful introduction of the Nissan GT-R CCX Super Kit, Alcon is now applying the CCX technology to disc kits specifically designed to replace Porsche PCCB rotors.  Applications such as the Porsche 997 Turbo, GT3, GT2 can now benefit from the incredible racing design and engineering that Alcon brings to the game.
Carbon ceramic brakes are nothing new in the world of high performance road cars but Alcon CCX differs in that they work supremely well in all conditions. Furthermore, CCX brakes do not suffer from premature oxidation as other carbon ceramic brakes are prone to do so at elevated temperatures. Alcon's unique design and composition ensures that wear rates for both pads and discs is actually lower than the OEM brakes.  Extensively tested over thousands of miles to ensure the braking effect adds value to the Porsche experience!  View all Alcon Brake Products Here.
With the CCX kit for the 911, Alcon set out to achieve something that had not been done before: to provide carbon ceramic brakes that are as suitable for everyday road use as they are on the race track. The CCX package is specifically designed to be fade resistant, provide excellent "bite" even when cold and improve the driver "feel".
What's included:
Larger diameter discs mounted on aluminum hats.

Front 390mm (up from stock 380mm)
Rear 360mm (up from stock 350mm)
Caliper spacers include to raise caliper for bigger disc.
Alcon CCX-1 pads front and rear.
The benefits:
The key difference between Alcon CCX and PCCB is that the CCX rotors can be re-surfaced multiple times for a fraction of the cost of new discs.

If PCCB rotors oxidize due to overheating, there is nothing that can be done to recover them.
Alcon CCX discs can be sent back to Alcon for re-surfacing, bringing them back to as-new condition.
Increased brake torque provided by larger diameter discs.
Alcon CCX kit can be fitted to 997s as a replacement for PCCB or standard iron rotors.
Pricing and availability:
MSRP $21,895 (Part Number: DKC1131X061 – Complete front & rear kit)
Available 3rd week of February 2013.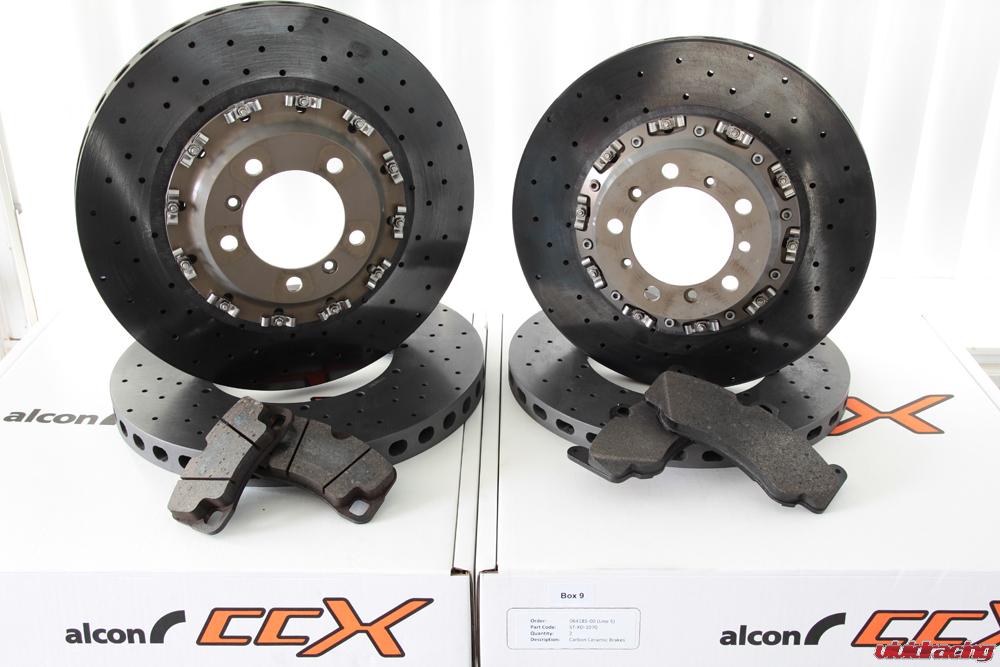 Related Images: