Vivid Racing is proud to announce it's official entry in the 2012 Targa Newfoundland rally race.  Targa Newfoundland is in it's 11th year of running on the remote island rock, Northeast of Nova Scotia.  After competing in the Targa Tasmania event, the co-founders wanted to create a world class driving event in North America, and that they have done!  The Targa Newfoundland is comprised of 2200 kilometers held on roads closed to the general public and comprise 20% of the total course.   Having competed in several "renegade" rally events in the past, we thought it was finally time to enter a closed course competition.  The event is held September 9-14 and features several different classes.  With 5 days of competition, the journey starts much earlier to prepare our vehicle and even get there!  Please join us for this crazy journey that will feature daily updates of pictures, videos, and info as we rally the Targa Newfoundland.  Stay tuned to www.vividracing.com/targa for all rally updates and info.
First and foremost, a shout out to our partners for the event (click the links and join their networks):
OMP America – Safety Racing Gear, OMP Facebook, OMP Twitter
Niche Wheels – 1pc and 3pc Forged Wheels, Niche Facebook
Evolution Real Estate – Arizona's Full Service Real Estate Team
Go2 Transport – Vehicle Transportation Specialists
Toyo Tires – Gripping you to the road! Toyo Facebook, Toyo Twitter
KW Suspensions – The Best Coilovers! KW Facebook, KW Twitter
Special thanks to contributors – Status Racing, Agency Power, SSF Auto Parts
For the Targa Newfoundland event, Vivid Racing will be competing in the Grand Touring equipped class.  This class is a Time-Speed-Distance group which allows the aid of timing and mapping devices.  Based on several factors, each team will be given this set goal to complete the stage in.  So we thought what better car to do it in then our 2011 Porsche Turbo S.  Piloting the car will be myself, Dan Mermelstein, and co-driver Matt Lambert.  Unlike typical road racing or "fun run" rally events, these public roads see some abuse from the strong winters of Northern Canada.  So we have to prepare our car and ourselves accordingly.
No matter if you are racing the clock or racing others, safety is very important.  So Team Vivid Racing has equipped ourselves with gear from OMP.  OMP's Italian racing heritage can be seen in all types of motorsports from Nascar, F1, Drifting, and Rally racing.  As one of the few companies that can fully equip a driver from a racing suit to racing seat, OMP made gearing up affordable and fashionable.  Keeping our domes safe are the new OMP Sport helmets.  The OMP Sport line is a more affordable product specifically for the USA market to rival competition with price and function.  The full face helmets feature a clear shield with pre-drilled holes for a HANS device.  Keeping us comfortable and fire resistant is the OMP First 2 black racing suit.  Flowing with the theme of our vehicle is a set of OMP Speed 2 gloves in red.  The gloves feature a contour leather palm to ensure maximum control and grip.  To ensure proper pedal control and comfortability, we have red OMP Daytona shoes.  The FIA shoe features a smooth leather interior with high sensitivity rubber sole.  Not only are we going to look the part, we will be driving the part!
Already equipped with 530hp from the factory, we have enhanced the performance to 615hp with the addition of a VRTuned ECU Flash, Agency Power Sleeper Pipes, and BMC Air Filter.  Having plenty of power for the Grand Touring class, we turn to safety.  Inside the 997 cockpit we have installed an Agency Power bolt-in roll bar with harness and diagonal bars.  To secure both driver and co-drive in the factory carbon fiber GT2 seats, a set of 5pt FIA approved Status Racing harnesses were installed.  Keeping the car handling the ever so changing road conditions will be a set of KW Variant 3 coilovers and Agency Power adjustable sway bars.
Because Newfoundland is over 4000 miles away from us here in Gilbert, Arizona, we plan on taking 2 sets of wheels and tires.  Our centerlock equipped Porsche will have both dry and wet condition Toyo Tires.  We will be running a set of Toyo T1s and Toyo R888 in 235/35/19 and 305/30/19 sizes.  They will be wrapped to our AP wheels by Niche.  The 1 piece forged wheels feature a split 5 spoke design and are very lightweight and strong for this competition.  The front wheels are a 19×8.5 at 21lbs and the rear 19×11 at 24lbs.  Much like our competition wheels, Niche has some very unique and familar 1pc and 3pc design wheels.  We chose to go with these for the weight and strength.
Stay tuned and please click the links above to support our sponsors!  View the official Gallery Here.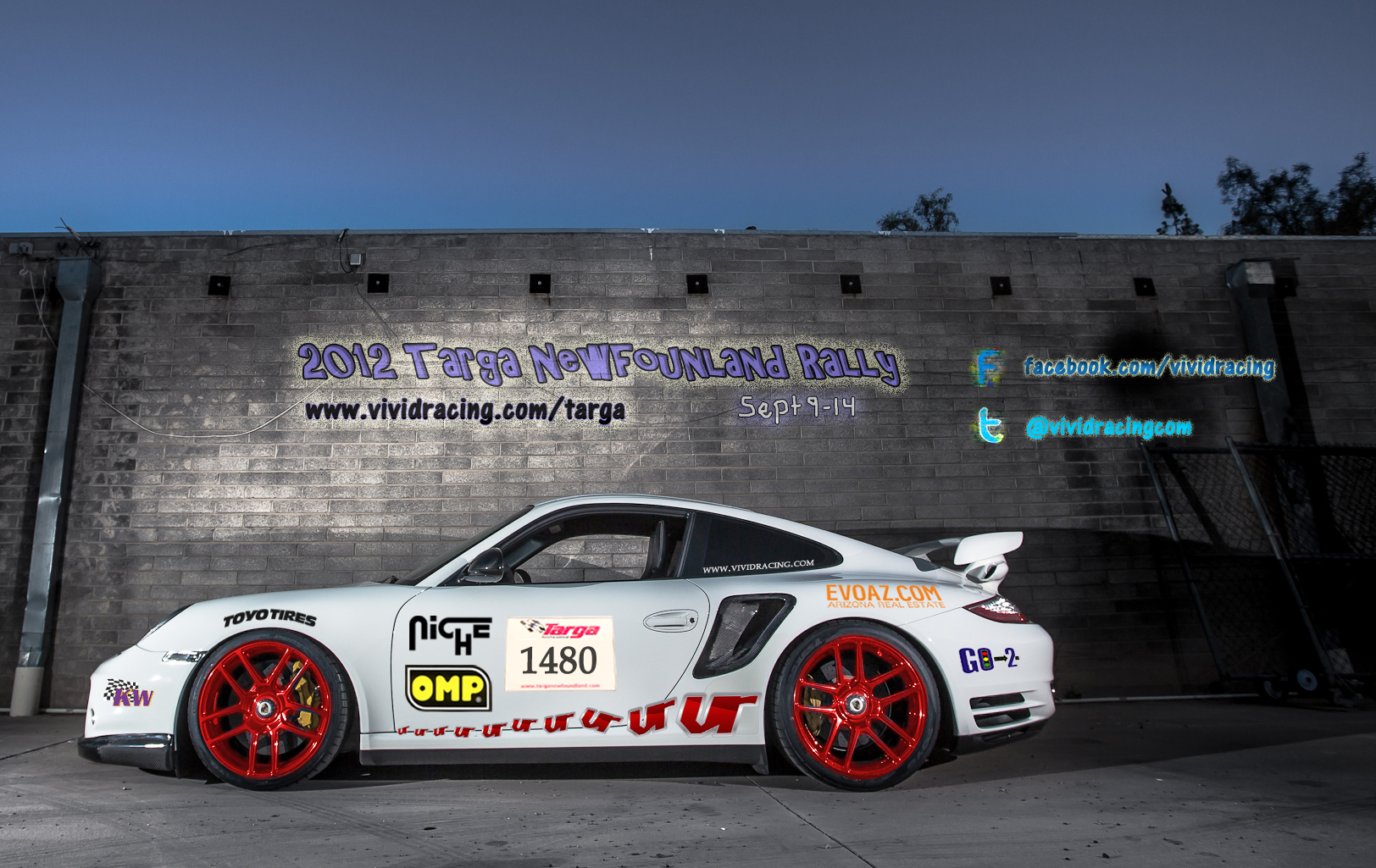 Related Images: