I must be honest and say that I am truly stoked to see the way this Panamera Turbo is coming together.  As I said in earlier Project Panamera Turbo articles that I always wanted one of these sedans.  But I was only going to get it if I could do the Vorsteiner Panamera Aero Kit.  Some may say that the Panamera is one of the ugliest cars ever built… I say nay, there are worse!  From the inside, you are driving a 911 with 2 extra seats.  From the outside, a Porsche enthusiast can see it.  I will agree that in it's stock form, stock ride height, stock wheels, that the Panamera can be a little dull.  In response to that, I give you our Vorsteiner upgrade Part 1 with a big fat red stamp across the picture saying "Dayyuuummmmm!"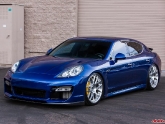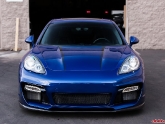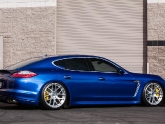 Having had the Vorsteiner kit on our previous Porsche 997 Turbo, I just love that front bumper styling.  The rear duct tail really helps the look of the rear end too.  Why I say Part 1 is that we still have the awesome rear bumper with carbon fiber diffuser to install once ready.  The beauty with Vorsteiner is their delivery, finish, and overall fitment.  Aftermarket aero upgrades are always iffy on fitment compared to OEM.  In fact most say to test fit before installing to make any alterations if necessary.  We took it out of the box and sent it right over to our guys at Allard Collision in Chandler, Arizona.  Because the front bumper has that beautiful carbon fiber lip, we wanted to match up the duct tail spoiler to show off some of the carbon as well.  John at Allard had his team mask off the rear spoiler so the paint and carbon lines flowed with the body.  In addition to the Vorsteiner parts, we also had Seibon Carbon's OEM style carbon fiber hood.  The hood was dry carbon fiber in full on both sides.  Since our Vorsteiner parts were glossy finished, we chose to have this work of art Seibon hood clear coated to match.  But before we did that, Allard took to their design team to mask off something special to display the carbon fiber and painted surface in a flowing look for the Panamera.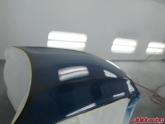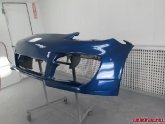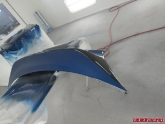 Allard Collision did some impressive paint work which made it hard to identify any lines differentiating the 2 surfaces.  When they delivered the parts back to us, they were put inside to not get damaged.  Since we are always busy here (no time for our own cars), a couple days had past and John offered to throw the parts on for us, naturally, we said no problem!  His team did a over the top job handling the parts like they were baby seal eyes (still in the head, just checking if your reading).  The rear spoiler was a simple fit removing the Porsche logo and trim, but leaving the all important "Panamera Turbo" writing.  The front bumper fit without any modifications.  This included the parking sensors, headlight washers, and intercooler ducts.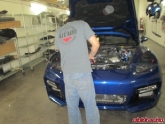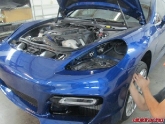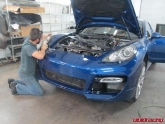 Moving back to the Vivid Racing shop to install the hood, it was like performing surgery, lightweight surgery that is!  The hood weighs next to nothing.  Having already test fitted it before, we new that the lines would be good.  Seibon really nailed it on all the other parts of the OEM-likeness.  All holes, clip areas, window washers, even under heat padding fit directly in place.  We did have to tap larger holes for the hood strut ball heads, but that is next to nothing compared to other aftermarket aero kit experiences.  The hood did not have a place for the factory Porsche emblem, but once that baby was closed and latched, and flows better without giving a sleeker, sexier look.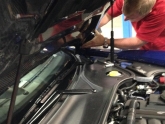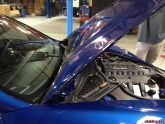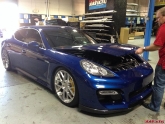 Stay tuned to our ever delayed Meisterschaft exhaust video, KW DLC review, and more of our Project Panamera TT here.
If interested in getting a Vorsteiner Aero Kit or Wheels, Visit Our Vorsteiner Shop Here.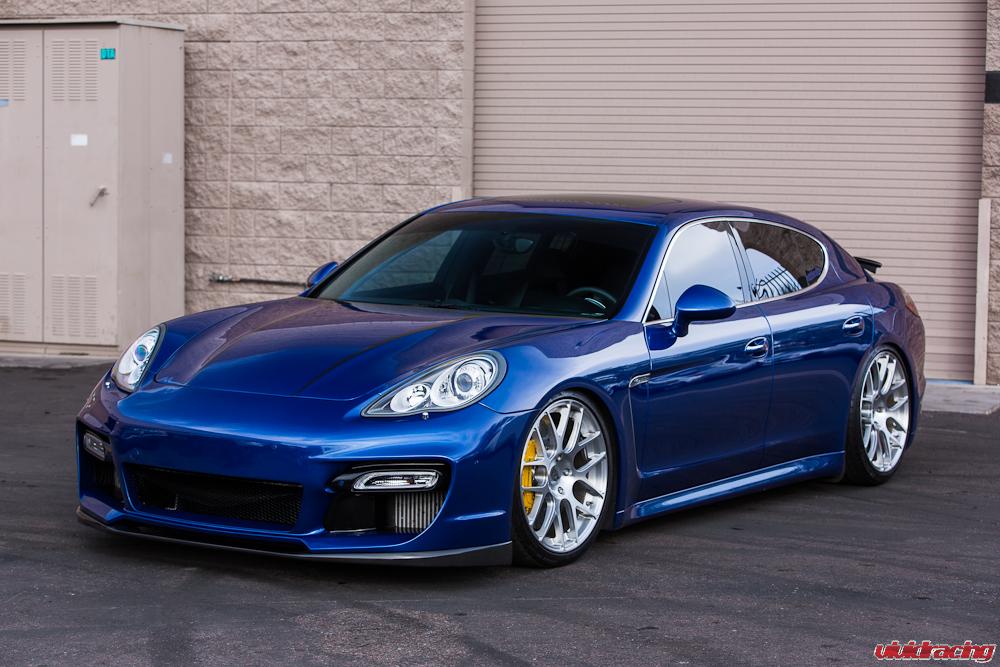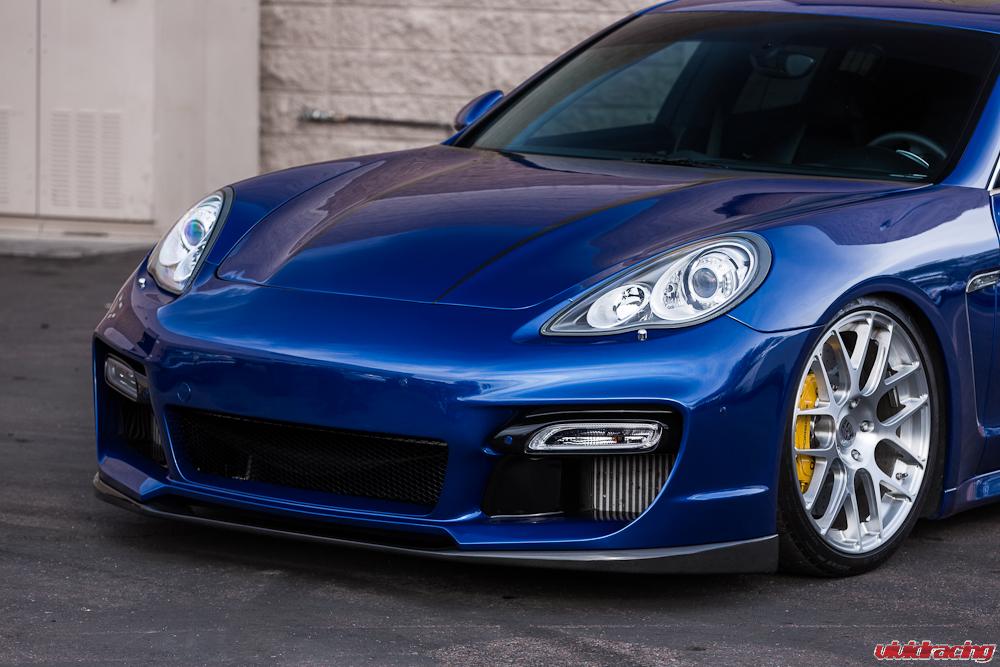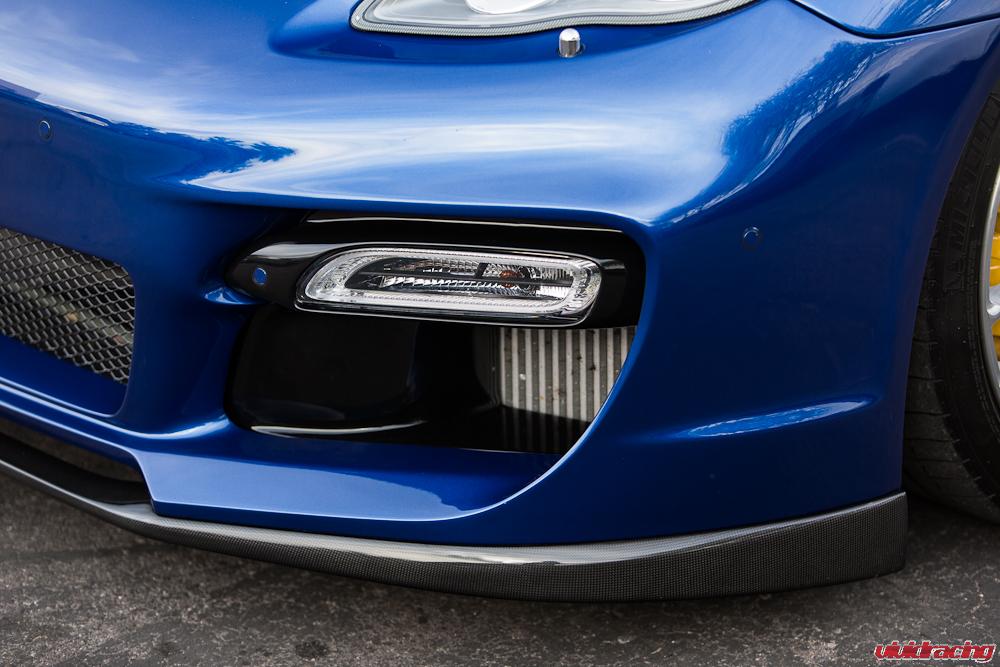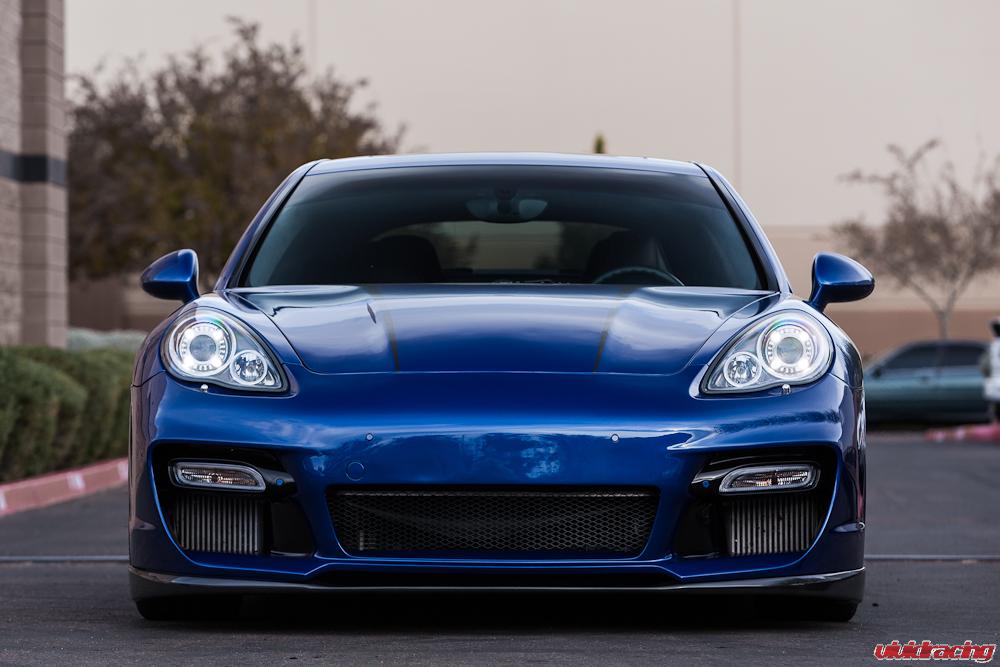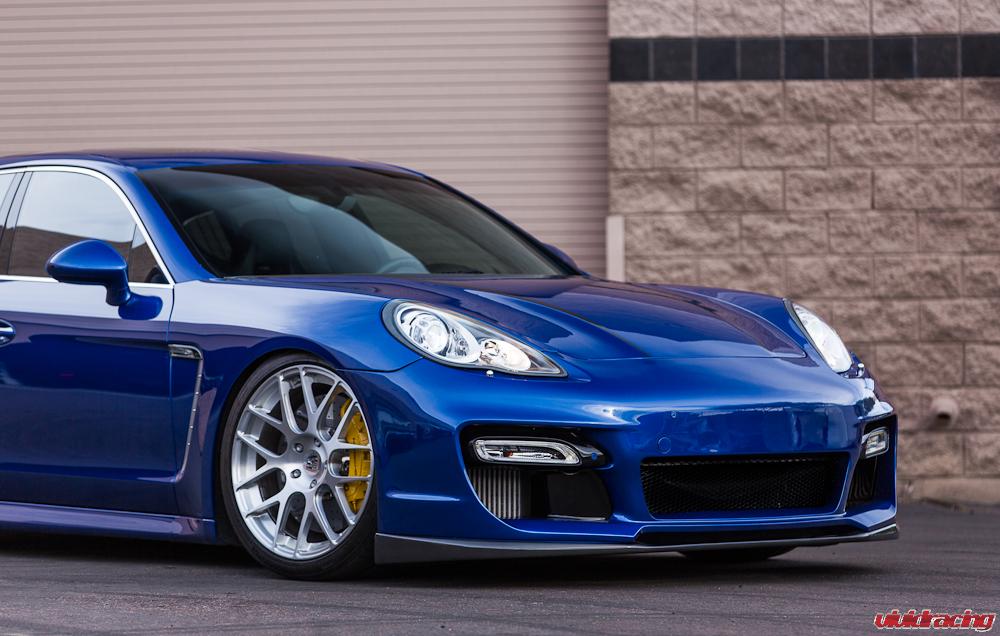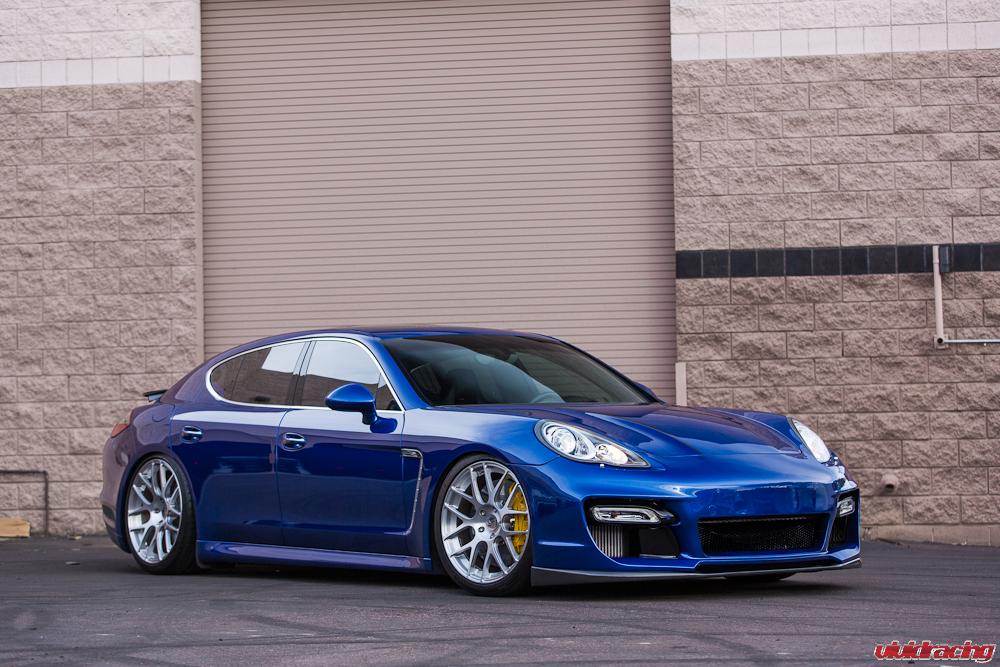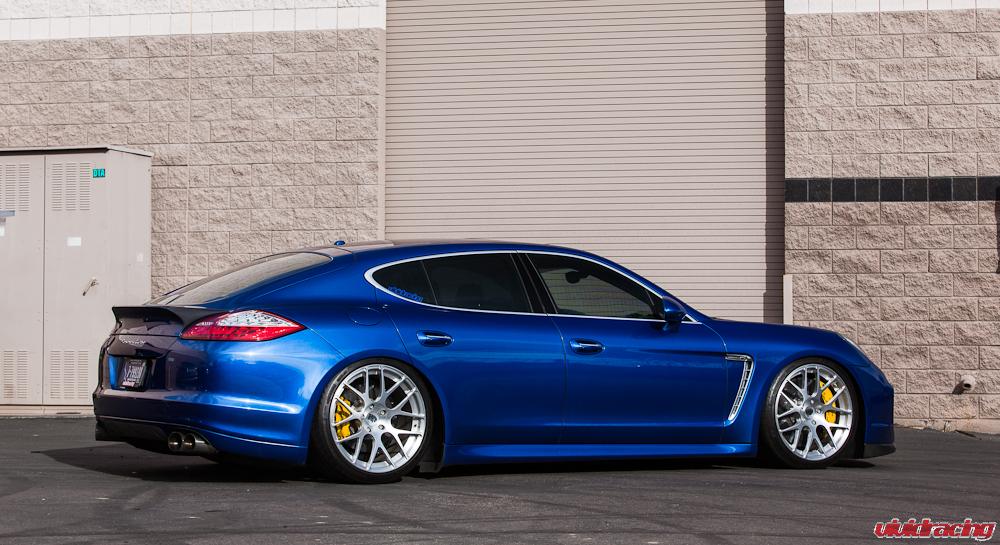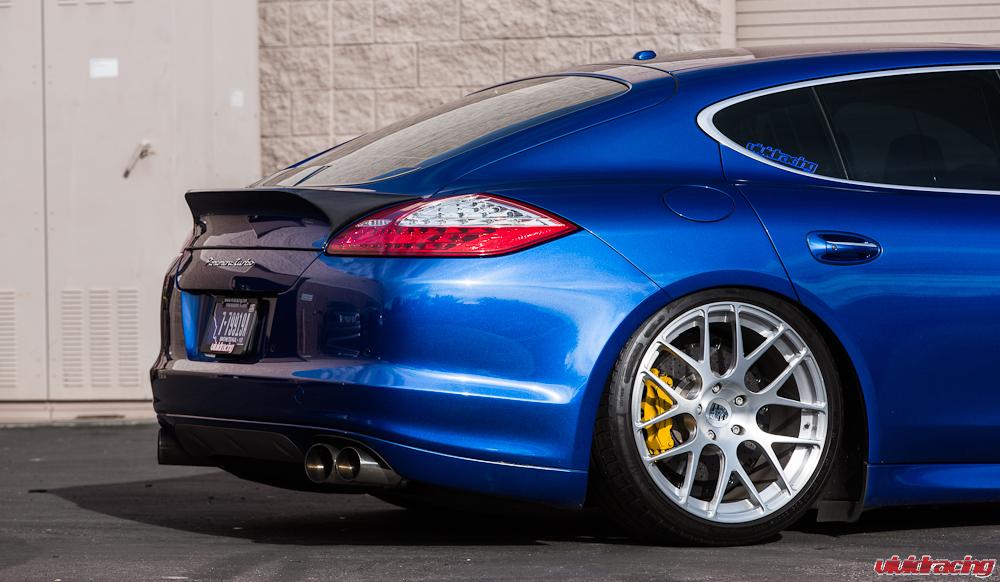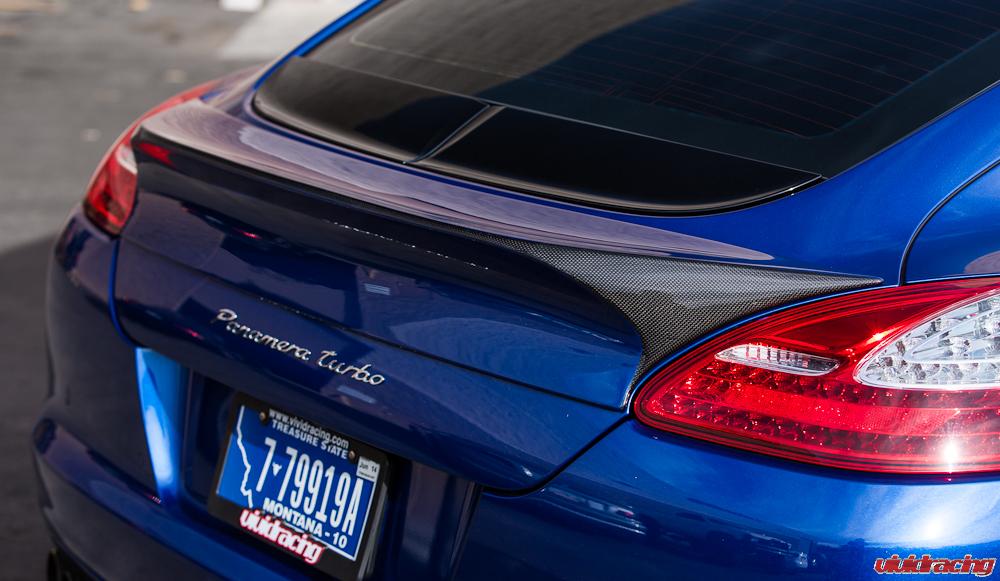 Related Images: