Demon Powersports is committed to providing pure performance products to all off-road enthusiasts and adrenaline junkies. And since its staff lives in areas with unsafe terrain (i.e. mud, rocks, trails, sand dunes), the Demon team is dedicated to creating parts that are both reliable and ready to tackle anything the off-road may throw their way. Having been a part of the off-road industry for several years, Demon Powersports has garnered a solid reputation for offering quality products with matching customer service that can't be beat. So, if you are looking for a way to push your machine to its limits on some of the roughest trails out there, Demon Powersports has exactly what you need.
With that said, Demon Powersports is widely known for carrying one of the best aftermarket axles available – the Rugged Performance Axle series. These heavy-duty axles were manufactured specifically for tough off-road use and can handle much more pressure than your factory ones. Now available for John Deere GUVs, the Demon Powersports Rugged Performance Axles are strong enough to handle the extra stress with a wider range of motion to give you the confidence to tackle the unknown. These Rugged Axles were made to stand up to all of the abuse that you can put them through so you can enjoy peace of mind on your next adventure.
Demon Powersports' new Rugged Performance Axles for John Deere are designed to meet and exceed the OE manufacturer's standards. Rugged axles are packed with high load moly grease to provide maximum lubrication and are sealed with neoprene boots and low-profile clamps. These axles are designed to fit like an OEM axle so no modifications are needed during installation. Every Rugged axle is also backed by the company's one-year manufacturer's warranty.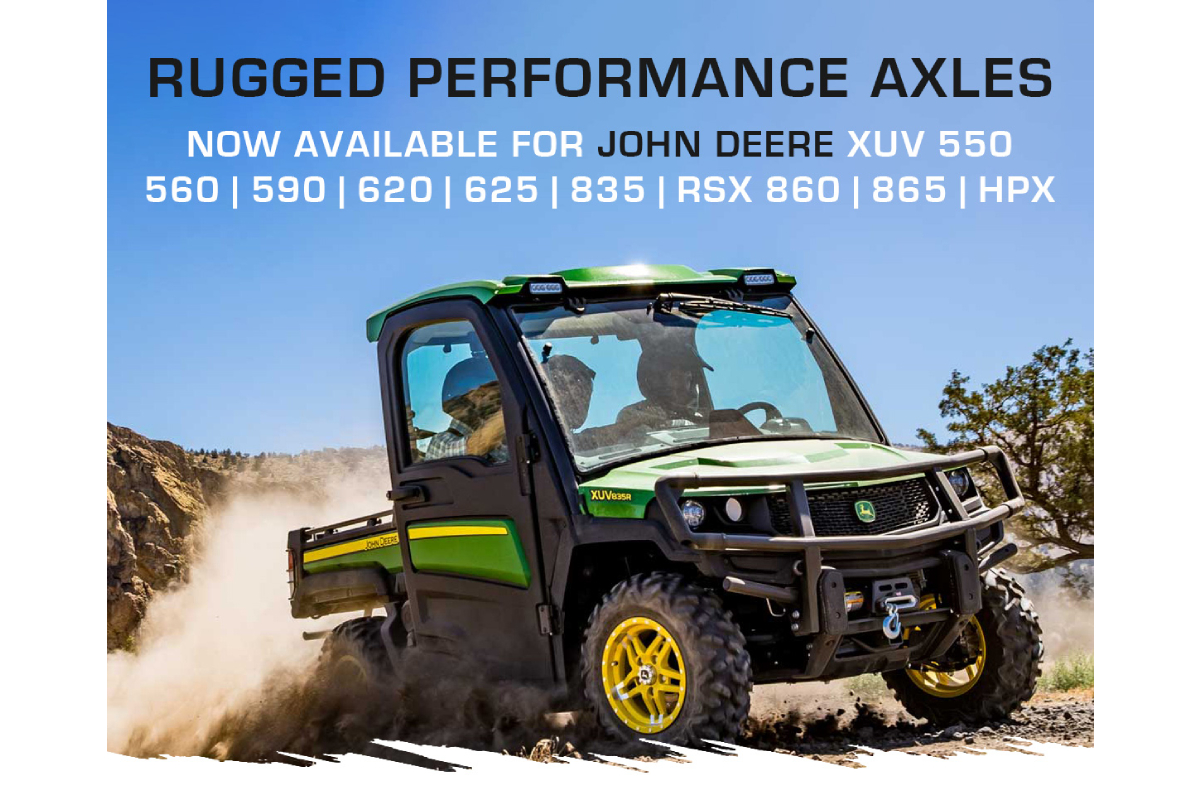 Highlights:
Wide Range of Fitments for ATVs, UTVs, and GUVs
Tailored to Exceed OEM Quality, Strength, and Performance
Offers Better Perofming Axles at an Affordable Price
Features:
Designed to be Stronger than OEM Axles
Shaft Made Up of Chromoly Steel
CNC Precision Machined
Heat Treated Components for Extra Strength and Longer Lifespan
Packed with High-Quality Moly Grease which Helps Reduce Heat and Friction
Heavy-Duty Neoprene Boots To Create a Waterproof Seal
Coated to Protect Product from Rust and Corrosion
Complete Plug-and-Play Kit
Backed by 1 Year Limited Warranty
If you have any questions, please do not hesitate to contact the Vivid Racing team. You can reach us by phone at 1-480-966-3040 or via email at sales@vividracing.com.