Having entered the Porsche tuning world in a Porsche 996 Carrera, we needed to go back to the beginning and develop something that would truly take the experience of owning a 996 to the next level. We had 3 main goals when we started this project: Top quality products, strong reliable performance, and a product price point that made sense. With 6 months of R&D, software development, and testing, we are extremely happy to release the Vivid Racing turbo kit for the Porsche 996 Carrera. Direct Product Link here – www.vividracing.com/996ct
Promotional Video in HD – MUST SEE!
Quick Notes:
Gain 130HP and 150ft/lbs to the wheels!
Faster than a 996 Turbo with only 5.5psi
Complete turbo kit requiring NO additional parts
Advanced OBDII ECU Flashing with VRTuned
Amazing GT3 like exhaust sound
High quality components from recognized brands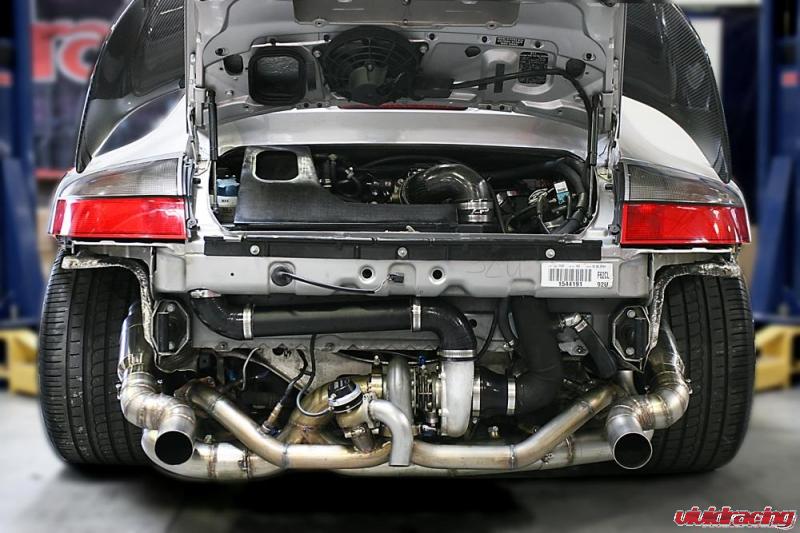 So what makes this kit the best forced induction available for the 996 Carrera? Simple… quality products and well developed tuning. Our first goal was to spec out a turbocharger that would be suitable for the 996. Delivering responsive power with capabilities further then what the stock 996 engine could handle was necessary. For the turbo, we choose to go with the Precision Turbo ball bearing 6062 unit. It's billet aluminum compressor wheel gives immediate response to nearly eliminate any lag. Fitted with a .63ar housing, the turbo uses a 62mm billet turbine wheel. This is similar to what we use on our 800HP 997 Turbo cars. The ball bearing turbo charger is oil cooled and features an anti surge compressor housing. These tiny holes drilled around the compressor housing help in redirecting air flow from the compressor wheel at partial throttle release. Compressor surge usually occurs when you do not build up enough boost pressure for the blow off valve to vent it out and the pressure goes back down the intake. The anti surge housing keeps the turbo spooled between shifts without any lag. Another cool feature that make this turbo user friendly are the V-Band clamp mounting design and the easy access compressor nipple to attach the boost controller vaccum line. This style of turbo also requires an external wastegate. External wastegates are designed to help regulate the boost pressure. When the wastegate is shut, the car builds boost. Boost can be controlled by either the wastegate spring or a boost controller. For these 2 parts, we have decided to use the Turbosmart products. The Turbosmart Comp 40 wastegate is smaller then the competitions unit while still offering superior flow and heat handling. It is 25% smaller then other units and can be setup in multiple configurations. The wastegate features only a 3psi spring so if desired, this is the minimum amount of boost the car would run. To achieve the 5.5psi we want for the turbo kit, we use Turbosmart's e-Boost boost controller. The boost controller allows you to dial in the boost pressure you want with several variables. You can also set a high and low boost pressure for pump or race gas. Its digital display tells you exactly what boost you are making in real time.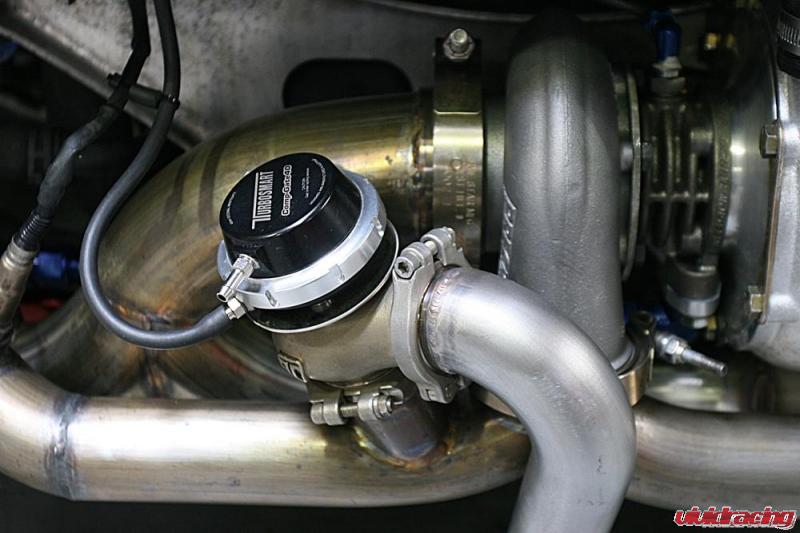 We took our experience from using other products to develop a turbo kit that fit well, simplified installation, and was extremely efficient. To have the turbo charger work most effectively, all air and exhaust flow components were designed to maximize performance. We wanted to not create any weight or exhaust flow bias on the kit. So we started with hanging the turbo in the center of the car and building outward. This allowed us to have an equal length setup which delivered exhaust flow from the cylinders to the turbo at the same rate. What we also achieved in doing this was retaining the stock headers to make the kit more modular. This design mimicked how the OEM catpipes were mounted giving us more room to offer optional high flow 200 cell catalytic converters. We also retain the bungs for the factory O2 sensors. With the Y design into the turbo, we were able to put the external Turbosmart wastegate as close to the center as possible to eliminate any boost creep or issues that can be caused by elongated wastegate pipes. This also fits neatly in the center with a dump pipe straight down to the ground. The dump pipe is where the exhaust gases go when the wastegate opens up, bypassing the entire exhaust system. Turbos really do not need backpressure to perform to the fullest level. The design of the exhaust system was to keep everything distributed equally for an OEM fit and finish. The Y out of the turbo exhaust side features 3 inch stainless steel. The pipes are designed with slip joints and race inspired, built-in clamping systems. This allows movement for the fitment of each piece where a fixed mount part may not be adjusted. Our U design exhaust with resonators fits neatly where the factory exhaust mufflers once hung. The hand section welded exhaust tail pipes also feature slip fit joints and built-in clamping systems. The exhaust tips come out in either a slash cut 3inch design (pictured), or a quad design with one larger and one smaller pipe. This free flowing exhaust system roars like a GT3 race car under power and because of the turbo charger, drives calming inside under cruising speeds.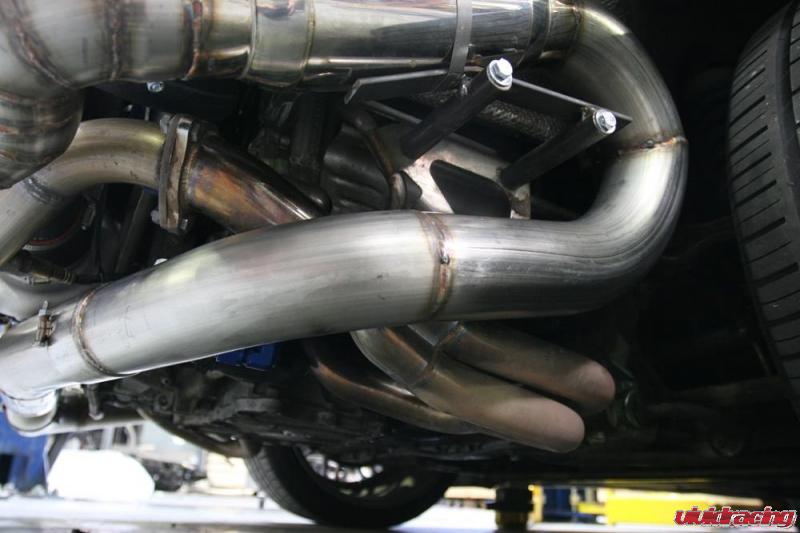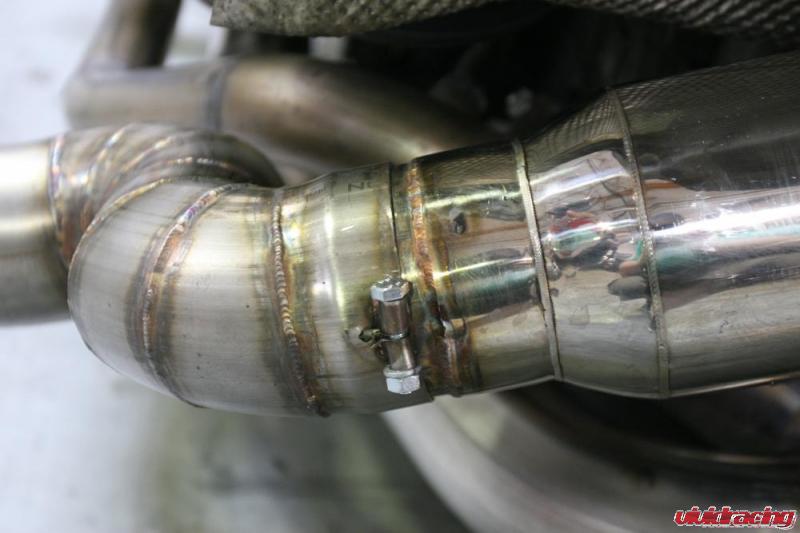 To be able to run boost on a normally aspirated motor, you need to have proper fueling and tuning. Anyone can connect tubes, but the tuning is what makes the car run smoothly while delivering the quality performance. We collaborated with fueling experts, Deatschwerks to equip the turbo kit with direct replacement 50lb injectors. Flow balanced within 1-2%, these injectors have an excellent spray pattern and atomization to give excellent idle and tuning properties. But the final function to complete the puzzle is our custom VRTuned ECU tuning. With months of development, our ECU tuning was designed specifically for this turbo kit and the 996 vehicle. There are a couple extremely important features that are only offered with VRTuned ECU tuning. First, all VRTuned ECU tuning is done via the OBDII port. You do not have to remove your ECU from the vehicle and ship it anywhere to be flashed outside the car. This means no down time and a convenient way to complete your installation. With each turbo kit, you are given a flash cable which allows you to flash the car from a laptop. The flash process is very simple as seen on the VRTuned Installation page. We also provide you with your TRUE original ECU file if you decide to return the car back to stock. Our ECU flashes are designed to accomondate any type of octane worldwide. The ECU files are tuned for either 91-92 octane or 93+ octane. Because of the adaptive features of the VRTuned ECU tune, anytime you add race gas, octane booster, or other fuel additive to the car, the ECU file will adjust accordingly. The lower 91-92 octane files do have less aggressive timing to keep the engine safe from detonation. The VRTuned ECU flash retains all factory knock control functions to make sure your engine is safe. We also raise the secondary O2 sensor limits so you will not have a check engine light from high flow or catless exhaust pipes. All VRTuned cables also work with the Durametric.com diagnostic software. This is a very good feature that allows you to datalog your car, clear check engine lights, reset service reminders, and if need be, custom tune based on provided information. Although VRTuned has been used worldwide, if an ECU issue requires attention, we can conveniently do this remotely to assure your satisfaction and performance. For those worried about emissions, it is recommended to find out what your local requirements are and contact us to let you know what can be done for you to pass with our Turbo Kit.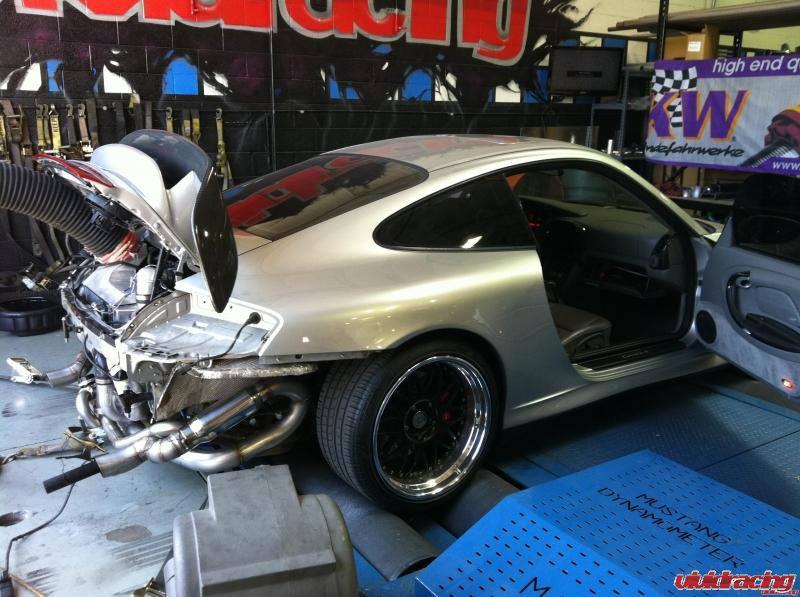 Challenging to be different, we decided to use an Air to Air intercooler design like the 993 and earlier turbo cars. Other companies use the front add on GT3 center radiator kit to cool an air to water design. This center radiator was designed for cooling your engine. We thought, "if you have an option to keep your engine running cooler, why waste it". So what we went with was a Garrett bar and plate core design capable of 600hp. Our custom enlarged aluminum end tanks are TIG welded to maintain proper air volume and flow to keep the intercooler cooling most effectively. The intercooler gets air flow from the factory air inlet on the decklid where the stock airbox would attach. This is accomplished via a carbon fiber air duct housing. The housing is designed to cool the entire surface area of the intercooler core without loosing cooling capacity to heat soak. In fact, we reviewed the intake air temperatures using a Brockway DGauge under several different ambient air temperatures and driving conditions. This temperature is far less then what it would be having 180-200F radiator fluid pumping through lines. On a 90F day under 70mph cruising speeds, the intake air temperature was about 109F. This was compared minutes later to our VR825 997 Turbo with the intakes/intercoolers mounted in the fender wells which read out 95F. In stop and go traffic on a 90F day, we saw IAT's of 130F max. The carbon fiber housing seals to the intercooler core to maximize its efficiency and is secured in place with a custom bracket design. The intercooler outlet to the throttle body is 3 inch diameter and also a carbon fiber design to reduce heat transfer and add engine bay styling. The design of this short upper boost tube can also accommodate an optional water/meth injection system for those that can only get 91 octane but want the more aggressive 93 octane map. With the amount of space you have to work with, placement of the air intake makes things tight. Because the turbo charger is intercooled, we feel that the filter placement between being a "cold air" or mounted in the engine bay is not as important. Having proper tubing size, MAF placement, and decent filtration was our goal. So to help reduce heat and have straight laminar air, we utilize a carbon fiber intake tube with a CNC machined MAF housing placing the filter towards the back passenger side quarter panel. Like all of our products, we use high quality K&N cone filters.
It was important in the design of the turbo kit to retain the factory safety crash beam and minimizing the modifications to the vehicle. Safety is very important to us whether installing, developing, or using any type of product. For this turbo kit, we wanted to make sure that if a vehicle accident occurred, you would remain safe and lesson the damage done to the chassis of your vehicle. The crash beam is slightly trimmed on the interior portion by the provided templates to clear some of the turbo components. This does not affect the mounting of the support beam. Only 2 other holes are drilled with the provided templates for the pass through of the lower intercooler and air intake system.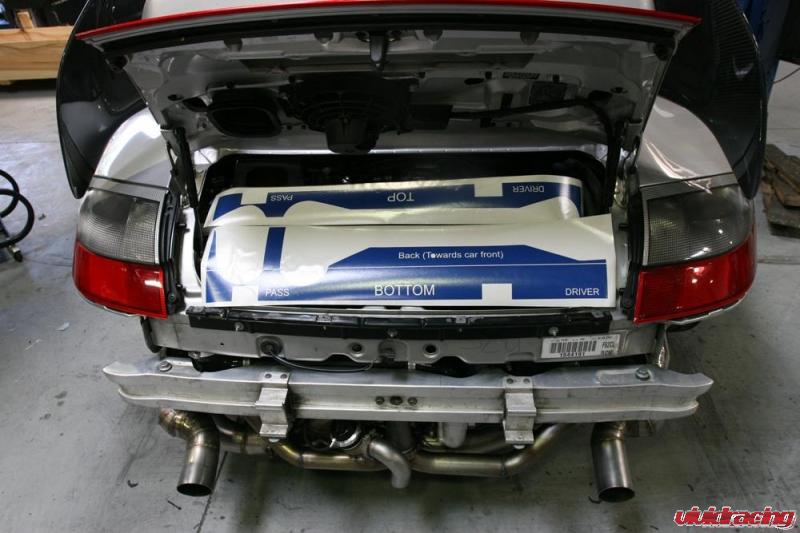 Our test vehicle was a 2004 Porsche 996 C4S 3.6L. This 6speed car had approximately 50,000 miles on it once the kit was installed. Our dyno testing was done on a proper AWD Mustang Dyno. The baseline run of the car yielded 253hp and 215ft/lbs of torque. Typically an AWD car has about a 20-25% drivetrain loss on a Mustang Dyno which is correct for the factory rated 316HP to the crank. Our final tuned performance on pump gas was 381hp and 363ft/lbs of torque. This is a 130hp 150ft/lb gain to the wheels over stock. This puts the car at almost 475hp! In comparison, a 996 Turbo baselines on our dyno at about 340awhp and a 997 Turbo at about 390awhp. From testing other products on our same dyno, our Turbo Kit gained about 30 more horsepower to the wheels! The turbo kit is available to work with any 2000-2005 Porsche 996 Carrera model. This includes the C2, C4, C4s, Targa, and Cabriolet versions. The kit can be installed on either a 6speed or a Tiptronic vehicle. This is a complete turbo upgrade kit and does not require any additional components. Recommended installation time is about 25-30 hours and is recommended to be performed by a quality, competent performance installation center. Turbo Kits are only available for purchase from Vivid Racing and all products carry a limited liability warranty.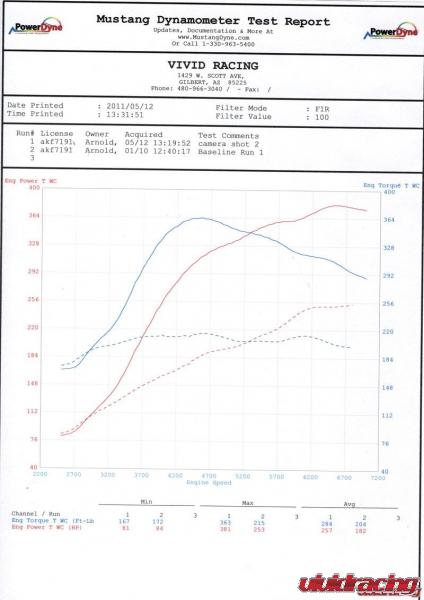 View many more installed pictures, view our gallery here.