The BMW F87 M2 Coupe truly sets the benchmark in the compact high-performance sports car segment, especially when it comes to driving dynamics and performance. Its sleek curves and devilishly good looks are merely the icing on the cake. The M2 Coupe is powered by a newly developed version of the beloved N55 engine. The updated 3.0-liter six-cylinder in-line engine uses the latest M TwinPower Turbo technology to unleash a satisfying 370 horsepower and 343 pound-feet of torque. When mated to the optional seven-speed M Double Clutch Transmission and Launch Control, the F87 M2 Coupe can go from 0 to 60 mph in just 4.3 seconds.
Upgraded performance intakes are a great way to free up some of that engine sound and power on turbo cars; and the N55 in the F87 M2 is no exception. While the factory N55 intake is certainly effective at stock boost levels, it becomes more restrictive at higher than stock boost. That being said, an N55 performance intake is one of the best ways to get more power out of tuned engines. Cold air intakes are a preferred choice when it comes to aftermarket air intake systems because they are strategically developed to ensure your engine breathes the coolest air possible for maximum performance benefits.
So, if you are looking to get more from your F87 M2 Coupe, start by replacing the stock air intake system for a noticeable difference. There's a reason why performance intakes are such a highly popular bolt-on – and they can really take the N55 to the next level. By upgrading to a cold air intake system, you will allow the turbos in your car to inhale all the cold air they need to perform optimally. The result is a substantial boost in power as well as a more tantalizing soundtrack as the turbos spool up and do their thing. Since the stock system muffles a lot of the noise many crave to hear, removing the restrictive airbox allows for more induction and turbo noises.
You already have a lean, mean driving machine at your hands, so why not let it breathe a little freer and run a little better? Induction systems account for a critical part of what makes your car run; so improving your BMW's airflow is paramount in its engine performance. And a cold air intake delivers a plethora of benefits that make it a great value and a first choice when owners catch the "mod bug." To help you with your search, we have listed the top 5 best cold air intake systems we offer based on factors like value, quality, performance, and appearance. If you'd like to do some additional searching, feel free to browse our entire inventory of CAI options for the F87 M2 right here.
#1 Eventuri Carbon Fiber Intake System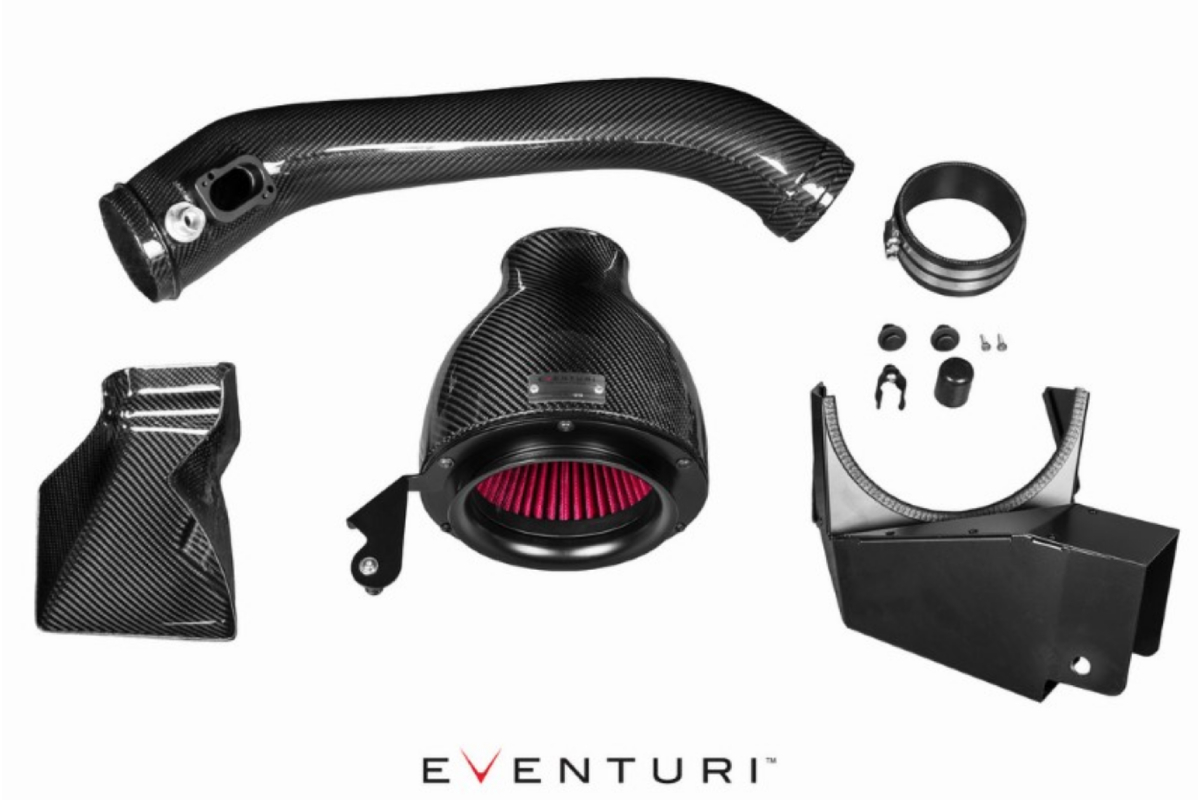 Feel the Eventuri difference with its Carbon Fiber Intake System for the BMW M2. A perfect example of the brand's "Complete System" principal, this product delivers the perfect balance for unrestricted airflow with its open filter housing. It also ensures that engine bay heat is kept at bay thanks to the new sealed duct and scoop combination. This way, IATs are kept to a minimum and high temperatures are kept away from the high-flow, double cone filter.
The Eventuri F87 M2 N55 intake system consists of a number of components all engineered to perform a specific purpose and fabricated to the highest of quality standards. The M2 Eventuri system features the brand's Patented Housing, which offers an aerodynamically efficient airflow path from the filter to the MAF tube. Rather than having just another cone filter with a heat shield, this system boasts a unique design that invokes the Venturi effect.
Setting a new benchmark in design and workmanship for the F87 platform, Eventuri's cold air intake system is the perfect bolt-on upgrade for your N55 engine. Each and every part of this air intake system has been expertly crafted – everything from the 100% prepreg carbon pieces down to the precision brackets. Not only does this air intake system deliver optimal airflow for improved performance, but it's also quite the looker in the engine bay.
#2 ARMASpeed Hyper Flow Carbon Fiber Intake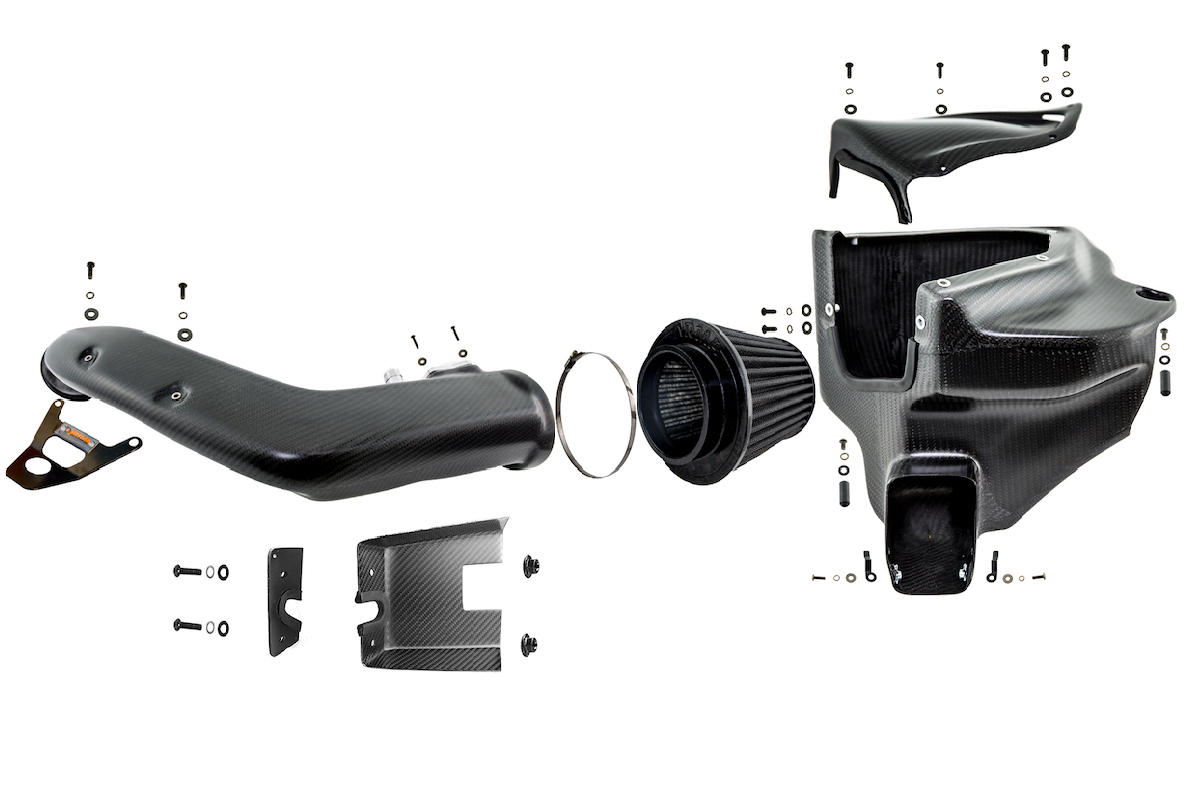 ARMA Speed's Carbon Fiber Intake System for the BMW F87 M2 combines a unique airflow guide design with a vacuumed carbon fiber airbox. This pairing isolates high temperatures from the N55 away from the intake in order to maximize the amount of cooler air being inhaled by the engine. This cold air intake system was developed with high quality, high efficiency, and continuous innovation in mind. Benefits include up to 50 percent more airflow, less lag takeoff, and increased torque gains at low to mid-range RPMs. It also delivers a satisfying growl upon acceleration, though remaining quiet once at speed for an enjoyable ride.
ARMA Speed's Hyper Flow systems boast the ideal balance between heightened performance and engine bay restyling. This system's state-of-the-art filtration system features a layered design of thousands of microscopic cotton fibers to help shield your engine from contaminants. Arguably one of the best-looking carbon fiber intakes on the market, this system gives you the option of choosing between a Matte Dry Carbon Finish or a Gloss Clear Coat Finish at no additional charge. Both finishes give this system the added oomph it deserves while complimenting your car beautifully.
This system's induction box and intake piping have a much larger capacity over the BMW F87 M2's OEM system. The 30 to 45 percent gain in volume guarantees a smooth and stable airflow to the car's N55 engine. ARMA Speed's repeated testing on the street, racetrack, and dyno has shown that the performance gains from this intake in real-world driving situations are quite impressive. The brand has also verified that this intake system responds well to BMW M2 stock ECU tune, intercooler, and exhaust system. After all, this system is a direct bolt-on upgrade and requires no additional modifications or ECU remapping.
#3 aFe Power Momentum GT Cold Air Intake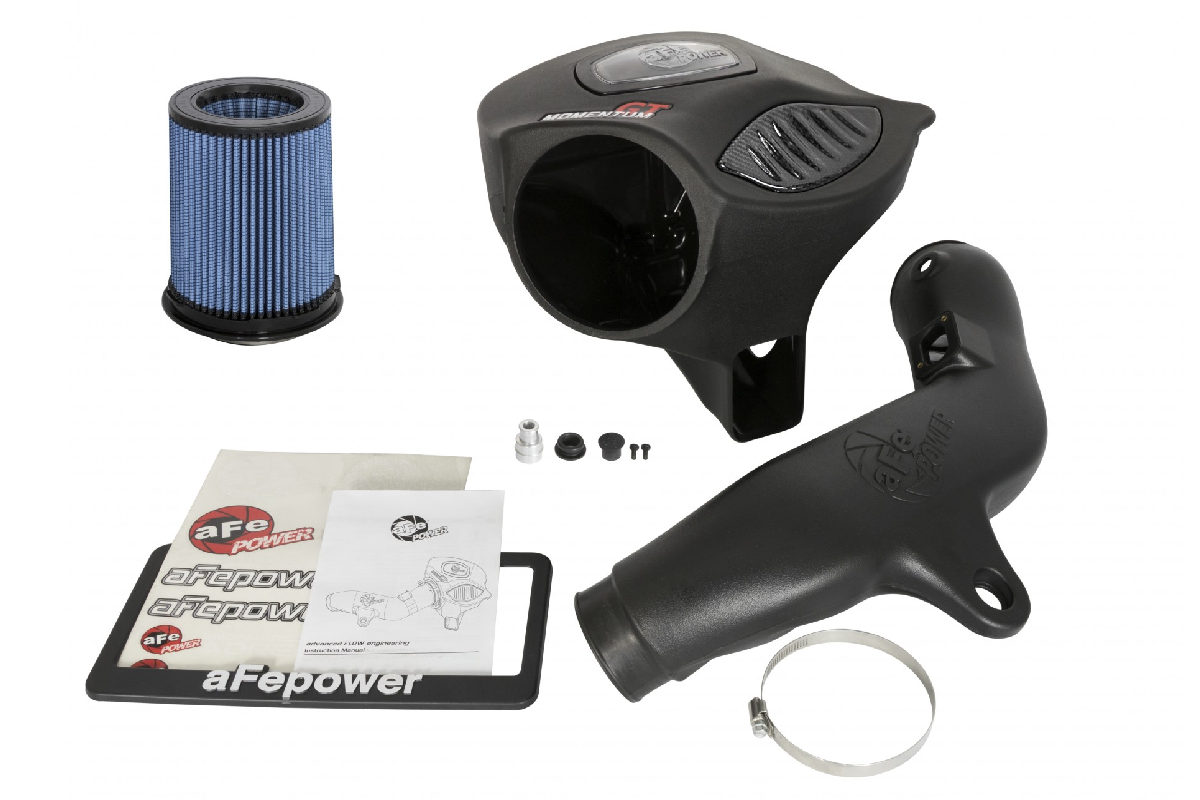 The aFe Power Momentum GT Cold Air Intake represents the next generation of intakes, with greater horsepower, torque, and overall power. At a moderate price point, this system is designed and tested around the performance needs of the BMW F87 M2 to ensure maximum power gains with the largest filter possible. Each Momentum GT Series Intake is repeatedly dyno-tested to guarantee improved performance across the entire powerband. The system uses a tuned intake tube to achieve power gains of 15 horsepower and 13 pound-feet of torque. It also outflows the F87 M2 factory intake by up to 10 percent.
This cold air intake features a smooth, high-quality, one-piece sealed housing with an auxiliary air inlet to ensure the coolest air intake charge available. The system also features a patent-pending, unique filter-to-housing interface that allows for the maximum filter size, which increases the amount of available air volume as well. The cover overlay is crafted from lightweight high-gloss, clear-coated 2×2 twill weave carbon fiber for that motorsport appearance.
With this system, you have the option of either a Pro Dry S filter or Pro5R oiled filter, depending on your preference. Both choices washable and reusable, and suitable for the street and track. The dry filter features 3 progressive layers of synthetic media, while the oiled filter has 5 layers of cotton composite media. The large clear sight window makes for headache-free filter inspection and added styling. This intake is designed with fewer parts and includes premium stainless-steel hardware for a secure and easy installation process.
#4 Dinan Carbon Fiber Cold Air Intake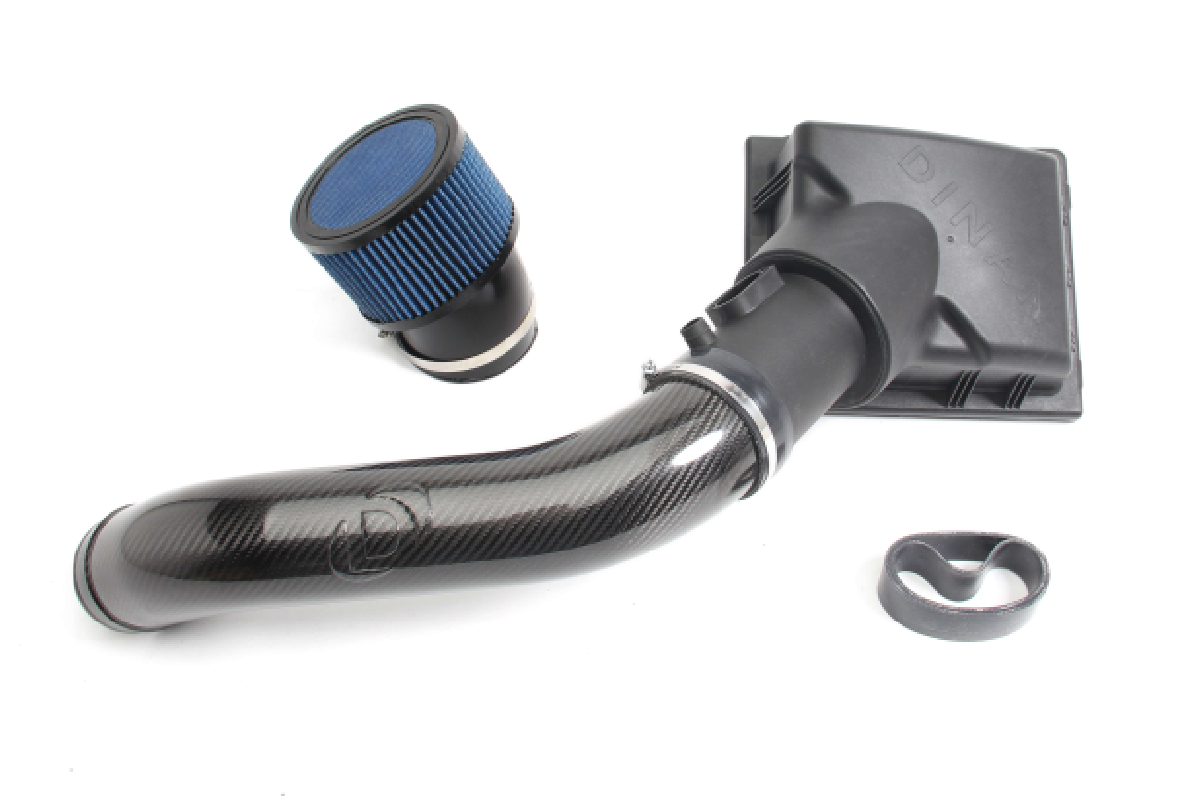 On the more affordable side of things, we have Dinan's Carbon Fiber Cold Air Intake for the BMW F87 M2. In developing this intake for the N55 engine, Dinan focused on efficiency and maximizing the potential of BMW's stock intake design. The Dinan sealed system delivers the highest possible levels of cool outside air to the N55 engine by way of an optimized carbon fiber tube that mimics the stock pipe, but with less resistance thanks to the straighter, freer flowing design.
The increased airflow that feeds into a greater volume airbox complete with an enlarged cylindrical air filter. This duo, along with a larger MAF, delivers maximum insulation from power-robbing heat and allows for optimal flow overall. In addition to improved, cooler airflow, this system elicits a mean sporty tone that makes the intake sound as good as it performs.
The improved design of this system yields up to a satisfying 10 horsepower increase and an additional 15 pound-feet of torque even without any other modifications needed. Even more power can be achieved when this intake is combined with the DINANTRONICS Performance Tuner and exhaust. This bolt-on cold air intake upgrade can be easily installed in under an hour and you will immediately be on your way to a more powerful and audible driving experience – one that will impress both yourself and those around you.
#5 CTS Turbo Cold Air Intake System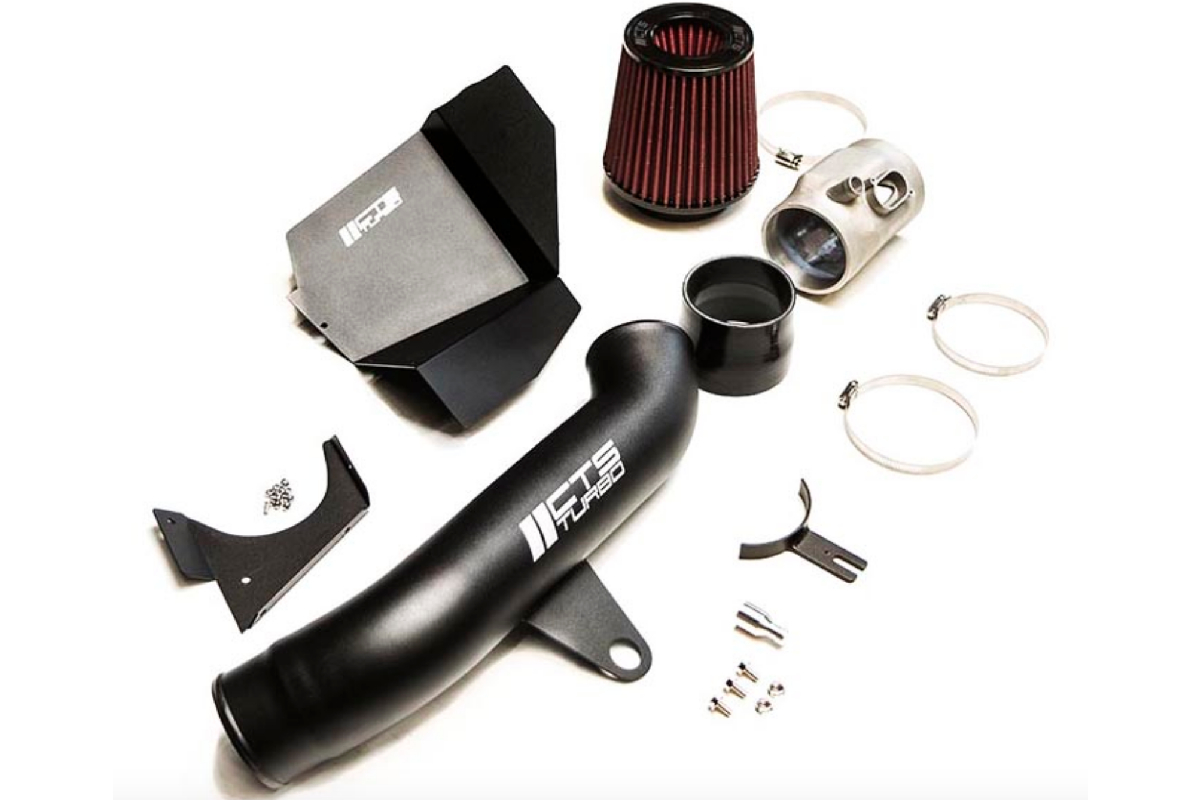 Another affordable option is the BMW M2 Cold Air Intake System from CTS Turbo. After a lengthy R&D process, CTS Turbo was pleased to announce its new air intake upgrade for the N55-equipped BMW M2. What makes this a premier choice and great value for the N55 engine? Well, numerous intakes on the market tend to cause poor running conditions because of an incorrectly shaped MAF housing. Your car's factory MAF housing is shaped like a hexagon, so when you use a circular housing in place of that, undesirable events can occur such as erratic idling and downshifting, poor fuel economy, and incorrect MAF readings.
That being said, CTS Turbo sought out to fix this issue and came up with a solution. The brand rigorously tested and cast its own proprietary aluminium MAF housing in a hexagon shape to ensure that your BMW M2 can account for the improved airflow just as well as it did in stock form. The OEM air scoop works together with CTS Turbo's powder-coated airbox to seamlessly force cold air into the intake system. The cooler air then flows through the 3.5-inch high-flow, reusable air filter, which uses an inverted cone design to allow your engine maximum breathing benefits.
The CNC mandrel-bent aluminum intake pipe provides a smoother pathway of entry for colder air to find its way directly into the N55 engine, simultaneously reducing turbulence from unnecessary and wonky connections. Each component in this system works together effortlessly to deliver increased power figures throughout the entire powerband. Peak power gains range from 10 to 15 horsepower on an otherwise stock vehicle. In addition. This air intake upgrade emits an aggressive race-inspired soundtrack for more smiles per gallon.