With all the hype surrounding the A90 Supra before its launch, it's no surprise that it has quickly become one of the hottest tuner cars available. With it becoming so popular, many aftermarket parts manufacturers have turned their attention toward the A90 Supra. In a short amount of time, the Supra went from zero aftermarket support to an overwhelming amount of aftermarket support.
There are a lot of different ways you can improve your A90 Supra and deciding what mods are best for you can be tough. To help you pick your next modifications, we've created this short guide covering the best mods for the Toyota A90 Supra.
#5 Lowering Springs or Coilovers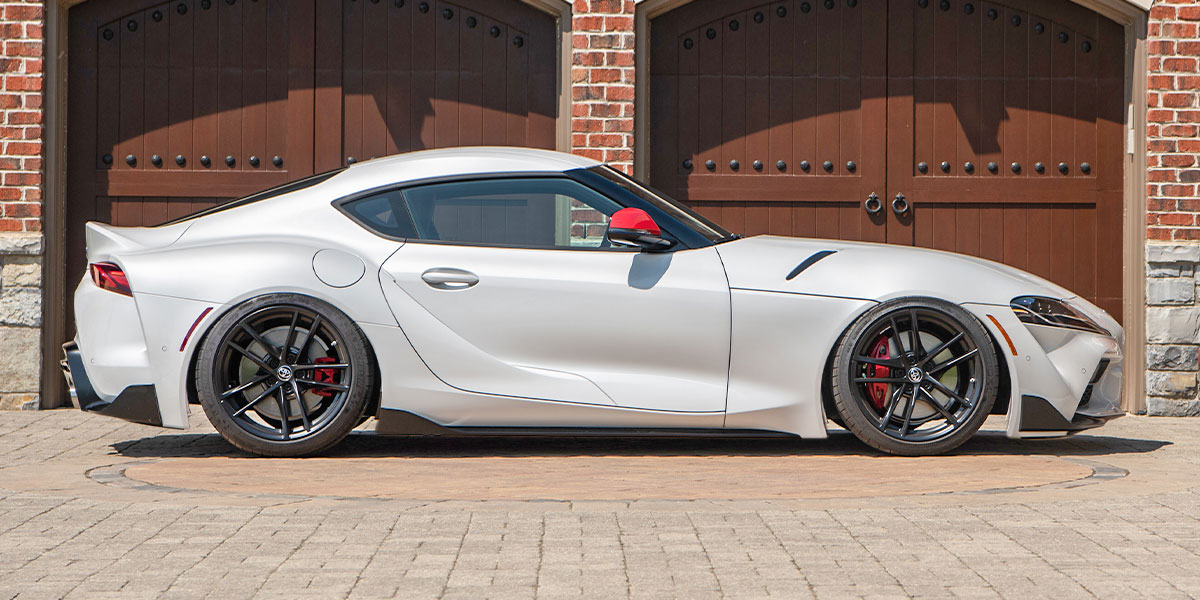 Although Toyota and BMW did a great job tuning the suspension and chassis on the A90, it needs to sit lower. The OEM ride height is pretty high and the A90 has a very noticeable wheel gap. Not only can lowering the A90 get rid of the ugly wheel gap, but it can also improve handling by lowering the centering of gravity to reduce excessive body movement.
Depending on how low you want to go and what suspension feature you're looking for, you can either install lowering springs or coilovers. Lowering springs are a cheap way to give your A90 a better stance and better handling. If you want the best performance possible, coilovers are the much better option as they control your car much better and give you lots of adjustments.
On our project Supra we installed HKS height-adjustable lowering springs. With these springs, we were able to give our A90 a very low and aggressive without replacing the OEM dampers.

#4 Aftermarket Wheels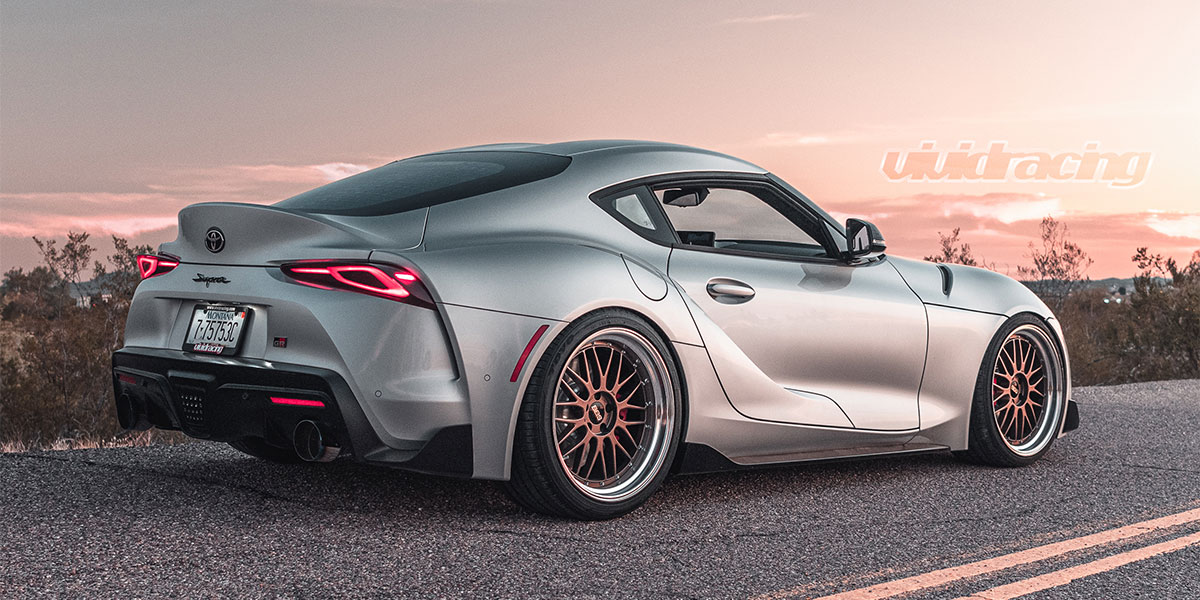 After installing lowering springs or coilovers, you're going to want to replace the boring OEM wheels on your Supra. Luckily, Supra uses the same 5×112 lug pattern as many of the new BMWs, making it much easier to find aftermarket wheels.
The only difficult part about buying wheels for your A90 Supra is finding a set that you like. On our Project Supra we are using BBS LM wheels 20×10/20×11. Other popular wheels we offer for the A90 include WedsSport RN-55M, Volk Racing TE37SL, Titan7 T-S5, Advan R6, and more!
Upgrading your wheels will give your A90 a much more aggressive look and can also reduce rotational mass. Since many aftermarket wheels are lighter than your OEM wheels, unsprung rotational mass is reduced which can massively improve handling and response.

#3 Steering Wheel
Something which is often overlooked on the A90 Supra is the OEM steering wheel. While most performance cars have a thick and easy to hold steering wheel, the A90 has a very thin steering wheel. While this might not necessarily be a performance upgrade, a thicker steering wheel massively improves the driving experience.
Luckily, we already discovered this problem with our A90 Supra and developed a solution: our custom-built OEM steering wheels! With our Vivid Racing steering wheel, you can completely customize the look and feel of your OEM steering wheel with different materials, shapes, and features.
The new steering wheel is based on OEM steering wheel cores. So no matter the year, the buttons you have, we can make a wheel for you. Vivid Racing's factory alters the shape while keeping the original inner ring for safety. The steering wheel features beefier hand grips at 9 and 3 positions giving you proper driving ergonomics.

#2 Intake and Exhaust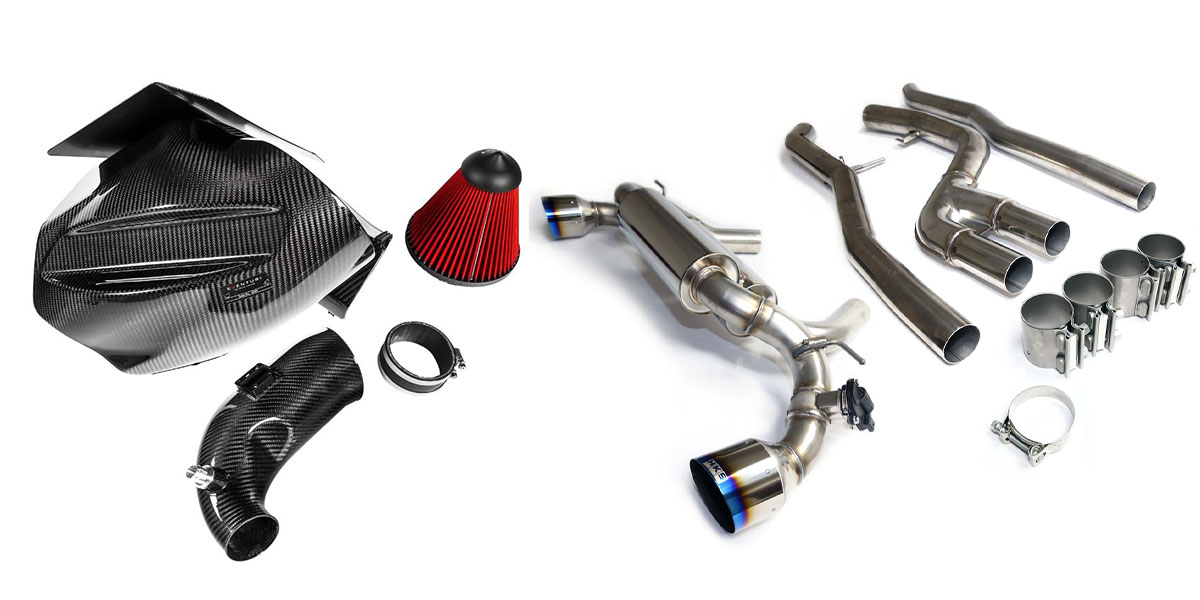 As with any turbocharged engine, the BMW B58 can make a lot more power if you increase airflow through the engine. This can easily be done with an aftermarket intake and exhaust.
A good aftermarket exhaust system will increase flow and velocity, optimize exhaust scavenging, and use heat to its advantage. The whole idea is to make it easier for the piston to push the exhaust gases out of the cylinder. If it's hard to push the gases out of the cylinder, that will essentially resist the rotation of the crankshaft.
An aftermarket intake will decrease airflow restriction to the turbocharger which ultimately allows it to increase boost pressure with the additional airflow.

#1 Tuning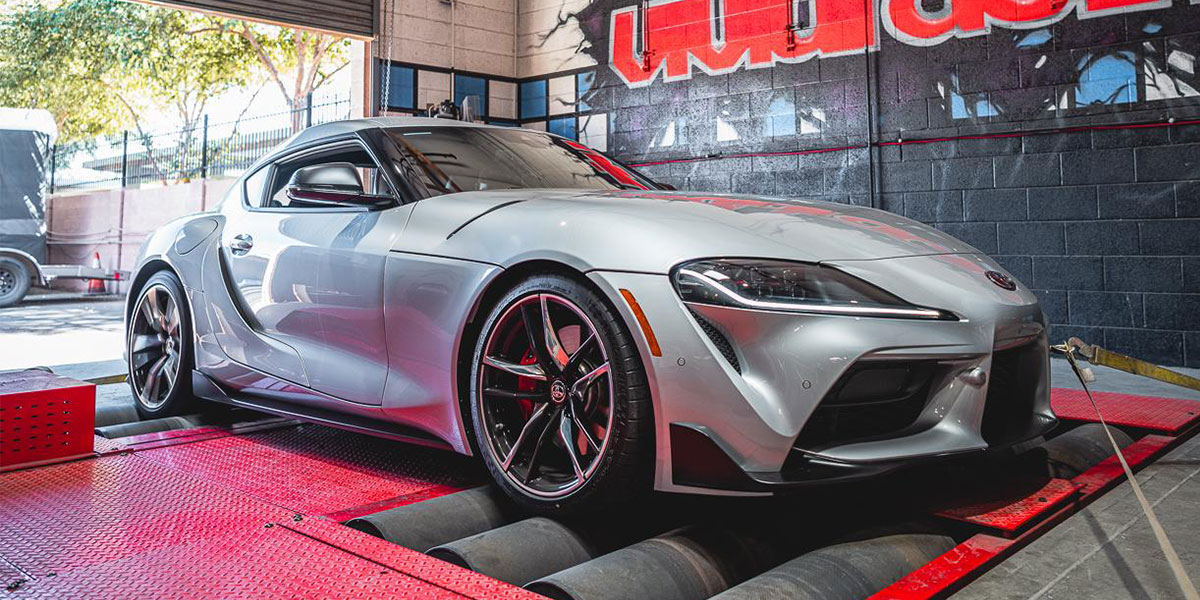 We knew from our previous testing with turbocharged BMW engines such as the N54/N55 that the B58 would have a lot of potential. As we found from our dyno testing and tuning, it's pretty easy to squeeze an extra 65hp and 81lb-ft of the B58 with our VR Tuned ECU flash.
Our flash increases boost pressure, optimizes air/fuel ratio, and modifies ignition timing. Our tune file is designed to increase power safely, so we keep ignition timing and AFRs in a safe range. Check out our VR Tuned ECU flash here for more information.
No matter how many bolt-on modifications you install on your A90, you can never capitalize on the power potential without a tune. The OEM tune is designed to work within specific parameters and it isn't designed for the best performance possible.

Summary
There are a lot of different ways to modify the A90 Supra. Nearly every part can be upgraded in some way and as time goes on, more manufacturers will develop new parts for the platform. If you have questions, please contact us. You can reach us by phone at 1-480-966-3040 or via email at sales@vividracing.com