Rock sliders play a crucial role in protecting your truck's rocker panels and doors while out on the trails. The "slider" portion of the term refers to the fact that these products "slide" over trees, big rocks, and steep hills to keep damage at bay. If your Toyota Tacoma is going to be on the rocks a lot and tackling tough terrain, you will want to invest in a quality set of rock sliders. Not only will they protect your rocker panels, but they give drivers and their passengers a convenient and solid spot to step on when maneuvering the rig.
Rock sliders will let you push your truck to the next level confidently with this added layer of armor. Not all rock sliders are created equal, however, and there are some basic factors you need to look for when shopping for them. Also, keep in mind if your rock sliders will mainly be used for protection (i.e. how much abuse will they take) and do you need them to effectively function as a step as well. Vivid Racing has compiled the following list outlining the top 5 best Tacoma rock sliders from reputable brands based on durability, fitment, cost, and design to take the guesswork out. You can also browse our entire inventory of options below.
1. RBP Black RX-3 Step Bars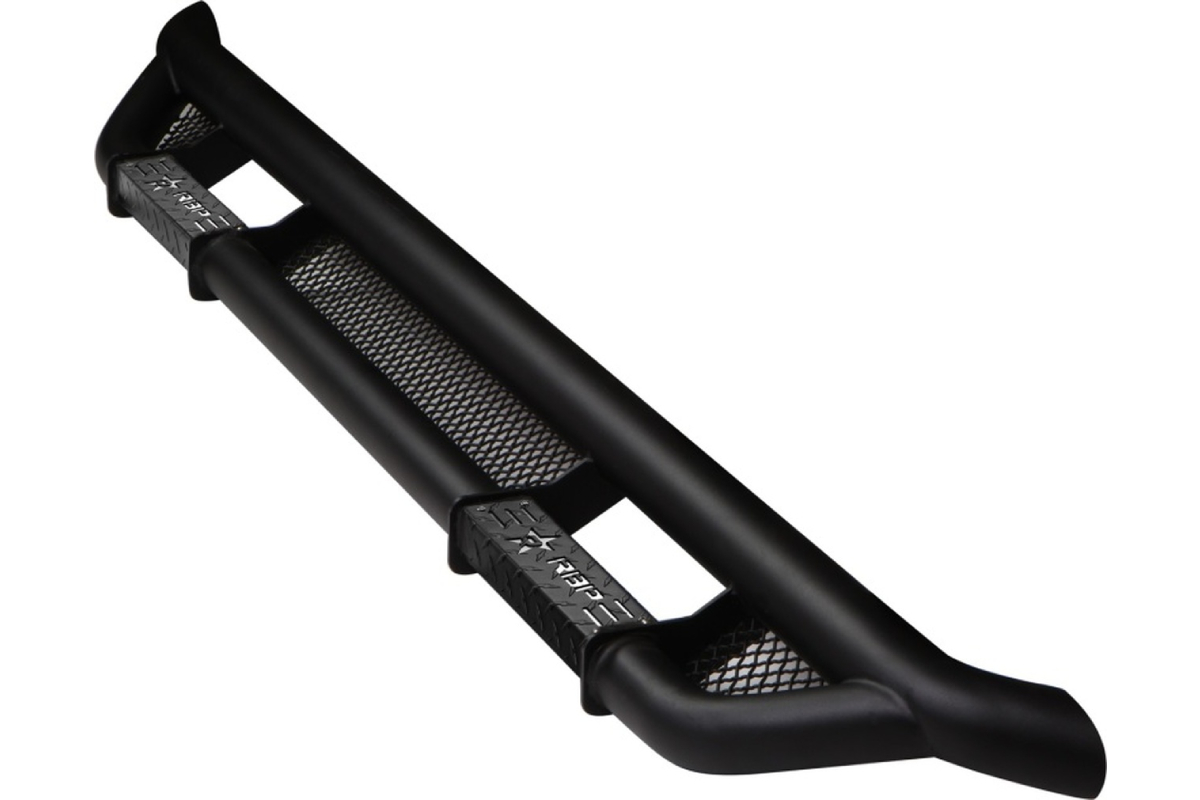 Step into your Toyota Tacoma in style with the RBP RX-3 Series step bars. This series features a one-piece welded steel construction and a patented mesh design that is one-of-a-kind. The cab-length design will hug your Tacoma snugly so that they do not reduce the amount of ground clearance. Whether you are riding high on a lifted truck or sitting on the stock chassis, these rock sliders are sure to have you getting in and out of the vehicle with ease. They will not snag or hinder your ride as you conquer the trails; instead, they are highly practical and act as a line of defense against weather conditions and off-road elements.
These 3-inch step bars boast a heavy-duty 14-gauge, marine-grade steel construction that can support up to 450 pounds per side. They feature a wrinkled finish for cool styling and wicket protection against corrosion. What's more, the paintable, textured inserts allow you to customize your side steps for a set that is truly your own. The RBP RX-3 bolt-on step bars come with all the necessary mounting brackets and detailed instructions for a seamless installation process. Featuring a new 3-year finish warranty and a limited lifetime warranty for manufacturer defects, you can rest assured that you will be covered no matter what.

2. ShrockWorks Rock Sliders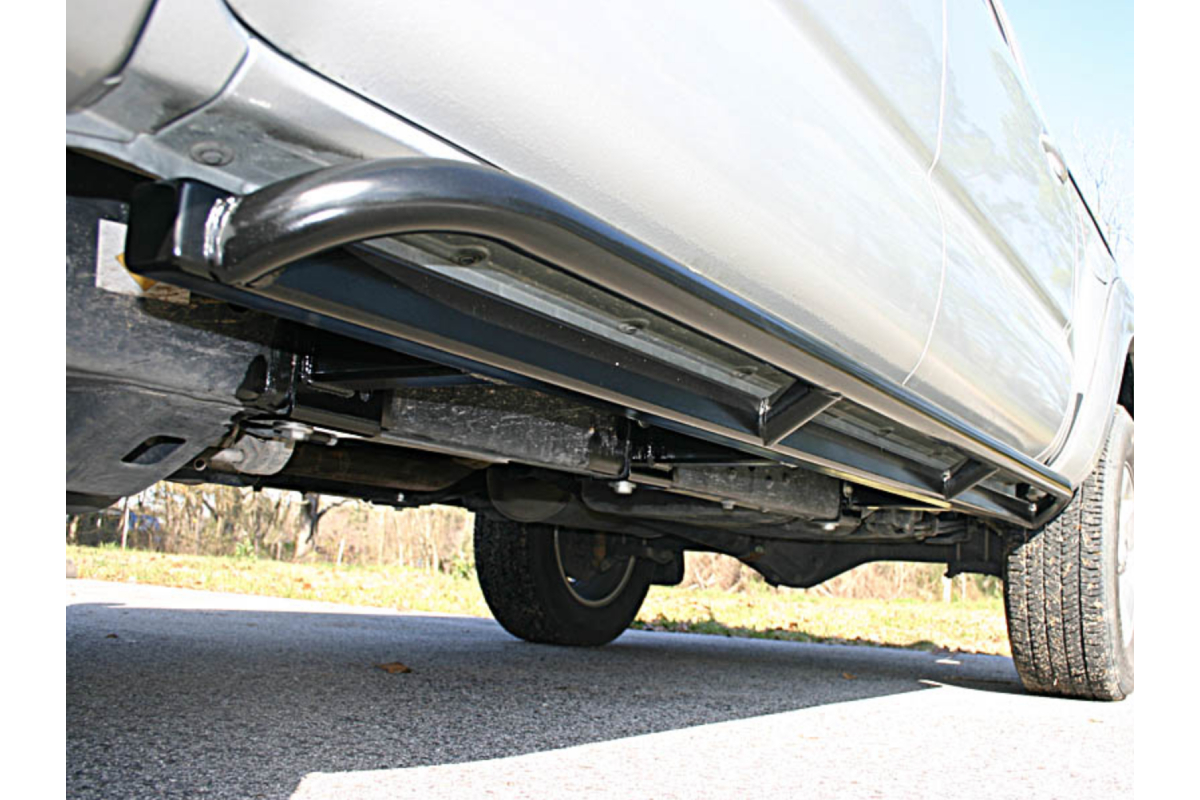 ShrockWorks rock sliders are the strongest ones available on the market to armor up your Toyota Tacoma. Only the best and most durable materials are used and individually handmade to order by skilled craftsmen in Houston, Texas. The ShrockWorks Toyota Tacoma rock sliders are both highly functional and attractive to provide the best of both worlds. These rock sliders are powder coated in a black, textured black or bare steel finish. The tube portion measures 1.75 inches x 0.134 thick with a very high strength-to-weight ratio and is used in applications like roll cages on race cars. ShrockBars will allow Tacoma drivers to charge confidently ahead on the off-road with no fear of damaging their rocker panels.
ShrockWorks rock sliders also function as excellent steps to get in and out of your truck as well as aid in reaching the roof rack portion. Most designs on the market do not stick out far enough to be used as such or stick out so far that they grab obstacles on the trail themselves. ShrockWorks offers the ideal balance with a width that reaches just as far out to be useful without becoming a liability. Adding an extra line of defense to your Tacoma does not have to mean giving up a lot of ground clearance either as the angled sweep of these side tubes allows for sufficient clearance and protection from side impacts. Installation is a breeze with this one too, as only basic hand tools and a drill (for three holes per side) are required.

3. Cali Raised LED Step Edition Rock Sliders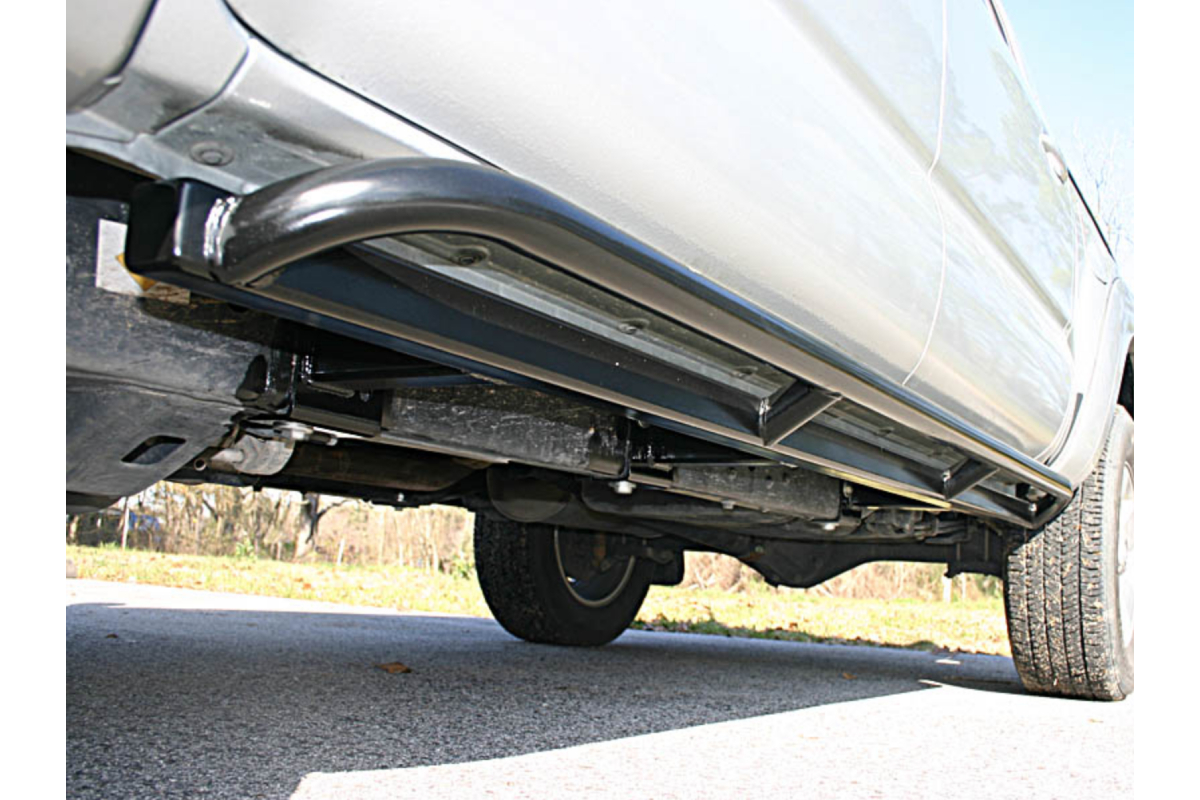 The Cali Raised LED Step Edition Rock Sliders will protect your Toyota Tacoma while looking rugged to complement its natural off-road DNA. The version featured here comes without kick out and has black dimpled filler plates. They are made from high-quality DOM 1.75-inch tubing with .120-inch wall thickness to serve you for years to come. Designed using the latest cutting-edge technology and with customers in mind, Cali Raised LED rock sliders are built to last a lifetime. This quality set will meet all your needs while adding another element of style all at an affordable cost.
This product makes accessing the roof or getting into the Toyota Tacoma that much easier. Zero degrees means an added stepping location for easier and safer ingress and egress. Cali Raised sliders are made to stringent standards with a bedliner finish filler plate and non-kick-out design. Choose between a raw finish, bedliner finish, or powder-coated finish. As universal-fit sliders (for 2nd and 3rd gen Tacomas), they are completely bolt-on and come with all of the required hardware you need for a seamless installation. Zero modifications are necessary so you can rest easy knowing you won't be drilling major holes into the sides of your vehicle.

4. Armordillo USA Matte Black AR Drop Steps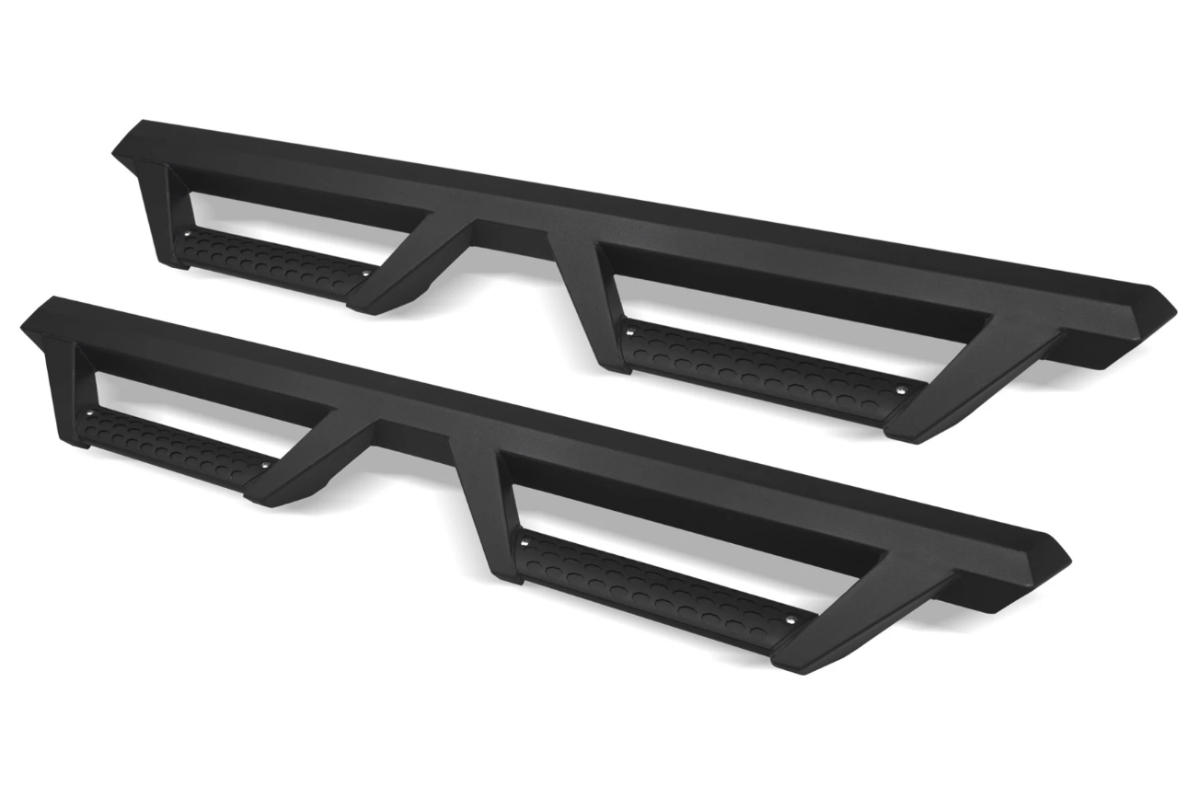 Armordillo AR Drop Steps are designed to take your user experience to the ultimate level. These steps are engineered within strict tolerances to match the Toyota Tacoma's exact specs. They mount close to your truck's rocker panels to ensure the most precise fit and a rugged look that turns heads. At the same time, this product provides a wide, ribbed area on which to plant your feet for safer, easier, and more convenient access to the cab. Armordillo side step bars are a surefire way to instantly give your vehicle a sharper and more aggressive look with unmatched protection against the harsh conditions of the off-road.
These Tacoma drop steps feature an angular formed construction made from A36 steel for maximum strength. They are protected against harmful UV rays and rust thanks to their high-grade, corrosion- and wear-resistant finish. The drop steps also provide extended tire coverage for aggressive wheel and tire fitments. That ultimately means that this product will serve you for years and years to come. You can count on Armordillo to bring you incredibly strong and durable parts that combine brutal appeal with top-tier elegance. These side steps are not only useful and super practical, but have proven to be an ideal solution for both lifted and stock applications. Installation is simple as this is a bolt-on set with no drilling required.

5. Tyger Auto Textured Black Step Bars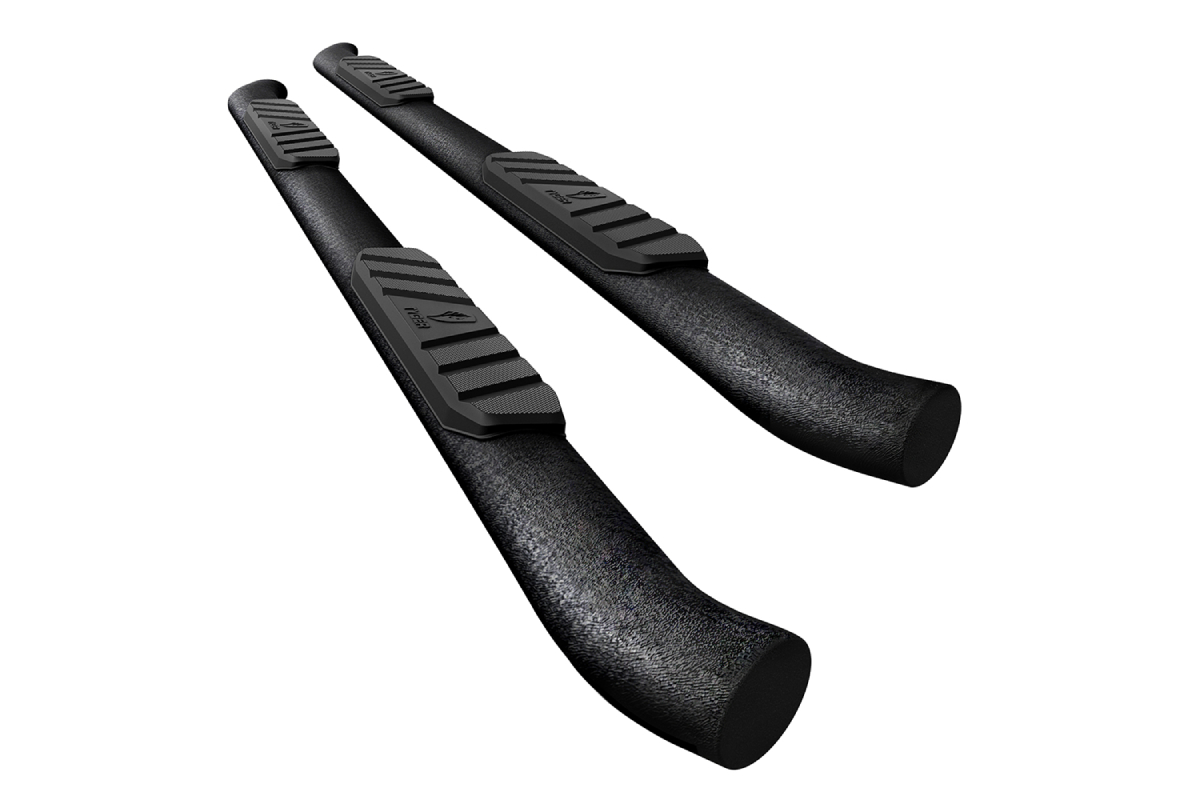 The Tyger Auto black step bars for the Toyota Tacoma are among the highest-rated side step running board models available on the market. After all, Tyger Auto is known for developing premium aftermarket parts that exceed OE quality and provide extra protection for your vehicle. As long as you have a double-cab version of the truck with four doors, these steps are compatible with the truck from 2005 through 2021. These running boards are constructed with a powder-coated finish that is great at resisting water, rust, and dirt to keep your truck clean and protected against any unnecessary damage. This product also comes with a five-year, no-hassle manufacturer warranty that covers any defects so you stay further protected.
The Toyota Tacoma rock sliders from Tyger Auto feature a distinctive oval tube design that provides a wider 3.5-inch step pad surface than their single round tube counterparts. The bigger step pad's non-slip surface allows for even more stability than the competition. The seamless, end-to-end, full-body E-coating with heavy textured powder finish provides unbeatable protection against water, dirt, and rust while maintaining a clean and rugged, off-road appearance. On top of all that, these Tacoma rock sliders boast an easy, bolt-on installation with no drilling required; just follow the included installation guide.