What Ford has done with the Fiesta ST, Focus ST, and Focus RS is pretty impressive. With great suspension tuning, brake-based torque vectoring, and extremely torquey little engines they created arguably the best hot hatches in modern history. One area where many enthusiasts are divided with the Focus ST/RS is how it looks; some enthusiasts love it and some hate it. A simple change of wheel choice, however, makes the Focus ST/RS look way better.
Choosing wheels can be stressful, so we created a list of what we think are the best-looking wheels available for the Focus ST/RS. Unfortunately, Ford used an uncommon bolt pattern on the Focus ST/RS, so the selection of wheels is extremely limited compared to some other cars. With our massive wheel selection, however, we were still able to find quite a few awesome wheels that fit the ST/RS.
#9 Volk Racing TE37 Wheels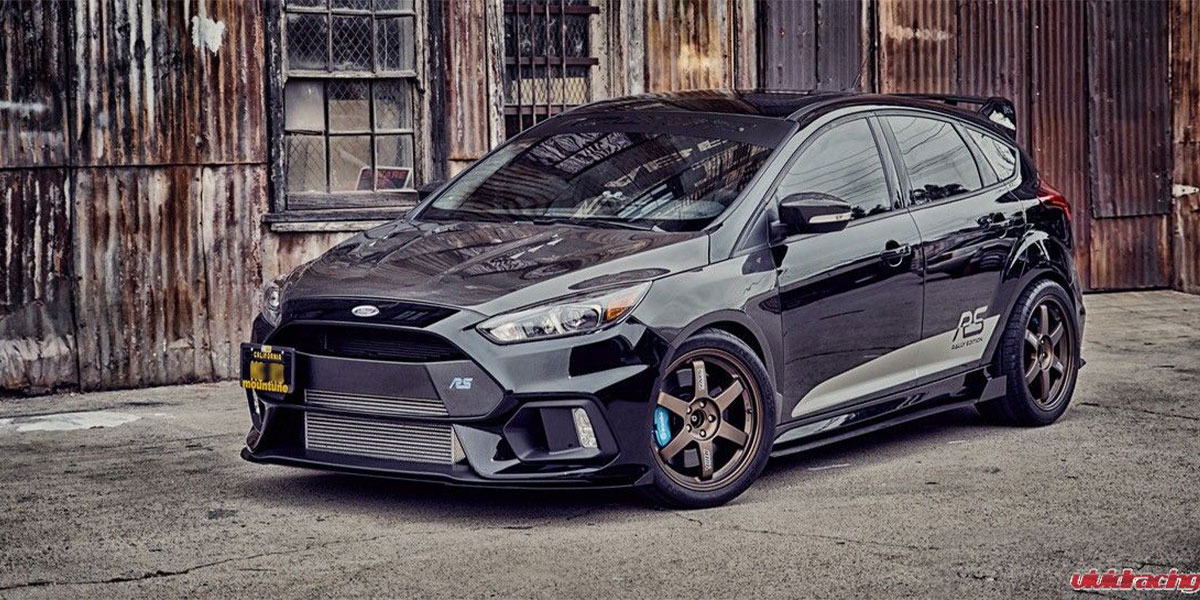 The TE37 is one of the most iconic wheels of all time. It's especially popular in the JDM community, but it's also a very popular choice for Focus ST and RS owners. What makes this TE37 special is the mold-form forged construction, which gives it superb strength without any extra weight. Of course, there are a bunch of variations of the TE37, but they all share the same strong construction.
Aside from the special construction, the TE37 is well known for its simple six spoke design which looks good on pretty much any car. For those who want the lightest wheel possible, the TE37SL and TE37 Saga are both great options. The high-end construction makes the TE37 a bit on the expensive side, but it's well worth it.
Purchase Volk Racing TE37 Wheels Here
#8 Konig Hypergram Wheels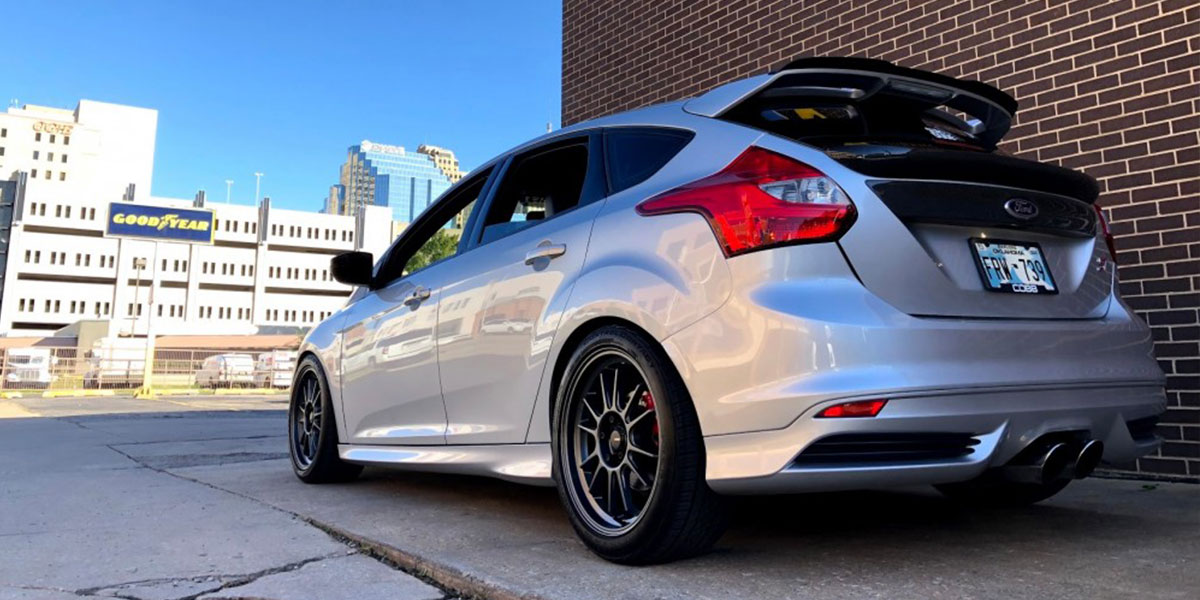 For Focus ST/RS owners who want something super lightweight without breaking the bank, the Konig Hypergram is the perfect solution. Coming in around $200/wheel, it's very affordable, especially considering how light it is. The Hypergram is a motorsports inspired 12-spoke design.
What allows the Hypergram to be so affordable is the Flow Form Technology, which bridges the cost and strength between a cast wheel and forged wheel.
Purchase Konig Hypergram Wheels Here
#7 Method Racing MR503 Rally Wheels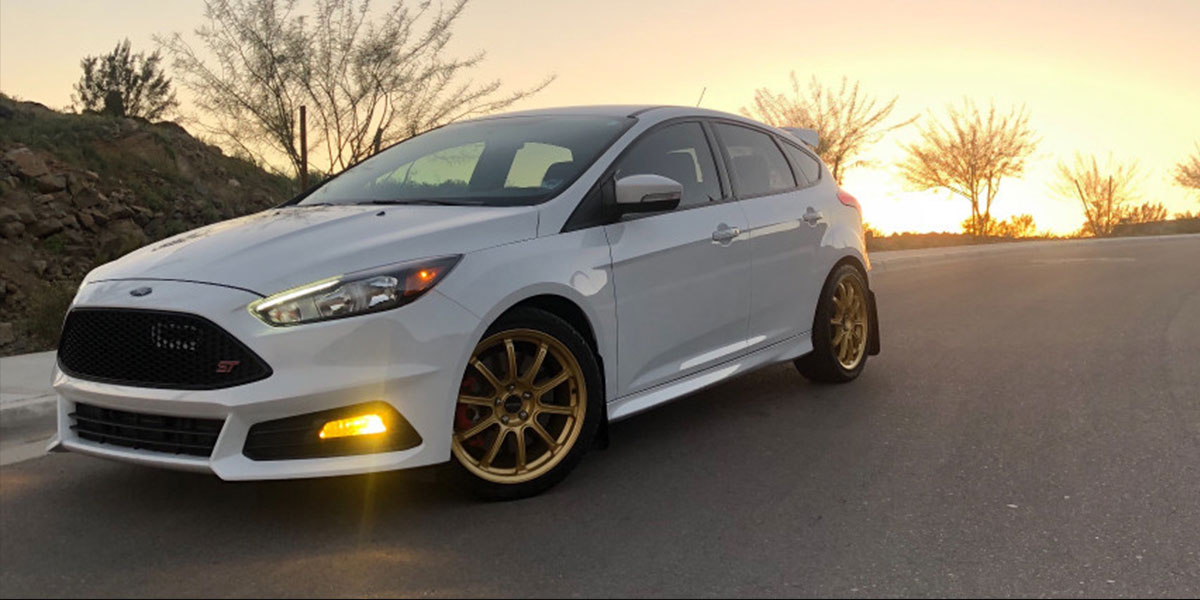 With Ford's massive success in the world of rally racing, many Focus ST/RS owners want to give their car a rally look. This is where Method Racing comes in with their MR503 Rally wheels. Not only do this have the "Rally Car" look, but with knurling on the inner and outer bead seat to help secure the tire bead. With an extra secure tire bead, you can air down further without worry of the tire getting ripped off the bead.
Purchase Method MR503 Wheels Here
#6 Niche Targa Wheels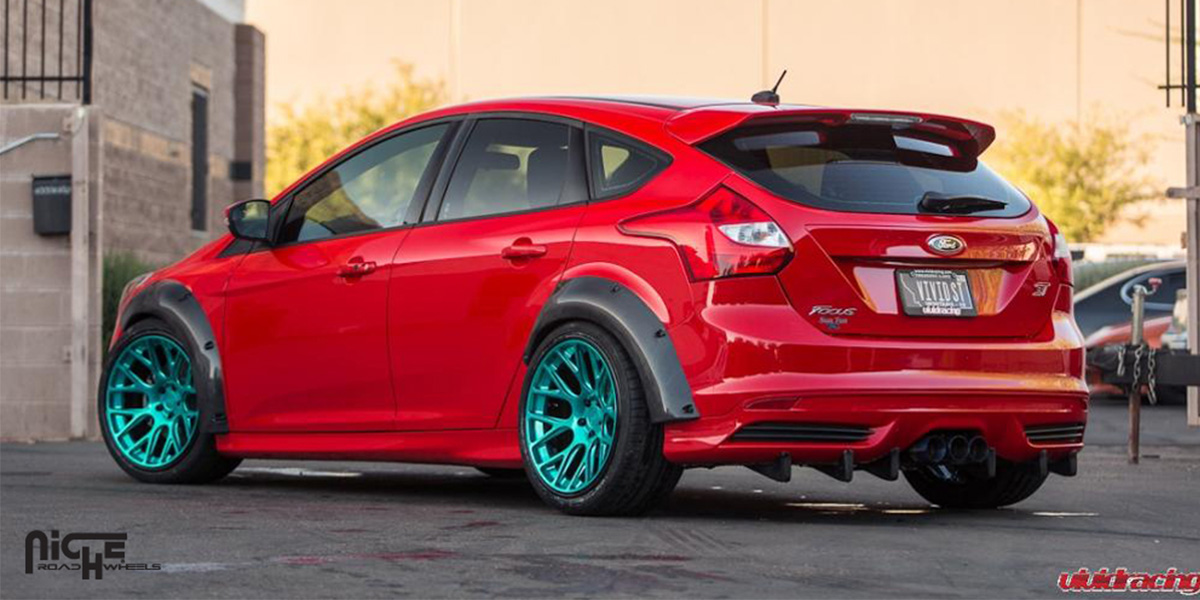 Niche is really well known for their high-end wheels used on exotics, but their low-end wheels like these are also awesome. It might seem weird to use 19″ wheels on a Focus, but it looks surprisingly good. The increased size does add some weight, but if you're going for more of a show car look that isn't really a problem.
With a +42mm offset, you can expect these wheels to fit under your Focus ST/RS without rubbing unless you're using massive tires. The wheel center bore is 63.5mm which fits the Focus' 63.4mm hub perfectly. Outside of the specs, this wheel looks much more expensive than it really is. It's not uncommon to see wheels with this kind of styling on high-end and exotic cars.
Purchase Niche Targa Wheels Here
#5 Enkei NT03+M Wheels
Second on our list are the Enkei NT03+M F1 wheels. Enkei is super popular in the JDM community and now they're becoming popular in the US hot hatch market. These wheels feature a very polarizing perimeter brace which makes them extremely strong, but some people don't like the look of the perimeter brace.
These wheels use a 18×9.5 size with a 40mm offset. This is much more aggressive than the Niche wheels listed above and may require a bit of fender rolling to avoid rubbing at full turn lock or full suspension compression. If you want an extremely strong and lightweight wheel for your Focus ST/RS, then this is the perfect wheel for you.
Purchase Enkei NT03+M Wheels Here
#4 Avant Garde M310 Wheels
Third on our list is the Avant Garde M310 wheels. These are the cheapest wheels on this list which is perfect if you're on a tight budget. Even with their low price, Avant Garde uses Finite Element Analysis to ensure the wheels are strong and durable. Plus, each wheel is met to the industry recognized JWL standard.
These wheels use a design that would be pretty common to see on something like a VW or BMW, but this design looks surprisingly good on Ford's hot hatches. These wheels measure 18×8.5 with a 42mm offset making them less aggressive than the Enkei wheels listed above. This is great if you don't want to worry about rolling your fenders or dealing with the occasional wheel rub.
Purchase Avant Garde M310 Wheels Here
#3 GramLights 57Xtreme and 57DR Wheels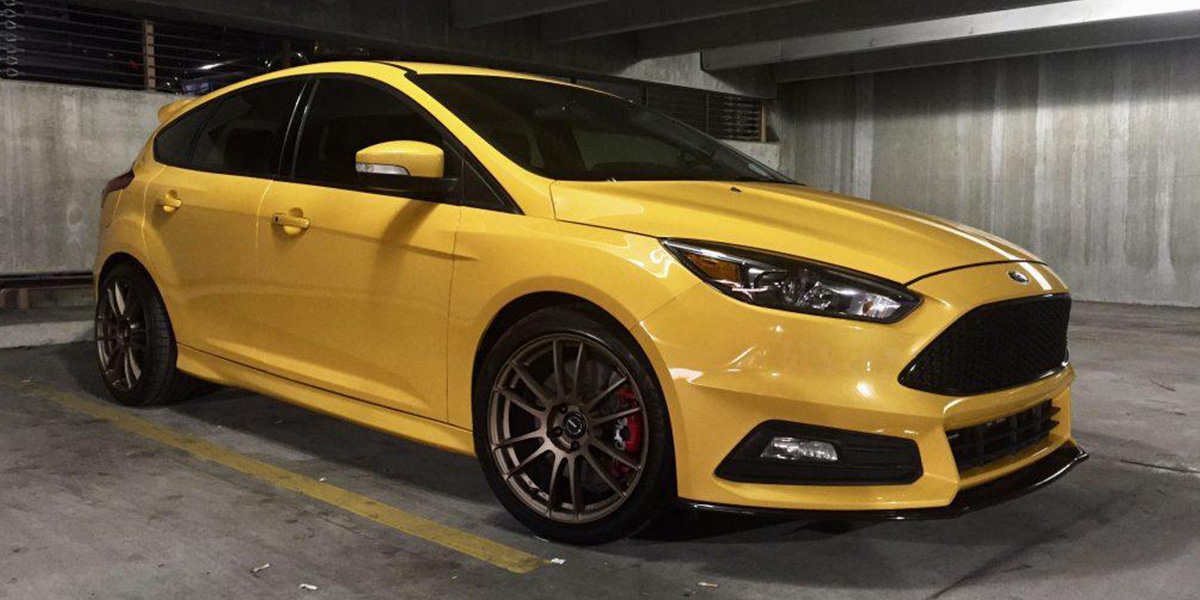 Fourth on our list are two different wheels from GramLights. These wheels share the exact same fitment specifications and we love both designs, so we wanted to recommend both. The 57DR wheels use a very similar design to the Volk Te37 wheels that everyone seems to love, and the 57Extreme wheels use a unique 12-spoke design that is somewhat similar to the Niche Targa wheels.
Both of these wheels use a one-piece cast design which helps keep costs down. Both the 57DR and 57Extreme measure 18×8.5″ with a 38mm offset. This is pretty aggressive fitment and might need some fender rolling to avoid wheel rub. This wheel is great if you're looking for an awesome stance and a strong wheel.
Purchase GramLights Focus ST/RS Wheels Here
#2 Titan 7 T-S5 and T-R10 Wheels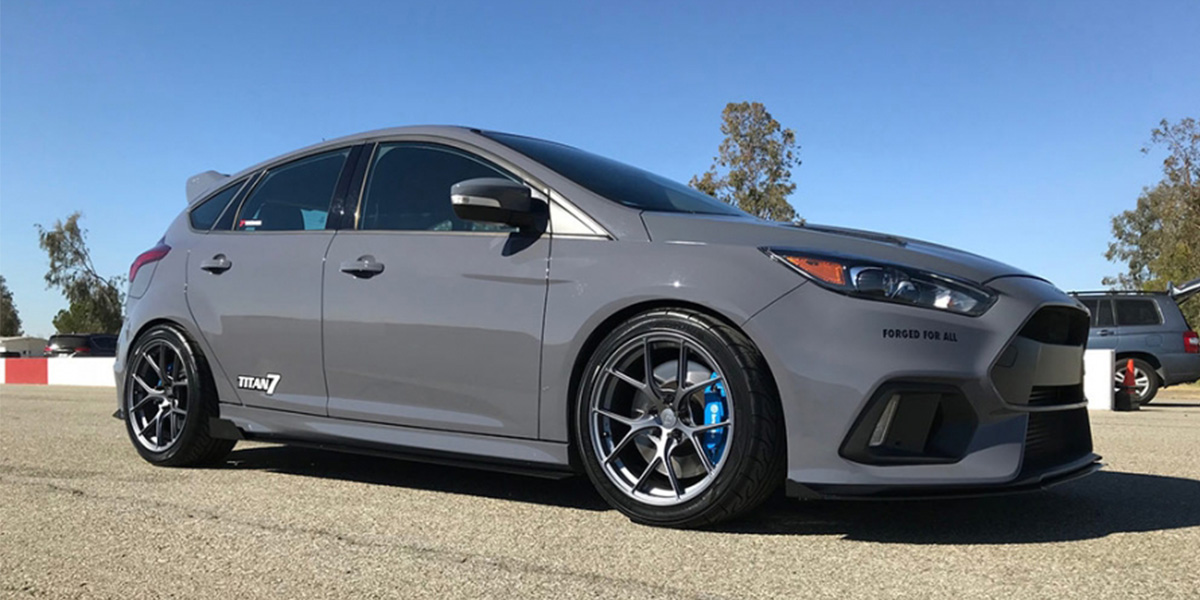 Fifth on our list is the Titan 7 T-S5 and T-R10 wheel. Just like with the GramLights listed above, these wheels share the exact same fitment but with different designs. Both designs are very popular and are really designed for track usage over everything else.
Both of these wheels measure 18×9″ with a 38mm offset which is a pretty aggressive fitment. The aggressive fitment looks super awesome, but the chances of running into tire rub are pretty high unless you roll your fenders pretty good. These wheels are really designed for track usage, and the T-R10 wheels weigh a feathery 16.8lbs each.
Purchase Titan7 Focus ST/RS Wheels Here
#1 Fifteen52 Formula TR, Tarmac, and Turbomac Wheels
Last, but certainly not least are two different wheels from Fifteen52. The whole reason these wheels are so popular is due to Ken Block's usage of them on his rally cars in his viral Gymkhana series of videos. These wheels are very polarizing and if you hate how these wheels look, you're not alone.
Unfortunately, these wheels are on the heavy side. They aren't heavier than the stock Focus ST wheels, but they aren't as light as many of the other wheels we've mentioned thus far. If you really want to give your Focus ST/RS a unique rally car style look then this is definitely the best way to do so. Most of this weight has to do with their "bulky" designs, which look awesome but require a significant amount of material.
For the Focus ST/RS there are four wheels from Fifteen52 that will fit: Formula TR, Tarmac R43, Tarmac, and Turbomac. The Tarmac R43 is the most polarizing, with lots of people loving them and lots of people hating them. The Turbomac, Tarmac, and Formula TR are all very popular thanks to their low price.
Purchase Fifteen52 Focus ST/RS Wheels Here
Summary
All the wheels we listed will fit the Focus ST/RS great, look awesome, use strong designs, and are budget friendly. We've put some images down below to give you an idea of what your Focus ST/RS could look like with a set of aftermarket wheels.
If you have any questions about buying wheels for your Focus ST or Focus RS, please do not hesitate to contact us. We can be reached by phone at 1.480.966.3040 or via email at sales@vividracing.com.