The Porsche 997 Turbo is an incredible platform and these models are worth so much more nowadays than they used to be. That being said, this super clean model came to us with just 37,000 miles on the odometer and it has never been modified! Vivid Racing took it into our own hands with the goal of pumping it up over 130 horsepower with common upgrades like a new full exhaust system, ECU flash tune, spark plugs, and an air filter. Together, these parts will take the Porsche 997 Turbo from 480 horsepower to about 630 at the crank. In the video below, we do our baseline dyno runs, show you the mods as we install them, and then give it another go on the dyno to compare the results.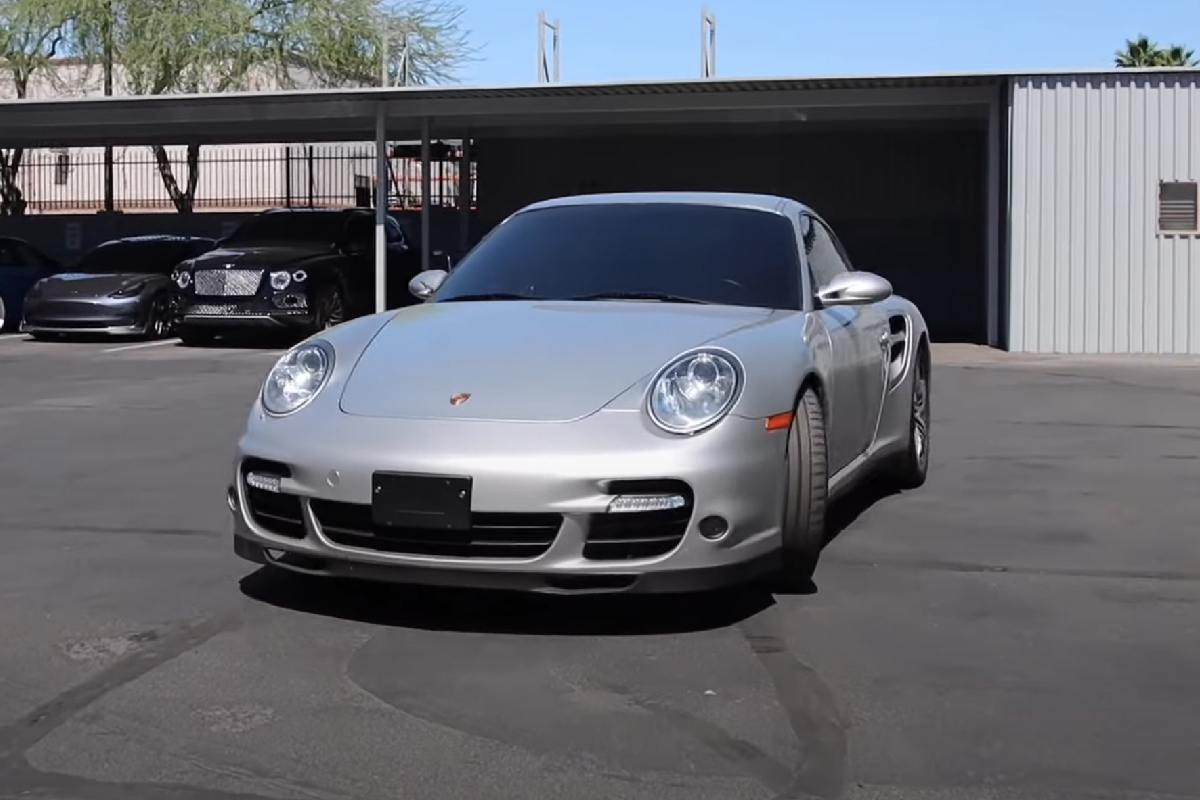 Our initial baseline run on the dyno showed that the Porsche 997 was producing 357 wheel horsepower and 461 pound-feet of torque. It's important to keep in mind that this car was running 91 Octane and had the original spark plugs from 2007. After installing the new mods on this Porsche, we put it back on the dyno to see just how much more power it gained and how it sounds. Safe to say that both the soundtrack and power figures are quite impressive. The three dyno runs proved very consistent results just as we would've expected from the 997 Turbo, as we have been doing these cars for years.
With all of the new upgrades, this Porsche 997 gained nearly 80 horsepower to the wheels (from 357 to 430) and almost 100 pound-feet of torque. And where the turbos are mainly spooled, we saw big gains of 100 horsepower and a large jump in torque as well. Numbers are just numbers, so we wanted to see just how these power figures felt out on the road. Watch as we drive the modified Porsche 997 Turbo to see how it pulls and handles as opposed to being fully stock. Not only did it sound incredible, but it was also really fun to drive – especially in sport mode. In conclusion, these mods are great street car upgrades to deliver the perfect blend of performance, drivability, and pure enjoyment. Give the video below a watch and see it all for yourself!
We treated this Porsche 997 Turbo to a Tubi Style exhaust system which sounds great coming out of the 3.6L Boxer engine. Tubi Style is an Italian manufacturer of some of the greatest systems on the market that boast the best of both worlds: soundtrack and performance. There are not many brands out there who can claim to have an exhaust that looks the part, sounds the part, and performs it all the same. The Tubi race exhaust for the Porsche 997 produces an aggressively sporty tone with minimal effect on drivability and cabin noise all while looking great and producing impeccable power. To complement the newfound power from the exhaust system, we went on to do a VR Tuned ECU Flash Tune on this Porsche to truly take it to the next level.
And any time you do a tune, exhaust, and other major mods on the 997, you'll want to upgrade the plugs to ensure the stock ones don't fail to handle the extra power. The customer opted for the NGK Iridium IX Colder Spark Plugs (one step colder than stock), which were specifically designed for the performance enthusiast. Fine wire center electrode ensures high durability and a consistently stable spark, while the iridium alloy has an extremely high melting point, perfect for today's high-tech, high-performance engines such as the Porsche 997 Turbo.
Last but not least, we installed a BMC Flat Panel Replacement Air Filter on this German beauty to increase airflow without reducing filtration. In fact, this air filter has a higher filtration rate than OEM filters and is also washable for your convenience. They can also be regenerated using the appropriate BMC regeneration kid. BMC filters are made of multi-layered cotton gauze soaked with low viscosity oil covered with an epoxy coated alloy mesh to ensure protection from petrol fumes and oxidization due to air humidity. All in all, this is a great choice for the high-performing 997 as this air filter guarantees the containment of all impurities from as small as 7 microns (compared to OEM s 10 microns).
Featured Products:
If you have any questions about parts for the Porsche 997, please contact the Vivid Racing team. You can reach us by phone at 1-480-966-3040 or via email at sales@vividracing.com.