034 Motorsport has a piece of good news for all Volkswagen & Audi owners. The company has released a product that will cause a massive upgrade to your intake system. 034 Motorsport was founded with a passion for bringing motorsport-quality performance upgrades to Audi and Volkswagen vehicles, and their new product is proof that they still believe in their mission. The S34 Induction Bundle For Volkswagen & Audi MQB EA888 Gen 3 is a convenient package with all of the products required to upgrade your intake system. We are talking about the S34 Carbon Fiber Intake, X34 Carbon Fiber Fresh Air Duct, And Turbo Inlet Pipe, all available in our shop for an affordable price of $897.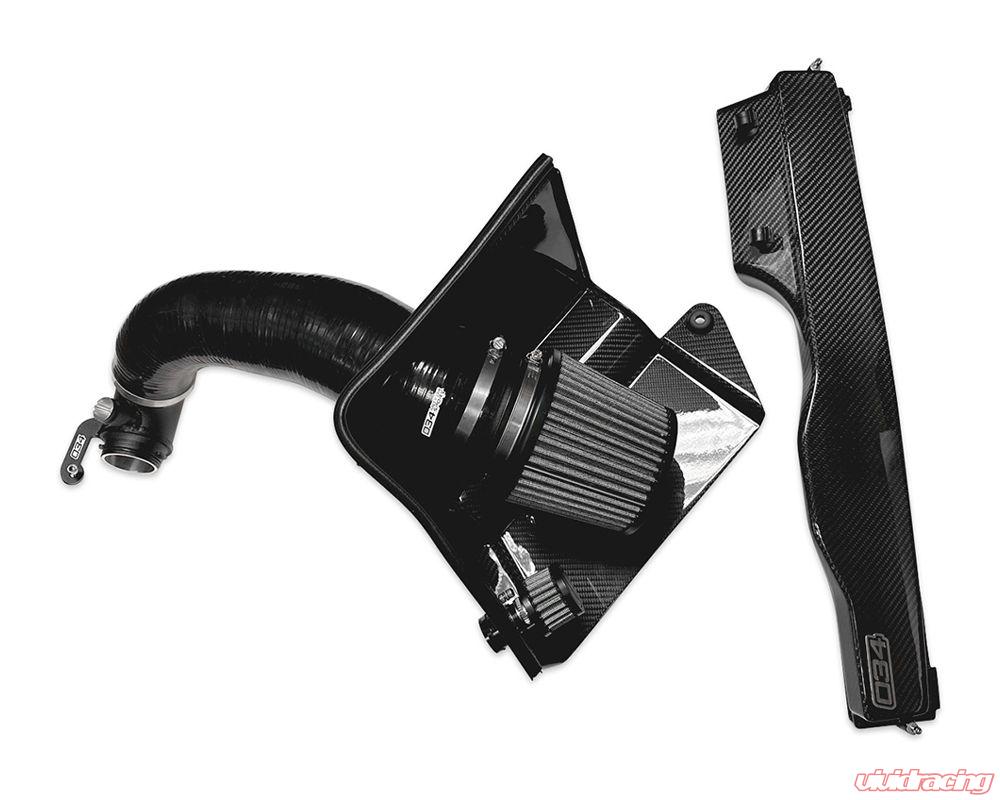 The Kit Includes;
S34 Carbon Fiber Heat Shield
S34 4″ Inlet Silicone Hose
S34 4″ Double-Layered Cotton Pleated Filter
S34 Secondary Air Injector Adapter
S34 Secondary Air Injector Filter
Metal Mounting Bracket for Intake Hose
034Motorsport MQB 1.8T & 2.0T Turbo Inlet Pipe
55mmx3mm Buna-N O-Ring
M6x1 Socket Head Cap Screw
034Motorsport Carbon Fiber Fresh Air Duct
Self-Adhesive Coolant Hose Clamps (Set of 2)
S34 Carbon Fiber Intake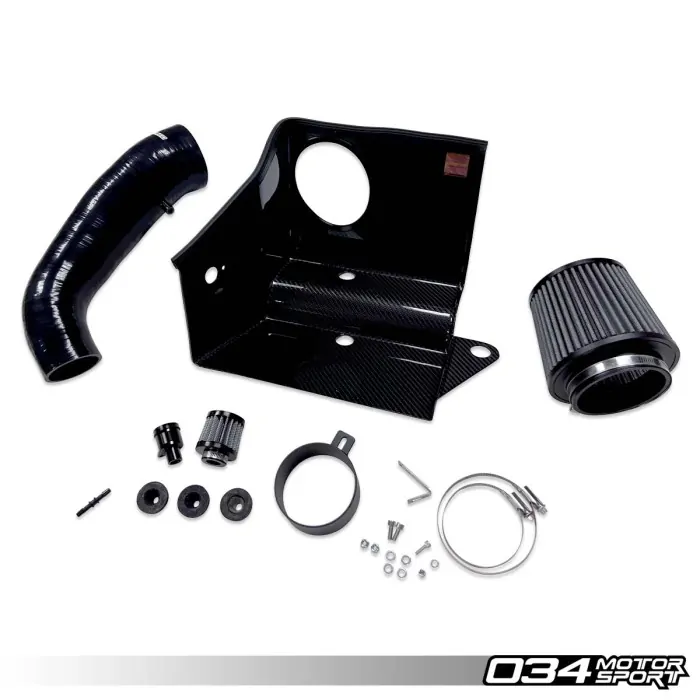 This carbon intake underwent different in-house tests, with the purpose of increasing horsepower and torque and causing more aggressive induction sound, and turbocharger noise. All these test resulted in the manufacturing and designing of this system which not only sounds great, but also causes performance increase.
Features:
Developed In-House by 034Motorsport's Engineering Team
Fits Both Left and Right Hand Drive Configurations
High-Quality Carbon Fiber Air Block-off Shield
High-Gloss Epoxy Finish
4-Ply Gloss Black Silicone Intake Tube
OEM+ Fit and Finish
No Rubbing or Excessive Movement
Dyno-Proven Horsepower Torque Gains
Improved Airflow from Factory Airbox and Intake Tube
Enhanced Engine Induction Sounds
Improved Throttle Response
Large 4″ Inlet Conical Pleated Cotton Air Filter
Reduced Intake Air Temperature
Securely Installs Using Factory Mounting Grommets
Simple, Straightforward Installation Instructions
034 Motorsport Turbo Inlet Pipe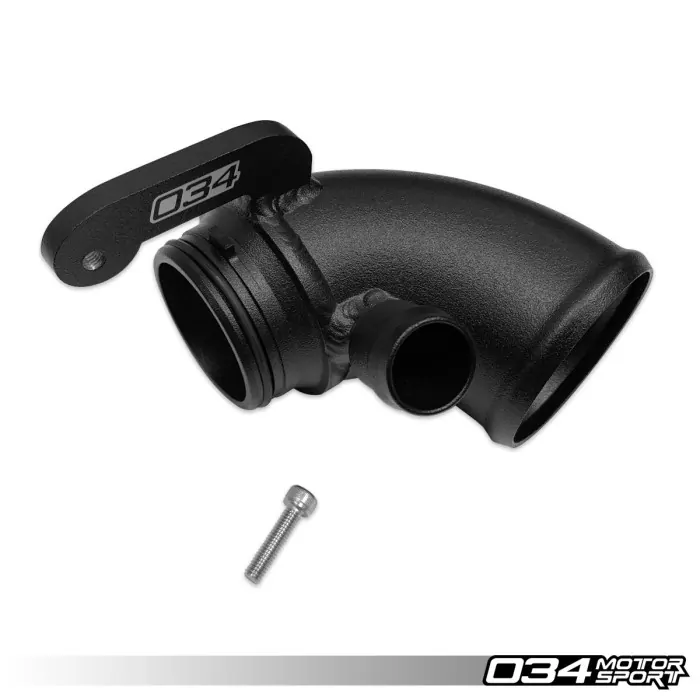 This is an essential part when it comes to power optimization since its main function is to eliminate a critical flow restriction in the intake tract. The Turbo Inlet Pipe is manufactured from 70mm thin wall 6061-T6 aluminum for maximum airflow, with a machined 6061-T6 billet aluminum compressor inlet flange that perfectly mates to allow smooth air entry into the compressor housing.
Features:
70mm Inlet Elbow Fabricated From Thin-Wall 6061-T6
Aluminum for Maximum Airflow
Designed to Work with OEM Style Turbo Inlet Hoses
Bead Rolled Edge Retains Inlet Hose Securely
Compressor Inlet Flange Machined from 6061-T6 Billet Aluminum for Smooth Airflow Into Compressor Housing
Machined 6061-T6 Billet Aluminum PCV Adapter to Retain OE PCV Hose
Machined 6061-T6 Billet Aluminum Locating Arm Maintains OEM Mounting Provision
Durable Black Wrinkle-Coat Finish for Long Lasting Good Looks
034Motorsport's Carbon Fiber Fresh Air Duct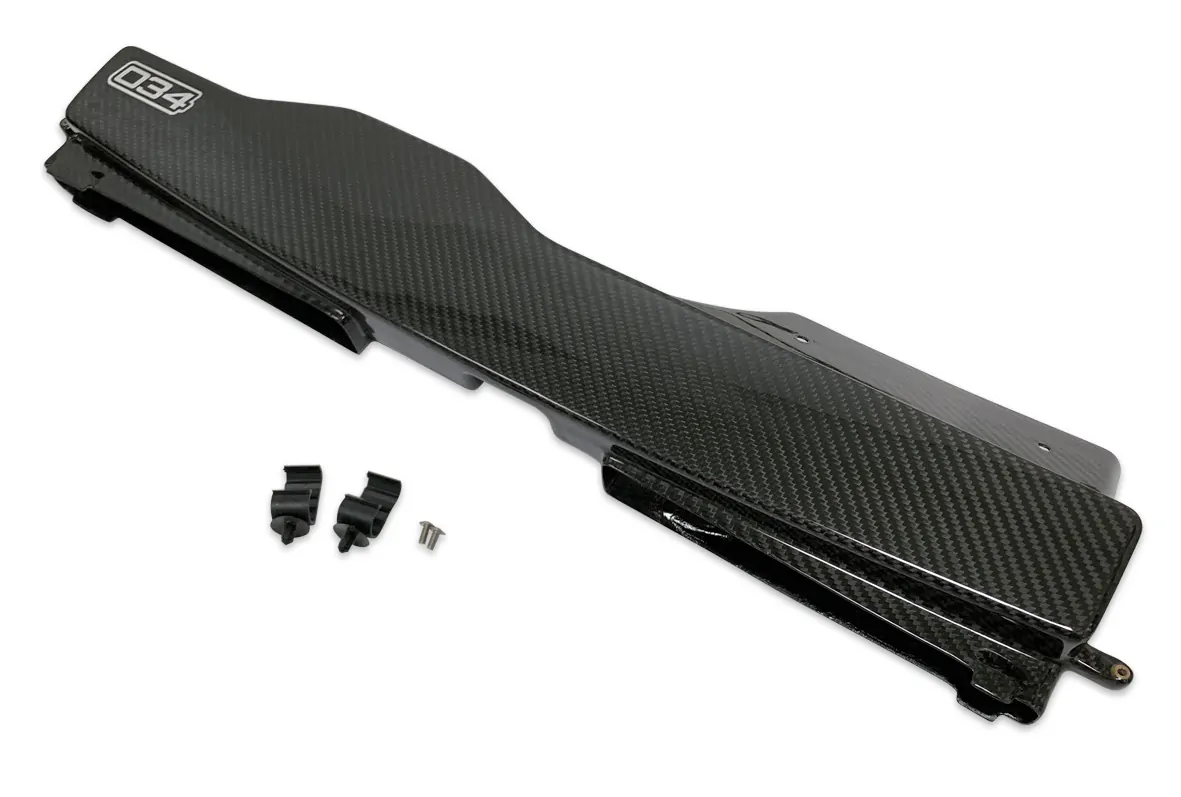 This air duct is designed to better route cool, dense air from the front of the car to the airbox, this high-quality carbon fiber piece also yields a noticeable improvement in induction and turbocharger sounds.
Features:
High-Quality Carbon Fiber Construction
OEM+ Fit & Finish
Improves Airflow from the Front of the Vehicle to Airbox
Eliminates Factory Plastic Blockoff at Core Support
Increases Induction & Turbocharger Sounds
Offers Simple, Bolt-In Installation
With this system, 034Motorsport wanted to be sure that they were delivering their best product in the market, and hence they put their product through different tests such as CFM airflow, pressure drop, and a Horsepower and TQ test, in order to quantify the performance gains. The results are outstanding for this system as it outperforms stock intake in every test.
CFM Gains
CFM stands for "cubic feet per minute" of airflow. The higher the CFM number, the higher the horsepower an intake can support. Tested at 28″ of water, the 034Motorsport had substantial flow increases over the factory intake.
Stock Intake: 553 CFM @ 28" H2O
S34 Intake with 034 Turbo Inlet: 908 CFM @ 28" H2O
Pressure Drop Test
The difference in ambient air pressure and the air pressure measured at the turbocharger inlet across the engine's rpm range is known as the Pressure Drop. The higher the pressure drop at any given rpm, the more restrictive the intake system is, reducing airflow.
Stock Intake  -1.00 psi
S34 Carbon Fiber Intake – 0 psi
Horsepower & Torque Gains Test: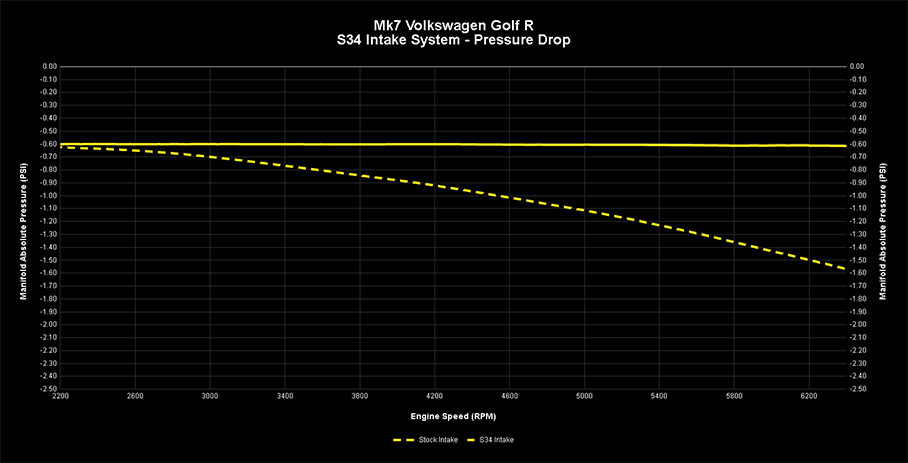 The last but not the least test to validate the 034Motorsport S34 Carbon Fiber Intake's performance was the horsepower and torque gain test which provided substantial increases in horsepower and torque on both stock turbochargers and ones with upgraded turbochargers alike.
Stock Intake: 226 WHP / 296WTQ
S34 Carbon Fiber Intake: 235 WHP / 305 WTQ
Peak Crank Gains: 31 HP & 27 TQ @ 6,000RPM
On top of these results, the engineers designed a clever air filter for this system that not only prevents unwanted movement but also allows compliance to accommodate engine movement under varying load conditions. This, in turn, maximizes airflow and minimizes filter shrouding, which is an added benefit in comparison to what other designs on the market do. We recommend this product to the owners of Audi and Volkswagen as this intake has not only the right design for the job but also performs above and beyond compared to these vehicles' stock systems
Fitment:
Audi A3 8V 1.8 TFSI 2015-2016
Audi A3 8V/8V.5 2.0 TFSI 2015-2020
Audi S3 8V/8V.5 2.0 TFSI 2015-2020
Audi TT 8S 2.0T Gen 3 2016-2020
Audi TTS 8S 2.0T Gen 3 2016-2020
Volkswagen GTI Mk7 2.0 TSI Gen 3 2018-Present
Volkswagen Golf Mk7/MkV7.5 1.8T Gen 3 2015-2020
Volkswagen Golf R Mk7/MkV7.5 2.0 TSI Gen 3 2015-2019
Volkswagen GTI Mk7 2.0T Gen 3 2015-2020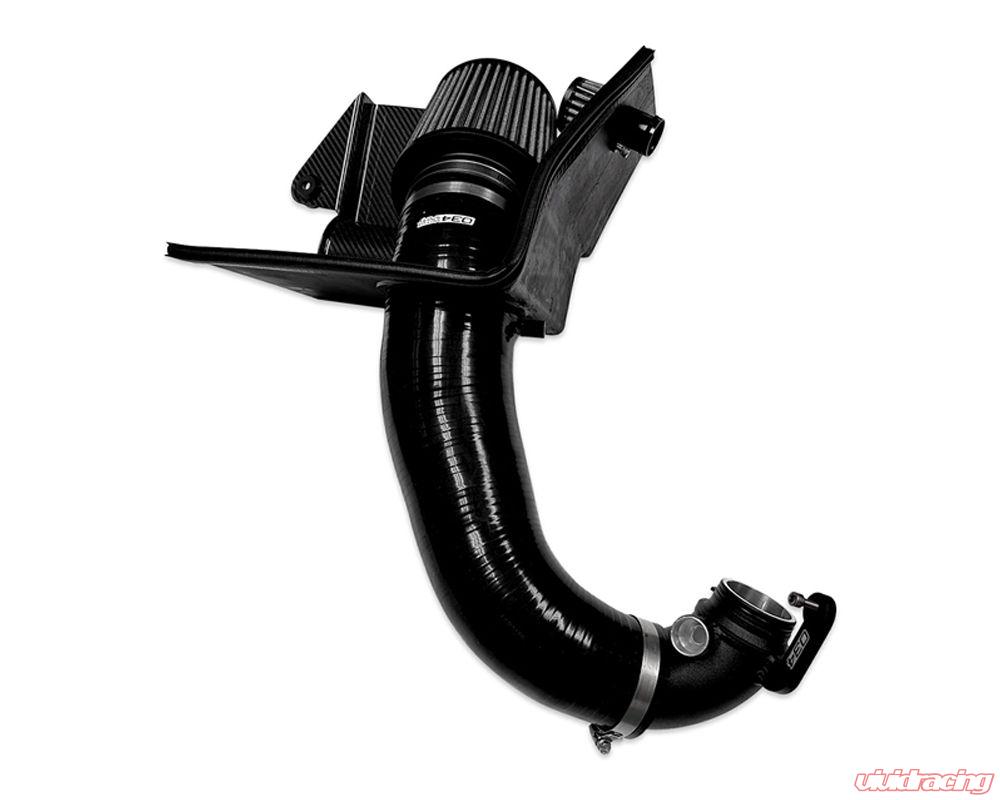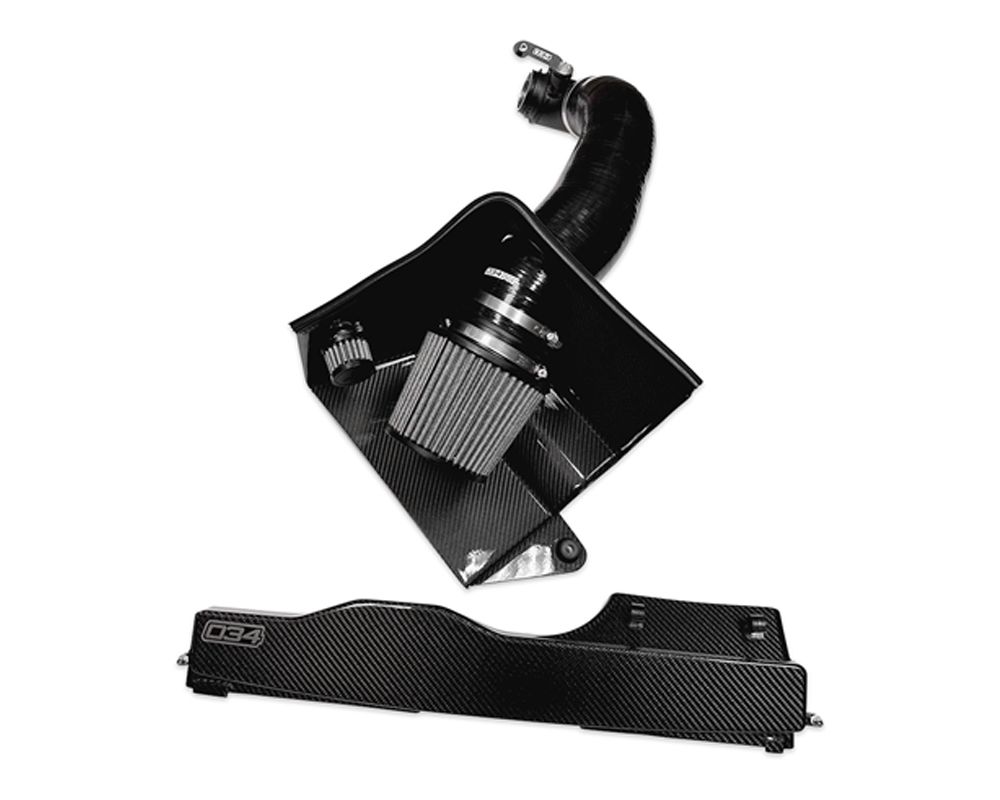 Note;
This intake will only fit utilizing the GTI battery. This will not fit on AWD VW/Audi vehicles with the OE larger-sized battery. If your car came equipped with the Larger Group 46/H6 battery, you will need to switch to the GTI Battery