The ANRKY Wheels brand is made up of serious car enthusiasts who are interested in all things mechanical. Their passion and dedication have elevated the company to a top spot on the aftermarket list. Since its inception, ANRKY has demonstrated an unwavering commitment to filling a void within the wheel industry with a fresh perspective. Today, the company boasts an impressive lineup of wheels that boast unique designs, innovative engineering, and expert craftsmanship. Each and every ANRKY product is manufactured to go beyond customer expectations to take your car to the next level and have others asking where you got those wheels. With that said, feast your eyes on this stunning Fistral Blue McLaren 600LT rocking a set of ANRKY AN11 wheels from the SeriesONE line.
The McLaren 600LT is the British marque's fast and light, street-legal, track-day supercar. Everything from the carbon-fiber bodywork to the top-exit exhausts just proves that this model pushes the boundaries to set a new benchmark for sports cars. According to the brand itself, the McLaren 600LT was inspired by the renowned 675LT and its iconic 'Longtail' racing predecessor. That being said, the 600LT is the most extreme model in the McLaren Sports Series, built to excel on the roads and race circuits while taking driver engagement and excitement to the absolute max. While the car doesn't need any help in the aesthetics department, a fresh set of ANRKY wheels can really give it an added personal touch catered to your taste.
The 2019 McLaren 600LT spotlighted below is wearing ANRKY's AN11 SeriesONE monoblock wheels wrapped in Pirelli tires. They are sized 20×9 at the front and 21×12.5 at the rear. The wheels are finished in a Brushed Smoke that flawlessly complements the bold blue exterior with a stealthy appeal. The 600LT you see featured here has been lowered on Novitec Springs to give it an even more aggressive stance and get rid of any pesky wheel gap. All in all, this 2019 McLaren 600LT is sitting mean and these wheels definitely look like they were made for the car. While the stock wheels were good-looking, these ANRKY AN11s really accentuate the sportiness of the 600LT and give the wheel area a more open appearance so you can see the big brakes and contrasting orange calipers.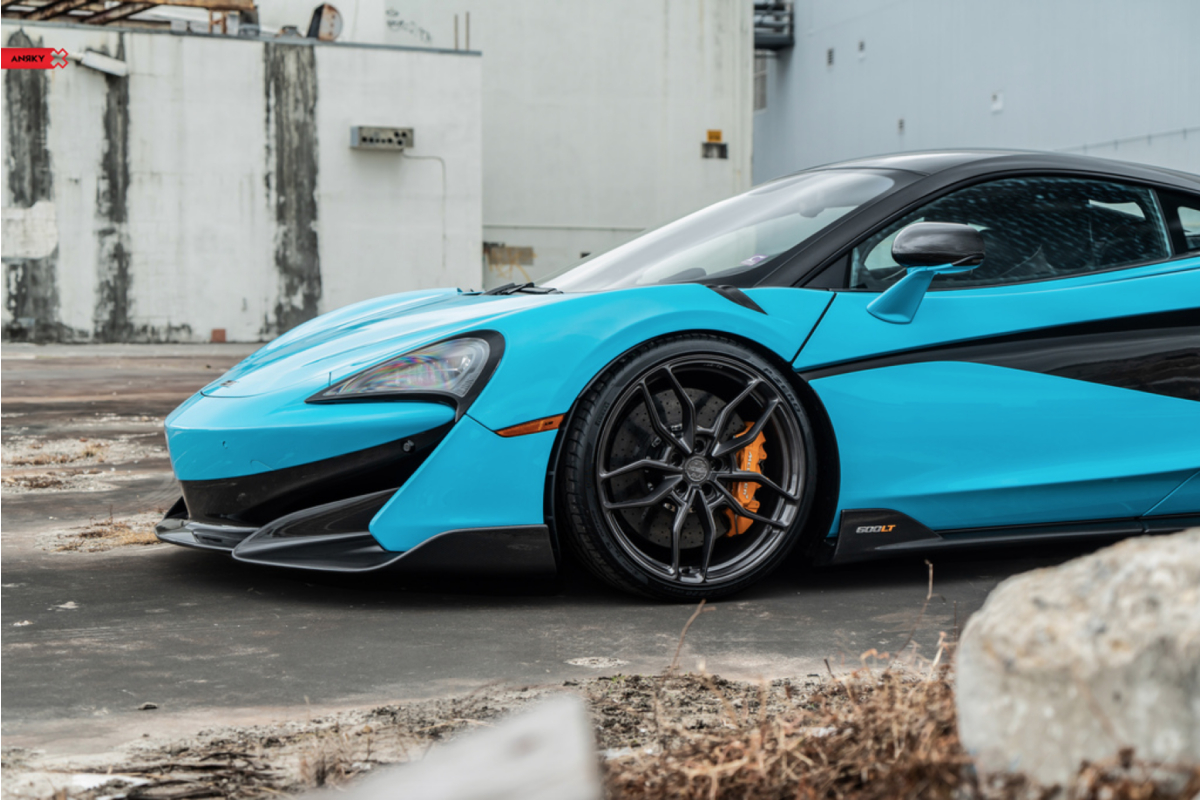 AN11 SeriesONE Wheel Features:
Available in sizes 19″ – 23″
1-Piece Forged Monoblock
Engineered to be lightweight
Vehicle load / G.A.W.R. specific
6061-T6 heat-treated forged aluminum
Engineered, machined, finished, and assembled in the USA
If you have any questions about ANRKY wheels, please do not hesitate to contact the Vivid Racing team. You can reach us by phone at 1-480-966-3040 or via email at sales@vividracing.com.
Related Images: