Boosting up the power of your Acura NSX is finally available with the help of VR Tuned's own ECU Tuning Box Kit. Also known as the Honda NSX out of America, the 3.5L V6 twin turbocharged vehicle makes 507PS/503HP. Combined with 70hp from the electric motors that drive the front wheels, the NSX has a total output of 573HP or 581PS. On par with power from the 911 Turbo S, McLaren 570S, and others in the same class, the NSX is missing one thing for the past 2 years… TUNING. As of the date of this article, no ECU Tuning is available for the NSX Keihin ECU. Tool manufactures like Dimsport, Alientech, CMD, Magic Motorsport, PCMFlash, and others cannot do this ECU. Trust us we have tried. But what is available and far better and warranty safe is the plug and play Tuning Box Kit from VR Tuned.
Plug and Play tuning box kits are something we have used for the past 4 years on high performance turbocharged cars. A great alternative to traditional ECU Tuning, Tuning Box Kits offer extremely good results without sacrificing risks to your warranty. Chip Tuning can change flash counters and some require the ECUs to be open which are immediate red flags to dealerships. VR Tuned has used Tuning Box Kits on everything from the Ferrari 488, McLaren 12C, Mercedes 4.0L Bi-Turbo, and more with incredible results. With the tuning box, you can simply remove the kit from your car and you are warranty safe and back to stock. The tuning box is a multi-channel, digital processor system that plugs into sensors like the boost pressure, manifold pressure, camshaft sensor to change the input values the sensors see. Without cutting or splicing, these are plugged in using factory style connectors that just snap into place. Once connected the box takes over the signals providing the power increase. The digital boxes use a specialized software that allows us to make a MAP by RPM with a multitude of data points. This provides a very safe, reliable power curve where you do not feel the interaction of the tuning box kit. Because of the design, all factory failsafes are retained from the ECU. Each tuning box kit comes with a jumper plug that allows you plug it in place of the box to allow the car to act like stock. The digital boxes also have an Adjustment Dial on the inside that can be changed for those running higher or lower octane fuel.
The Vivid Racing Project NSX was used as our test vehicle here in Arizona. Equipped with only a Armytrix Catback Exhaust System, we measured the difference by adding the tuning box. Each configuration of tuned or stock was run several times to make sure we had consistent results. To run this car, we used our Mustang All Wheel Drive Dyno and ran the vehicle in 4th gear. The Mustang Dyno has a calibration setting called the Parasitic Multiplier which we set to 1.00. This is important as some other companies will increase this number to show different results. The Mustang Dyno does have about a 25% drivetrain loss. This typically has lower readings than other dynamometers like a DynoJet. Our standard fuel used here in Arizona like much of the West Coast is 91 octane.
The results speak for themselves on the dyno sheets below. The baseline test revealed a peak horsepower of 364awhp and 489ft/lbs of torque. Stock boost pressure was about 10psi with a peak of around 13.1psi. Measuring air fuel mixture with our Innovate Wideband system, we saw a very safe and slightly rich 10.8-11.1afr. Some say that a 3rd gear pull shows much stronger results with more input from the electric motors and 5th gear is more 1:1, we found our tests a good balance and consistent. You can see from the graph the electric motors working right away from the start test of 2500rpm to 3300rpm where the additional power falls off to 3700rpm and the turbochargers take over.
With pure 91 octane, the gains were very impressive. With an increase in boost pressure starting out immediately and peaking at around 17.7psi, we see large gains from 3500rpm all the way to the stop of the dyno test. At 4100rpm we have a gain of 75awhp. At 5300rpm we keep this gain going with near 65awhp. Towards the top even where the stock car falls off, we see a gain at 6100rpm of just over 50awhp. Adding in some octane booster to get around 93 octane which is predominately found from the Midwest to Eastern USA states, results were even higher. Because of the improved octane, we can also change the dial settings to increase the boost. Boost is slightly increased to 18.4psi at its peak but mainly follows the other boost curve. AFR is untouched and still running very safe. At the same RPMs as above, the car makes near 90awhp at 4100rpm! Even at 5300rpm the car is still making 75awhp over stock. Torque is drastically increased as well. At 3700rpm we see a gain of near 125ft/lbs and this carries strong through the curve. 4900rpm we still have a gain of 100ft/lbs and this tapers down to near 80ft/lbs around 5300rpm.
Performance Output:
0-60mph

Stock – 2.9 seconds
Tuning Box – 2.7 seconds

1/4 Mile

Stock – 10.8 seconds
Tuning Box – 10.65 seconds
The VR Tuned ECU Tuning Box Kit is available for all Acura | Honda NSX vehicles worldwide. If you have further questions, please email our tuning department at help@vrtuned.com.
View Installation Instructions Here
The inside of the Tuning Box Kit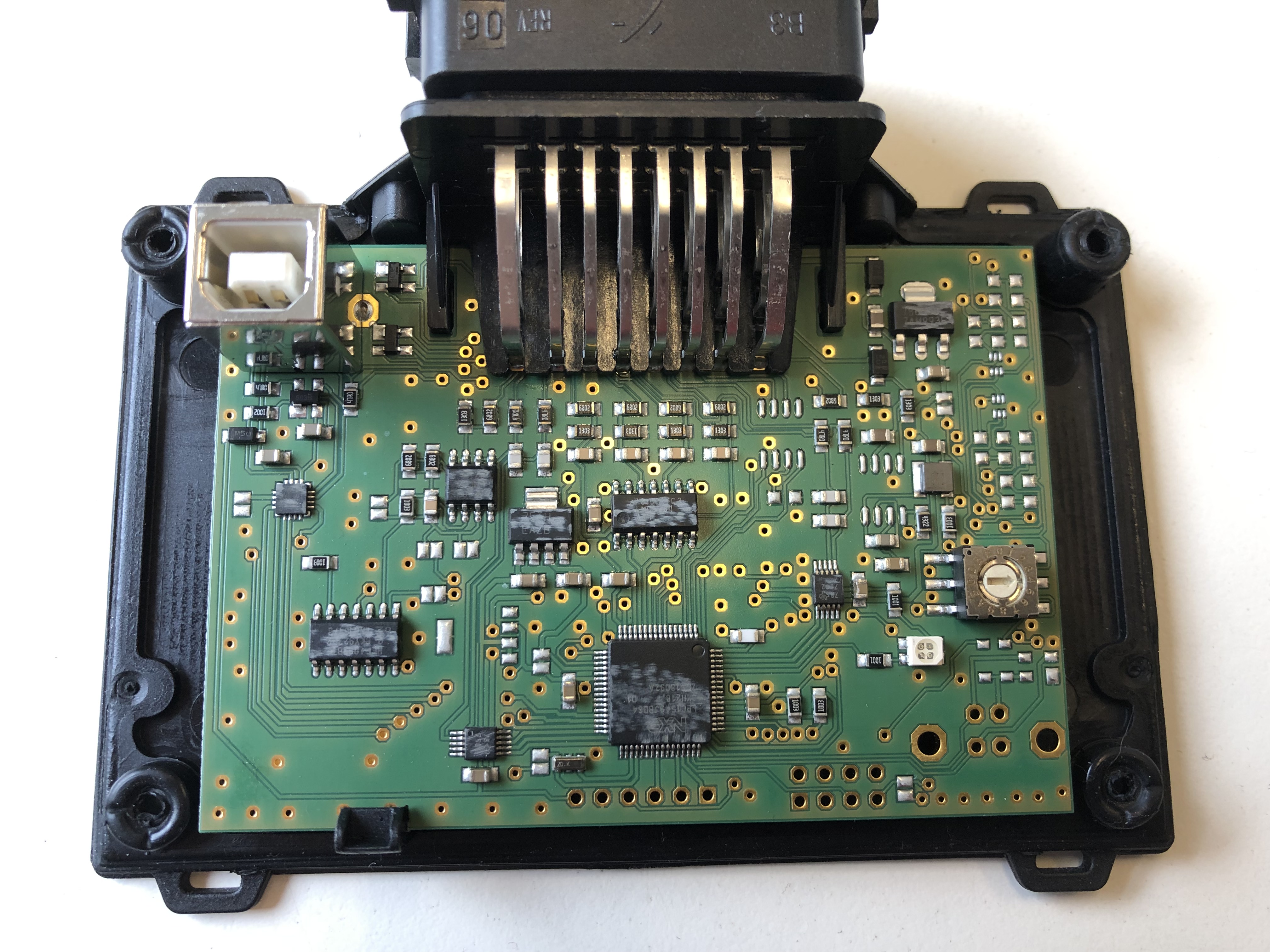 Mapping Software (not included for internal use only)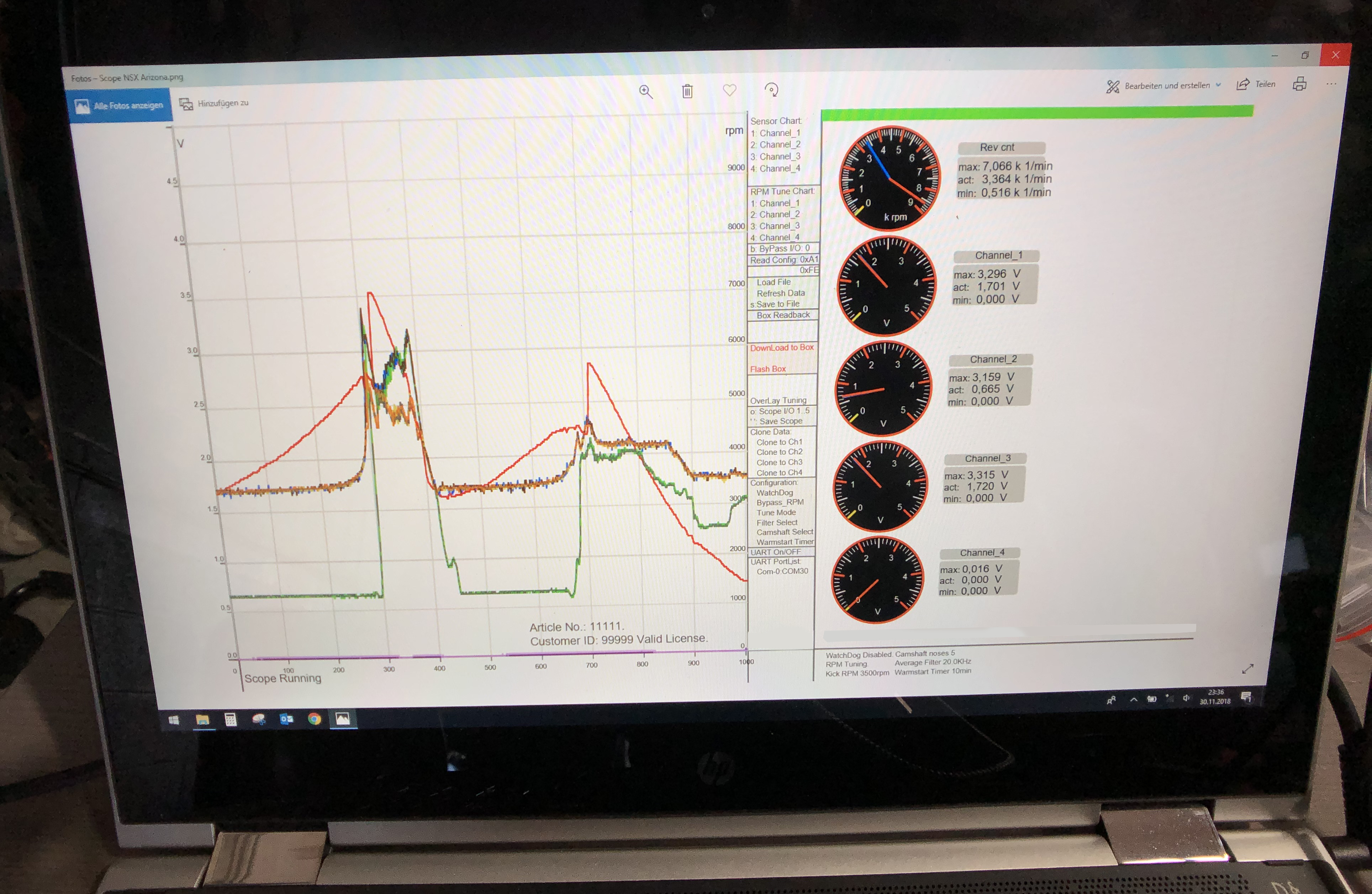 Update
Yiannimize in London installed their kit and used the Insoric Rolling Road Dyno to get a dyno test. See below!