This car has basically become one of our in-house project cars. This customer told us he was buying an FR-S and had a vision for what he wanted it to look like when it was done. The way he talked about his build is the same way we piece together the vision of our project cars. There are many pieces of the build that we were excited to see come to fruition; like the AirREX air suspension system, as well as, the Rocket Bunny kit with the notorious exposed, rough look that is often misunderstood by some but envied by other enthusiasts. We're going to walk you through a pictorial of how this Rocket Bunny FR-S build went. You can see all the pictures from this build in the Rocket Bunny FRS gallery. Scroll down to see the full mod list. If you're interested in any of these products, but don't see them listed, email sean@vividracing.com. Let's start from the beginning…
The first modification we did was the AirREX suspension system. This suspension system has everything packed into a stylish compact kit that fits safely in your trunk. It comes with a convenient Wireless Digital Remote that offers 3 programmable ride heights you can preset. Tank and air spring pressures are displayed on a backlit TFT LCD screen for simple operation, even in complete darkness.
One of the biggest benefits, especially for the installer, is the fact that the system is fully assembled and leak tested at the factory. You literally save yourself up to 10 hours of installation time. Just make 2 simple electrical connections (power and ground) and 4 plumbing connections (one to each air spring) to complete installation. As you can see in the picture we customized these to our customer's vehicle so it is as out-of-sight and out-of-mind as possible. Here are some pictures that we took from the installation of the AirREX system.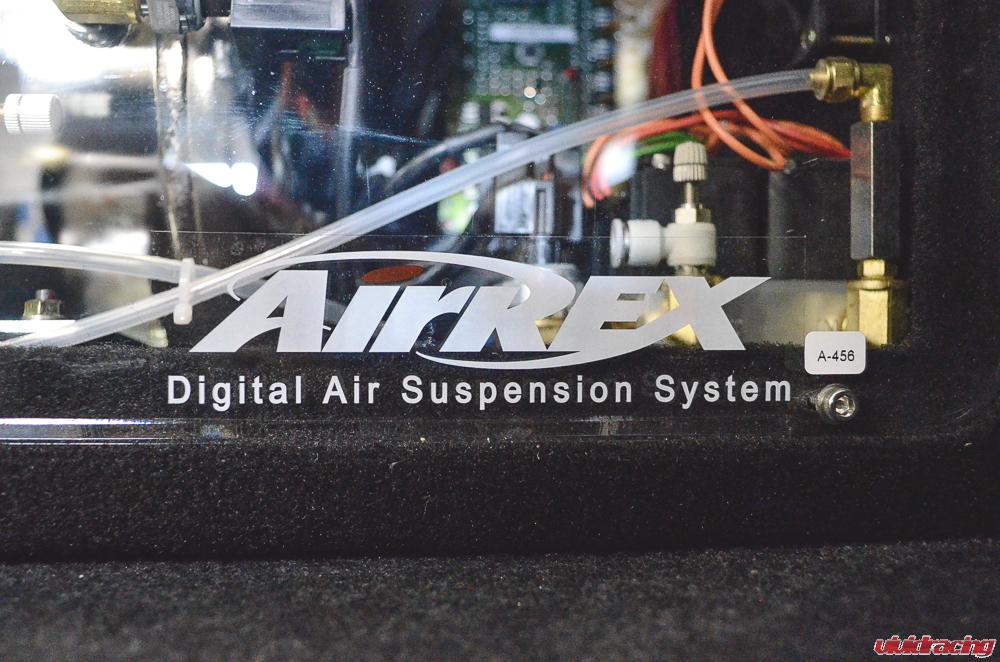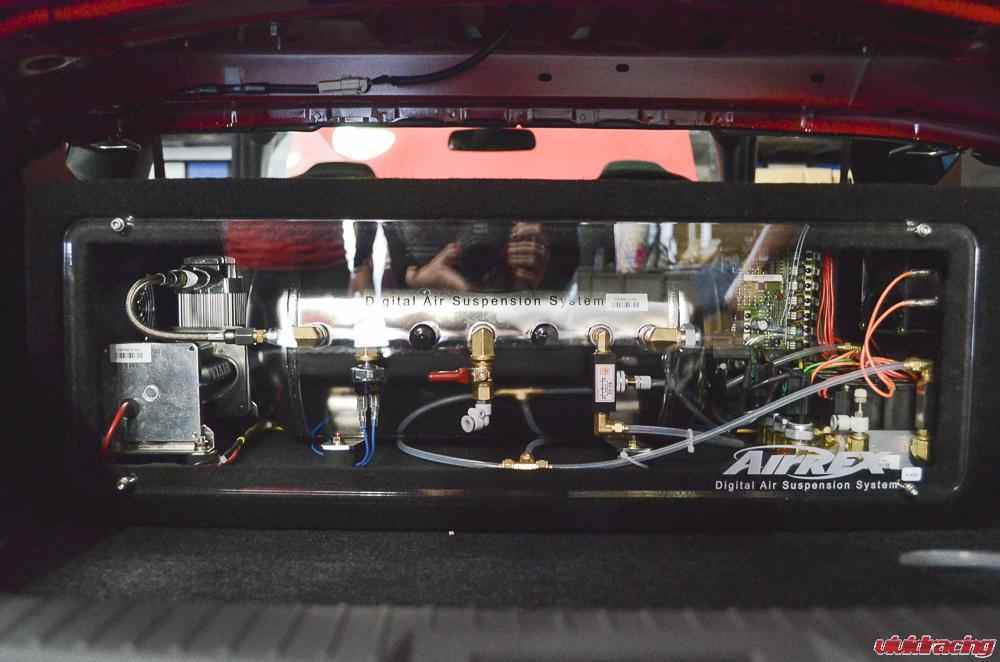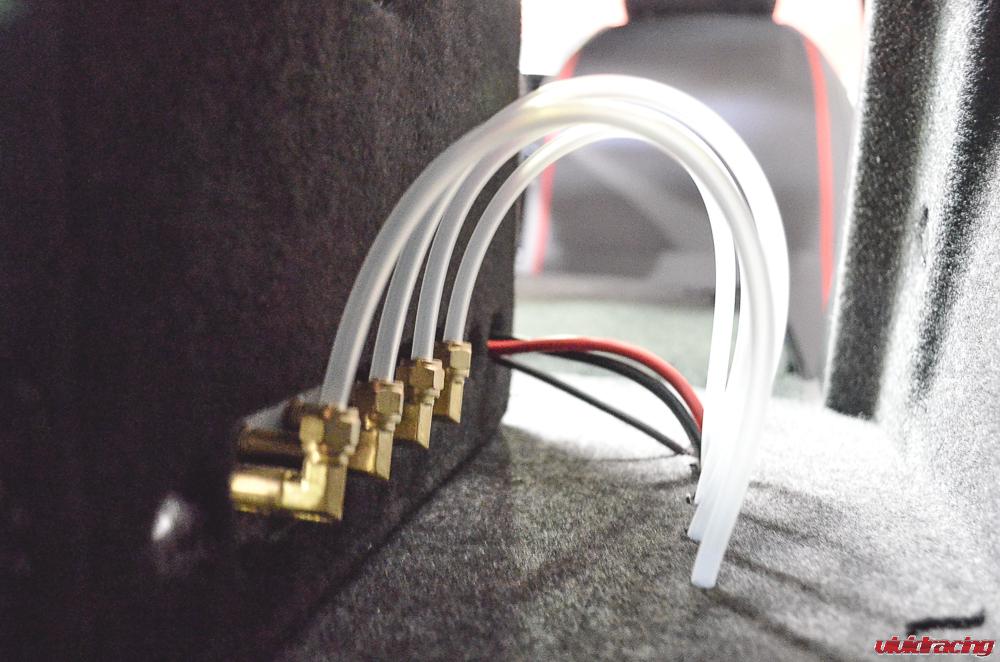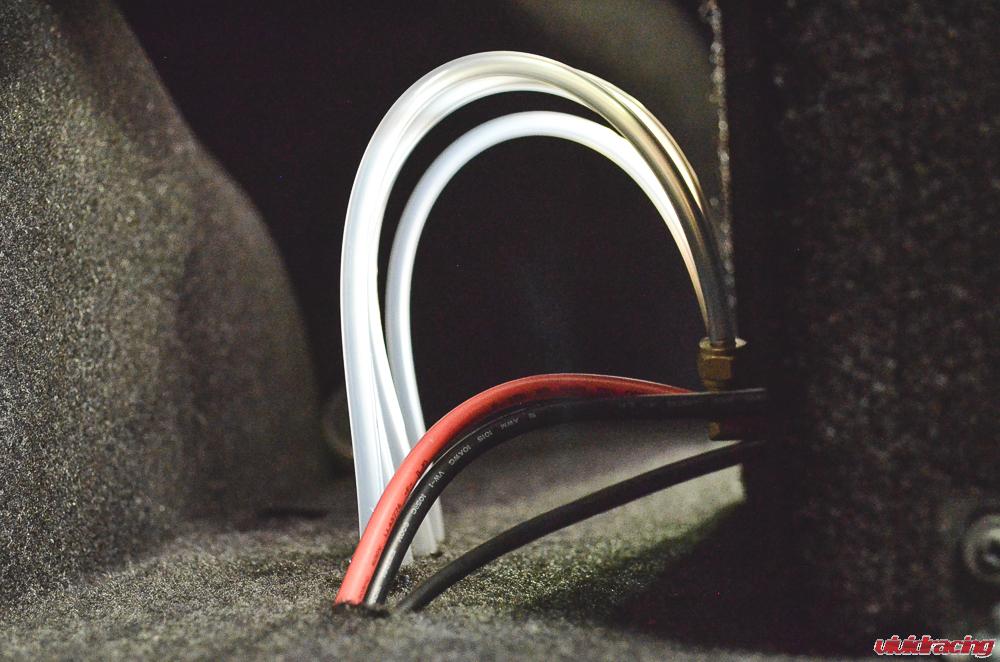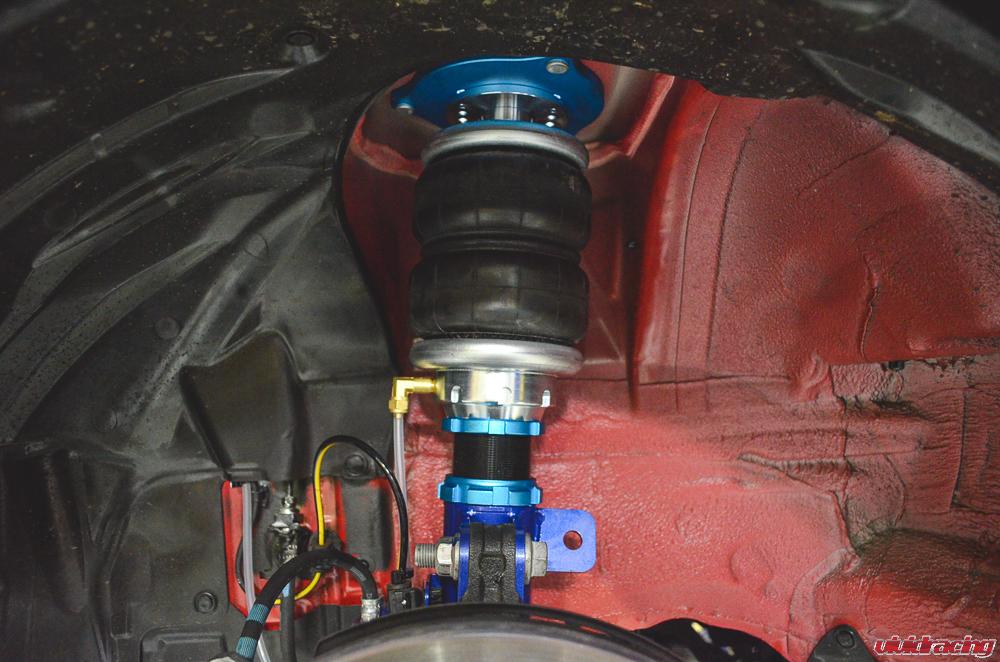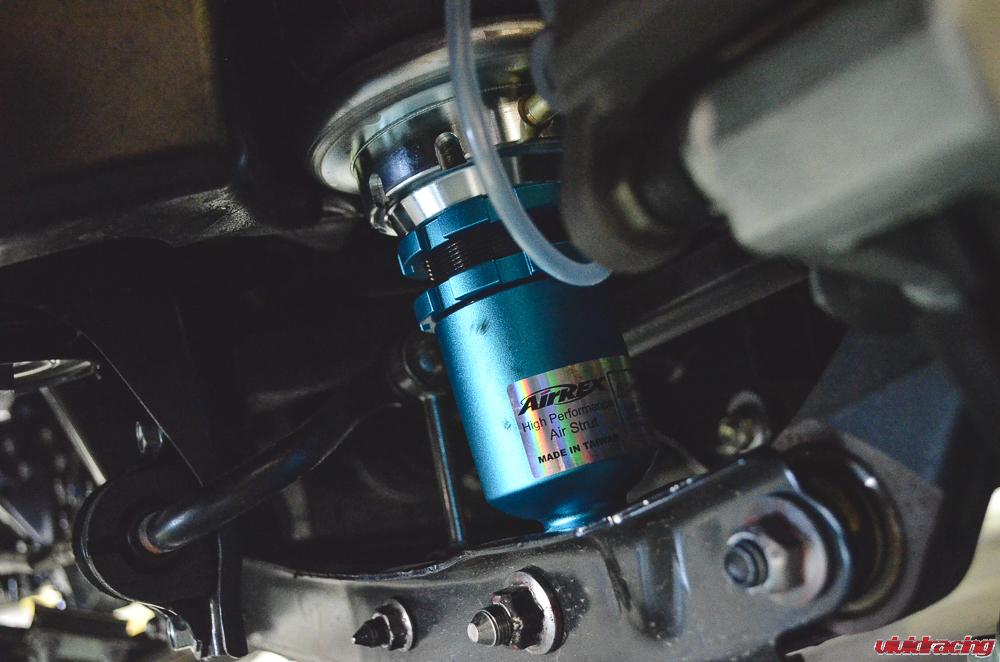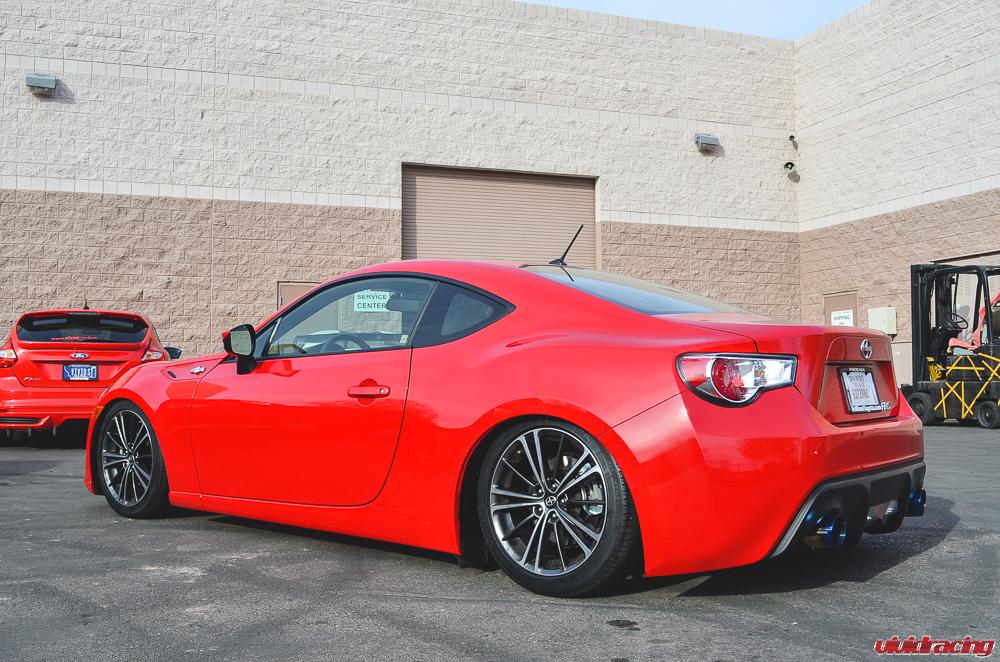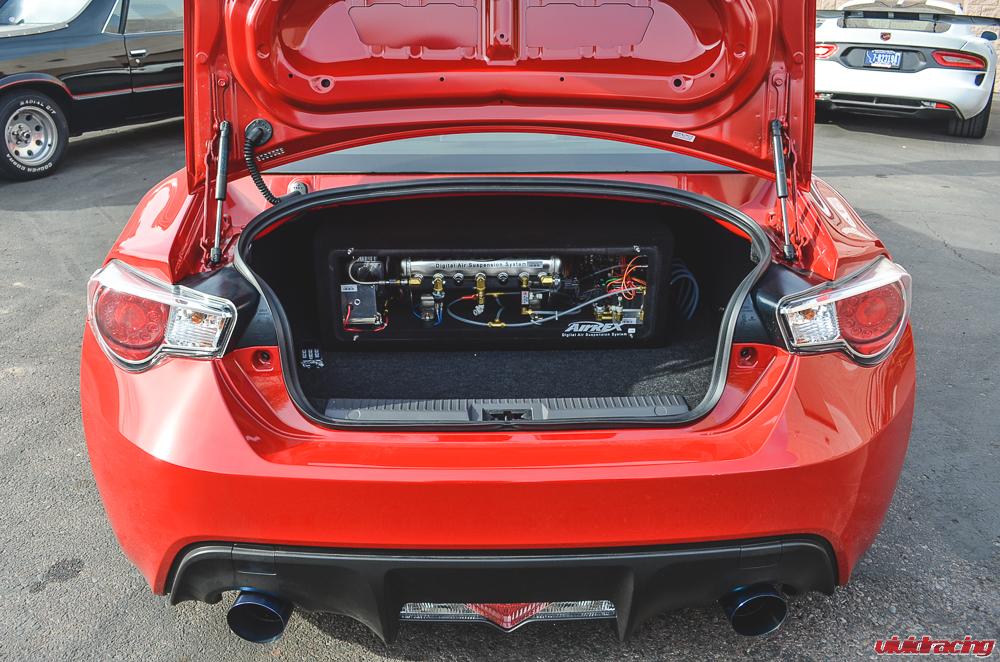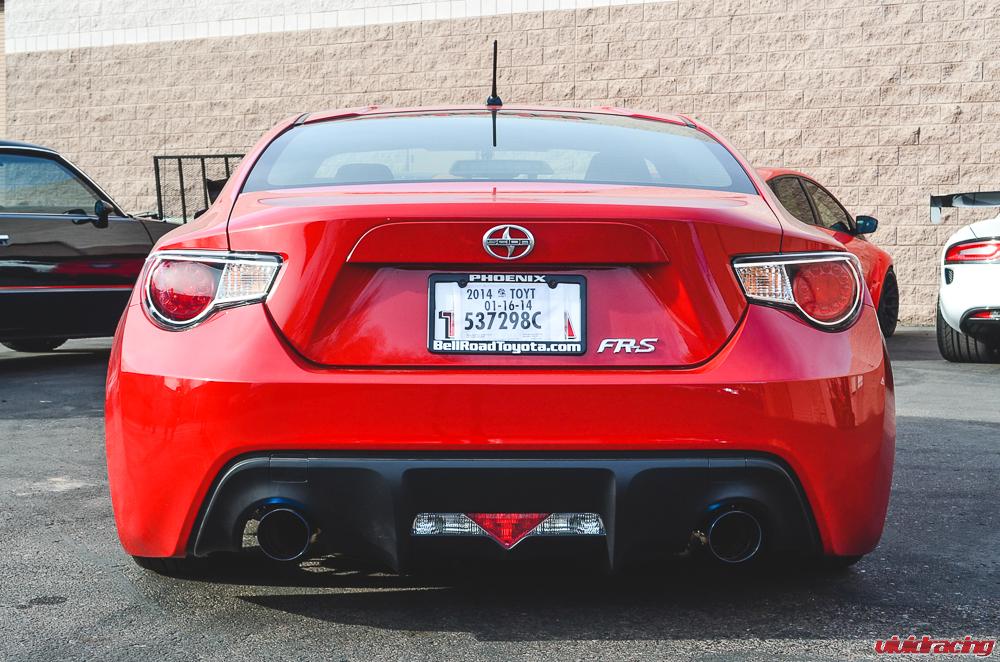 With a legendary history of improved performance through efficient boost, the team of Engineers at Vortech have designed a kit and intercooler package that makes this great car even more enjoyable to drive. Below are some pictures we took from the install. To see a video preview of the kit from SEMA, click here.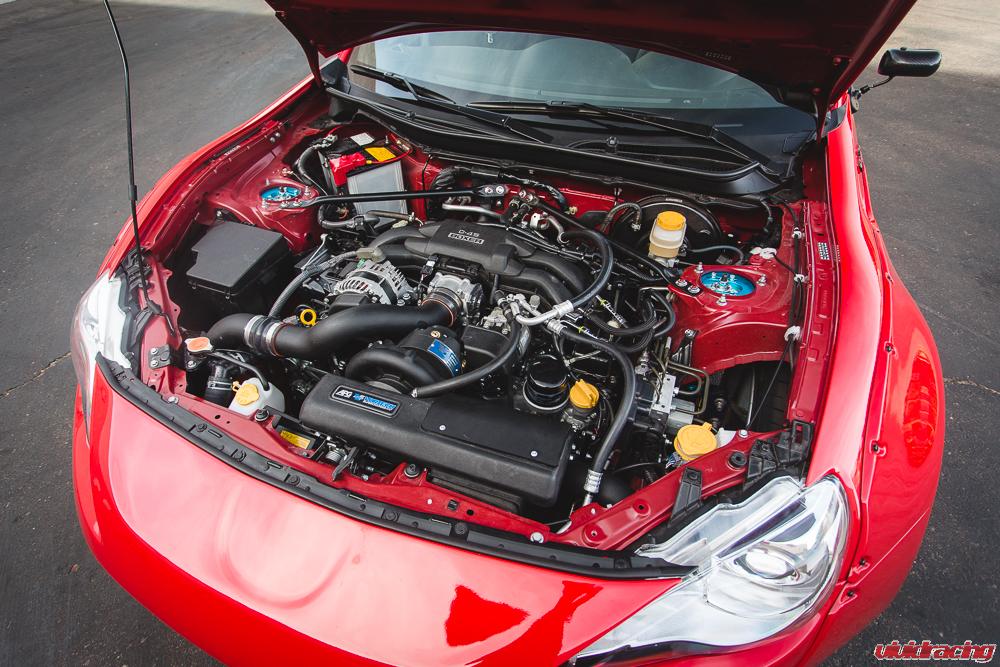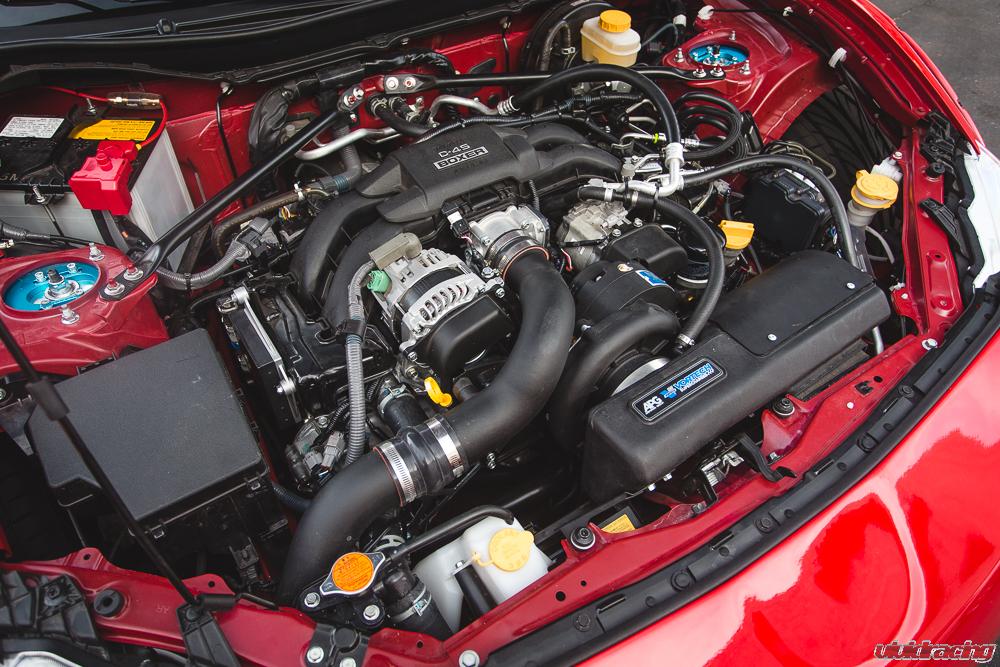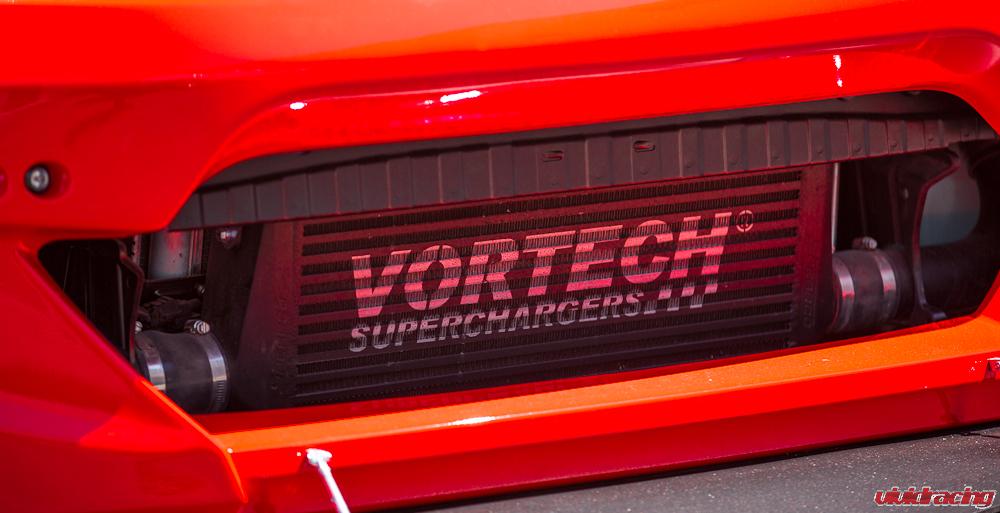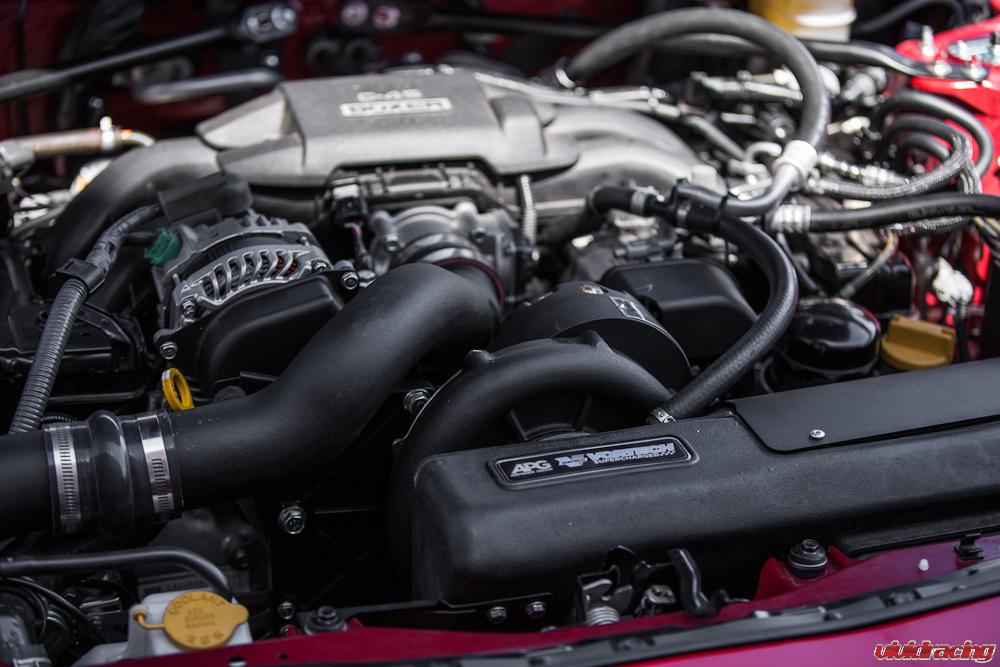 While improving the power, it makes sense to improve the power's exit strategy. Enter in the Agency Power Titanium Tip Catback Exhaust System. This dual exhaust features 2.5″ 304 stainless steel piping, tig welded mandrel bends and satin finish. The dual 4″ titanium tips or optional black ceramic are the perfect finish to this exhaust. Not only will he have more power, but when this power is unleashed it will unleash a symphony of supremacy.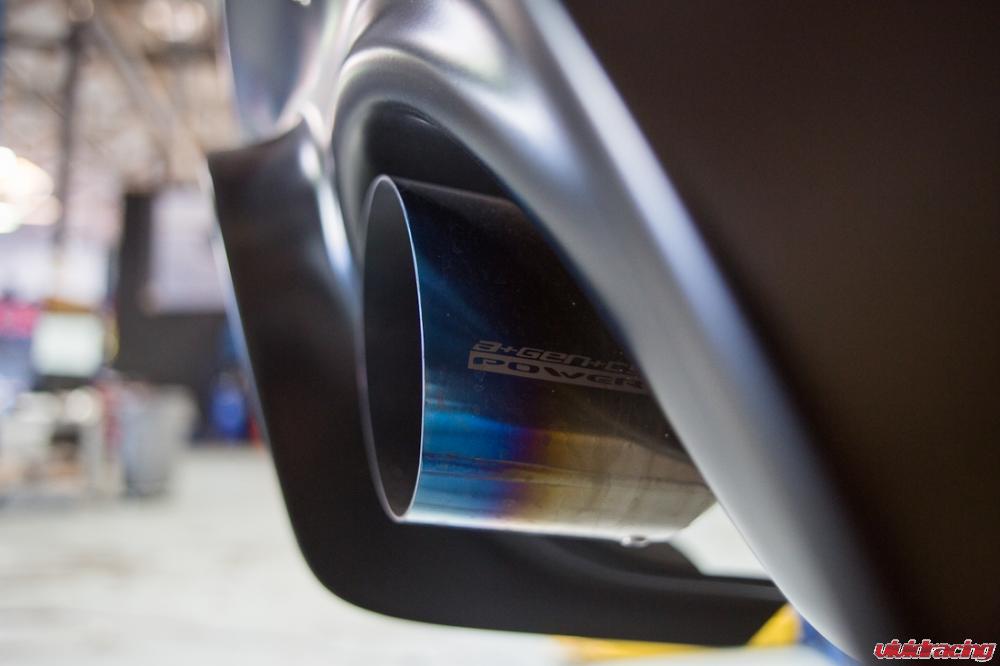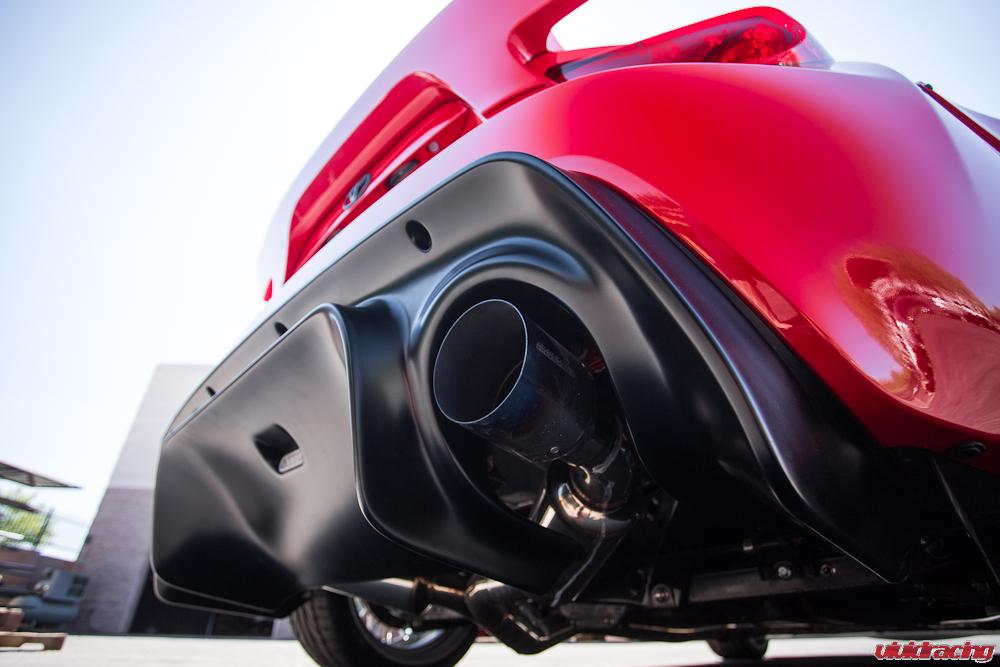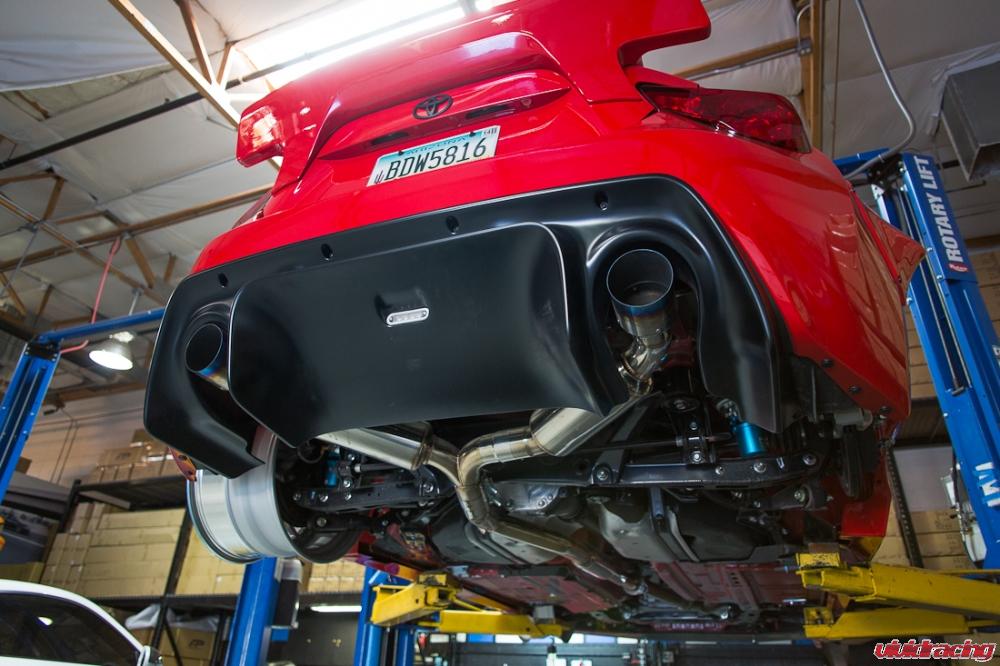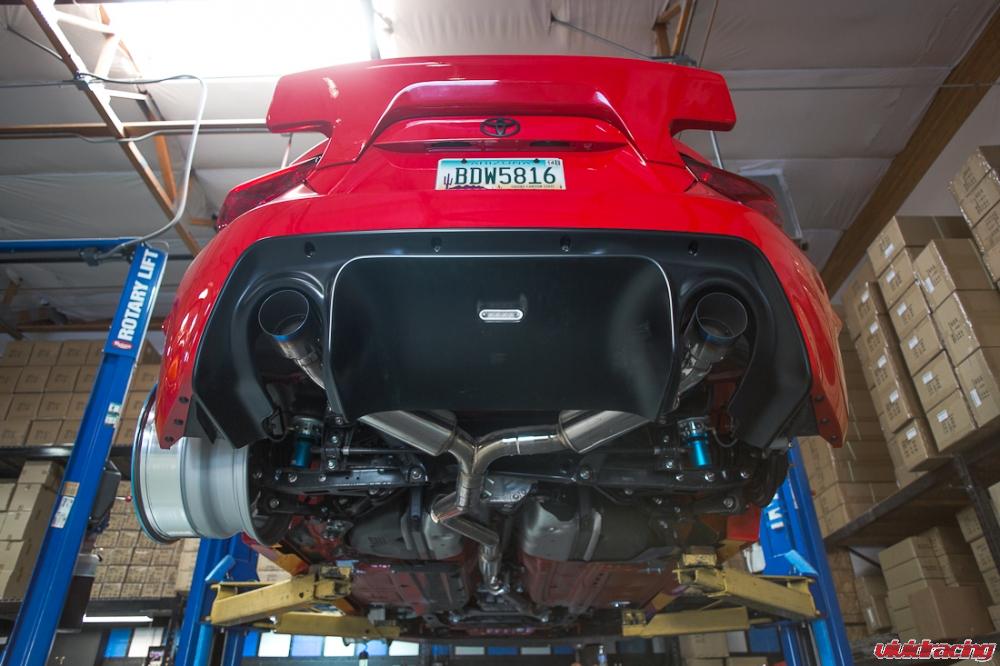 The next performance variation goes hand-in-hand with the upgraded performance. It's good to build a car that can regularly go 100 mph. But with that kind of speed and power, you need control. This build wouldn't be complete without a hefty brake kit! To ensure he has that control we got him setup with a Brembo Big Brake Kit with gnarly big rotors. This BBK is no joke.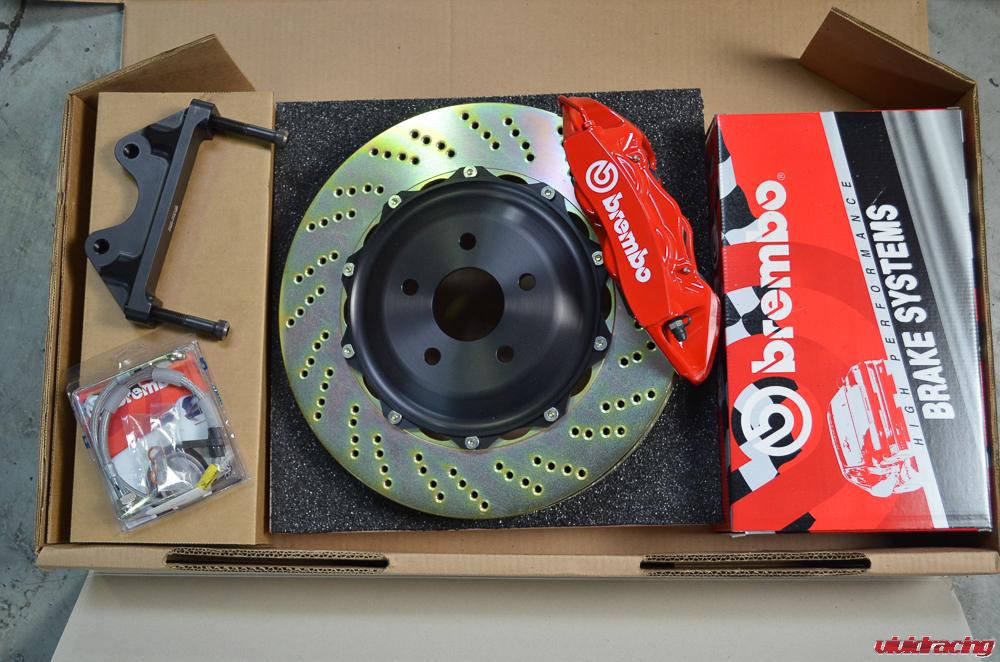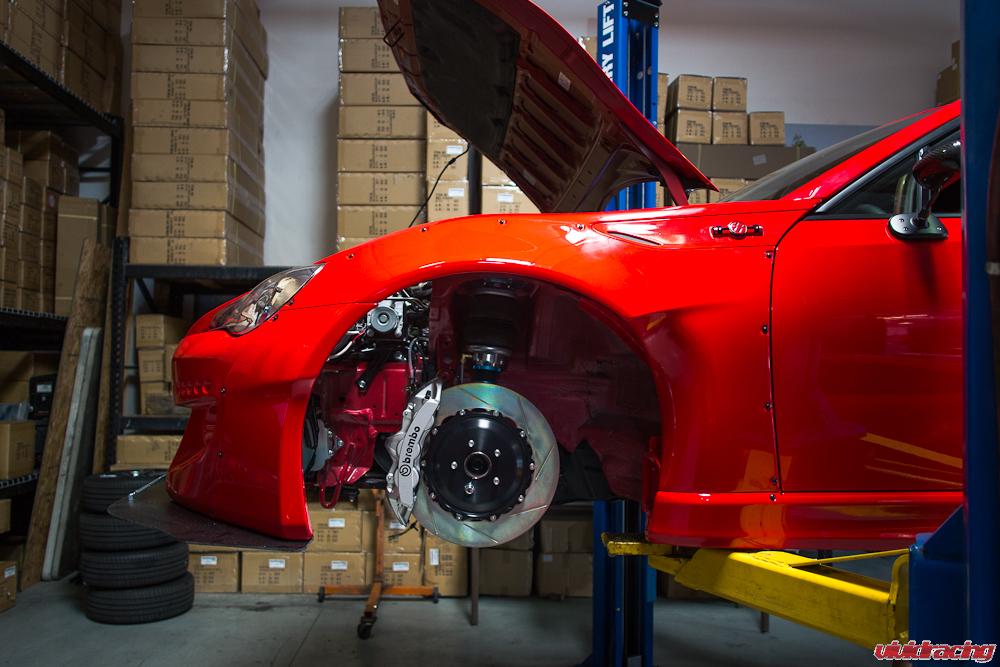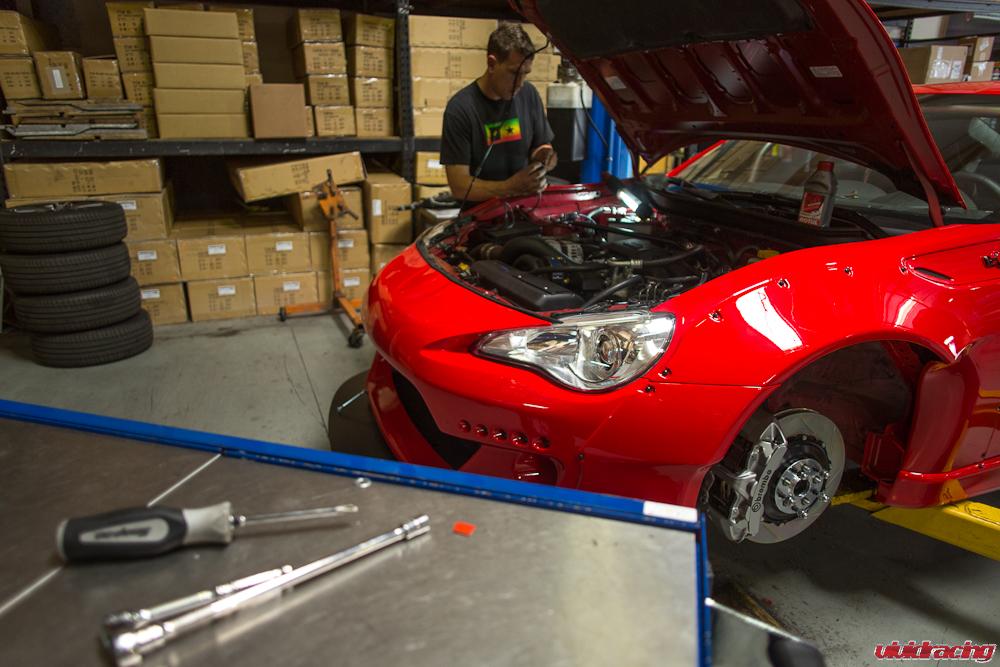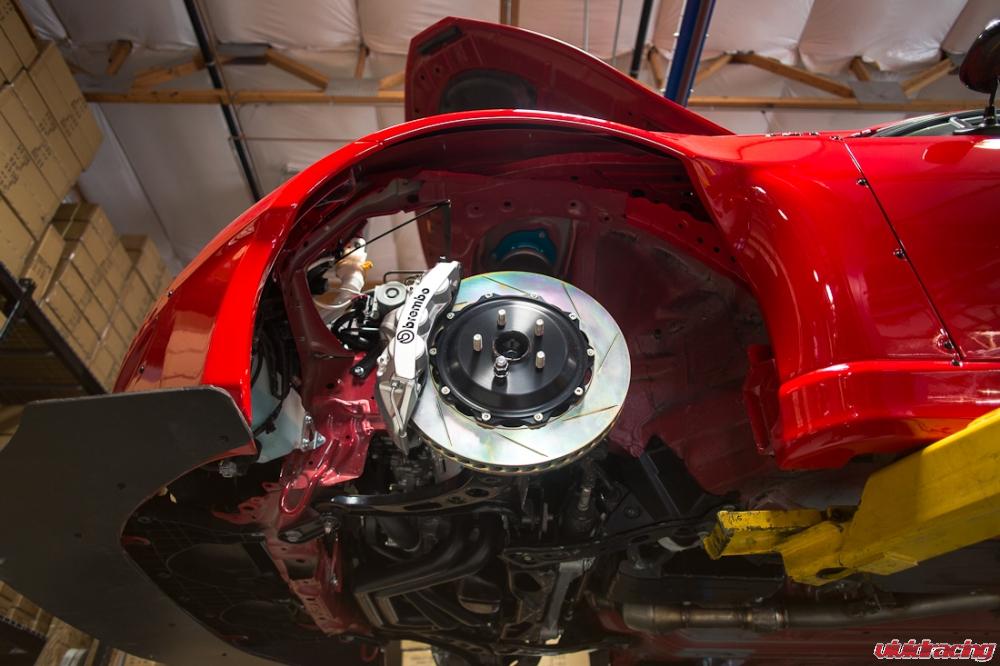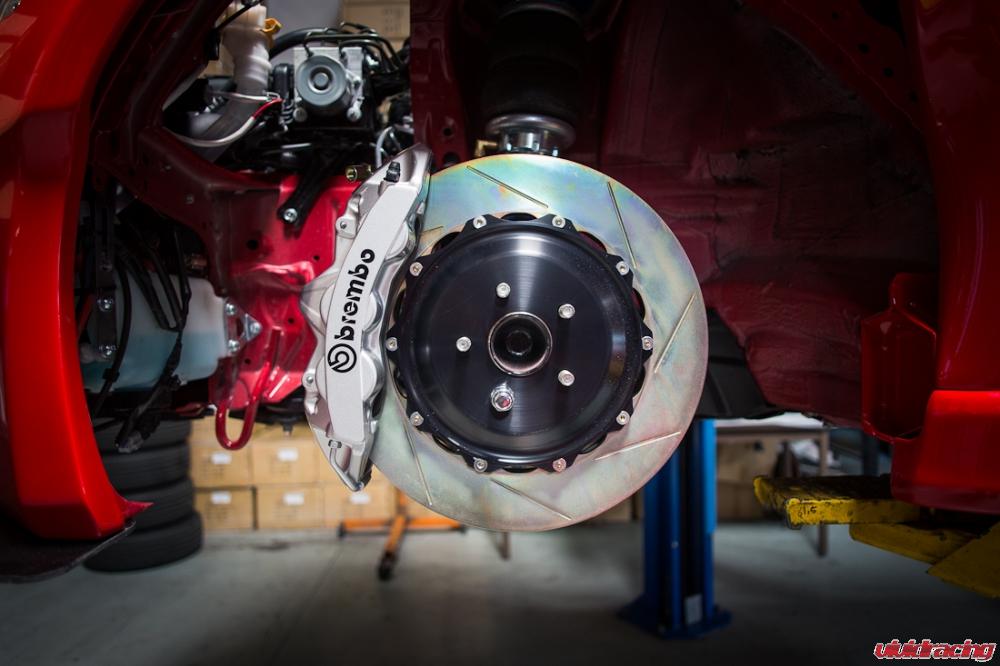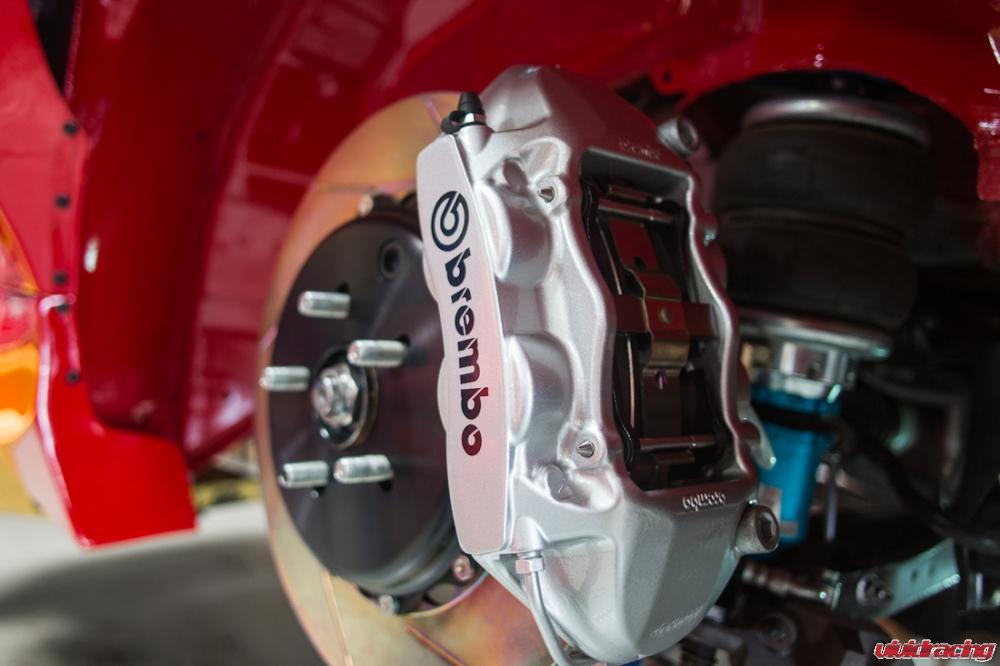 He chose a set of the popular Work VSXX Wheels to conclude his build. Fit at 19×11 and 19×9.5, with a reverse lip these Work VSXX Wheels are unique and lethal looking with the body kit. Finsihed off by wrapping them with Hankook V12 K110 tires.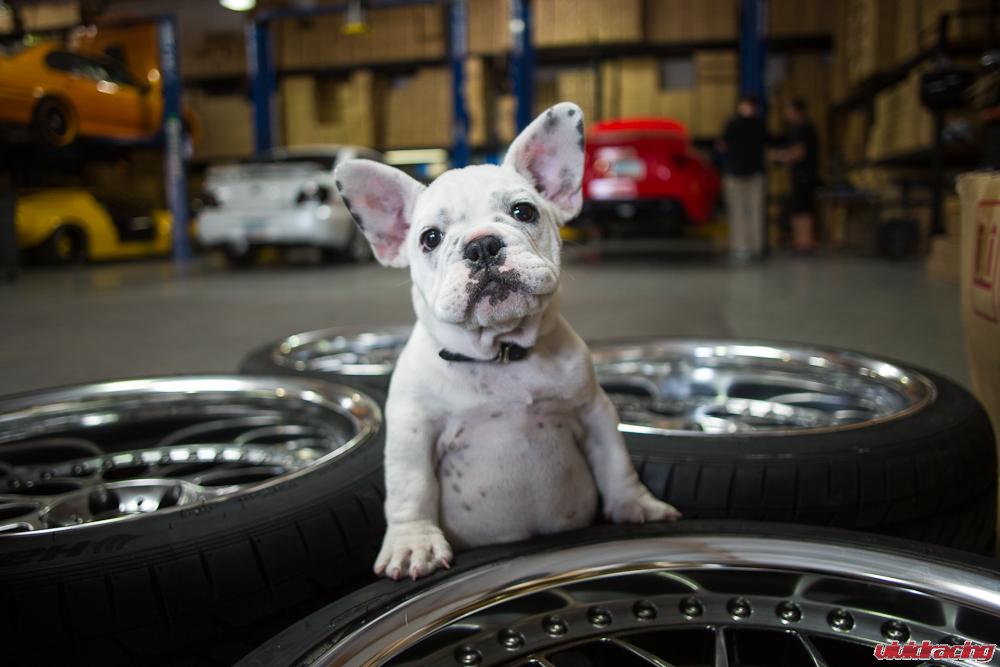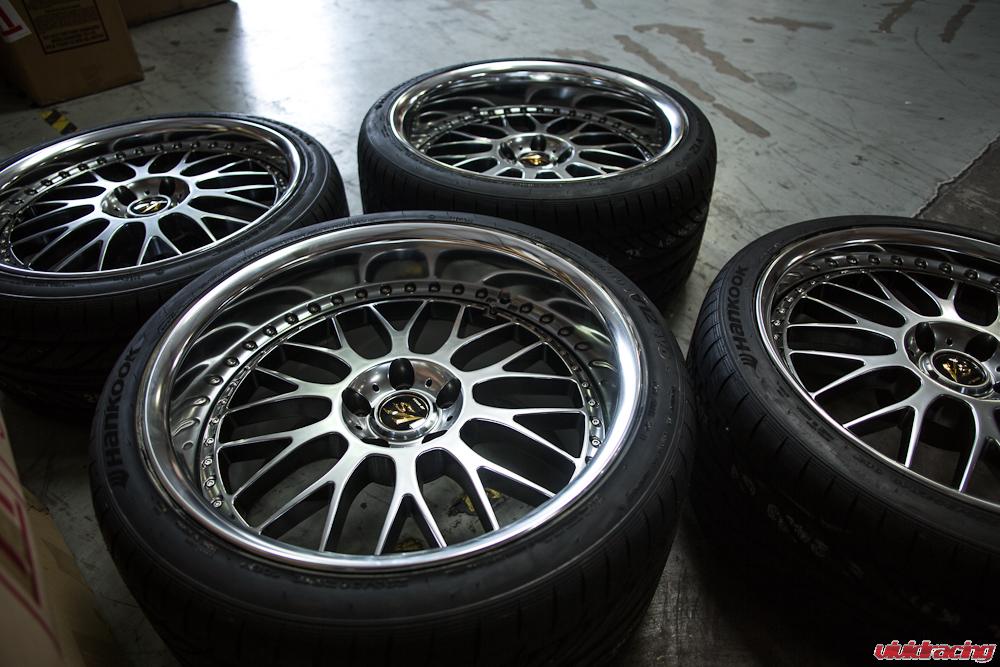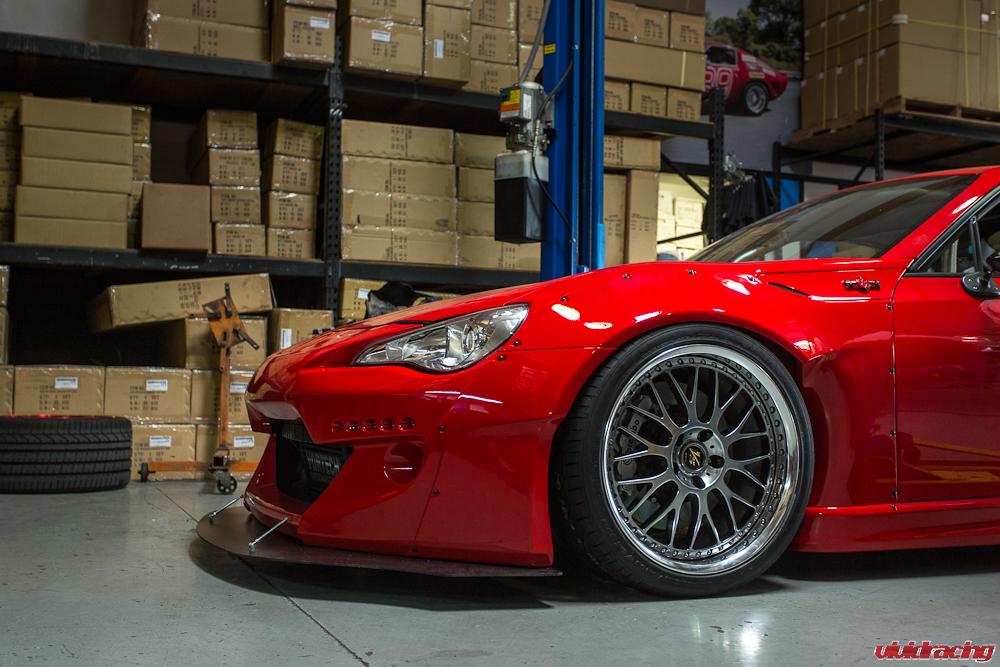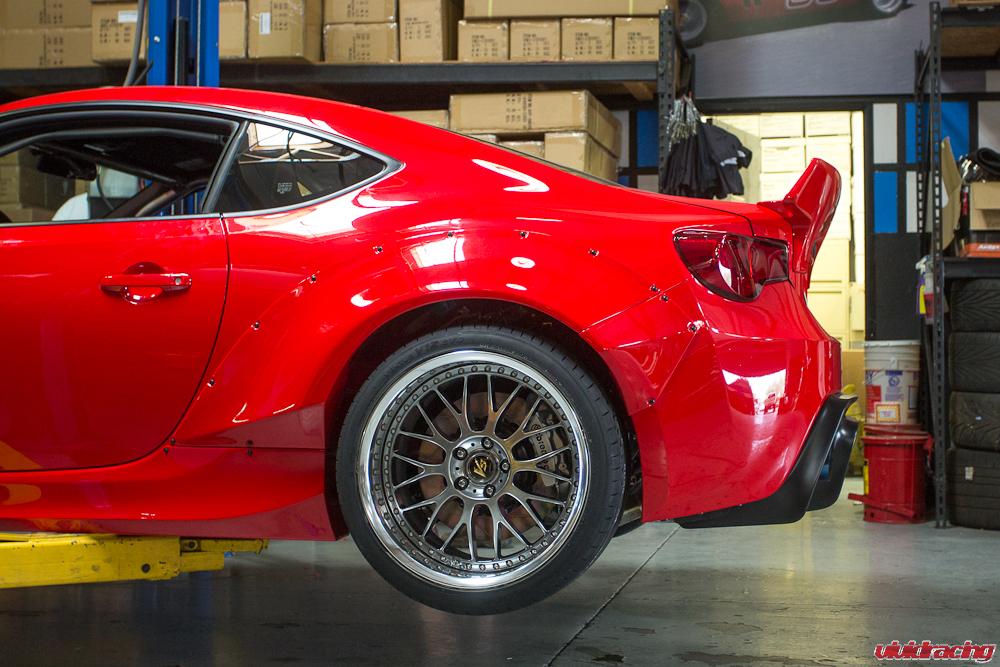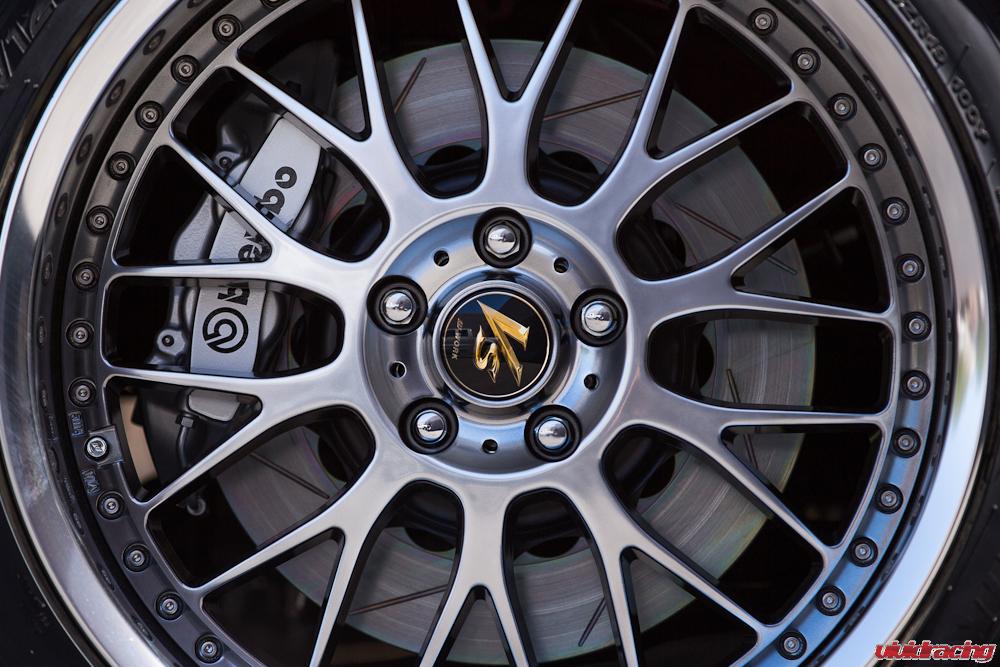 The last performance mods he did in this session were to complete the interior of the car to be compatible with the technology installed on the outside of the car. We got him setup with some Auto Craft and Prosport items to deck out his interior with all the latest gadgets. He went with the AUTO CRAFT 86/BRZ/FR-S Left Steering A.C.E+ 3 carbon gauge panel top house all his aftermarket gauges. Then we chose the Prosport 60mm Premium Evo Electrical Boost Gauge, Prosport 60mm Premium Evo Electrical Oil Pressure Gauge, and Prosport 60mm Premium EVO Wideband Digital Air Fuel Ratio kit to ensure he knows exactly what's going on internally in his car at all times. These items are essential to performance. Ignorance is not bliss when it comes to the inner workings of your car.
Balancing out performance with safety is just as important. If you're car isn't equipped with the proper safety equipment, but goes fast as a bullet you're basically getting into a ticking time bomb. Protect yourself with the proper safety equipment. Our customer went with the custom painted Cusco roll bar. We other roll bars and safety equipment available. So where you're a daily driver or a weekend racer, be prepared.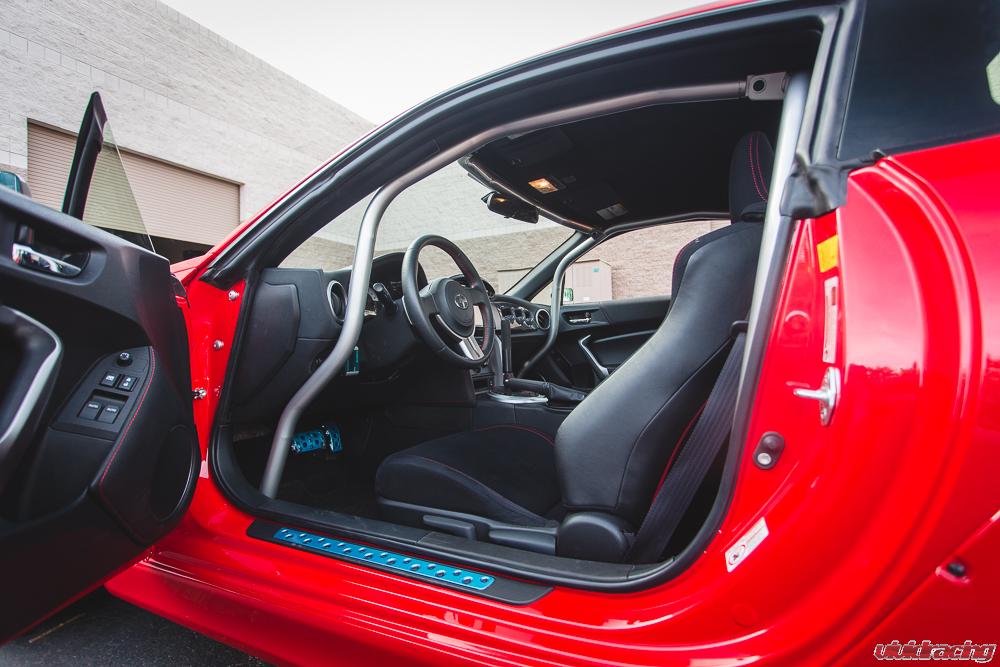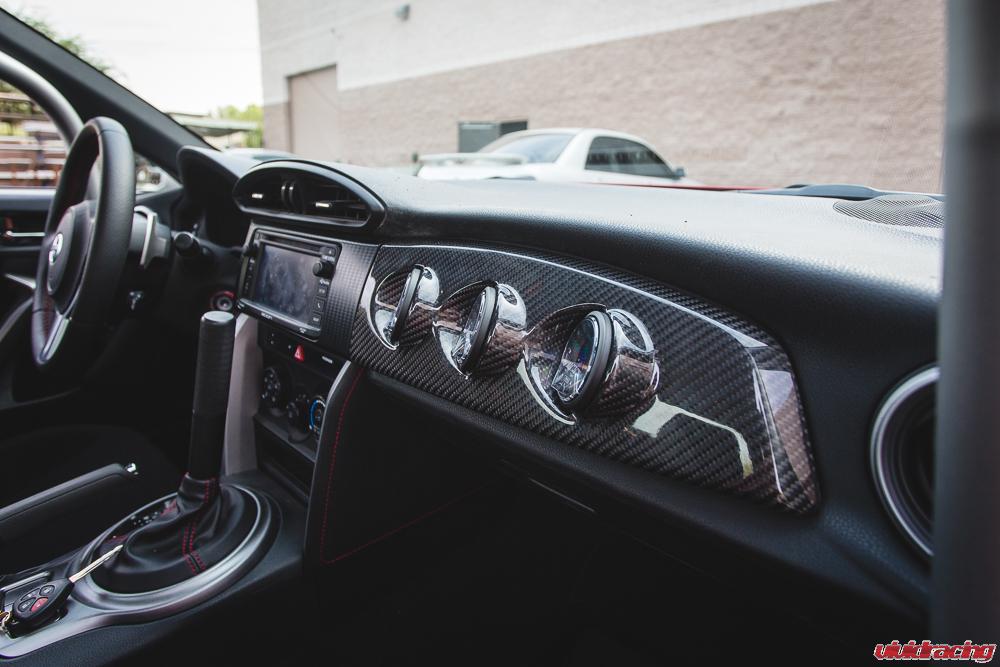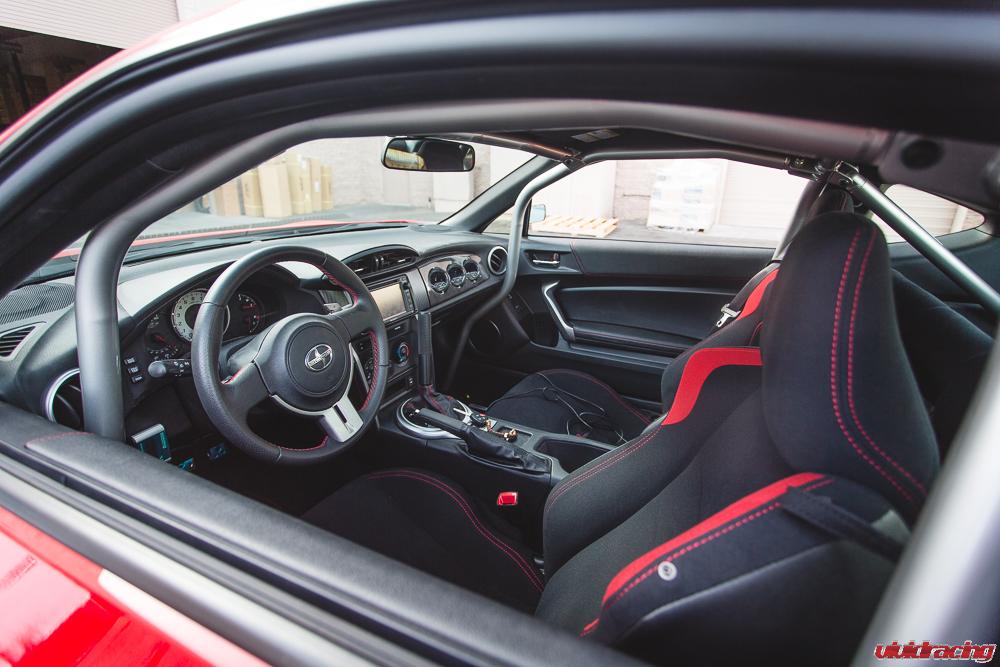 Once the car's performance was in line, it was time for the body work. The customer ordered the Rocket Bunny FR-S/BRZ Version 2 Full Kit w/out DRL and Rocket Bunny DRL Kit for Ver-2 kit. This set the stage for the epic body build and ultimately the FR-S that will rival most other builds.
The industrial aggressiveness of the kit and exposed rivets are synonymous with the Rocket Bunny style. This customer chose to also defined the look by having the screws be black. Sometimes when the kit is installed they will have the screws exposed but painted to match the rest of the car. This customer chose to go the more extreme route and make his look more raw and unrefined. The width, and overall girth of this kit, is renowned among widebody aficionado's. This was a big turning point in the build and the point where once the body was finished you could see the vision becoming a reality.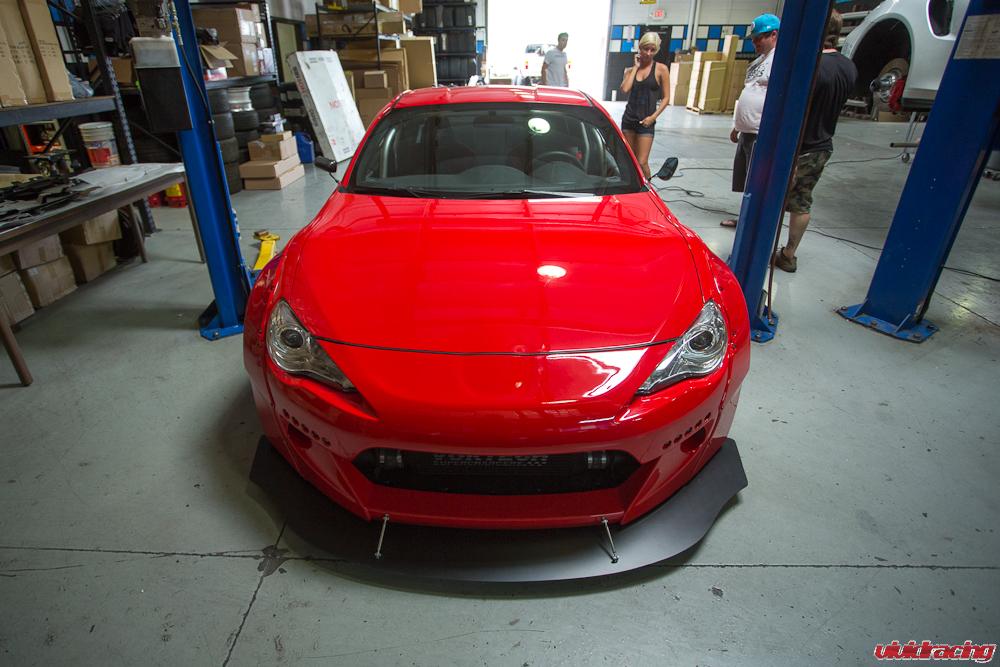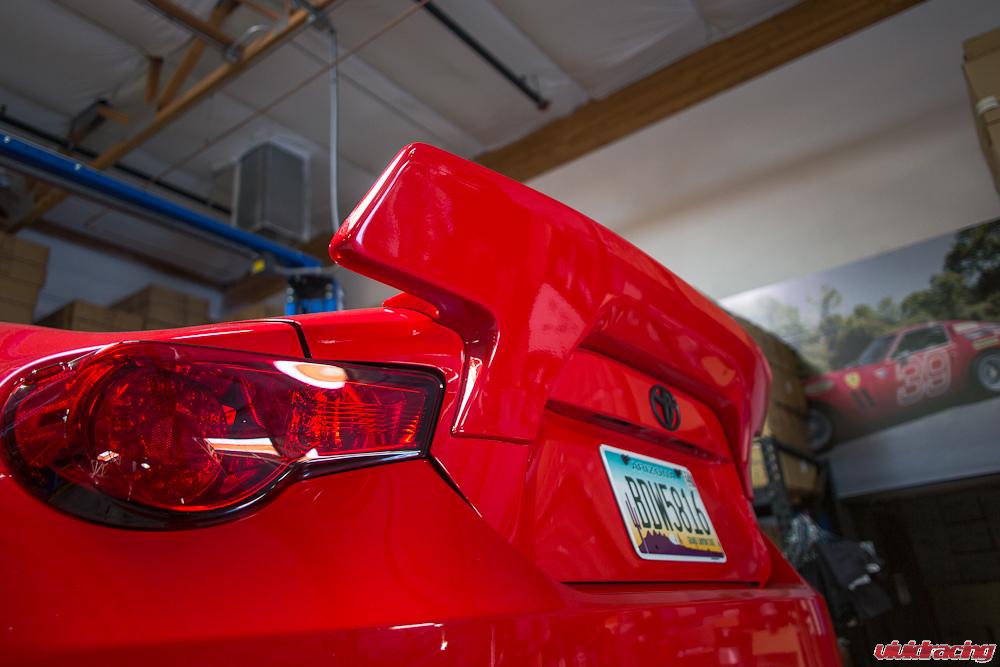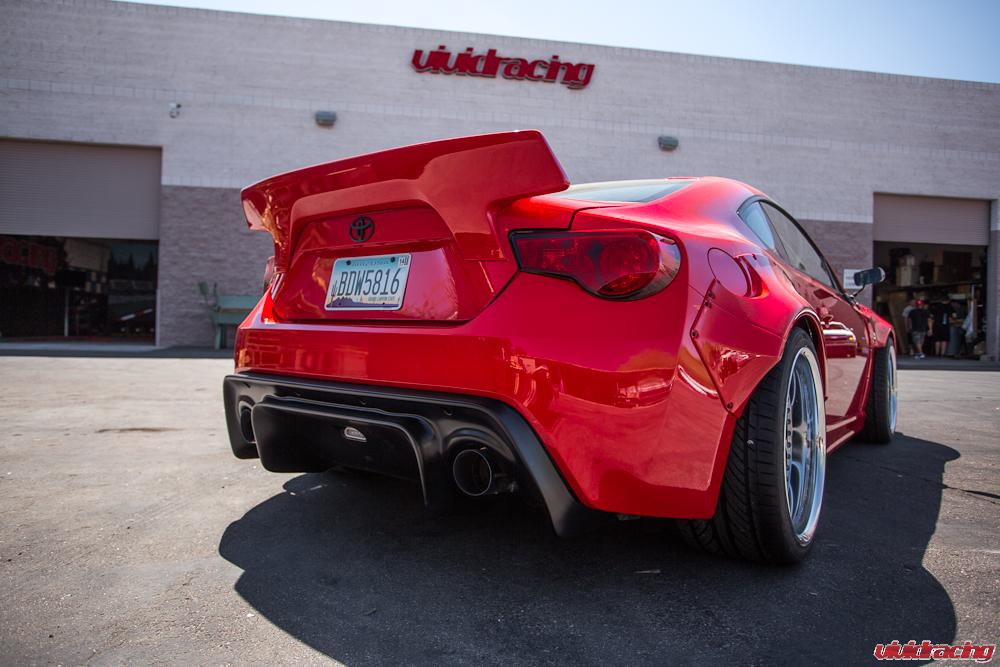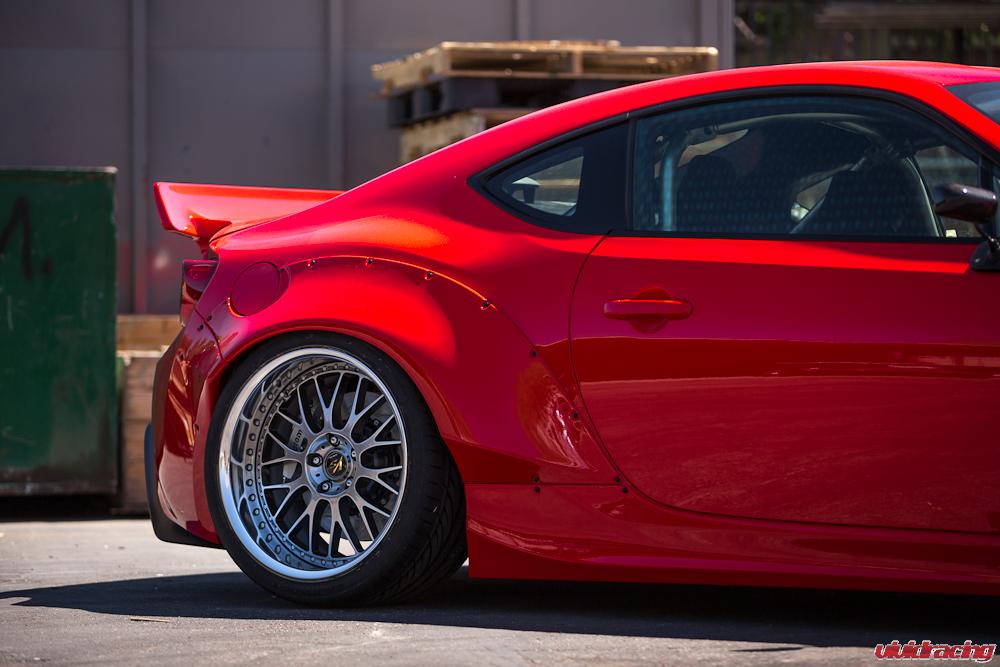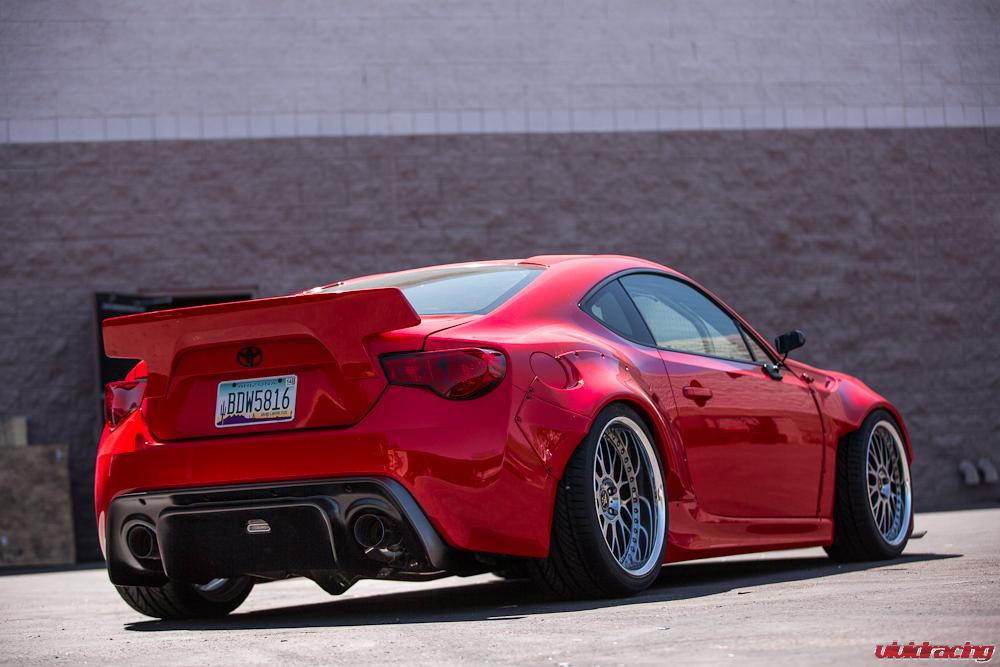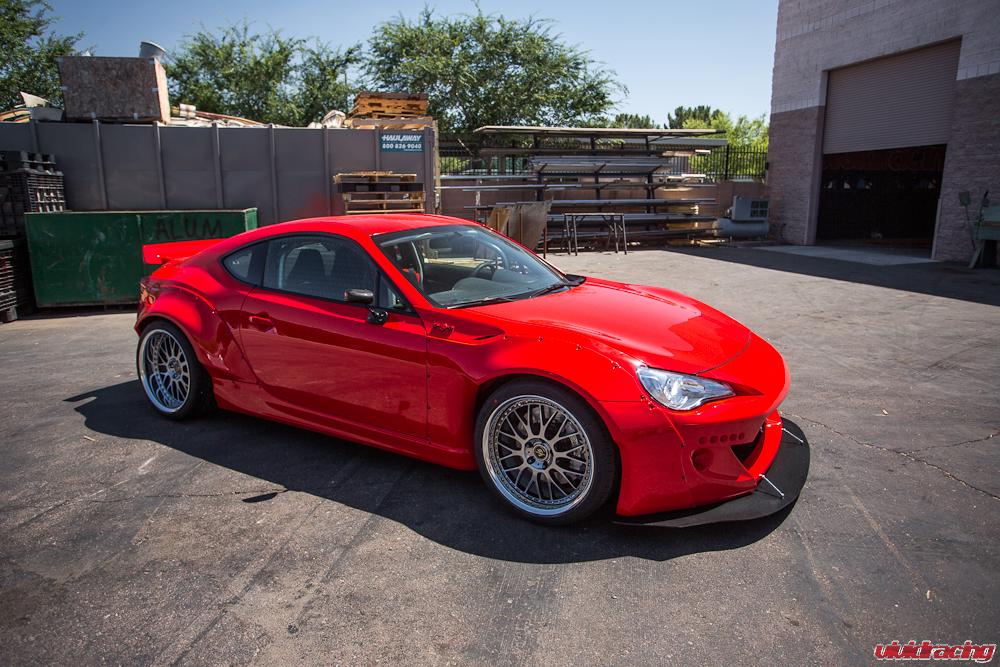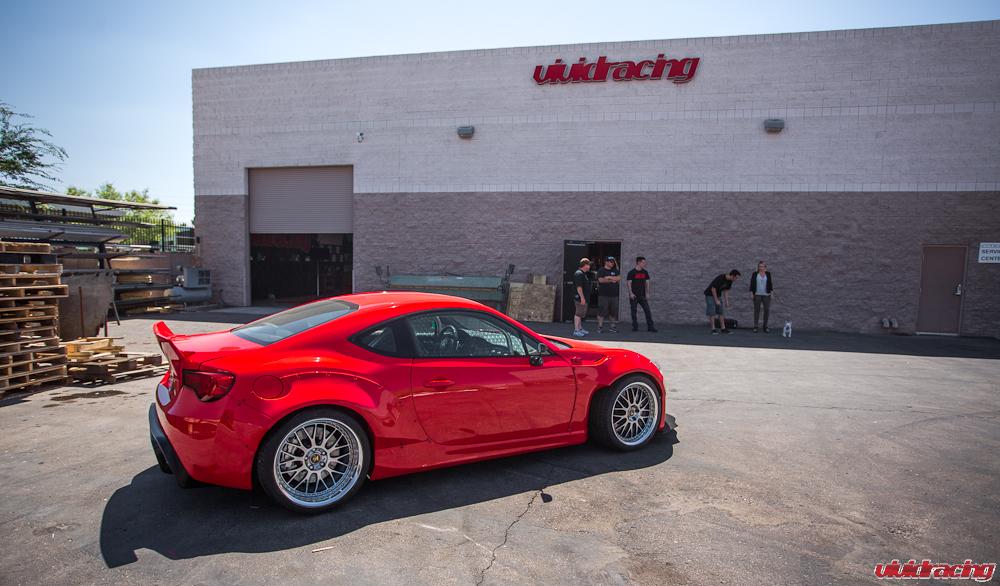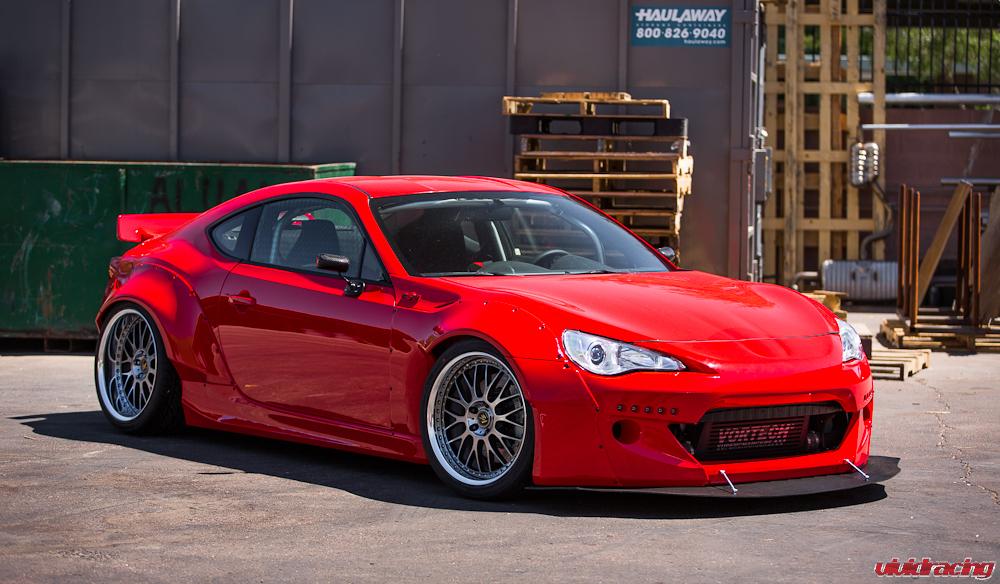 When you mix a compatible car, with a ton of awesome performance parts and an exterior setup that makes your mouth water, it turns out to be an FR-S worthy of exotics. This build has been in the making for months and we're pumped to finally release what's been happening behind the scenes. Check out the full gallery here, or the complete mod list below. Once again, if you're interested in any of these parts but don't see them listed, email sean@vividracing.com. He'll get you setup. Let us know what you think of the build in the comment section below or on Facebook, Twitter, or Instagram.

FULL MOD LIST:
Vortech Complete Supercharger System Subaru FRS|BRZ|FT86
Agency Power Catback Exhaust Scion FR-S / Toyota GT-86 / Subaru BRZ 13+
Rocket Bunny FR-S/BRZ Version 2 Full Kit w/out DRL
Rocket Bunny DRL Kit for Ver-2 kit 10-LED lights
AUTO CRAFT 86/BRZ/FR-S Left Steering A.C.E+ 3 gauge panel Carbon 60mm
Prosport 60mm Premium Evo Electrical Boost Gauge
Prosport 60mm Premium Evo Electrical Oil Pressure Gauge
Prosport 60mm Premium EVO Wideband Digital Air Fuel Ratio kit
AirREX Air Strut Complete Kit FRS/BRZ 13+
AirREX Digital Air Management System Enclosed Box Kit FRS/BRZ 13+
PPE FR-S / BRZ Race Equal Lenth Header (4-1) w/ Over Pipe
PPE Engineering High-flow Catalytic Converter Mid-Pipe Scion FR-S / Subaru BRZ / Toyota 86
FA20CLUB Vortech FR-S BRZ Supercharger Pulley Kit (3.1 Pulley)
FA20CLUB Flex Fuel E85 Kit FRS BRZ 2013+ (+90 for ECU Harness)
FA20CLUB Custom Remote Tune (Vehicle Specs)
Cusco 6pt Roll Cage FRS/BRZ 13+
ZEX Show" Purge Kit [Universal]
ZEX Dual Outlet Purge Kit [Universal]
Brembo GT 14 Inch 6 Piston 2pc Slotted Front Brake Kit Subaru BRZ / Scion FR-S / Toyota GT-86 13+***Yellow***
Brembo GT 13.6 Inch 4 Piston Monoblock Rear 2pc Slotted Brake Kit Subaru BRZ / Scion FR-S / Toyota GT-86 13+***Yellow***
Toyota Full/Complete Short Block +13 FRS/BRZ
Toyota OEM OVERHAUL GASKET SET FRS/BRZ
Genuine Toyota Fluid Formed-in-Place Gasket
Work VS XX Full Reverse Wheel 19×11 *burning black
Work VS XX Full Reverse Wheel 19×9.5
Project KICS 11mm PCD Conversion Spacer Pair 5×100 to 5×114.3
Hankook V12 K110 255/35/19 tire
Hankook V12 K110 295/30/19 tire
Motorsport Technology Adapter – Hub & Wheel Centric for Subaru FRS 5×100-5×114.3 73.3mm bore