The simple answer is a resounding yes! If you want to buy a BMW F8X Exhaust, we have some good news for you. AWE's second generation AWE Exhaust Suite for the BMW F8X M3 and M4 isn't necessarily a new product on the scene, but a solid option for an enthusiast who is in search of aftermarket exhaust roar, while being able to pass legal emissions in all 50 states. When it comes to manufacturing the exhaust system for the BMW F8X M3/M4, AWE wanted to make sure that they deliver. With this 50-state legal exhaust system, AWE has manufactured an exhaust with features that set it apart from the competition such as Remus, IPE, Eisenmann, Akrapovic, Armytrix, and Meisterschaft. When it comes to Gen2 F8X Exhaust, AWE has made sure that the S55 sounds great, again with perfect fitment, and performance; while staying in the boundaries of the EPA.
The second generation of SwitchPath™ Exhaust for the BMW F8X M3 and M4 sounds great with the valves open and closed. In addition to that, this BMW exhaust remains emissions-compliant, no matter the state of the valves. Manufactured using U.S.-sourced T304L stainless steel, The SwitchPath™ Exhaust is a true catback configuration comprised of 3-inch and 2.5-inch, a precision x-pipe, and a valved SwitchPath™ muffler tuned specifically for the S55.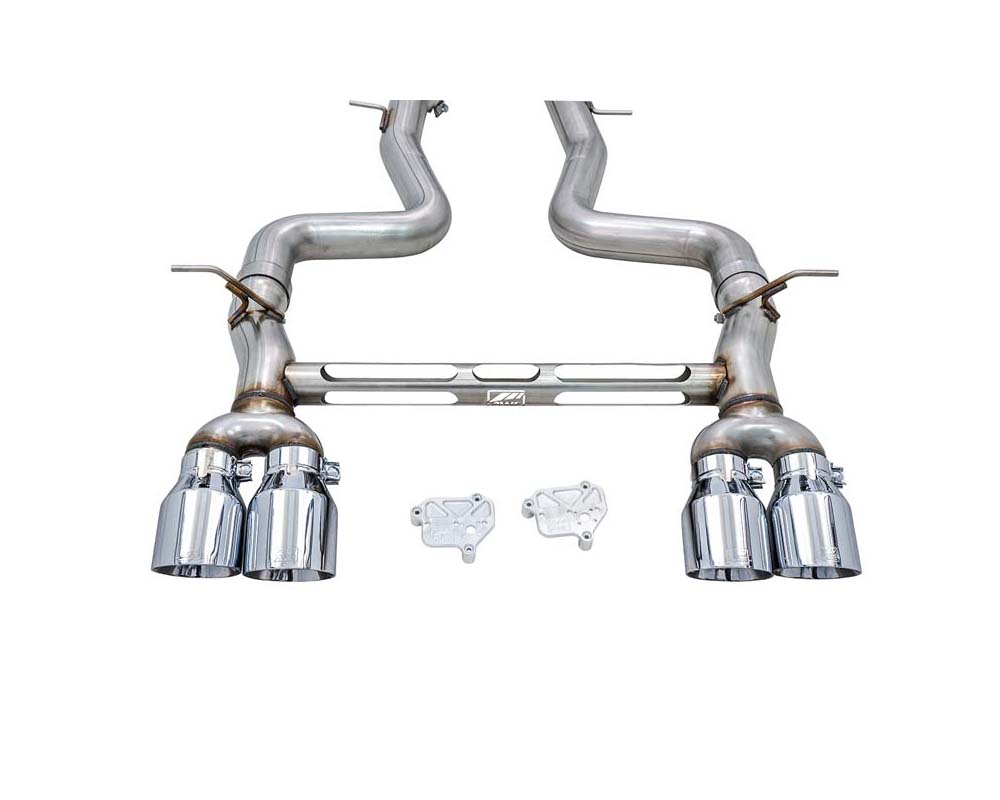 The AWE Exhaust System has minimal bends, maximum flow, and a push-button attitude. When the valves are closed, the SwitchPath™ Exhaust produces a refined, aggressive howl while remaining full-bodied and powerful – no congested, metallic sounds here when on the throttle. At cruising speeds, interior acoustics are close to stock. AWE SwitchPath™ tech also responds perfectly to the many transmission settings and shift points in DCT vehicles. When you drop the hammer with the valves closed and SwitchPath™ sings a proper M anthem. No one would blame you If you were to leave the valves closed at all times after equipping SwitchPath™, as the sound remains great, all the time.
When the valves are open, the S55's roar is uncorked. Modes like Sport and Sport+ can achieve the ultimate contrast in behavior when compared to comfort driving modes (valves closed). In Sport mode, the exhaust note is powerful, clean, and aggressive. In Sport+ mode, there is the same aggression, but with a lot of grin-provoking burbles. Thanks to the precision X-pipe, the rasp is still kept in check while allowing the exhaust note to reach full aggression. If you're looking for the best of both worlds and want to retain your factory valve behavior all while gaining peace of mind (i.e. emissions compliance), look no further than SwitchPath™.
The Track Edition
AWE Track Edition Exhaust takes all of the precision engineering and performance of its SwitchPath™ counterpart, minus the valved muffler in the rear, which results in a constant "valve open" mode, at an affordable price. If you're craving rich and rowdy tones at all times, and a hefty 22.5lb weight savings, this is the perfect BMW F80 Exhaust / BMW F82 Exhaust for you. Just like the AWE Switchpath Exhaust F80 M3, the AWE Track Exhaust is also 50-state legal and it comes complete with AWE valve simulators to accommodate your factory exhaust valve motors.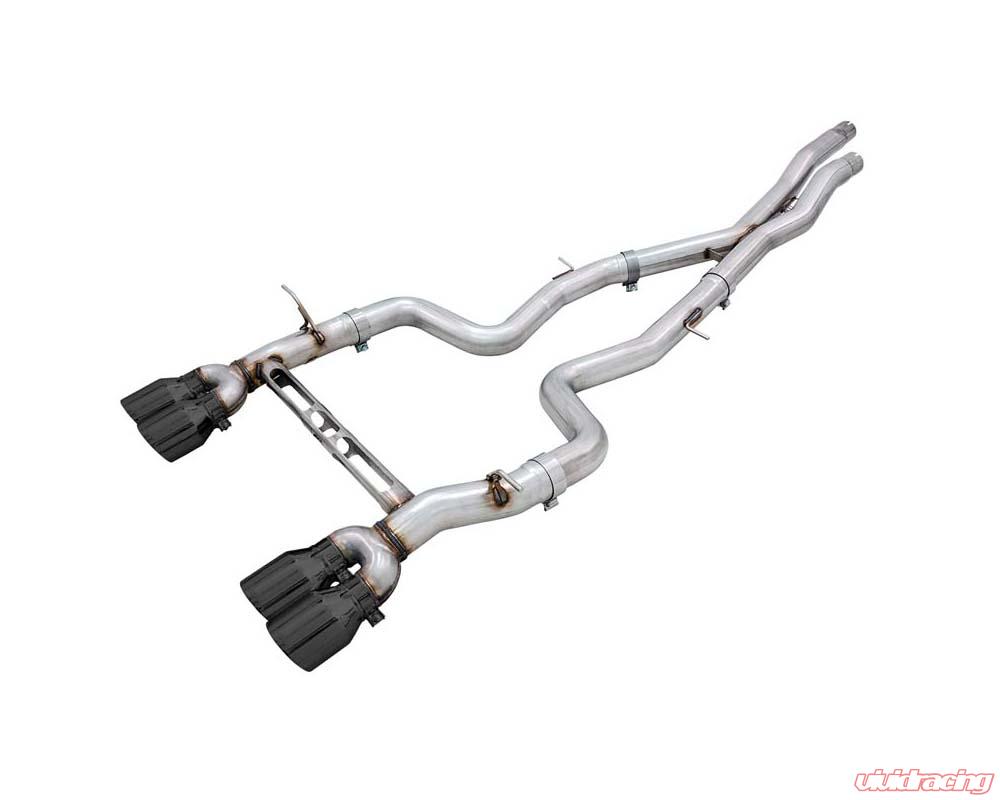 Tip Options
The SwitchPath™ and Track Edition Exhaust feature statement-making quad 102mm double-walled, slash-cut tips in either chrome silver or diamond black, complete with a stamped AWE logo.
Click Here to Buy the AWE Tuning Track Edition Catback Exhaust System w/ Chrome Silver Tip
Click Here to Buy the AWE Tuning Track Edition Catback Exhaust System w/ Diamond Black Tip
Features and Benefits:
Unified design for OPF euro and non-euro spec cars (2015 – 2020 fitments confirmed)
50-state legal catback design: sick sound with all catalysts intact
Precision-engineered X-pipe to unlock a clean S55 tone
Available as valved SwitchPath™ or rowdy Track Edition
SwitchPath™ utilizes factory valving and retains M-Sport button functionality
3" CNC mandrel-bent catback configuration
Max gains of 12 hp and 16 ft-lbs of torque at the wheels
Track Edition comes complete with AWE machined mechanical valve simulators
Tip options include 102mm double-walled, slash-cut tips in chrome silver or diamond black
Handcrafted from U.S.-sourced .065″ wall T304L stainless steel
Proudly engineered, designed, and manufactured in-house at AWE
No Check Engine Light Guarantee
Perfect Fitment Guarantee
Featuring the AWE Lifetime Exhaust Warranty
Knowing all the pros of legal exhaust mods, you may ask yourself, 'are catback exhausts legal?'. This catback exhaust definitely is, in all 50 states, that and many other reasons make this a popular choice as a  BMW F80 Exhaust, and BMW F82 Exhaust. The AWE M4 Exhaust will offer reliable performance and incredible and powerful sound through the BMW exhaust tips.
Fitment:
BMW M3 Base Sedan RWD 3.0L 2015-2018
BMW M4 Base Coupe RWD 3.0L 2015-2020
BMW M4 Base Convertible RWD 3.0L 2015-2020
BMW M4 CS Coupe RWD 3.0L 2018-2020
If you have any questions about AWE Exhaust or you need a new BMW M3 Exhaust / BMW M4 Exhaust, please do not hesitate to contact us. You can reach us by phone at 1-480-966-3040 or via email at sales@vividracing.com.