If you want to lower your car, there are only a few ways to do so: lowering springs or coilovers. Lowering springs, rather obviously, are just springs that provide a lower ride height and typically higher spring rates. Coilovers replace your entire factory strut and typically have height and dampening adjustment. Each system has its pros and cons, but how do you know which system is right for you? We know it can be tough deciding, so we put together a short article to help you out. Shop for all coilovers here.
Lowering Springs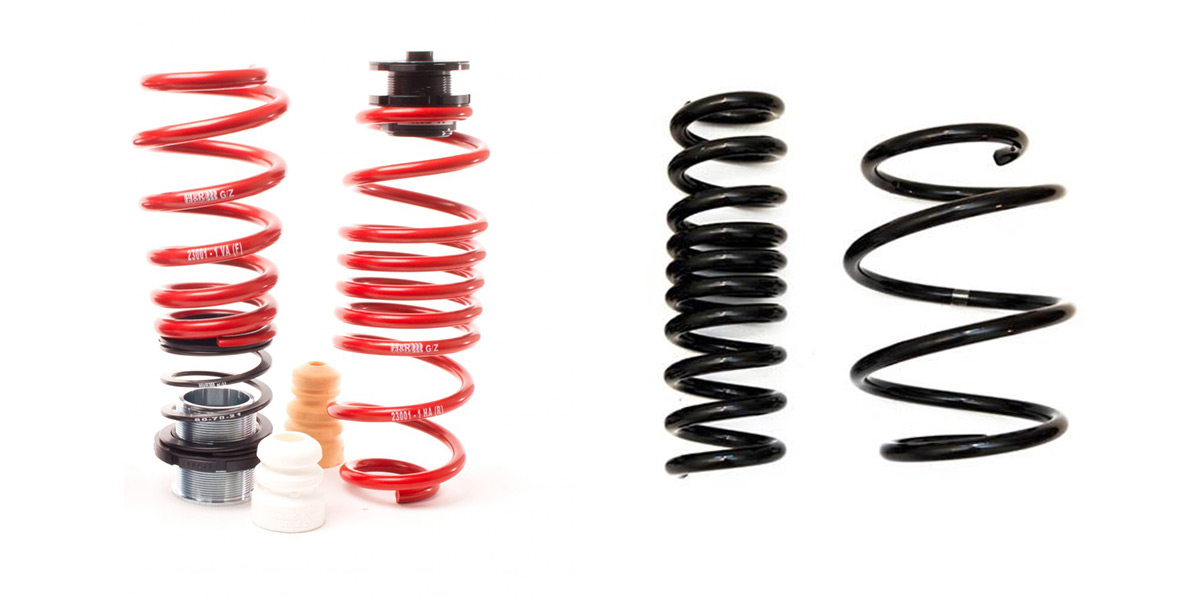 As we briefly explained above, lowering springs are designed to lower your car by using slightly smaller springs with marginally higher spring rates to compensate for the lower ride height. All springs aren't equal, and the saying "you get what you pay for" applies. Lowering springs are great if you're on a tight budget and want your car to sit lower. If you plan on racing in autocross events or track days, however, lowering springs may not be the best option.
Since many lowering springs uses higher spring rates than the OEM units, the dampers have to work extra hard to keep the car under control. Although you may not be able to tell on the road, your OEM dampers may not be able to control your car with the higher spring rates. This problem is unique per vehicle and spring, but it can occur with almost any car, especially with low quality lowering springs.
If the dampers are not correctly valved for the spring rate and ride height you are using a potentially disastrous situation could arise. Dangerous situations will typically only occur with low quality lowering springs or cut springs which push the dampers outside their ideal operating range for ride height and spring rate.
Aside from the OEM dampers working extra hard, without dampening adjustment you cannot fine tune the handling. Lack of fine-tuning isn't a significant issue for street usage, but if you want to go to the track and want the most out of your car, you need to make adjustments. There are some OEM dampers which allow for rebound and compression adjustments, but manufacturers typically reserve adjustable dampers for very high-end cars which don't need heavy suspension modifications in the first place.
Another problem with most lowering springs is the lack of height adjustment. Since most springs are designed to be a cheap alternative to coilovers, they're often very basic. There are some lowering spring kits, like KW's VTF Adjustable Springs, which are designed to incorporate height adjustment. Kits like this allow you to have that height adjustment while still using the OEM dampers, which some people want (magnetic shocks for example).
Coilovers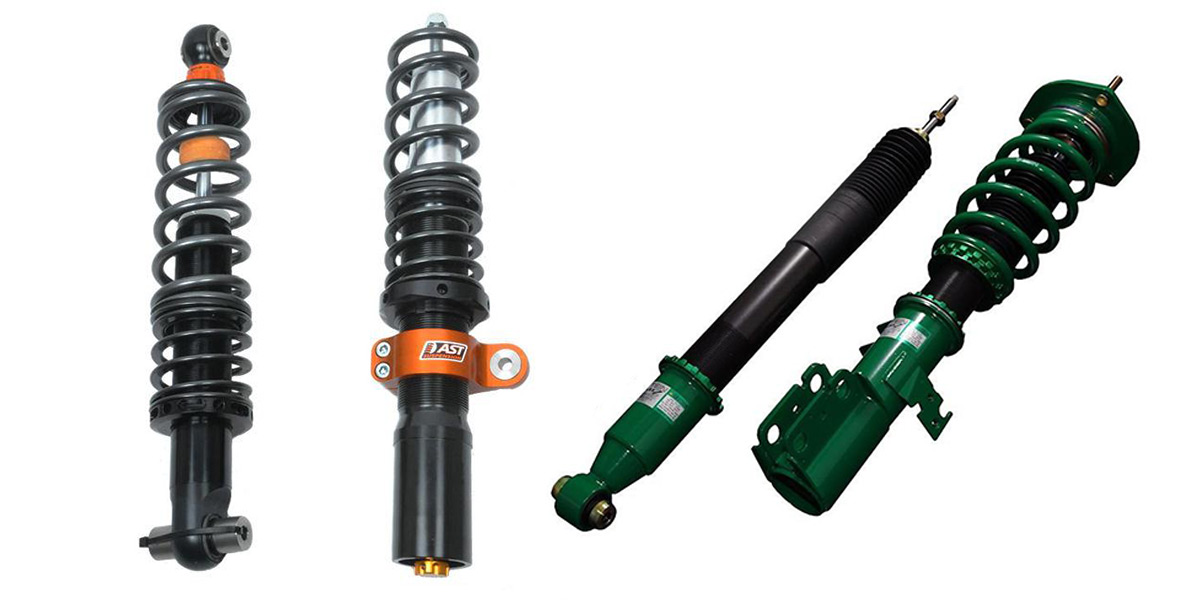 Coilovers theoretically fix the problem listed above by combining a higher rate spring with a damper designed to work with that spring correctly; however, that doesn't mean all coilovers are better than the OEM suspension. Low-End coilovers, which are typically found on eBay or Amazon and won't be sold by a reputable retailer, can make your car handle much worse than stock, which happens when a coilover isn't adequately tested on and off the track. These types of super cheap coilovers run basic spring rates which are often not ideal for the application, questionable dampening, not enough suspension stroke, and many other issues. We do not offer these kinds of coilovers, as we believe in selling parts we would put on our cars. As long as you stick with buying reputable name brand parts, you won't run into these issues mentioned.
Most coilovers include a way to make minor adjustments to the spring rate, and many coilovers use a system which allows ride height and spring rate to be adjusted independently of each other. Many coilovers also feature adjustable dampers which can you can adjust via a rotating knob on the top of the coilover. Some even allow you to change dampening based on velocity (high-speed and low-speed dampening) and rebound/compression dampening separately from each other. All of this adjustability enables fine-tuning, a necessity for hardcore enthusiasts. Accidentally adjusting your suspension incorrectly is a common mistake, so taking your car to a suspension tuning expert is always a good idea.
If you plan on attending any track events, a set of coilovers is a much better purchase than lowering springs. Dampening adjustment will allow you to fine-tune the handling of your car for a specific track. Plus, with dampers designed to work with higher spring rates, you are less likely to run into damper failure. The higher spring rates will decrease total body movement which will improve predictability, driver confidence, and overall grip. That's not to say that all body movement is a thing, but excessive body movement is.
Air Suspension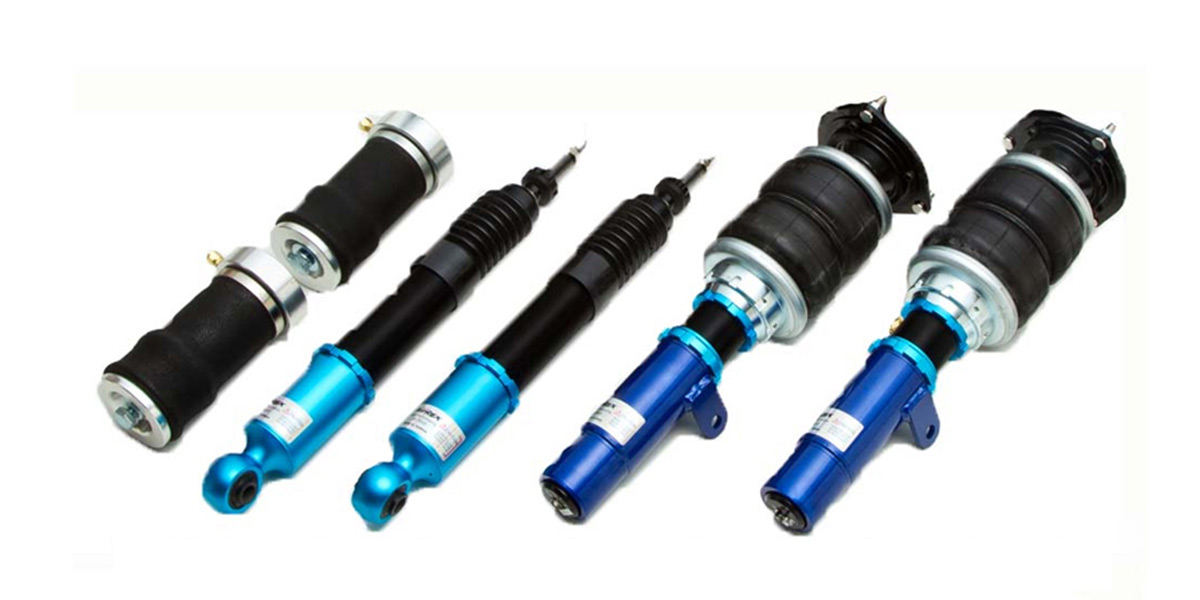 There is a third option that many enthusiasts often avoid due to cost and fears about poor handling: air suspension. Air suspension is more expensive than a good set of coilovers, but it should ride better (you are riding on air, after all). A properly designed air suspension system should theoretically handle just as good as a set of coilovers, but that will depend on the kit you purchase, your car, and other modifications you have done to the vehicle.
The main reason someone will choose air suspension over coilovers or lowering springs is the height management. Air suspension can be inflated or deflated, which changes the ride height. Air suspension will allow you to park at the car show and slam your car with the press of a button. Air suspension will also allow you to easily clearance driveways or speed bumps by airing up the bags.
Different Types of Springs
As you may have already known, there are multiple different types of springs. At the end of the day, they're all metal rods which have been twisted into a coil, but the tightness and pattern of the coil change how the spring reacts.
What you will find in the majority of OEM dampers or lowering springs are "Progressive" springs. Progressive springs often don't have a set stiffness. As the spring becomes more compressed, the spring rate increases. The progressive nature of the spring rate means bumps which don't cause a ton of compression can be absorbed with a low spring rate, transferring less harshness to the chassis.
In a high-performance lowering spring or coilover, you are more likely to find a "Linear" spring. Linear springs do not change through compression; This means handling is much more predictable, and damper tuning is much simpler but at the cost of poor ride quality.
For street use, a progressive spring is great because it provides much better ride quality, but for those who want the best out-right performance, a linear spring is a better option.
Twin Tube vs Monotube
Something else to consider when shopping for a set of coilovers is deciding between Twin-Tube and Monotube. On the outside, these two types of dampers can look completely identical, but underneath there are quite a few fundamental changes which alter dampening performance.
A twin-tube design can be found on the majority of OEM shocks, low-end coilovers, and even mid-level coilovers designed for street use. It's not a bad design by any means. Twin-tube uses an inner and outer tube. The inner tube holds the piston shaft, valve, and oil. The outer tube holds damper oil and nitrogen gas. The design allows for more suspension stroke without increasing the height of the body, providing better ride quality.
High-performance vehicles and coilovers designed for race use often use a mono-tube design. This design holds everything in one tube and separates everything with a floating piston. Although this design is simpler than the twin-tube design, it allows for bigger and stronger parts, better heat dissipation, and quicker response.
What's Right for You?
There is no universal right or wrong with aftermarket suspension. What's best for you depends on how much you're willing to spend and your intentions with the vehicle. For street use, a set of lowering springs should do the job, especially if you're on a budget. If you're willing to spend a little more, a set of coilover will offer you much greater adjustability and will be perfect for the track. If you're willing to spend a little bit more than coilovers, then air suspension is always a great option.
Summary
This article was a very brief overview, but there are a few key points to remember. Lowering springs are great if you want a cheap way to give your car a better stance, and possibly better handling. Depending on the car and spring, however, handling can be hurt by lowering springs. Coilovers are the much better option as they control your car much better and give you lots of adjustabilities.
If you're looking at purchasing some lowering springs, coilovers, or air suspension for your car, please do not hesitate to contact us. We can be reached by phone at 1.480.966.3040 or via email at sales@vividracing.com.
Shop for all coilovers here. Some of our popular suspension brands: