Much like the Mini family always expanding, so is the Vivid Racing Project Car family.  Since 2001 we have made a name for ourselves with Project Cars and set a trend for others to follow with documentation, exploration,and validation of these vehicles.  A project car for us at Vivid Racing is a way to collaborate with our favorite brands and new brands to showcase their parts, as well develop new products with our sister company, Agency Power.  Each project car that we do allows us to gain first hand knowledge of that vehicle, its community of drivers, and what it takes to make modifications safe, reliable, and enjoyable.  Not speaking for everyone, but I have always said, "any idiot can list parts on a website, its the overall experience you give the client that matters."  So to further our teams knowledge and provide a better experience to our potential customers, I/we introduce an all new type of project car to the Vivid Racing world…  Welcome Project Mini JCW!
Some people might ask why Mini.  To that I simply respond with, "ever been to a track day?"  The original Mini Cooper was bread from racing and the release of the first new generation Cooper had the same following.  But what Mini has done since its reintroduction is give the world a NikeID of cars with the ability to be unique, custom, and perform. With our concurrent Project 991 Turbo, a daily driver is a must.  Having built our awesome Ford Focus ST, we wanted to stick with a similar size vehicle, have it be turbocharged, but something all wheel drive.  The Mini Cooper Countryman fits these wants and when the search began, the S and JCW were a must.  The S is obviously the turbocharged version.  Its 1.8L turbo 4 cylinder produces 208 horsepower to the awd sportier platform.  Stock 0-60mph is 6.8 seconds which is nearly 4 seconds slower than our 991 Turbo.  But the improvement even past the enhanced JCW version is what we do best.
So besides some basic aesthetic enhancements, we plan to improve performance and handling to make this interesting 5 door body scream more that grocery getter.  Starting with the power of the car, we are utilizing our VRTuned ECU Tuning Software to squeak out another 40+ horsepower.  Like all turbocharged cars, the exhaust system is a big restriction.  To maximize the exhaust flow while throwing some style at it, we have gotten a Quicksilver catback with carbon fiber exhaust tips.  With Agency Power, we will work on producing some parts such as the downpipe, intercooler, intercooler pipe, intake, and pulley to further the cars performance and throttle response.  The JCW already comes with a 0.4 inch lowered ride height than the standard Countryman.  However we were lucky enough to have a set of NM Engineering springs to install from the previous owner.  Similar to H&R Springs, the NM springs lower the car about 1 inch giving the Countryman S a much more aggressive stance and stiffening up the ride for better handling.  To further the handling needs, we plan on making some control arms and bushings with Agency Power.
With some additional accutrements on the interior and exterior, we expect this Mini to fulfill all Vivid Racing Project Car qualities in performance, handling, and style.  Make sure to stay tuned to our official Mini JCW Gallery here and shop all your Mini Cooper Performance Parts here.
Official Sponsors: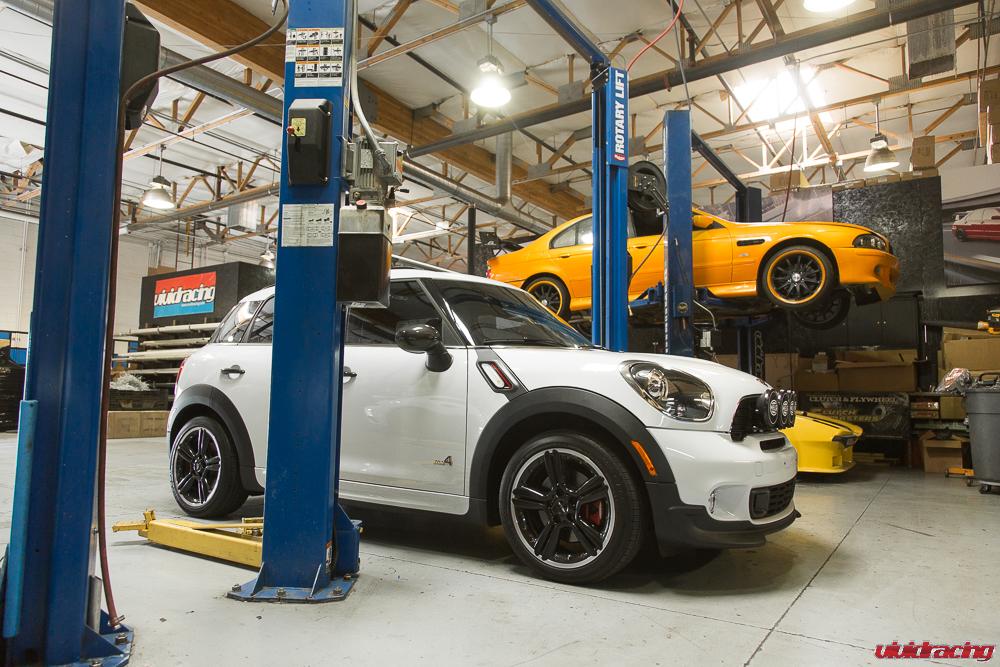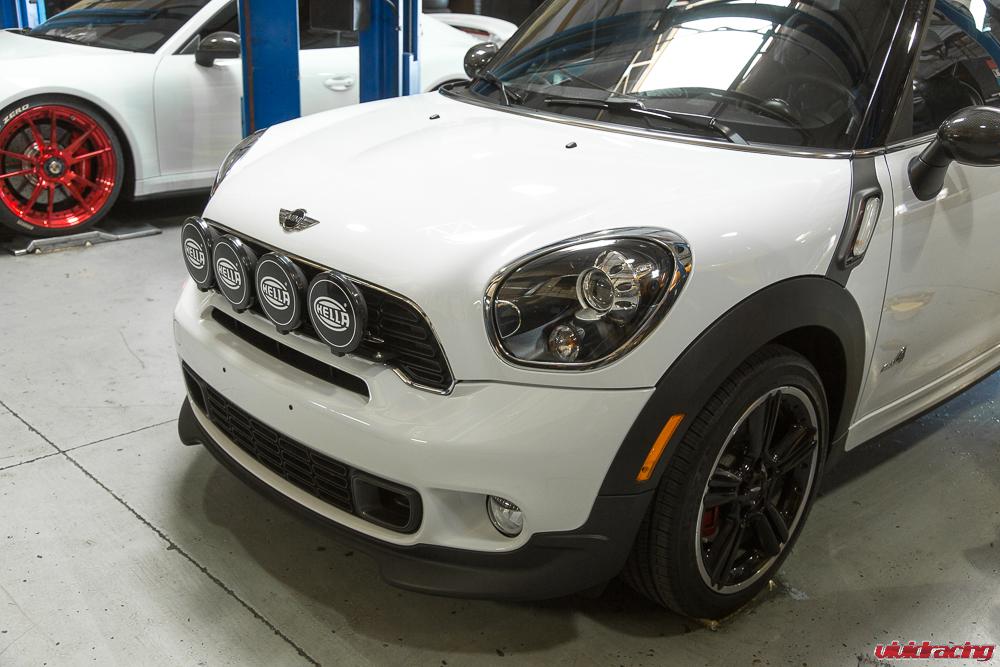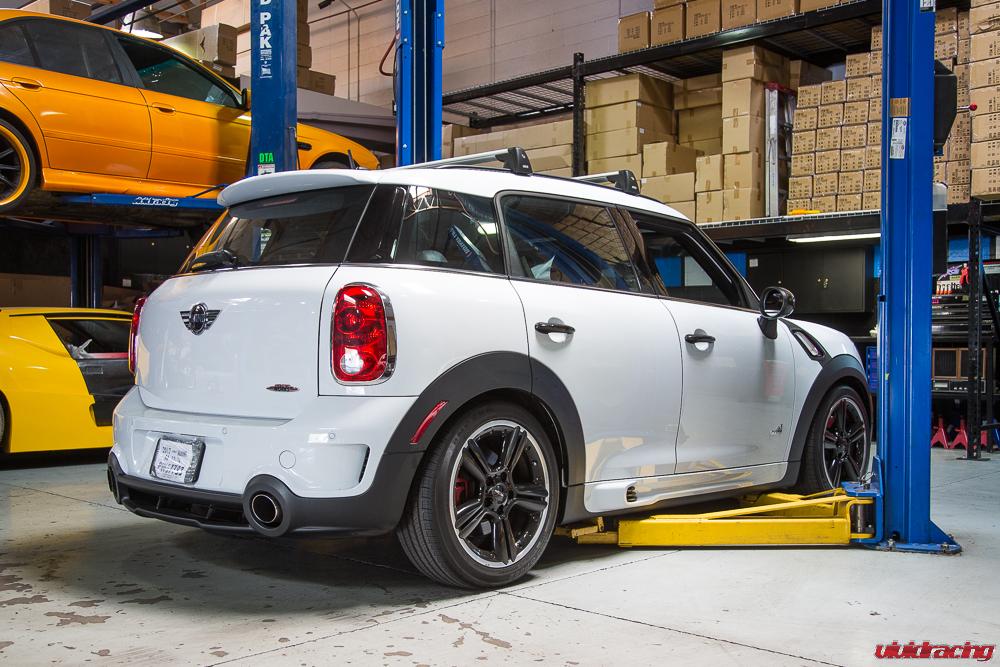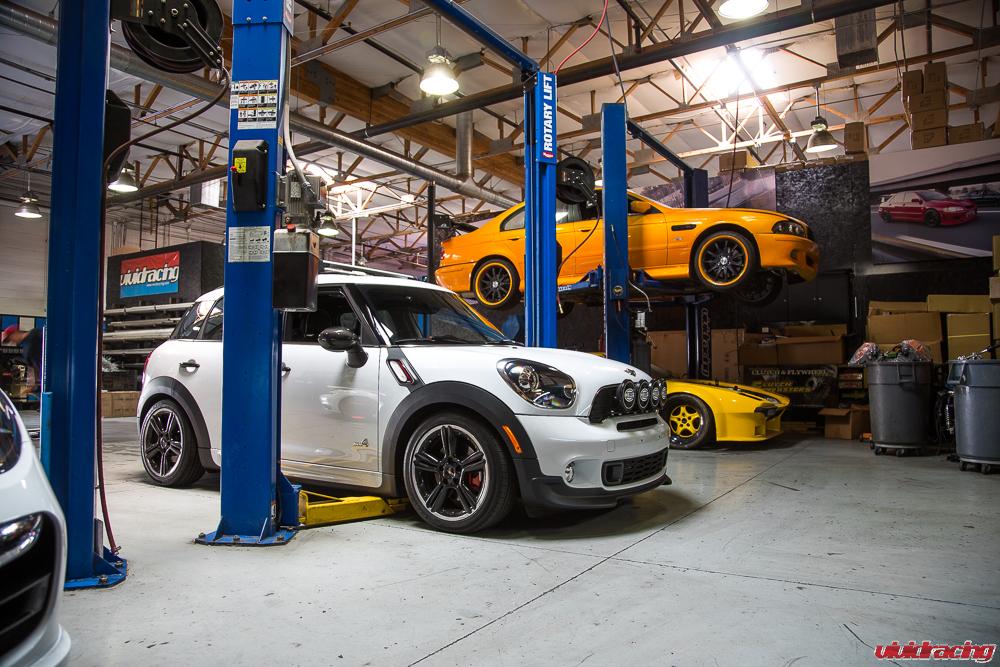 New ESM Wheels and NM Engineering Wheels