The Chevy Camaro ZL1 is already a potent powerhouse straight from the factory with its 6.2-liter V8 engine. But when paired with the new Corsa Performance carbon fiber air intake system, it performs on a whole other level. The Corsa carbon fiber intake is made from a stunning 100 percent carbon fiber construction designed for maximum strength and performance. Compared to the stock air intake on the Chevy Camaro ZL1, the Corsa Performance system features an air intake duct with an optimized shape combined with high filtration properties to increase the overall fuel economy and performance of the coveted sports car. The ZL1 carbon fiber intake system is available with both the Corsa DryTech dry filter and MaxFlow 5 oiled filter. They are both reusable with the former needing washing after 50,000 miles and the latter needing washing and oiling after 40,000 miles.
The Corsa Performance carbon fiber air intake for the Camaro ZL1 provides up to 10 percent of improved airflow over the stock setup. It is dyno tuned for maximum results, producing an additional 19 horsepower and 28 pound-feet of torque from the supercharged 6.2-liter LT4 V8 engine. The Corsa intake also boasts enhanced filtration to keep your engine running cleaner and cooler for longer to deliver optimal performance benefits. This system is expertly engineered to fit flawlessly on the ZL1 with installation taking just under an hour without any tune required to function properly. What's more, this intake is backed by the brand's trusted Limited Lifetime Warranty with the filter being covered for up to one year. So, go ahead and replace that stock ZL1 air intake with the Corsa carbon fiber upgrade and enjoy power gains, an enhanced supercharger whine, and unparalleled aesthetics in a complete easy-to-install package.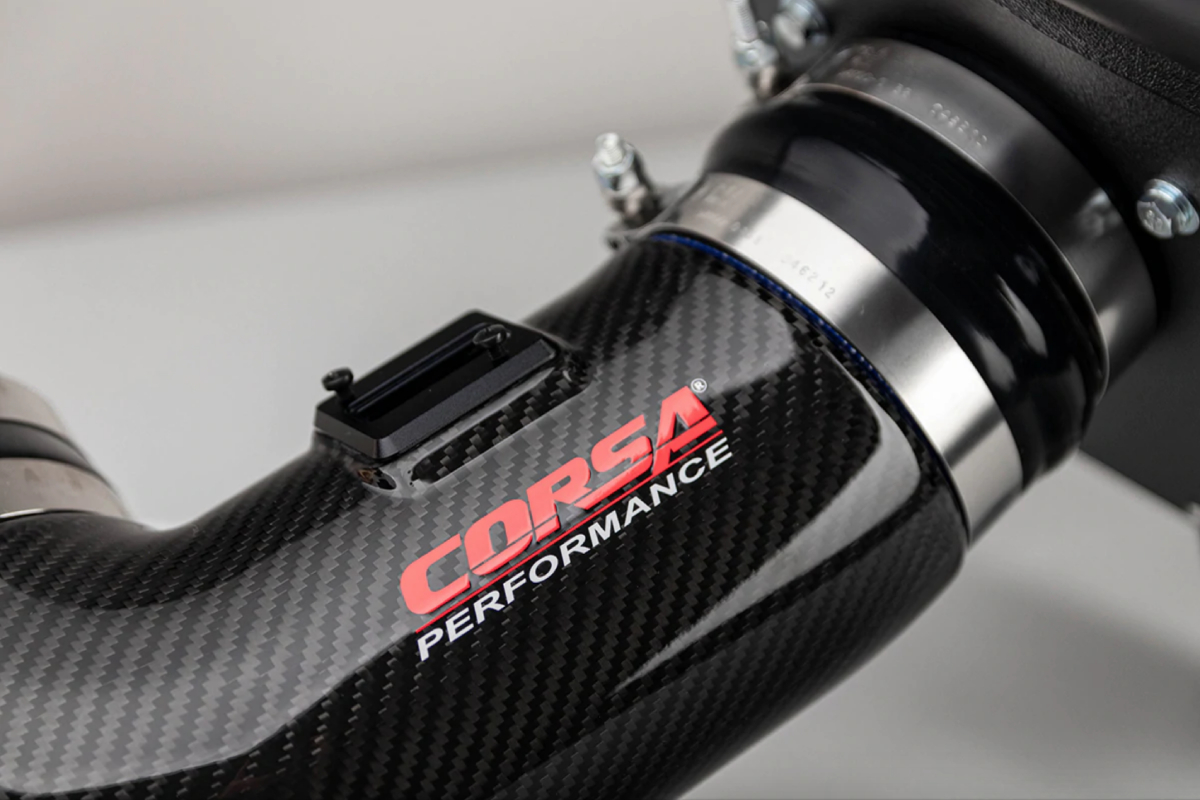 Features:
100% Carbon Fiber Construction offers unmatched styling and resists heat soak
Black powder-coated aluminum heat shield seals flush to the hood blocking engine heat, reducing air temperatures, and increasing performance.
Features MaxFlow 5, Re-usable 5-Layer Oiled, Cotton Gauze, High-Flow Performance Air Filter
Features DryTech 3D, No Oil, Synthetic Fiber, High-Flow Performance Air Filter
Dyno Proven to deliver up to 19 horsepower and 28 pound-feet of torque.
Outflows Stock Intake by ~ 25%
Features Premium Hardware: Multi-ply silicone hoses and T-bolt Style Hose Clamps.
Includes all necessary hardware and installation instructions
Installs in under an hour; No tune required
Backed by a Limited Lifetime Warranty
Specifications:
Filter Type: Oiled or Dry
Filter Flange ID: 6.00″
Filter Base: 7.50″
Filter Top: 4.75″
Filter Height: 8.00″
Filter Shape: Round
Flow % Increase: 0.246031127393665
Fitment: 2017-2022 Chevrolet Camaro ZL1 6.2L V8
If you have any questions about Corsa or its products, please do not hesitate to contact us. You can reach us by phone at 1-480-966-3040 or via email at sales@vividracing.com.