The Kia Stinger sports sedan offers the perfect balance of power and refinement in a fun-to-drive package. It delivers high performance and supreme comfort with a slew of attractive features and options to take it up a notch. Enter ARK Performance, a renowned aftermarket brand that produces quality products aimed at enhancing the pure joy of driving. ARK has just released three new Legato rear diffuser options for the 2018-2022 Kia Stinger models to enhance its rear styling. The Legato diffuser is a full replacement diffuser available in Carbon Fiber, Forged Carbon, and Fiberglass variants to elevate your Stinger with premium materials.
Stand out from the crowd with the new aggressive and unique Legato rear diffuser from ARK. This diffuser is ARK's latest and hottest new item to drop for the new Kia Stinger. Not only does this product look great, but it certainly does not compromise on performance as it is fully functional. Using their very own 3D scanning data, ARK has designed a diffuser that will fit like OEM with added fins to help reduce drag in the rear. What's more, it is manufactured with high-quality carbon fiber with a UV protective coating on top for a longer-lasting finish.
With the new ARK Legato diffuser, you can now choose your favorite exhaust tip size and design and get rid of the boring OEM factory tips. Each aero part is handmade to fit with existing OEM body parts, although some slight modifications may be needed. Since each diffuser is crafted by hand, no two products will be exactly the same. That's the unique element behind carbon fiber parts. Professional installation is highly recommended for the best results. For the 2018-2021 Kia Stinger, the rear OEM bumper reflectors will fit. For the 2022 model, the 2018-2021 reflectors will be required.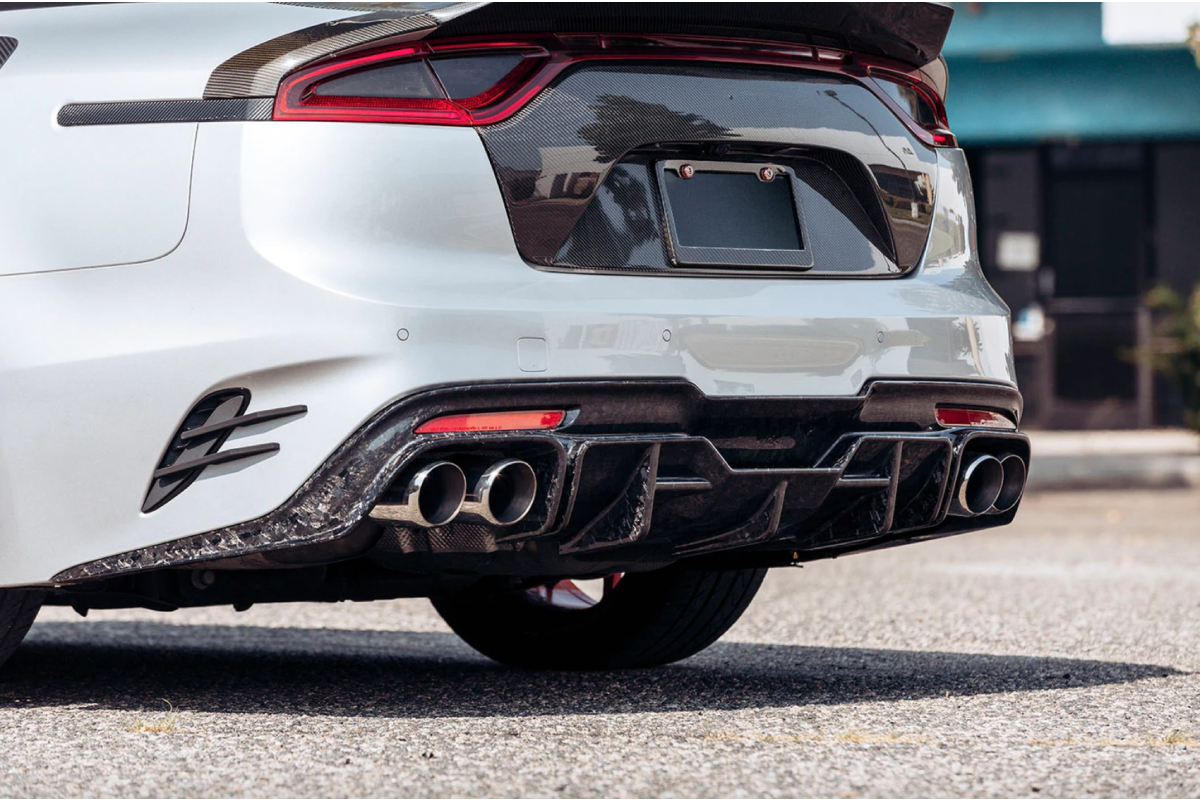 Specifications:
Make/Model: 2018-2022 Kia Singer (All Models)
Material Composition: Fiberglass with Carbon Fiber / Forged Carbon overlay
Exterior Finish: UV Protection Coated
Manufacturing: Handcrafted – no two items will be exactly the same
Aeropart Installation: Professional installation is required (for 2022 models, you will need to purchase the 2018-2021 rear bumper reflectors)
Legato Diffuser Carbon Fiber

Legato Diffuser Forged Carbon

Legato Diffuser Fiberglass

If you have any questions about ARK products, please do not hesitate to contact the VR team. You can reach us by phone at 1-480-966-3040 or via email at sales@vividracing.com.