Although the launch of the Mercedes-AMG GT53 4-Door Coupe sparked many discussions because of the similarities it shares with the CLS 53 (power engine and model design), the car itself is not so much a progression of the CLS. Instead, the GT53 holds itself accountable with a combination of sports car styling cues and a 4-door design that brings excitement and convenience to daily drivers and families who crave the perfect balance of luxury and fun.
Nevertheless, the AMG GT53's M256 L6 turbo engine has a little setback when it comes to sound, as it is not as powerful as the previous V6 twin-turbo engine. The experts over at Armytrix understand how this can be less than desirable for many consumers looking to purchase or those that already own the vehicle. With that, Armytrix is pleased to introduce its all-new Valvetronic Exhaust that goes beyond these restrictions and allows you to enjoy the powerful sound that the Mercedes-AMG GT53 4-Door Coupe was meant to give off.
As with all Armytrix products, this Valvetronic system was designed to deliver pure power and immense sound production by way of high-quality workmanship and user-friendly versatility. The Armytrix plug-and-play system for the 2019 and newer Mercedes-AMT GT53 will take the 4-Door Coupe to a place where the stock setup could not. Don't take our word for it, though. Check out the sound bit below and see what an Armytrix Valvetronic Exhaust System can do for your Benz today!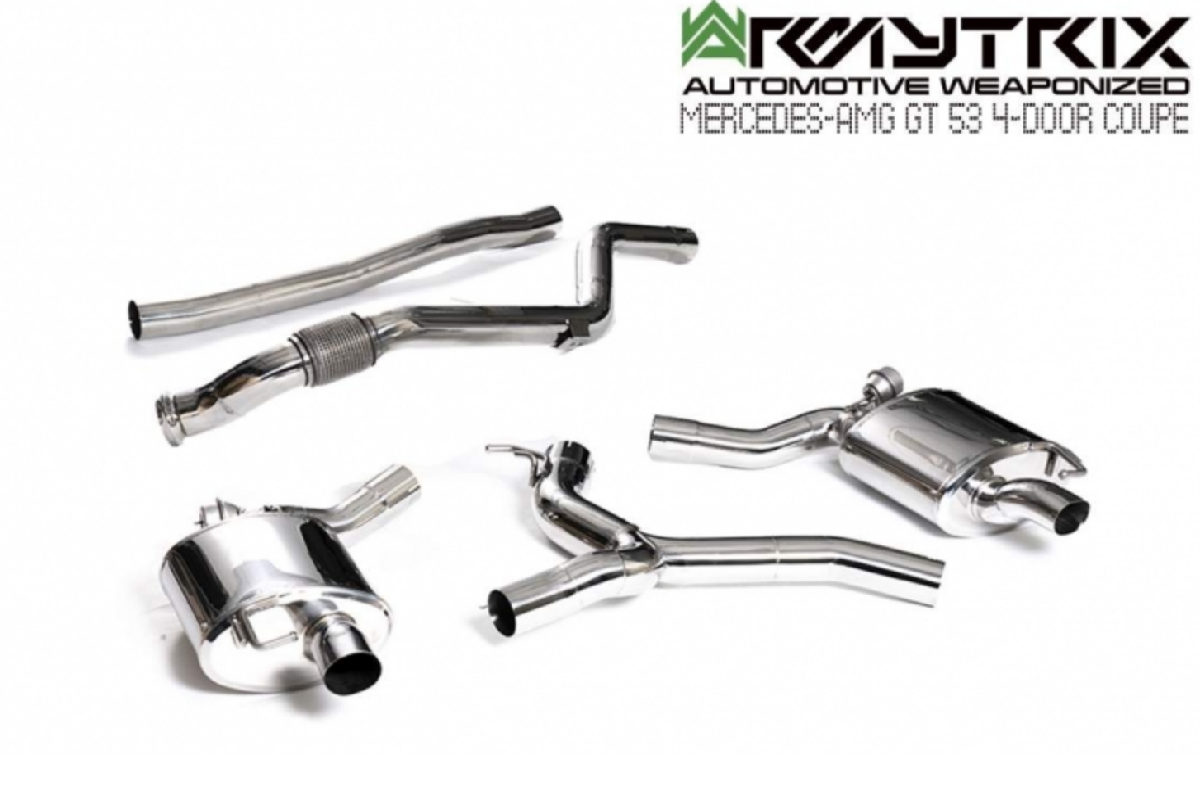 The Mercedes-AMG GT 53 4-Door Coupe just got even more powerful with the Armytrix Turbo-Back Valvetronic Exhaust. Check out this pure sound video to experience the wild roars!
Includes:
Front-Pipe (MB295-F)
Mid-Pipe (MB295-M1+MB295-M2)
Valvetronic Muffler (MB295-VML+MB295-VMR)
Wireless Remote Control Kit (OWRC-588)
Fitment:
2018+ Mercedes-Benz AMG GT (M256)
2021+ Mercedes-Benz AMG GT 43 (M256)
2019+ Mercedes-Benz AMG GT 53 M256
If you have any questions about Armytrix or its products, feel free to contact us. You can reach us by phone at 1-480-966-3040 or via email at sales@vividracing.com.