Ford says that "it takes more than a hardy exterior to conquer the wilderness," and that is so very true. That is why its resurrected Ford Bronco Sport boasts a well-prepared cabin to keep you comfortable, safe, and in the moment for all of your adventures. With durable surfaces and creative cargo areas like under-seat storage and an available Cargo Management system, you can fit all your belongings and your friends' too! You can also save room in your luggage because the Bronco Sport already has thoughtful elements like rear floodlights, powerful speakers, built-in power outlets, and even a bottle opener. What is the Ford Bronco Sport missing then in its cabin? A custom steering wheel that caters to your own personal taste.
That is where Vivid Racing comes in. Our OEM customized steering wheel shop boasts a plethora of options to upgrade your Bronco steering wheel in a way that best reflects your personality. After all, you are going to spend hours upon hours in your Bronco both on and off-road, so you might as well treat yourself and your ride to a new steering wheel. These steering wheel upgrades are compatible with the Ford Bronco Sport and will deliver a high-quality construction, enhanced look, and a luxury feel that the OEM one simply does not.
The new steering wheel is based on the Bronco's OEM steering wheel core, so you can be sure that it will deliver ideal fitment and optimal performance. No matter the model year, buttons, or options you have, Vivid Racing can make a customized steering wheel for your ride. Our factory tweaks the shape while keeping the original inner ring for safety. The upgraded steering wheel will offer beefier hand grips at 9 and 3 positions to give you proper driving ergonomics.
When purchasing a customized OEM steering wheel upgrade from Vivid Racing, you get to choose from a virtually endless array of options. This includes everything from the materials used, inlays, rings, matching stitching, steering wheel controls, paddle shifters, trim accents, airbag covers, and more! You can also retain all of your original buttons and functions (i.e. OE airbag) since they are based on a factory steering wheel core. It's important to note that this is not a simple cover, but a completely re-engineered steering wheel! See and feel the difference a Vivid Racing steering wheel upgrade can do for you and, ultimately, your Bronco driving experience.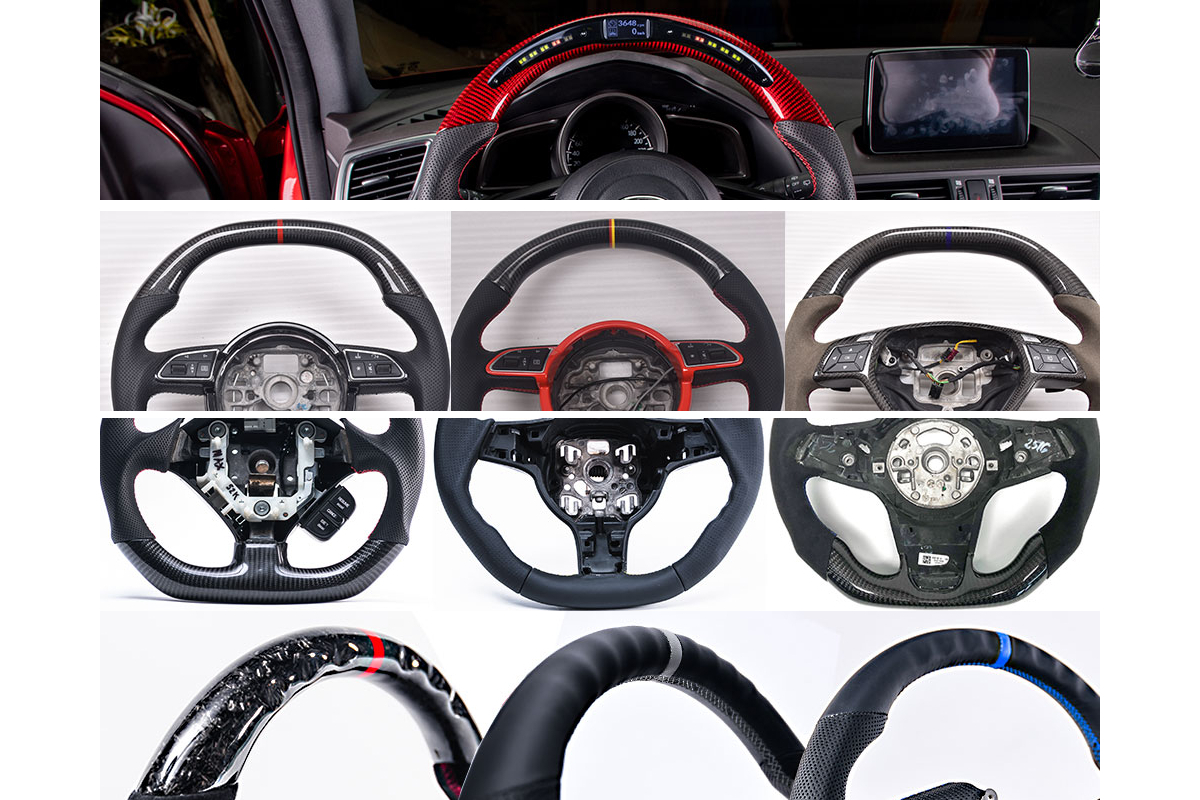 Important Notes:
Before we process your order, we request a photo of the stock steering wheel in your vehicle to make sure there are no differences or issues in the steering wheel build.
All of your factory trim, buttons, paddles, and airbags must be moved from your stock steering wheel to the new one. If you ordered your steering wheel with a trim or paddle shifter upgrade, you do not need to swap these.
Professional installation is required. We do not provide diagrams, "How To" guides, retrofit, or wiring instructions.
Options:
Top Center/12 O'clock Ring
Steering Wheel Stitching
Steering Wheel Top Section
Steering Wheel Hand Grips
Steering Wheel Bottom Section
Steering Wheel Bottom Inlay
Steering Wheel Shape Top
Steering Wheel Shape Bottom
Steering Wheel Shift Light
Finger Ridges
Center Trim
Paddle Shifters
Airbag Covers (additional cost)
Retain Heated Steering Wheel (additional cost)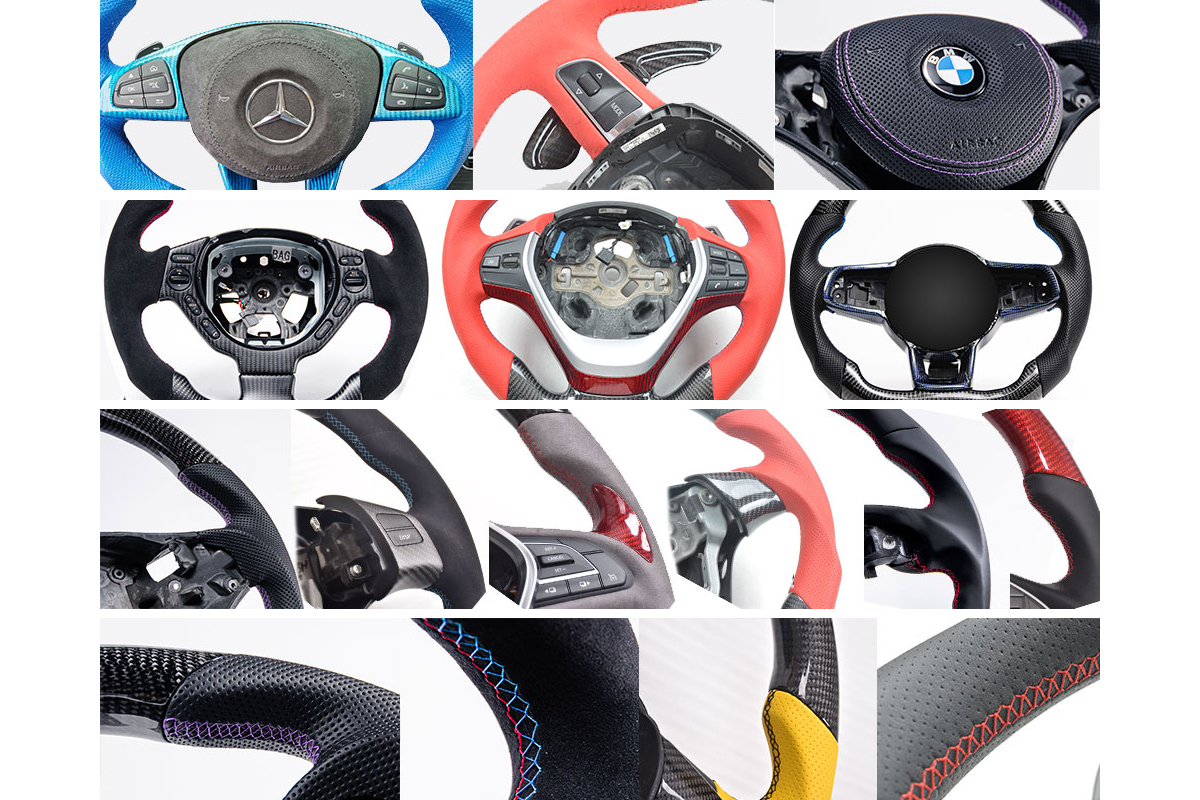 When you choose the options for your individual custom steering wheel, you will see that there is a core charge. Once Vivid Racing receives your original steering wheel at our headquarters, we will refund you this core amount. If you want to keep your stock steering wheel, you will just forfeit the core charge. Some steering wheels are available in stock, while others are made to order and can take between 6-8 weeks.
Note: These are FULLY customizable. The pictures in this post are just samples of what can be done!
If you have any questions, please feel free to contact us. You can reach the Vivid Racing team by phone at 1-480-966-3040 or via email at sales@vividracing.com.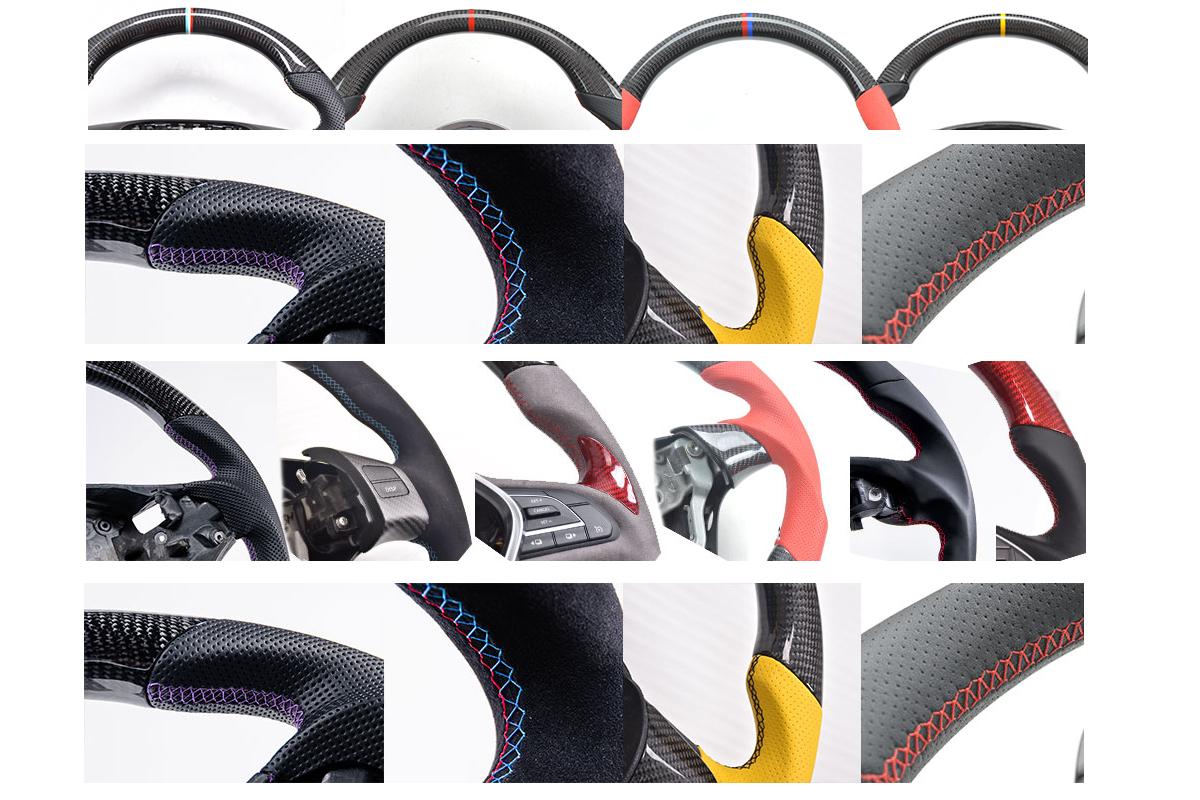 Related Images: