Say hello to QuickSilver's new 200+mph Titan Sport Sound Architect Exhaust system recently developed for the all-new Porsche 911 Turbo S (992). A smaller, lighter titanium silencer casing with mandrel-bent stainless steel free-flowing tubing and active valves make this system a must-have for the 992 Turbo S to transform the car in every way, shape, and form. Not only will this exhaust deliver a newfound tantalizing soundtrack but it will also deliver a slight improvement in your Porsche's overall performance.
The QuickSilver system uses two specially designed active valves that retain all the in-car functionality and work with the car's ECU opening and closing incrementally as they do with your OEM system. This exhaust system is plug and play; this is a "bumper off job" and installation is relatively straightforward. Often unseen but not to be underestimated, the titanium silencer used in this system also picks out higher transient in the rev range due to its composition. The result is a much more pleasant note and substantial weight savings that translate to optimal performance levels and a more enjoyable driving experience.
QuickSilver's Sport Exhaust Systems, like the one featured here, enhance the pleasure of driving with a sound that caters to driver expectations. With the brand's modern 'Sports' exhaust, it emphasizes the character of the existing exhaust note rather than changing its entire DNA. More volume is not necessarily the aim; instead, QuickSilver looks to elaborate the change in the exhaust tone (the crackles, the crisp cut) and re-form those notes up and down the gearbox. All of these elements pair together to deliver the fun that is driving with a QuickSilver exhaust.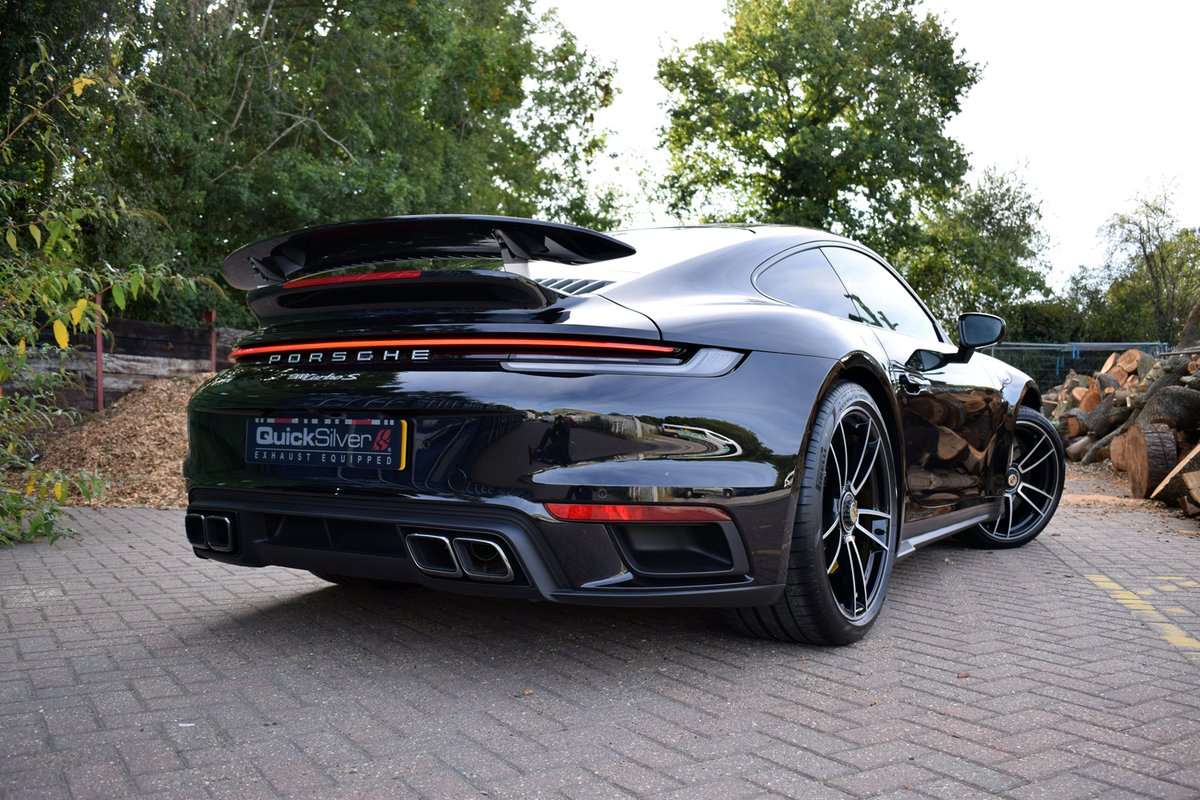 It has arrived – probably the fastest vehicle to go through QuickSilver's doors. The Porsche 992 Turbo has a ballistic pace but is lacking in the sound department. And that's where the all-new QuickSilver Titanium Sport Exhaust comes in. Blending a Titanium silencer with T304 stainless pipework results in a lightweight construction with heavyweight durability. The stainless sections offer strength and favor low-end tonality; whilst the titanium silencer sheds kilos and accentuates the sports car's high-end transients. The result is a dynamic range of sound that still keeps the car emissions-friendly.
The video below shows just how QuickSilver took the new Porsche 911 Turbo S through its paces and treated it to the impressive Titan Sport Exhaust with Sound Architect active valves. If you weren't convinced that this system is the way to go thus far, then let the following clip help you make that decision.
Features:
5.2 KG Weight Savings
Fits PSE & Non-PSE bumpers
Titanium Silencer Casing.
Stainless Steel mandrel-bent tubing.
Delivers titanium tone without the drone.
Improved throttle response and weight-related performance.
Retains original tips to keep the look.
Plug-and-play valves that work with the car's ECU.
Works with Porsche OEM Valve Protocol.
Switch the exhaust using the "Sport" button.
Fitment:
2019-2021 Porsche 911 Turbo | Turbo S (992)
Notes:
Quicksilver products ship directly from the UK.
Item may take up to 4 weeks for delivery.
Customers are responsible for all Taxes or Duty Fees.
If you have any questions about QuickSilver exhausts, please do not hesitate to contact us. You can reach the Vivid Racing team by phone at 1-480-966-3040 or via email at sales@vividracing.com.