The Ford F-150 is the flagship of the automaker's commitment to building the best trucks around and represents its mission to exceed customer expectations in all facets. The Ford F-150 boasts incredible capability and functionality that seemingly gets better year after year. That being said, the latest, all-new Ford F-150 is the toughest and most productive one to date, not only towing more and hauling more than any other light-duty full-size pickup on the market, but also delivering more torque than ever before. With a truck that is so popular that it has been named the best-selling truck for more than 40 years, the Ford F-150 certainly reigns supreme, and for good reason. No matter if you have the V6 variant or the V8, you can still say you are driving America's truck of choice.
As aforementioned, the new Ford F-150 has taken things to a whole new level in terms of power, performance, and overall capability. That being said, the aftermarket still houses a plethora of options to take it even further in terms of looks, sound, efficiency, and proven power gains. Upgrading the stock restrictive exhaust system can really elevate your driving experience and provide better airflow to deliver additional horsepower and torque while keeping fuel efficiency up. With so many options out there, it can be overwhelming when trying to decide what type of exhaust may be right for you. So, we here at Vivid Racing have compiled a list of the top 5 best systems for your Ford F-150 when it comes to the overall design, durability, exhaust note, and proven results. You can also browse all of our Ford F-150 exhaust products right here.
1. Stainless Works Redline Cat-Back Exhaust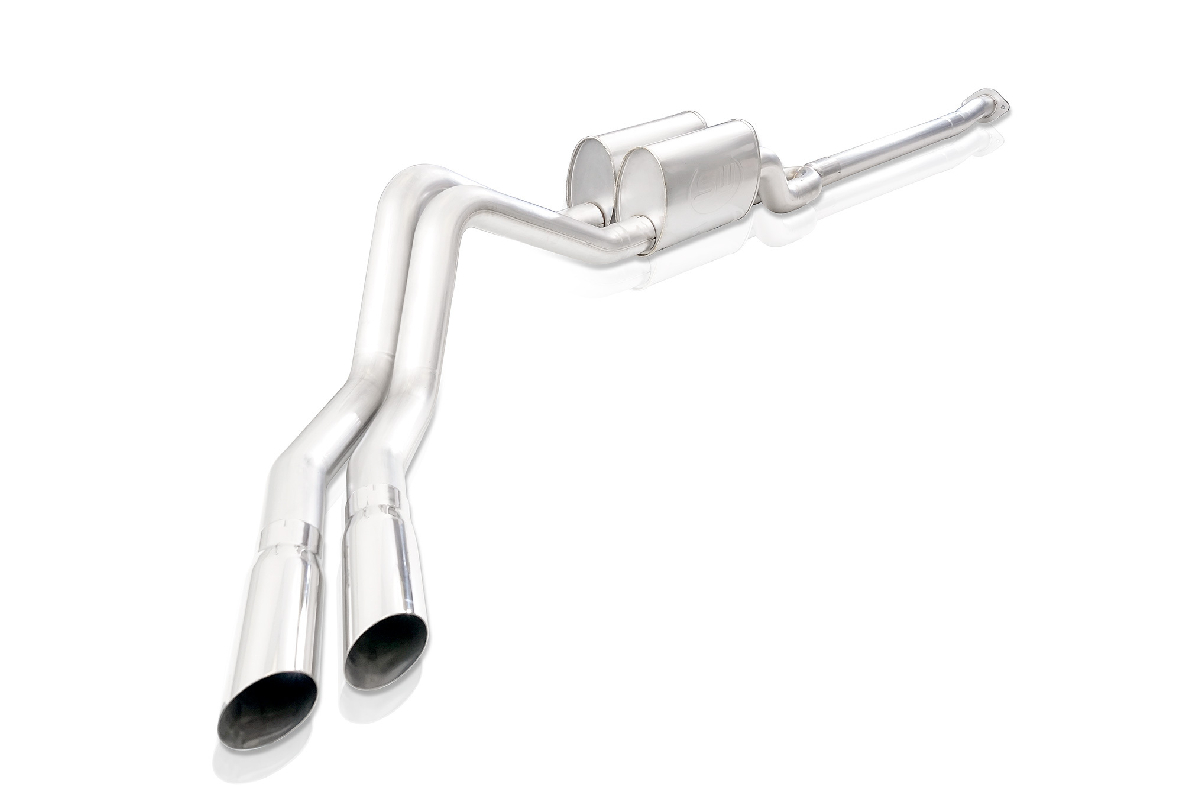 Stainless Works is the industry leader in stainless-steel performance headers and exhaust systems that deliver on everything enthusiasts crave. The Stainless Works Redline Cat-Back Exhaust will transform the looks, sounds, performance, and overall aesthetic of your Ford F-150. The Redline series is designed to maximize the volume and tone of your truck's engine, while still eliminating any annoying drone in the cabin. The exhaust note will get you, your passengers, and even passersby excited as soon as you give it some acceleration. If you are looking to get the most aggressive sound out of your ride, the Redline Series is here to deliver a scorching ride and a soundtrack that is more in tune with the tough nature of America's truck.
This exhaust features large-diameter mandrel-bent pipes, dual mufflers, and dual 3-1/2-inch polished slash-cut tips at the ends. The smooth CNC mandrel bends optimize exhaust flow to deliver improved fuel efficiency along with power gains across the RPM band. This system has also been fully TIG welded for strength and beauty so you can enjoy it for long no matter where life takes you. The welded joints help to ensure a leak-free system and the overall solid steel construction resists rust so it can maintain its luster adventure after adventure. Fitment is to the factory connection point and the exit is at the factory location behind the rear tire. This system is built from corrosion-resistant 304 stainless steel and is intricately welded at Stainless Works' state-of-the-art, facility in Streetsboro, Ohio.

2. Kooks Stainless Steel Black Cat-Back Exhaust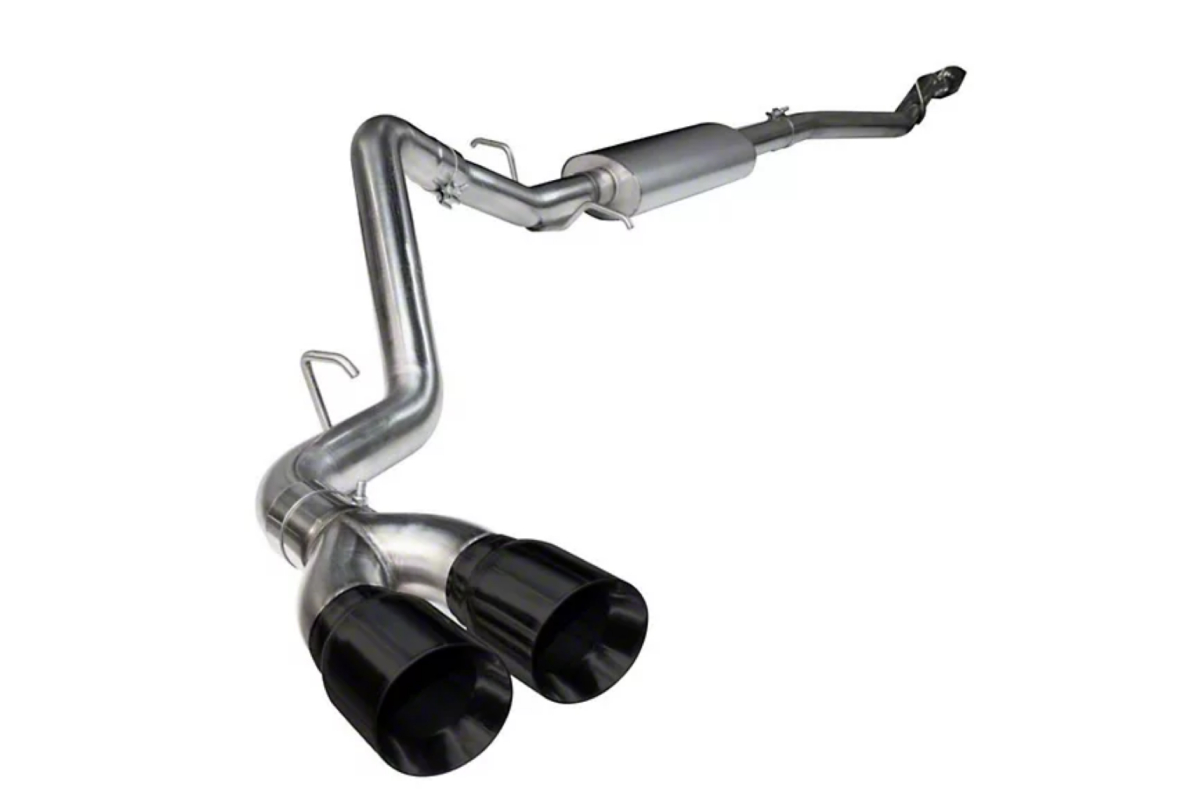 The Kooks Stainless Steel Cat-Back Exhaust will let your Ford F-150 rev loud and proud through the trails and on the roads with newfound confidence. This system checks all of the boxes in a complete package that is simple to install and requires no drilling whatsoever. It is engineered with a high-flow muffler design and mandrel-bent pipes to emit a deep, aggressive exhaust note with minimal in-cab noise to keep you and your passengers comfortable. This single side-exit exhaust system with large black tips will not only sound the part but also look great on your truck and act as a bold highlight to show others that you mean business. Just wait until you actually get it going and step on the gas!
The Kooks Cat-Back Exhaust features a straight-through muffler design that facilitates continuous exhaust flow to boost your F-150's power figures while maintaining great fuel efficiency. This exhaust will outflow the factory one, giving your truck a noticeable difference in overall performance and a driving experience like never before. It will also last for the long run, as Kooks manufactured this exhaust with corrosion-resistant 304 stainless-steel tubing without the restrictive folds and bends found in the stock system. The fully welded pipes in this system offer additional durability and the exhaust hangers secure it all in place to keep everything together even in more turbulent environments.

3. MagnaFlow Street Series Black Cat-Back Exhaust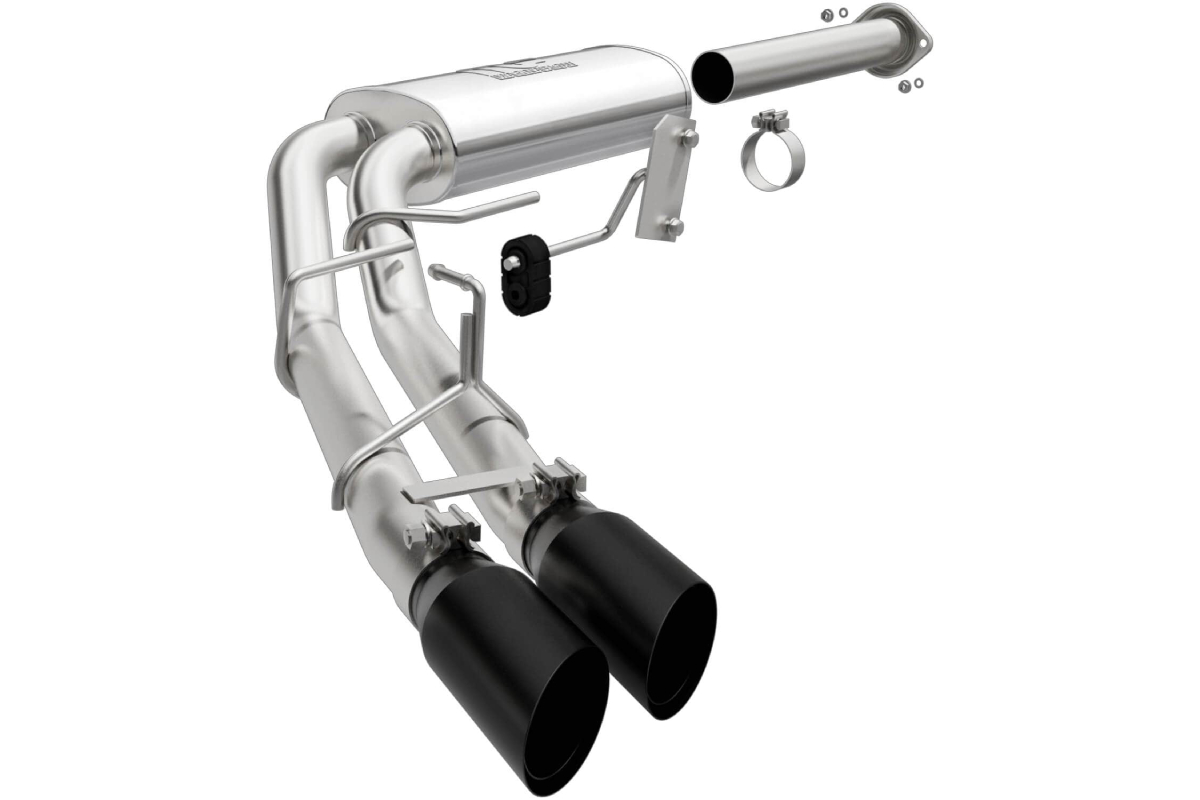 MagnaFlow exhausts will give your Ford F-150 additional horsepower and torque, improved fuel economy, and an overall meaner sound and aesthetic. The MagnaFlow Street Series Performance Cat-Back Exhaust Systems are specifically engineered to increase your truck's performance while looking and sounding amazing. The Street Series system delivers dyno-proven power gains with a tantalizing exhaust note that stretches from the inside out. If you are looking for an exhaust that demands attention with a menacing presence that will intimidate the competition, MagnaFlow is one of the best in the business and this Street Series Performance Exhaust is sure to please.
This exhaust system is proudly made in the USA from mandrel-bent 3-inch stainless-steel tubing for superior strength and corrosion resistance. It features straight-through Street Series mufflers and 3.5-inch black-coated, stainless-steel, middle side-exit exhaust tips. MagnaFlow exhausts are guaranteed to be less restrictive than the stock system to deliver additional horsepower and torque gains that you can feel. What's more, this system's free-flowing muffler will add a super aggressive, unmistakable sound to your F-150's exhaust note that will transform your driving experience just the same.

4. MBRP T304 Street Version Cat-Back Exhaust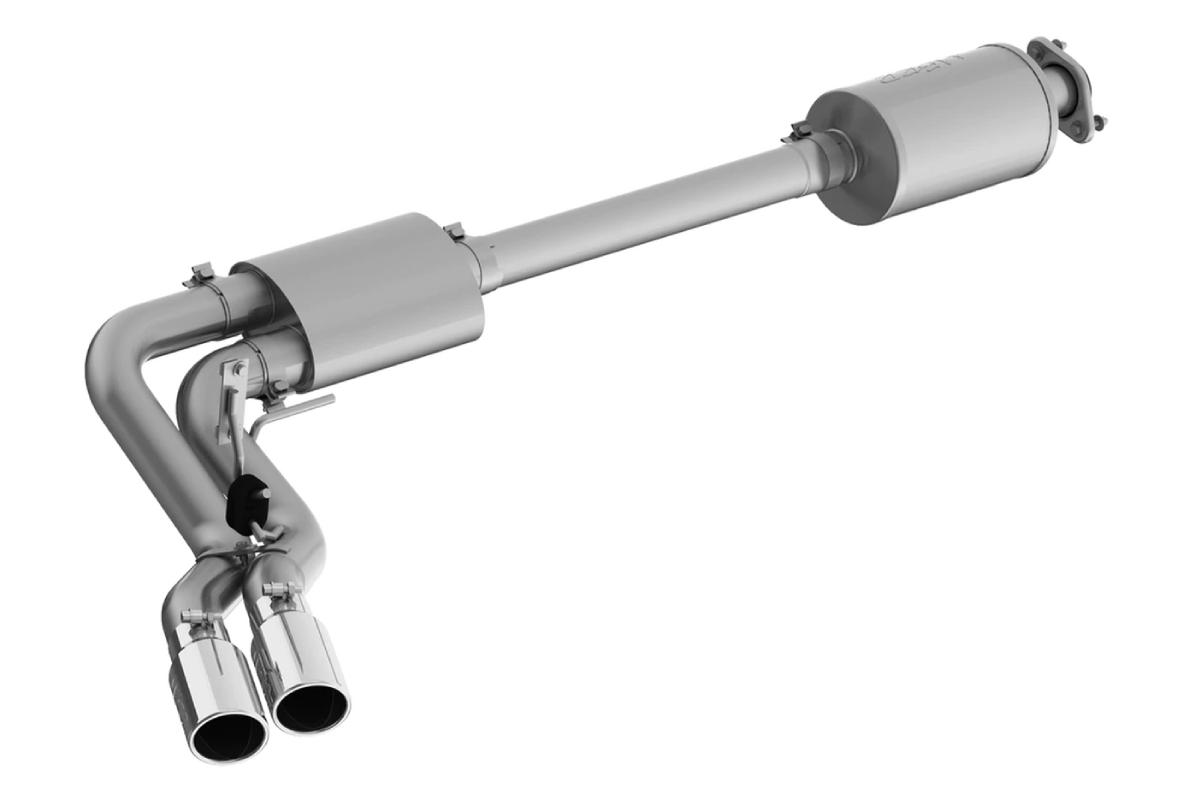 To put it simply, MBRP's Pro Series is the best performance exhaust system that money can buy. After all, there is no better stainless steel than T304 stainless steel and no better system than the MBRP's Armor Pro (formerly called the Pro Series). This series was specifically designed and built for the serious enthusiast who refuses to settle for less. Constructed from T304 stainless steel, this cat-back exhaust delivers high levels of durability that keep it looking its best for longer. This exhaust is super simple to clean and maintain, and is the product of choice for owners of lifted vehicles, show trucks, and those who operate in severe environments. The fully sealed tubing design adds years of life to the system without having seams that are major points of rust with some budget exhausts on the market.
The MBRP T304 Street Version Cat-Back Exhaust is built to perform the way your F-150 intended. It was strategically designed to maximize exhaust flow and minimize exhaust temperatures so that your truck will use less gas, last longer, and perform even better than before. Every system sold by MBRP has been manufactured to the most exacting standards in the industry so you can rest assured that it will be a perfect fit and perform optimally. From the vehicle-specific muffler to the full mandrel-bent tubing and minimal bend degree angles, this system gets exhaust out fast and sounds incredible while pushing out the newfound power. MBRP believes that sound and appearance are just as important as performance benefits, and so this exhaust has been specifically tuned for your Ford F-150 truck.

5. Pypes Race-Pro Black Cat-Back Exhaust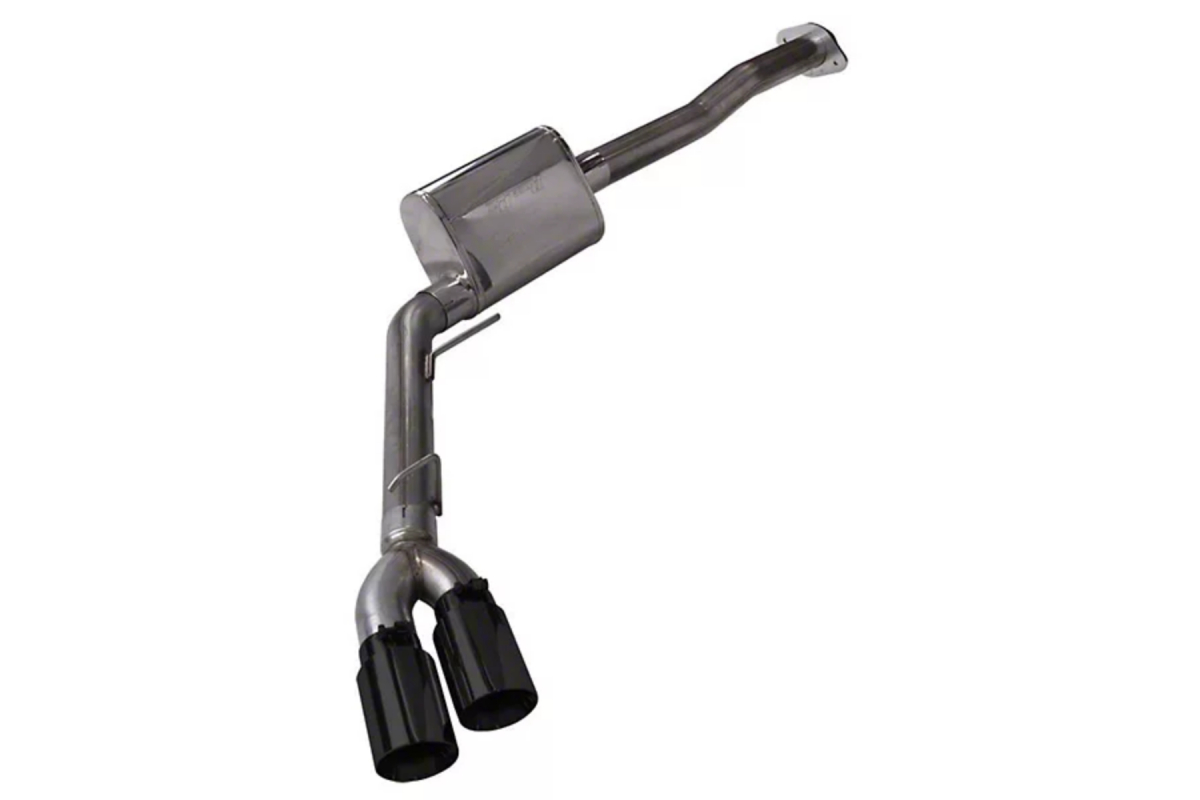 Pypes has taken the aftermarket exhaust game to a whole new level with its affordable Race Pro Series. The Race-Pro Cat-Back Exhaust for the Ford F-150 is designed to offer a smooth, mellow exhaust tone that gives your truck a nice deep rumble upon acceleration. These systems will deliver enhanced performance and maximum flow by way of its mandrel-belt, stainless-steel piping. The mufflers, which emit an aggressive sound with a straight-through design, flow extremely well for high-power applications like your Ford truck. This exhaust features 3-inch T409 stainless steel 16-gauge mandrel-bent tubing and finishes off with 4.5-inch T304 stainless-steel dual-exit exhaust tips in a black powder-coating for added styling and corrosion protection.
The Pypes Race Pro Series is a testament to the brand's reputation for having an effective design language paired with cutting-edge technology to provide a complete exhaust system with proven results. With its strategic design, this system generates a smoother and more consistent airflow to yield increased horsepower and torque that you can feel as soon as you step on the gas pedal. If you are looking for a budget-friendly exhaust system that will project a dignified exhaust note without being too obnoxious, all while delivering improved performance, Pypes Performance has what you need. On top of all that, it features a solid construction that won't be easily damaged by exploring the off-roads and is a perfect fit to your truck without any modifications needed.