Suspension is one of the most important factors in determining your vehicle's day-to-day drivability. The first step in suspension tuning is to upgrade the factory springs. Upgrading these suspension components will ensure that your car has improved handling and reduced body roll for an overall better driving experience. There are a number of highly reputable brands on the aftermarket with impressive spring kits for the BMW F80 M3 and F82 M4 that will lower the car's center of gravity, improve cornering ability, and heighten performance all while maintaining a comfortable ride quality for everyday tasks. Below, we have compiled a lost of the top five choices for your Bimmer based on how well they perform on the street and track, and the overall level of comfort paired with the improved driving dynamics. Be sure to also browse our complete inventory of lowering springs for the M3 and M4 right here.
1. Swift Springs Sport Spec-R Springs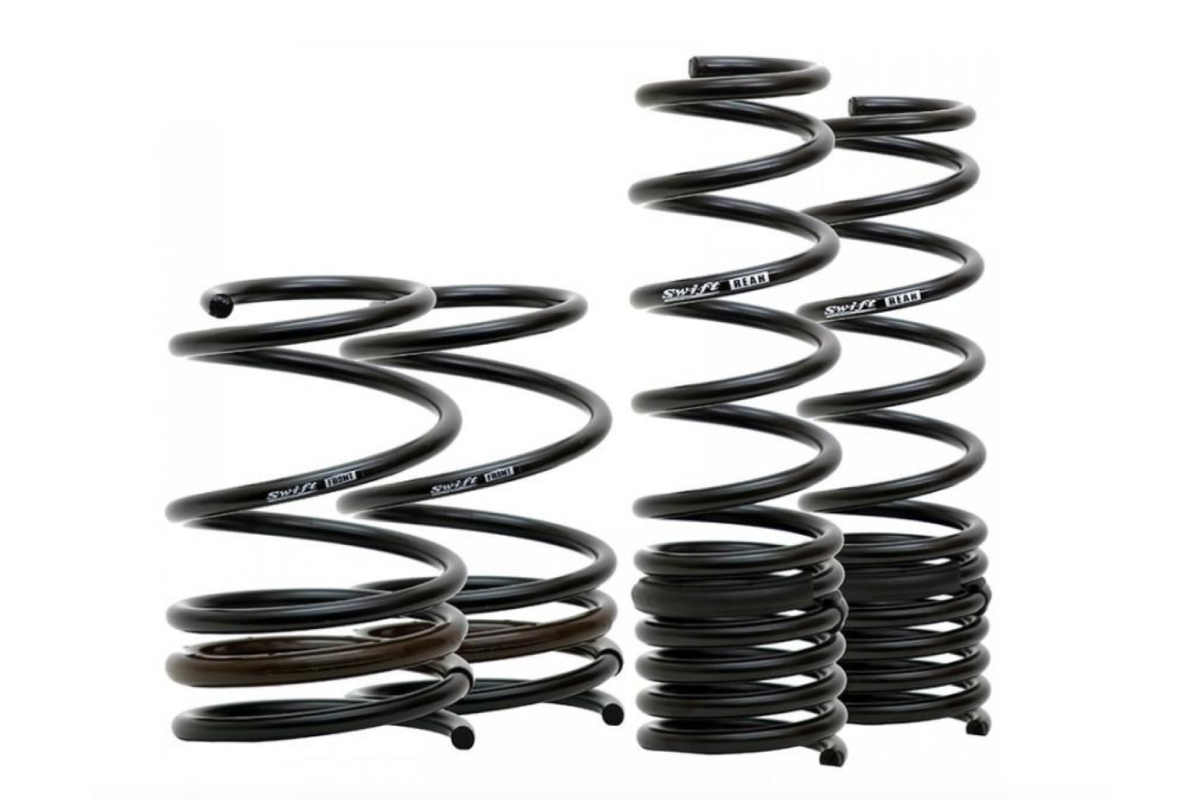 The Swift Springs Sport Spec-R Springs were built for track duty, designed at the upper limits of the M3/M4's OEM shock valving. Thoroughly track tested and tuned for optimum performance, this spring kit still maintains a ride comfortable enough for a daily driver. Swift engineered its Sport Springs to keep the quality ride you get from the showroom, with improved handling and lower ride height for driving enthusiasts and style-minded drivers who demand only the best. The Spec-R Springs are wound with the same engineering principles and materials as the Sport Springs but with the exception of stiffer rates and a slight change in ride height. From HPDE events to SCCA competition, Swift Spec-R Sport Springs are tailor-made for the track buff looking to take their BMW to the next level.
Swift Springs Spec-R kit is engineered with three characteristics in mind. The first is a modified ride height compared to the Sport Springs in order to maximize optimal suspension geometry. The second is to further increase the spring rate to enhance overall performance, especially when cornering (through entry and exit). This increased rate is based on the upper limits of your vehicle's factory strut valving. Sport Springs Spec-R are increased to the optimal rate that the stock shocks can handle. Higher performance shocks are not required, but recommended. The third is maintaining optimal comfort levels for street use as these springs maximize suspension performance allowing your M3/M4 to fully absorb road conditions for better traction. All in all, this spring kit was designed for the enthusiast who spends most of their time on the street, but does multiple track events per year.
Features:
Made from Swift's own proprietary material (H5S.TW)
Improved handling and reduced body roll
Lower center of gravity for better cornering
Track tested and tuned for optimum performance
Comfortable enough for the daily driver
Spring Rate Front: 279 lbs/in.
Spring Rate Rear: 726 lbs/in.
Front Lowering: -1.1 inch
Rear Lowering: -0.9 inch

2. H&R Super Sport Lowering Spring Kit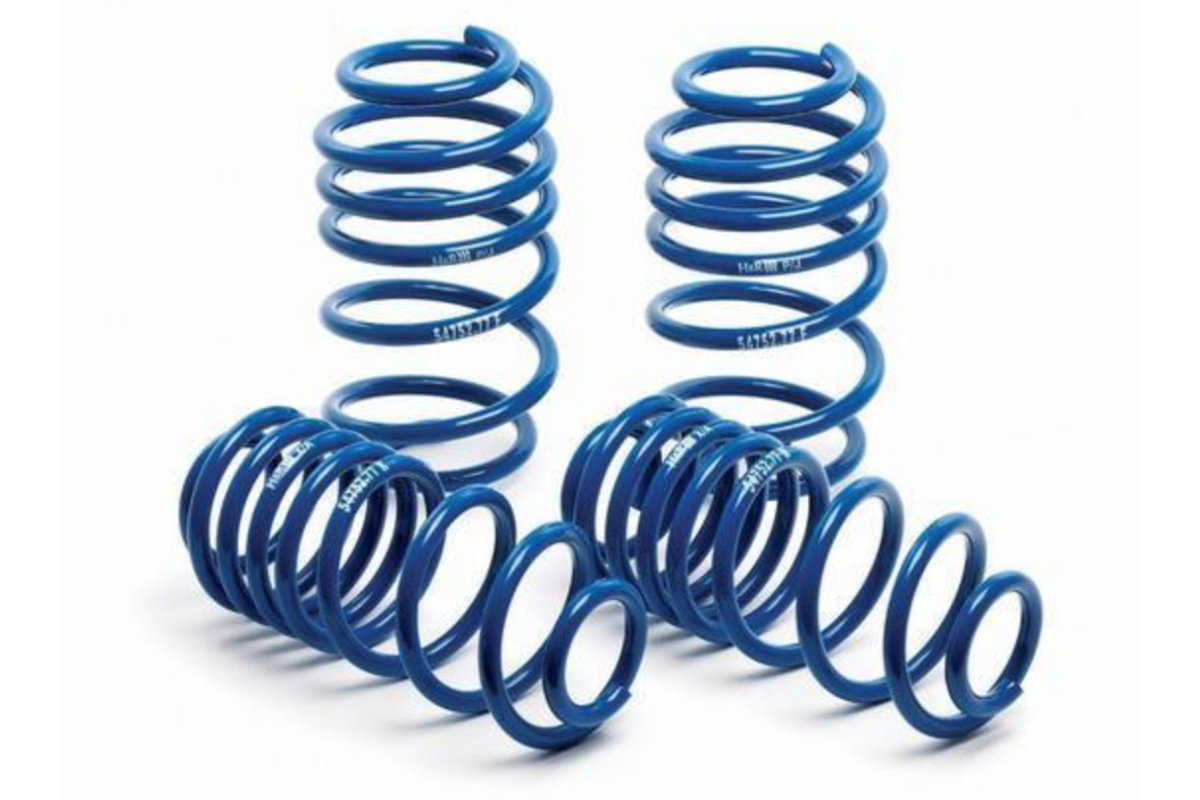 The H&R philosophy is simple and effective: to build the best suspension products using only the highest-grade materials and back those up with unparalleled service. As an industry leader, H&R has continued to grow and takes pride in having a solid reputation synonymous with consistent, proven suspension success on the road and track.
The H&R Super Sport Lowering Spring Kit for the BMW F80 M3 and F82 M4 is a top suspension choice. H&R springs are all ISO 9001 certified, TUV approved, and are crafted from a special (hf) 54SiCr6 spring steel, which has its strength rated at 290,000 psi resulting in unrivaled tensile strength and resiliency. That means that these lowering springs are much more durable than other automotive coil springs on the market. The H&R Super Sport Springs are also shot-peened which increases their life by more than 200 percent.
Only from H&R, the Super Sport Springs include all of the features associated with the original Sport Springs, plus additional lowering. That makes the Super Sport Spring package ideal for the seasoned enthusiast looking for a little more than the basics. These high-tech progressive springs retain superior ride quality so you and your passengers can enjoy a comfortable ride. You will also notice that the handling of your BMW is improved with a lower center of gravity. H&R Super Sport Springs give your vehicle the best-looking performance stance with the functionality to boot.
Features:
Provides superior ride quality and maximum lowering
Reduces body roll for improved vehicle handling
Superior ride quality and ultimate comfort levels
Reduces wind resistance and improved fuel economy
Approximate Front Lowering: 1.6 in.
Approximate Rear Lowering: 1.0 in.

3. KW H.A.S. (Height Adjustable) Coilover Springs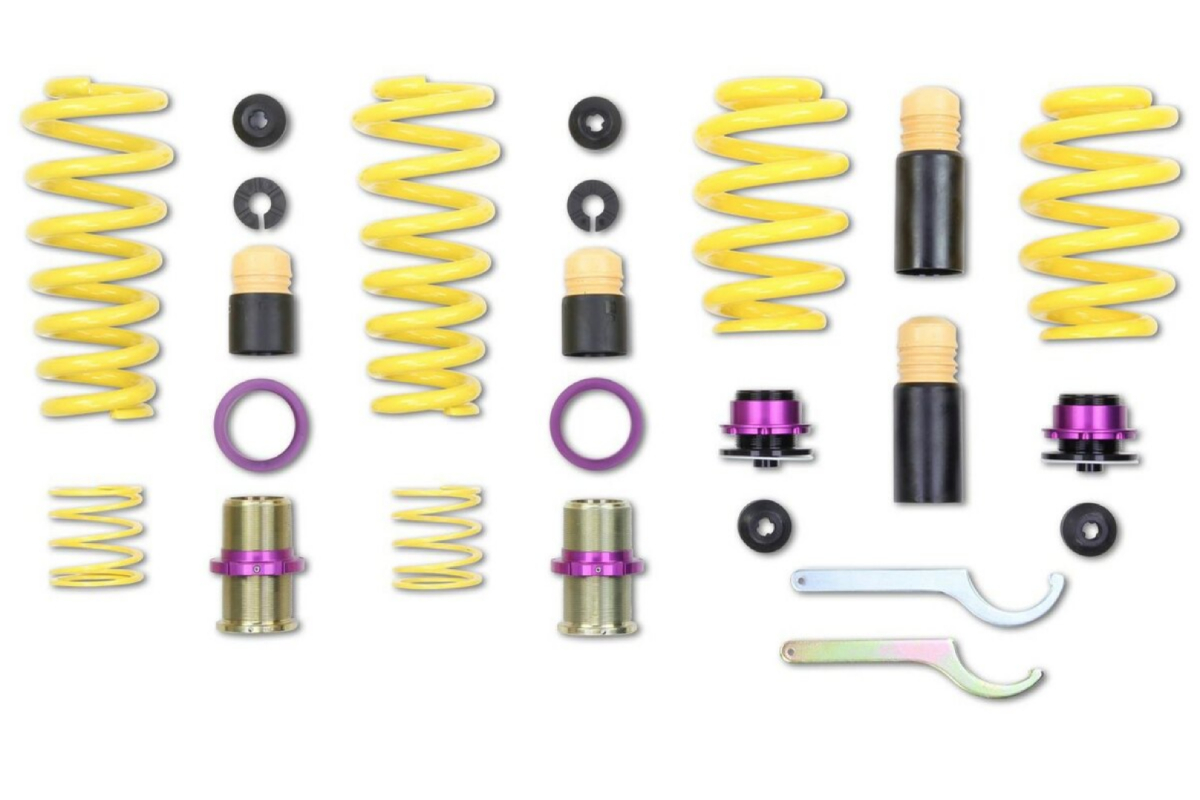 The KW H.A.S. (Height Adjustable) Coilover Springs for the BMW M3/M4 is the easiest way to give your Bimmer a sleek, lowered look without spending all the money needed for a full coilover kit. For a more affordable price, you can get high-quality KW springs and threaded collars that work with your BMW's OEM dampers to give you a sporty but comfortable ride that will simultaneously improve vehicle handling and offer a more aggressive feel. Apart from enhanced drivability, these springs will eliminate any unsightly wheel gap to give your car a more intimidating stance that not only looks good but functions great all the same.
The KW Height Adjustable Springs are made for vehicles equipped with electronic dampers straight from the factory. The factory spring perches are removed from the front dampers, and KW's very own threaded height-adjustable perches are installed. This kit includes progressive rate lowering springs for each of the four corners of your car, height adjustable spring perches for the front and rear, strengthened and shortened bump stops, and KW shock sleeves to protect the OE BMW dampers. The KW H.A.S. kit is also fully EDC compatible!
In many ways, this package is even better than a full coilover kit because you do not have to sacrifice any functionality in order to lower your BMW. That, combined with KW's legendary quality and renowned race heritage, gives you the peace of mind you need and deserve when modifying your F80 M3 or F82 M4. After all, KW Suspensions has grown to become the leading suspension tuner for European cars with products that boast impeccable performance and longevity as well as give regular M3/M4 enthusiasts access to Formula 1 technology.
Features:
Eliminates unsightly fender gap for that added sporty look on the F8X M3/M4
Achieve the look you have wanted with complete height adjustability
Excellent ride quality that you and your passengers will enjoy
Improved handling means added confidence when taking those turns
Individual height adjustability of the original suspension
Does not interfere with factory electronic damper control
Composite Spring Seat and Trapezoidal Shock Threads
Provides industry-leading durability, load capacity, and ease of adjustment
Front Lowering Range: 15-30mm | 0.6-1.2 in
Rear Lowering Range: 5-30mm | 0.2-1.2 in

4. ST Suspensions Adjustable Lowering Springs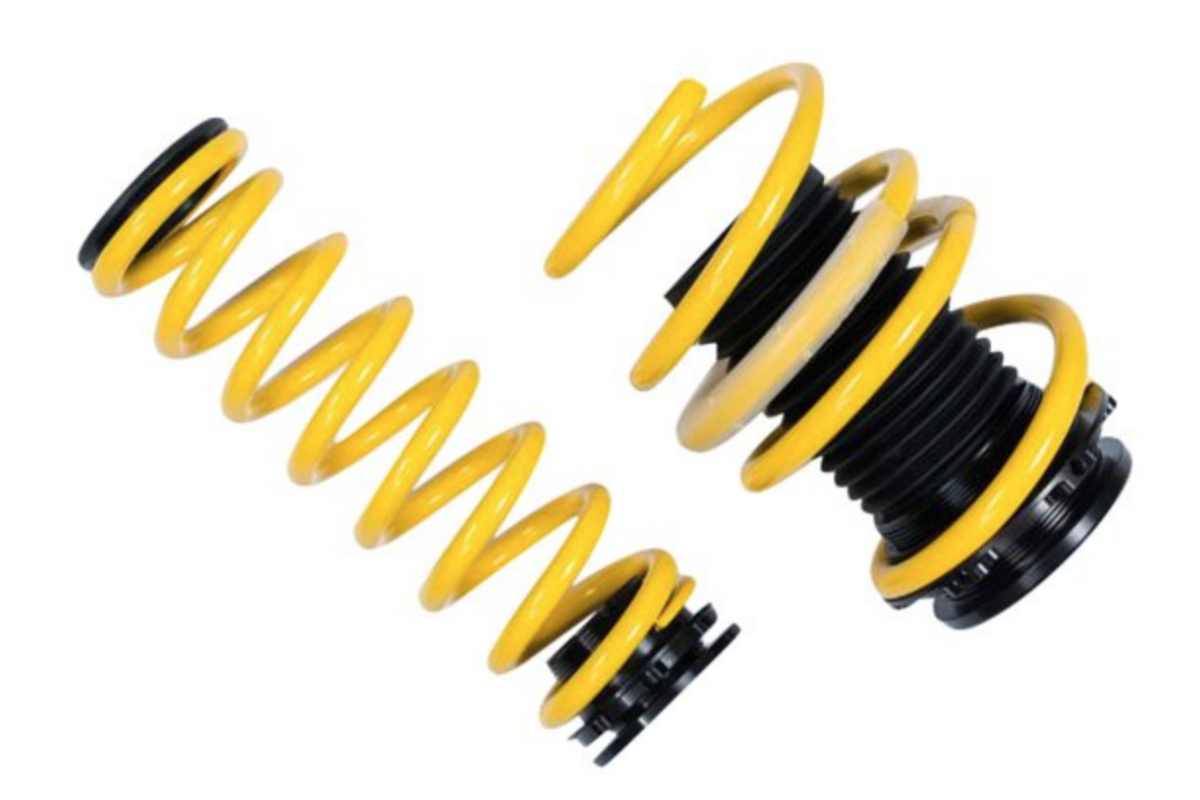 The ST Suspensions Height Adjustable Springs for the BMW M3/M4 is a great alternative to conventional springs. With this kit, you do not have to settle or be satisfied with a fixed lowering rate as you can freely tweak the height with the ST height adjuster even after it has been installed on your car. Not only will your BMW get a more dynamic appearance with this kit, but its steering behavior will improve and the response of the standard dampers becomes more agile. All of the driver assistance systems and comfort features of an adaptive series suspension remain intact with this spring kit developed specifically for your vehicle.
The ST adjustable springs are made from high-quality chrome-silicon steel with vehicle-specific spring rates adjusted to the respective standard suspension dampers and wheel loads. Boasting a high-quality surface finish as well as an ST height adjuster for added convenience, ST spring kits always deliver the utmost performance and include bump stops with dust protection to keep your vehicle's standard suspension safe from wear and tear caused by road spray and salt.
The ST height adjustable spring kits are ideal for drivers who want to lower their cars and have the advantage of an individual adjustment range. Depending on the application, you can change the lowering rate within the adjustment range using the threaded spring perch when the springs are already installed. You will also not experience any difficulties adjusting the lowering when changing up your wheel-and-tire combination.
Features:
Stiffer-than-OEM spring rate reduces body roll
Delivers improved handling and more aggressive stance
Better steering behavior and improved appearance
Individual height adjustment of standard suspension kit
Coil springs are constructed with a tempering process
Springs are compatible with any brand of shocks
Durable powder-coat resists corrosion and scratches
Adaptive damper control remains active
Vehicle-specific spring rates

5. aFe CONTROL Lowering Springs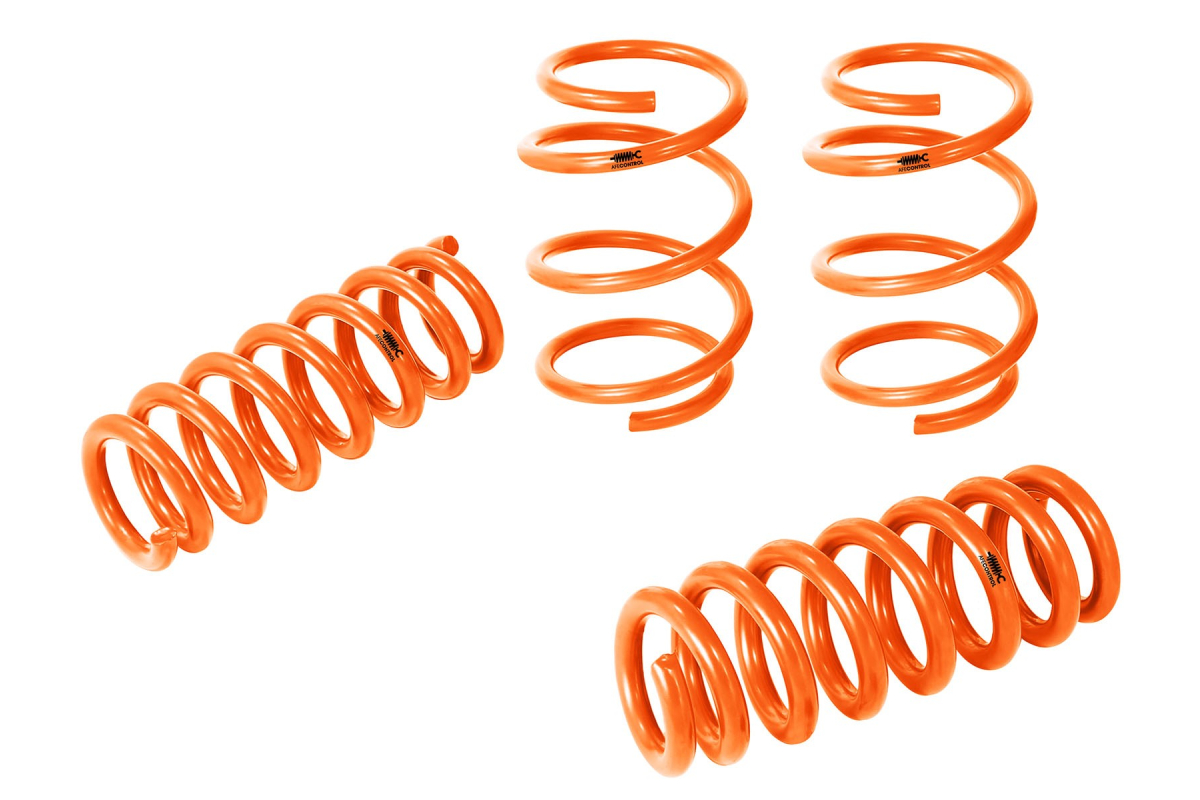 Owned by a BMW enthusiast, aFe Power is recognized all around the world as being a leader in quality performance parts for your Bimmer. aFe has taken the knowledge it gained from creating performance intakes and exhausts for the German marque to produce high-quality lowering springs for the F80 M3 and F82 M4 models. The aFe CONTROL Lowering Springs optimize the factory shock absorber damping and offer a one-inch drop for the perfect balance of styling and functionality. Engineered for better performance as well as improved looks, these lowering springs offer a mild drop for optimum handling and drivability all while getting rid of that pesky fender gap.
The CONTROL Lowering Springs by aFe will increase cornering ability and handling to give you the confidence to take those turns without negatively impacting ride quality. The lowered stance will not only transform the look of your ride, but it will also offer improved aerodynamics. The 2-Stage tangerine orange powder-coated finish ensures that these springs will continue to look great even after substance abuse. Street and track testing has proven that the aFe CONTROL lowering springs boast high levels of durability, material quality, and longevity. Designed as a direct fit application, these springs require no modifications to your vehicle upon installation.
Features:
Engineered to optimize the factory shock absorber damping, including selective ride.
1 inch of drop for the correct relation between looks and proper function
Engineering design and race testing ensures the ultimate in quality and longevity
2-Stage, high-luster, tangerine orange powder-coated finish for good looks and durability
Direct-fit kit for easy installation on the BMW F80 M3/F82 M4