The Ram 2500 is a real workhorse truck equipped with everything you need to tackle virtually any job. It's a true power player and claims to be America's longest-lasting heavy-duty pickup truck, guaranteed to last you on the jobsite for years and years to come. Delivering the power you need with the reliability you expect, the Ram 2500 is an all-around solid truck to improve your workday and have you looking good all the while. Built to get things done quickly and efficiently, the Ram 2500 heavy-duty pickup is a dependable powerhouse that never shies away from a task. It's in it for the long haul, no pun intended.
The Ram 2500 is built on a solid 98.5% high-strength steel frame with an additional crossmember for added strength and mass efficiency. It also features hydroformed front and rear rail contours for the secure placement of suspension parts and mounts. This heavy-duty pickup boasts a maximum gas payload of up to 4,010 pounds when equipped with the 6.4-liter HEMI V8 engine. So, you can load your truck bed and cabin with all the tools, gear, and equipment you need for the job with no problem. When equipped with the optional 6.7-liter Cummins Turbo Diesel I6 engine, you get a 27,000-pound maximum GCWR.
Aside from all the muscle, the Ram 2500 also offers a slew of intuitive tech goodies to make your experience more connected. The 2500 pickup offers the largest available touchscreen in its class with tow tech like a 360-degree Surround View Camera, Trailer Reverse Guidance, Trailer Spotlight, and available Cargo View Camera. The available Harman Kardon Premium Audio System elevates your experience further with a whopping 17 speakers and 750-watt multi-channel amplifier with surround sound. All in all, the Ram 2500 is the ultimate pinnacle of refinement, luxury, and practicality.
The drive home after purchasing a Ram 2500 pickup is quite a satisfying ride. And when you finally park it in your driveway, the possibilities available to you and your Ram are virtually endless. Now, we aren't just talking about what the Ram can do for you but also what you can do for your Ram in terms of upgrades. Whether you need it for work or want it for play, a pickup such as the Ram 2500 opens doors to freedom that other vehicles just cannot provide. For a little inspiration and to help you get started, we have compiled the below list outlining the top five best mods for your truck. Of course the aftermarket has hundreds upon hundreds of options, but we'd like to provide you with a starting point for the inevitable mod bug.
#1 Floor/Bed Liners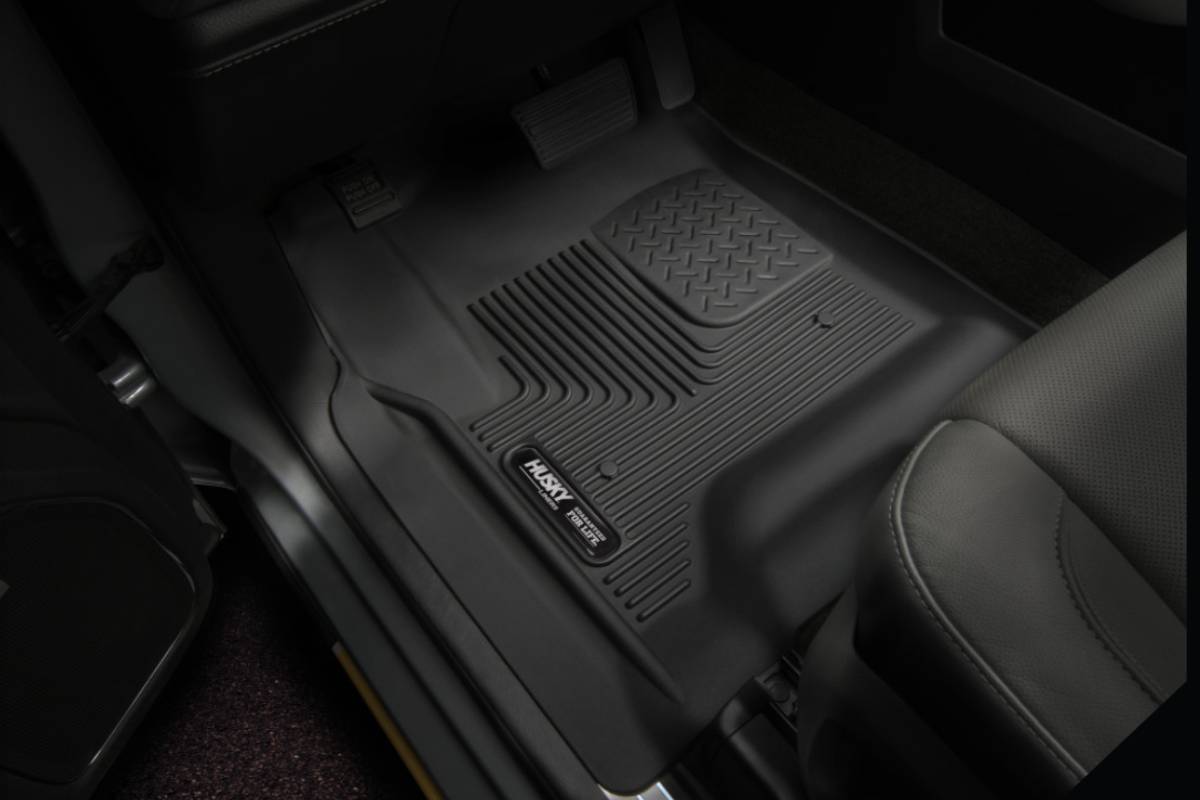 Regardless of if it's for work or play, your Ram 2500 is an investment. That being said, you'll want to keep it as nice as possible and take preventative measures to avoid damage and unnecessary repairs. The daily grind of mud, water, snow, spills, crumbs, and dirty shoes, can take quite the toll on a car's carpeting, making the cabin look dingy and ultimately lowering its resale value.
One of the first things you can do is purchase a set of floor mats/liners for your cabin and even for your truck bed too. A quality set of floor liners will perfectly match the contours of your truck and deliver indestructible strength together with comfortability. You may be wondering what the difference is between floor mats and floor liners. The main difference is their respective price and effectiveness. Liners typically fit the floor area of a truck better than a mat will (with rims and ridges) and can hold up better to spills, stains, and burns. Liners are also usually made from thicker and more durable material, which can also make them harder to remove and clean.
No matter how careful you may try to be, without a protective layer, your truck bed will experience scratches, dents, and dings. Even if your steel truck bed is galvanized, corrosion can occur once you get through that top layer. Bed liners are a great purchase because they protect your truck and ultimately provide an ultra-truck work surface for all your gear. Most quality bed liners boast stain and water resistance, and can hold up to sand, dirt, oil, and even battery acid! If you are looking for additional coverage, you may want to look into a liner for your tailgate as well.
#2 Lift/Leveling Kit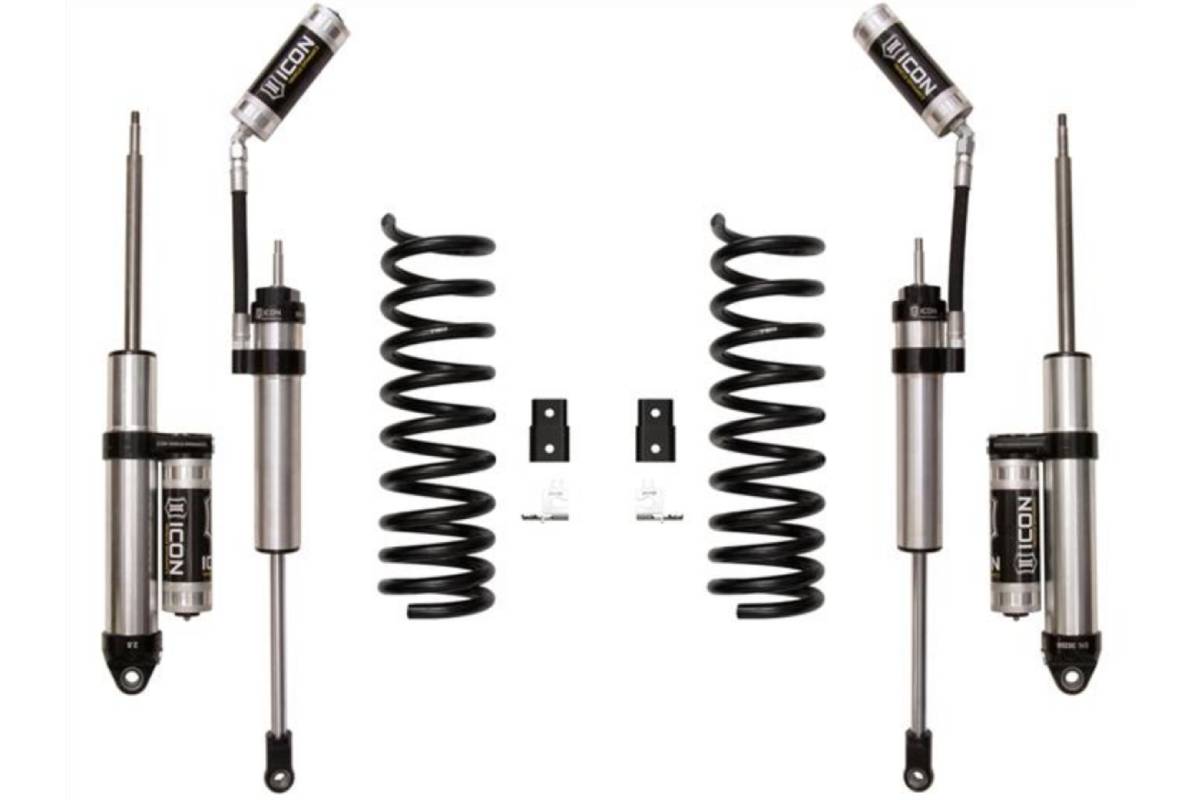 One of the most popular and best off-road modifications to do on a truck is to upgrade its suspension. After all, trucks are intended to be high and if your Ram 2500 isn't tall enough for your taste or needs, there are options out there. If you are looking to take your heavy-duty pickup to the next level, look into getting a lift kit or leveling kit. Not only will these kits provide some added ground clearance, but they will also improve your truck's overall appearance and improve its breakover, approach, and departure angle. When deciding between the two kits, it's important to think about what type of driving you do and where you plan on going. Once you have that in mind, you can choose the better package and lift size intended for that usage.
You may have noticed that a truck's rear sits higher than the front end. The reason for this is to prevent sagging when extra weight is loaded into the bed of the truck. When you are not hauling heavy loads, however, the truck can appear to look somewhat uneven. A simple fix for this is installing a leveling kit. Leveling kits let you raise the front end of your Ram just a few inches so that it is "level" with the rear. While leveling kits tend to be used more for appearance purposes, they can provide some additional ground clearance as well – but only about one or two inches of lift. Most leveling kits also retain your Ram 2500's factory ride quality and are pretty affordable, making them a great value for the price.
The purpose of a lift kit, on the other hand, is to provide better visibility, increased height, improved off-road performance, and more ground clearance. While lift kits are more expensive than leveling kits, they also offer greater benefits. With a lift kit, you can fit bigger wheels and tires while still maintaining a quality ride and factory steering. It's important to remember, however, that the higher you go, the higher the center of gravity will be. Such can cause stability issues and making driving at highway speeds or taking sharp turns more dangerous. If you are looking to attack some rough roads and take your rig off the beaten path, a lift kit would be more up your alley. However, if you are just looking to balance out the look of your truck, then a leveling kit is an easier and more affordable alternative.
Shop Lift and Leveling Kits Here.
#3 Cold Air Intake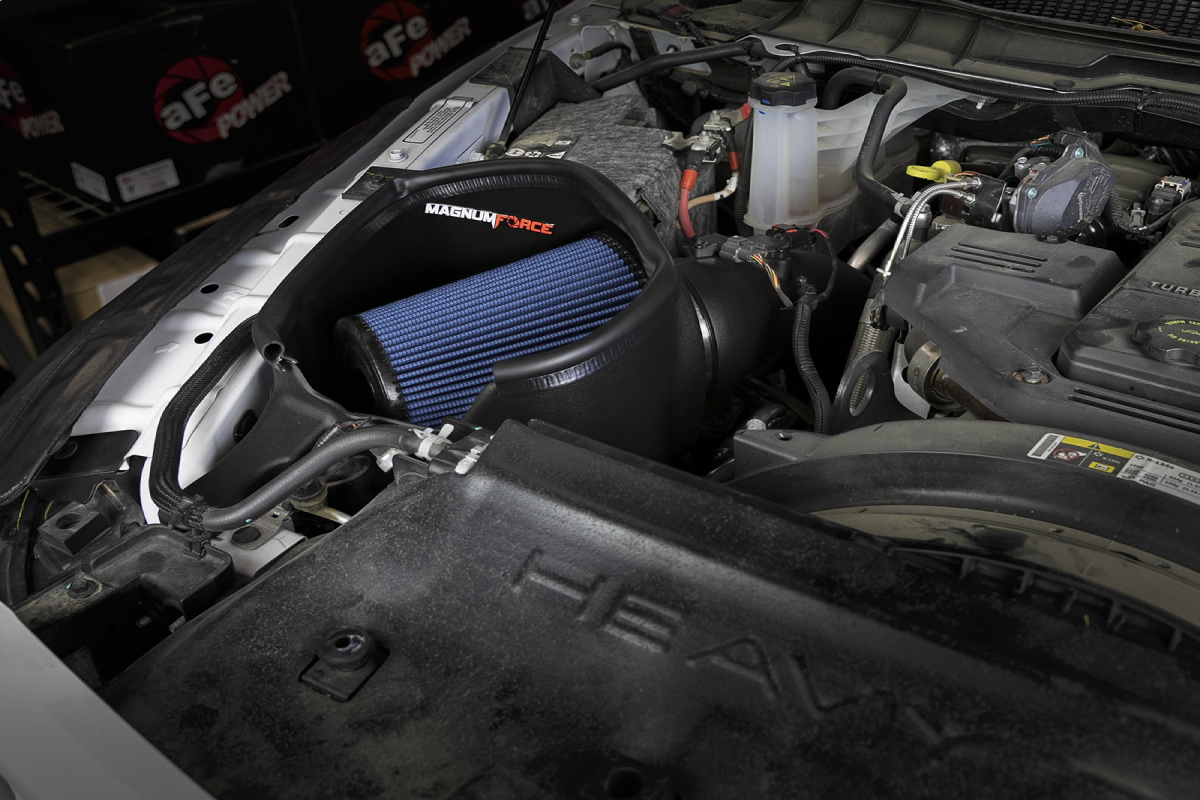 Now that we've covered protection for your truck and suspension goodies, we move along to some performance mods. One of the first and most popular modifications to do is install a cold air intake. Put it this way: would you want to run through muggy and polluted air or cool and breezy air? Your Ram 2500 deserves to breathe in that same crisp air in order to perform at its best too. A good, high-flow intake system is especially beneficial for diesel engines and can improve turbo spool-up and throttle response without harming fuel efficiency thanks to the more efficient airflow passages.
The stock air intake that comes with your original Ram 2500 truck can be restrictive and limit the amount of air being drawn in. Upgrading to an aftermarket cold air intake is always a good investment, as your truck will run better and longer with cooler airflow to the engine. Cold air intake systems deliver a slew of benefits that make it a great product for the price point and super easy to install as well. Installing a CAI is an excellent and low-cost addition to any truck, first and foremost, because it can improve fuel economy. Other advantages include improved airflow, lower air temperatures, more responsive acceleration, and increased power.
By letting your truck's engine breathe better and cooler air, you are simultaneously freeing up power within its system (gains may vary). You will also experience a more throaty rumble when you step on the gas, which suits the beefy 2500 perfectly. The icing on the cake? Aftermarket air intakes often boast superior filtration properties compared to stock filters, ultimately saving you money in the long-run. CAI filters also tend to only have to be cleaned every 30,000 miles whereas the stock paper one should be replaced every 15,000 miles.
#4 Intercooler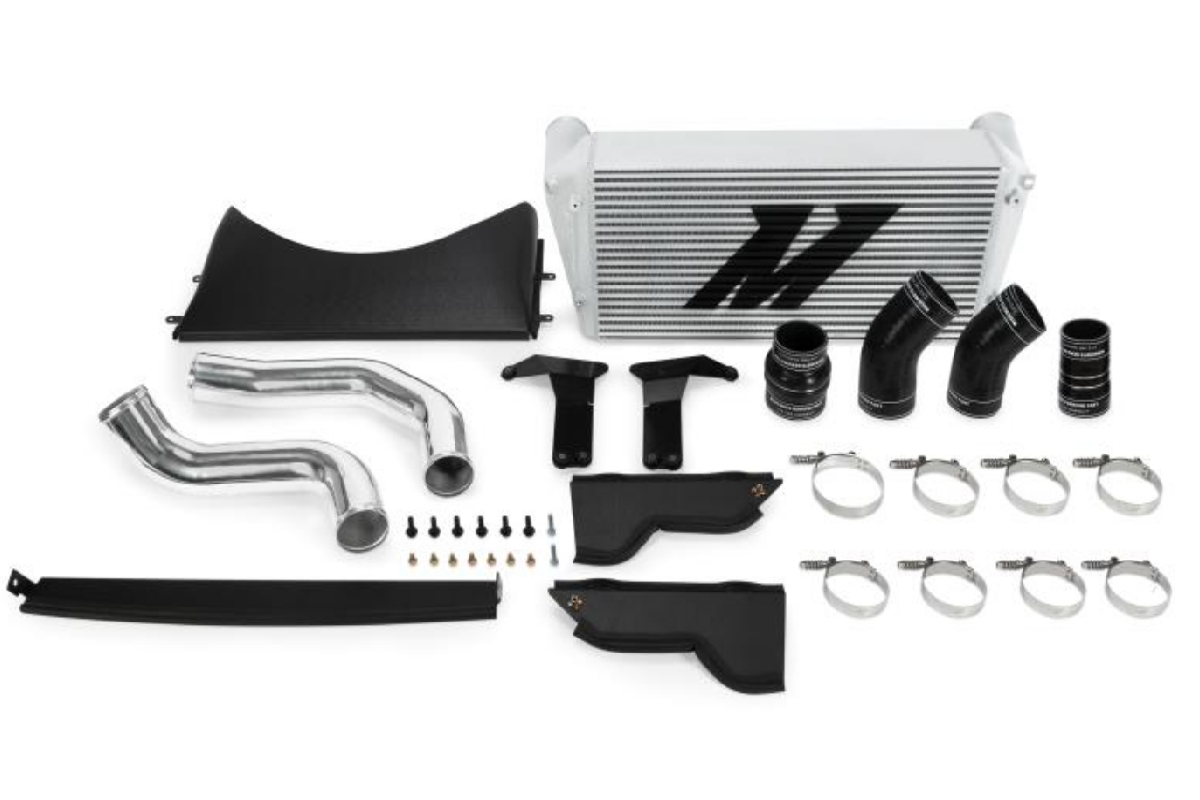 Aftermarket intercoolers are one of the best upgrades you can do to any truck. The intercooler is an integral part of your truck's performance and a necessary mod to look into when adding more power. Its job is to cool down the air after it has been compressed by the turbo and before it enters the engine. In other words, the intercooler makes sure that the heat that builds up under the engine bay does not affect the air that your truck's engine pulls in. By helping to keep your engine cool, it simultaneously improves efficiency and functionality. It's similar to a cold air intake in some ways, but the two mods can also be used together to increase the performance of each one.
While an aftermarket intercooler won't deliver tons of power, it can extend the life of your truck. The aftermarket intercoolers are also typically larger than stock ones, giving them much better heat-reducing properties. They provide your engine with cooler and denser air that results in improved airflow and, thus, noticeably better performance. You will find that many quality intercoolers on the market feature mandrel-bent, high-flow boost tubes, and high-efficiency aluminum end tanks. Benefits also include higher continuous power, better fuel economy, and lower exhaust gas temps. They also boast very low pressure drops to make sure that your turbo is not working any more than it has to. So let your truck's turbo spool more efficiently with an upgraded intercooler today!
#5 Tuning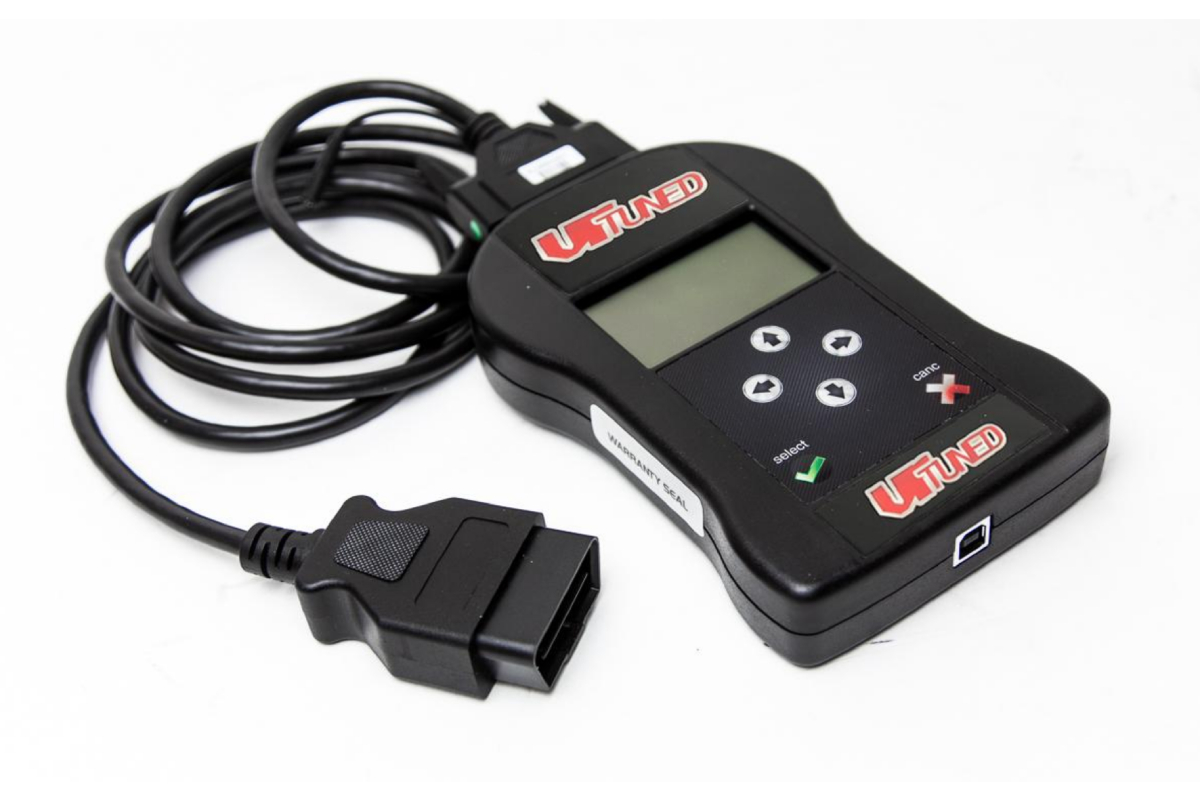 If you are looking to get the most out of your Ram 2500 truck, a tune is necessary to take it to top-notch performance levels. In order for it to experience the higher power gains and benefits from the above mods, a retune is important. After all, no engine modifications are truly complete without the proper tuning. When tuning, you can tweak a number of parameters, including air/fuel ratio, torque and rev limiters, throttle response, boost, and ignition timing. As you continue to mod your Ram 2500 truck, look into reflashing its ECU so that the mods can be accounted for in the appropriate ways and no issues arise from factory limitations. You will start to notice a difference almost immediately!
A tuner will make your engine mods more efficient as the device provide a path of communication to the "brain" of your truck to tell it what you want to prioritize. IT also offers a simple way to read and clear PCM codes when needed. While tuners alone can provide a performance boost, they work best when improving the efficacy of any additional upgrades you install. VR Tuned offers an ECU flash for your Ram 2500, which transforms your truck to a whole new level and offers a more enhanced driving experience overall. With this product, your truck will gain quicker throttle responses, increased torque for towing, and more horsepower with top-end pull to redline. All in all, the driving properties of your truck will be vastly improved with better fuel economy to boot.
Related Images: