The Subaru BRZ, Scion FR-S, and Toyota 86 offer some of the most fun you can have in a car for the money. While the three of them are extraordinarily similar, there are some differences that may draw enthusiasts more to one brand or the other. Regardless of your favorite, the trio boasts great value in terms of looks, performance, and customization options. Whether you are looking to keep it stock, lightly modify it, or make it into a serious build, there is no denying the potential of these modern, lightweight, nimble rear-wheel-drive cars.
As car enthusiasts, we all know the desire to make our cars more "ours". This can include little things like a vanity plate or decal to more expensive mods like custom wheels and a full widebody conversion. Luckily, there is an enormous aftermarket filled with all the parts you can dream of for your car. With so many choices out there, sometimes it can be tough to make a decision. That is why we have compiled the list below, breaking down some of the best modifications to make your BRZ/FR-S/86 stand out before the next car show, rally, or track day.
#1 Suspension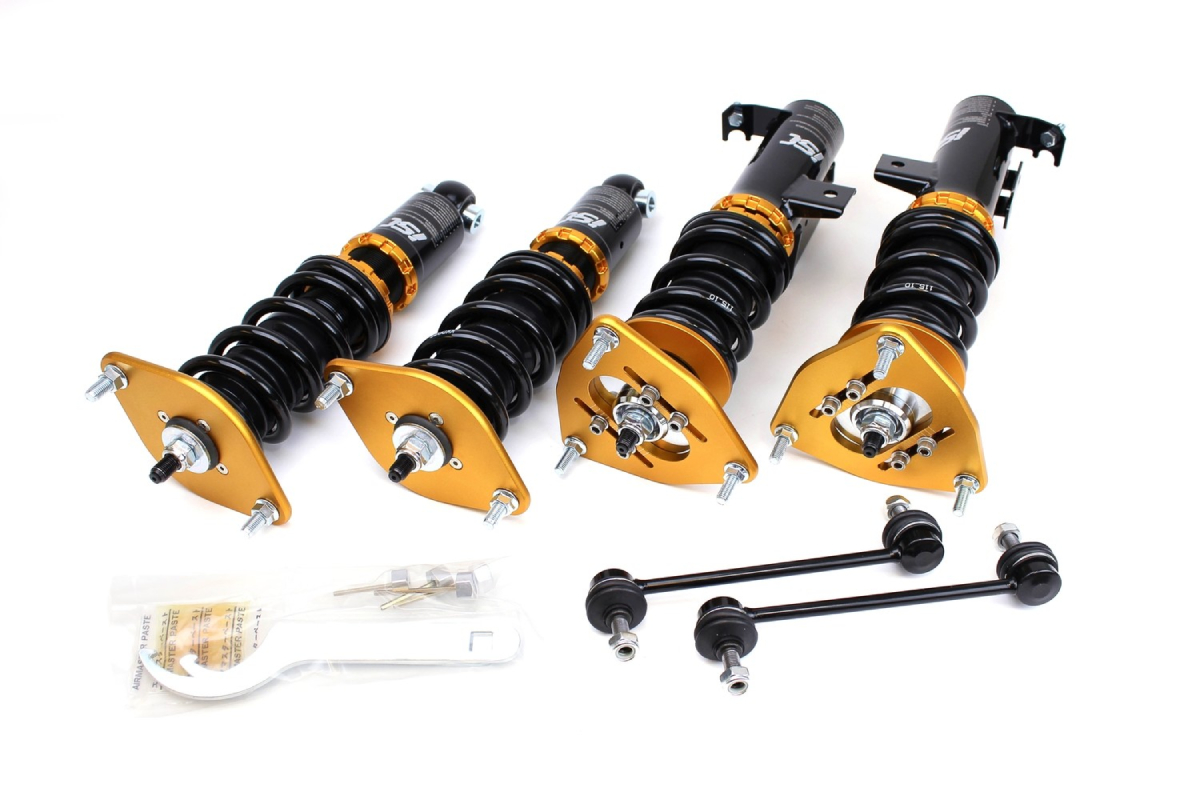 As they say, "Need more low?" Well, there are several different suspension options for the Subaru BRZ, Scion FR-S, and Toyota 86 to eliminate wheel gap and give them a more aggressive stance overall. Our inventory of full-suspension systems and components includes air suspension, coilover springs, handling arms, shocks, lowering springs, sway bar links, struts, and more.
In the never-ending battle of style and performance, one of the main ways you can enhance both is by lowering your ride with coilovers or springs. While both essentially serve the same purpose, they do so in different ways that can result in distinct handling characteristics.
Lowering springs are very cost-effective. Like your factory springs, lowering springs are made to support the weight of your car and fit seamlessly in place of the originals with little to no modification necessary. You simply remove the old springs and swap in the new ones. The result is better handling, more stability, and less body roll in sharp corners. The only downside is you will experience a bit more of a harsher ride.
The term "coilover" is short for "coil spring over strut and is a more expensive alternative to lowering springs. With coilovers, your car's entire shock/strut and spring combination are replaced with matched performance dampers and springs. Unlike lowering springs, coilovers offer a wider range of adjustability when it comes to ride height, shock damping, spring pre-load, and rebound. What's more, most high-end coilover kits are lighter than the OE components they replace to reduce unsprung weight and improve handling attributes.
Shop Suspension Parts Here:
#2 Aftermarket Wheels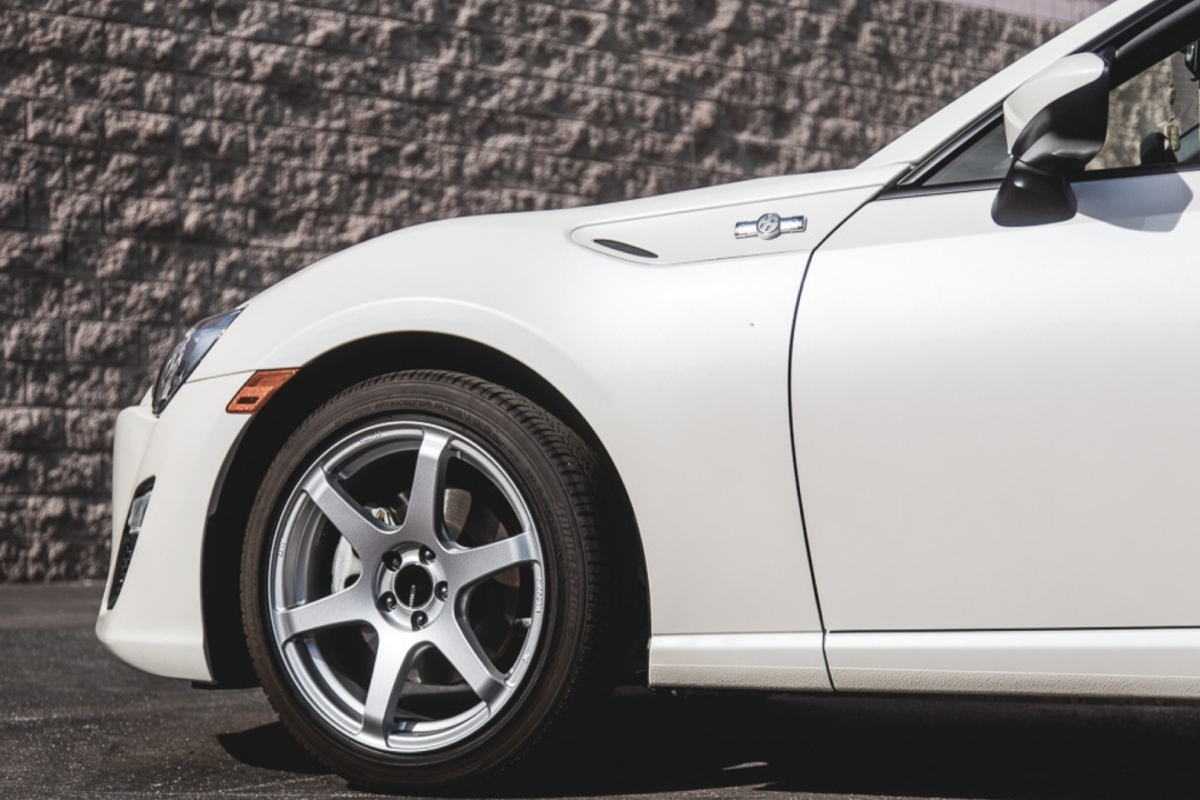 After upgrading the suspension on your Subaru BRZ, Scion FR-S, or Toyota 86, you will want to swap out the original wheels with a new exciting set. Aftermarket wheels are a great way to customize your vehicle to your particular tastes with regard to style, size, and color. The possibilities are virtually limitless with hundreds of brands out there and thousands of combinations available.
Original equipment wheels can be seen everywhere you go and can seem more like a cookie-cutter than a head-turner. Modifying your ride with a new pair of shoes can significantly change its appearance while adding your own individual flair. It may even win you some extra points at your next car show; just make sure they are spotless!
Although most people choose to customize their wheels for aesthetic reasons, they can also provide a number of performance benefits to your car. For one, custom aluminum alloy wheels weigh less than factory steel wheels. The reduced weight improves your car's stopping ability, ultimately making it safer. The reduced unsprung rotational mass also improves acceleration time, vehicle handling, and maneuverability. These are all things to keep in mind while searching for a new set of wheels.
[It's important to note that the Subaru BRZ, Scion FR-S, and Toyota 86 all use the 5×100 bolt pattern for wheels.]
Shop 5x100mm Aftermarket Wheels Here.
#3 Aerodynamic Parts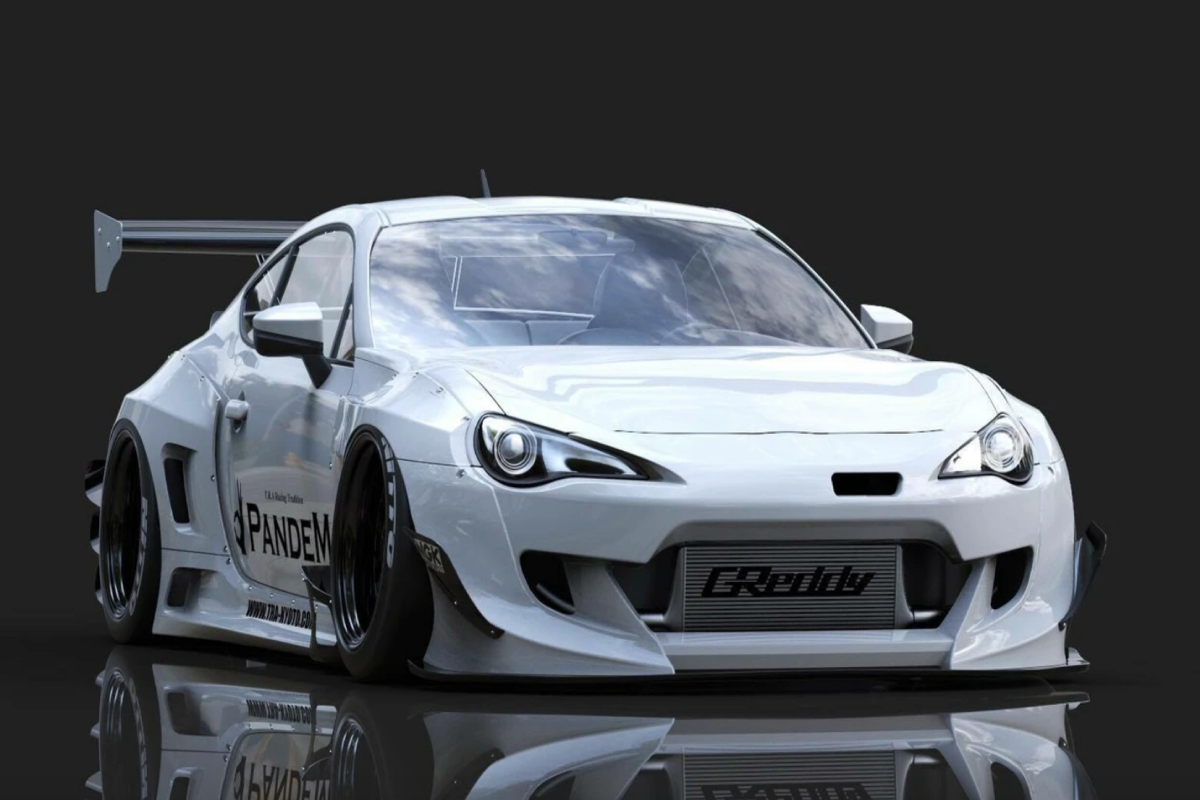 When it comes to aerodynamic parts, there are a plethora of options out there from single components to full body kits and complete widebody conversions. Body kits are one of the easiest ways to add a unique look to yourSubaru BRZ, Scion FR-S, or Toyota 86 while also improving performance, efficiency, and functionality. No matter your preference or needs, one thing is for sure: aero parts are for both show and go. It's important to note that many of these benefits may not be incredibly noticeable with everyday driving, but will prove to be advantageous for track days.
Front lip spoilers upgrade the look of your BRZ/FR-S/86 OE front end while also improving its stance and downforce. They encourage airflow to pass on the sides of the vehicle and over the hood, instead of underneath. This process improves overall traction and helps your car hug the road a bit tighter, thus delivering increased stability. Side skirts not only look great and tie the entire look together, but they also enhance the overall stability of your vehicle at high speeds. Like splitters, they are typically placed as low as possible to prevent high-pressure air from moving underneath the chassis.
Rear spoilers are specifically designed to change the flow of air over the rear of your car by "spoiling" or nullifying unfavorable air and reducing drag. This can result in a boost in fuel efficiency too. The rear diffuser takes up a large portion of the underbody and is strategically shaped to create an area of increasingly large air volume below the rear of your BRZ/FR-S/86. This helps to accelerate the air under the vehicle, reducing pressure and consequently improving downforce too.
Shop Aerodynamic Parts Here:
#4 Cold Air Intakes
One of the most common places to start when modifying your Subaru BRZ, Scion FR-S, or Toyota 86 is by installing a cold air intake system. Replacing your vehicle's restrictive air intake with an upgraded system is one of the least expensive ways to increase horsepower and performance.
While they won't add as much power as other engine goodies, they will help in a number of other ways like improving airflow, lowering air temperatures, boosting acceleration response, and increasing fuel economy. What's more, many of them can run for up to 100,000 miles before you need to service the filter. And, the filters only need to be cleaned every once in a while, depending on your usage.
To top that all off, a cold air intake system will give your BRZ/FR-S/86 a nice throaty growl that is sure to turn some heads and make you feel good each time you hit that gas pedal. It may seem like a minor mod, but it really does make quite the difference considering what you get for the value. It also makes your engine bay look that much better.
Truthfully, there are no real downsides to getting a CAI system for your BRZ/FRS-S/86. Each air intake system is different and will deliver varying levels of power gains and sound, so it's important to keep that in mind when conducting your search.
Shop Cold Air Intakes Here:
#5 Exhaust Systems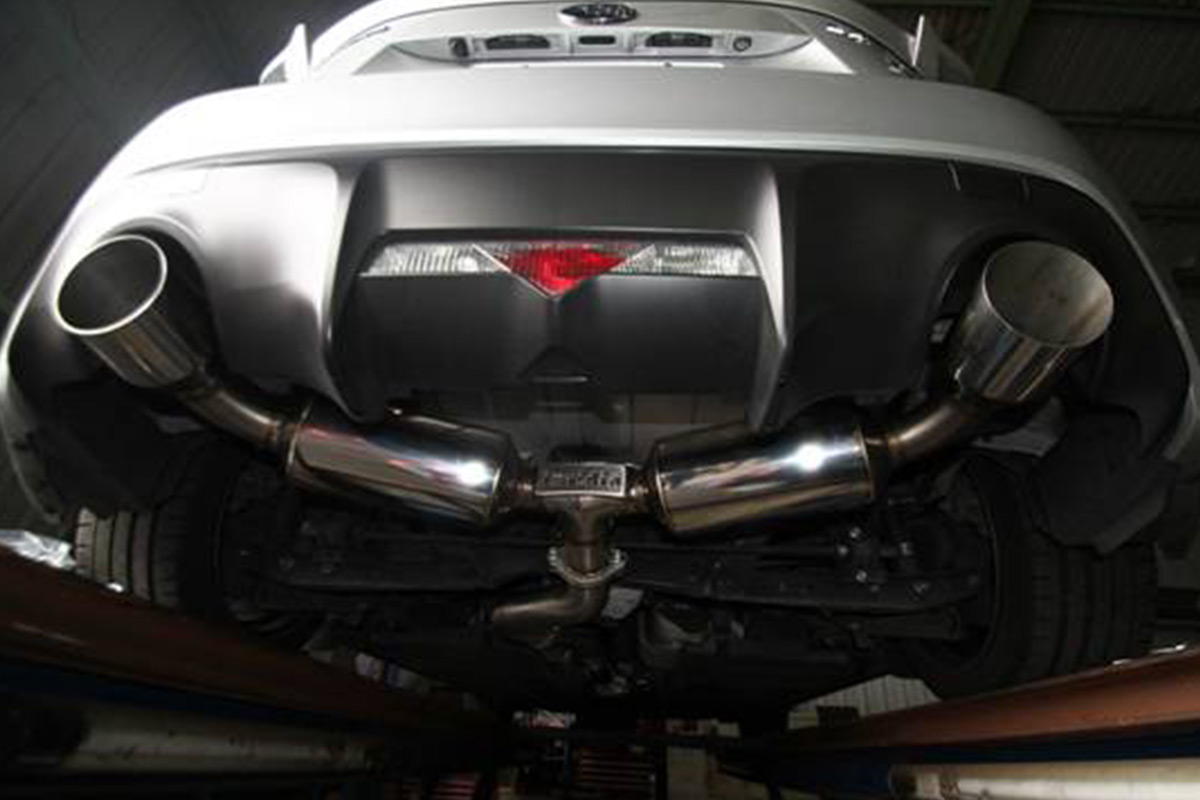 After upgrading the air intake system on your Subaru BRZ, Scion FR-S, or Toyota 86, the natural next step is to swap out the factory exhaust. The exhaust system is a crucial part of your vehicle; it helps to improve its overall performance, increase fuel efficiency, keep exhaust fumes at bay, and control the amount of noise both inside and outside the car.
An aftermarket performance exhaust can free up some of the power in your car's engine. It allows for a quicker, more efficient path for exhaust gases to escape and lets your engine breathe better. An axle-back system works by replacing just the mufflers on your car. A catback system replaces your exhaust from the catalytic converters back, including the mufflers. You can also opt for a header-back, which replaces all of the stock components for the maximum benefit.
An aftermarket exhaust can significantly improve your vehicle's performance with fewer restrictions over the stock system. With that, comes newfound horsepower and torque figures as well as a tantalizing exhaust note that is just the cherry on top. An aftermarket exhaust will give your Subaru, Scion, or Toyota the sustainable power and torque it needs to succeed at your next track day. Not a racer? No worries. Changing out your exhaust is also a great way to take your vehicle's appearance up a notch and give the competition something nice to look at.
There are many choices to make when searching for a new exhaust. Single or dual? Stainless or aluminized? Axle-back or catback? Ultimately, it's up to you and what you need and expect from your car. We also carry individual components like headers, gaskets, heat shields, downpipes, Y-pipes, mid-pipes, mufflers, and more!
Shop Exhaust Here: