Honda Civic Type-R model is one of the most affordable, high-performance, and reliable cars on the market right now. This hatchback is capable of making big power at a bolt-on level and may not break the bank like some other cars of its stature on the market. The vehicle was manufactured to deliver outstanding performance, aesthetics, and aerodynamics which also makes the car very popular in the automotive community. The automotive aftermarket industry has parts and the best upgrades that aren't the most expensive on the market but have an extremely valuable impact at the highest quality. In addition to that, these upgrades will elevate your vehicle's performance and ensure you have a fun ride when you are driving your Honda Civic Type R.
1. Exhaust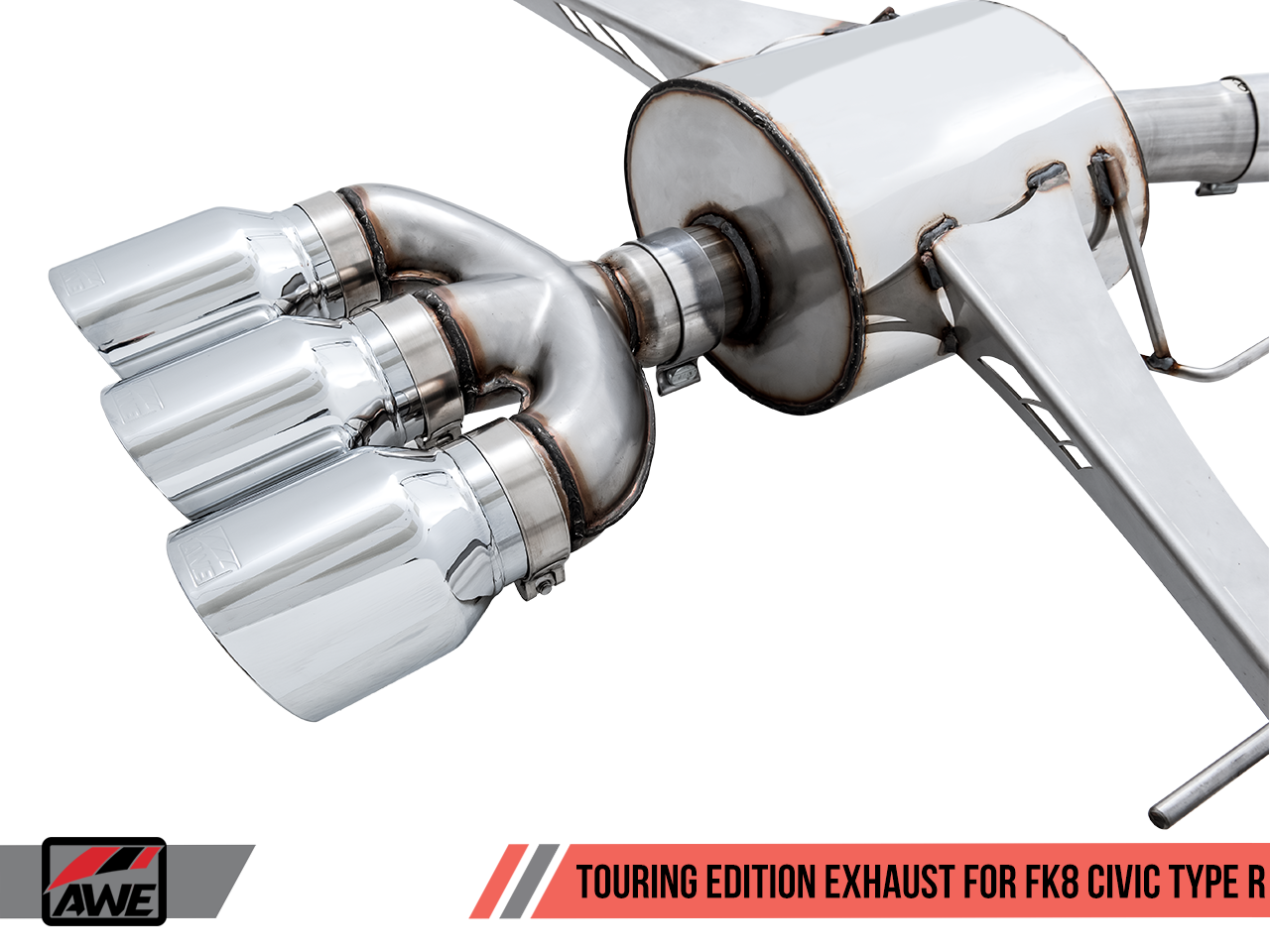 AWE Tuning has been fulfilling its mission of helping automotive enthusiasts to unlock performance in their vehicles for over 30 years. AWE Tuning houses the most sophisticated technology for designing and manufacturing top-grade products. Depending on your needs, they have a track edition and a touring edition which will take your Honda FK8 Civic Type R sound to the next level.
The Touring Edition Exhaust is a full 3″ T304L stainless steel downpipe-back configuration that features an integrated front pipe, bespoke mid-pipe resonator, and AWE's patented drone-canceling solution, 180 technology. The Touring Edition delivers a full-bodied, rasp-free K20 soundtrack unachieved by any of its peers.
For those who like it raw and rowdy, the Track Edition is for you. The Track Edition shares the same integrated front pipe, bespoke mid-pipe resonator, and precision engineering as its Touring Edition counterpart, minus AWE's patented drone-canceling solution. In place of the 180 Technology resonator in the rear lies a Track Edition straight section. As a result, this version is known to get (really) rowdy in mid-range acceleration and deceleration. Each exhaust comes complete with 4.5″ double-walled, slash-cut tips available in chrome silver or diamond black
Features:
Integrated front pipe included in all editions
Proudly designed, engineered, and manufactured at AWE in the USA
Max gains of 5 hp and 9 ft-lbs of torque at the wheels
Touring Editions feature patented drone-canceling 180 Technology®, tuned specifically for the K20
Handcrafted from 3" CNC mandrel-bent, U.S.-sourced .065" wall T304L stainless steel
Touring Edition available with optional DualPhase mid pipe engineered for additional sound tuning with aftermarket DPs
Bespoke stamped stainless steel trident tip merge
Less is more: clean, straight-through design maximizes performance
Direct bolt-on for factory-like simplicity
Triple or dual 4.5″ double-walled slash-cut tips available in diamond black or chrome silver
Perfect fitment guaranteed
AWE No CEL guarantee
Lifetime warranty (one year on tip finishes)

2. Intake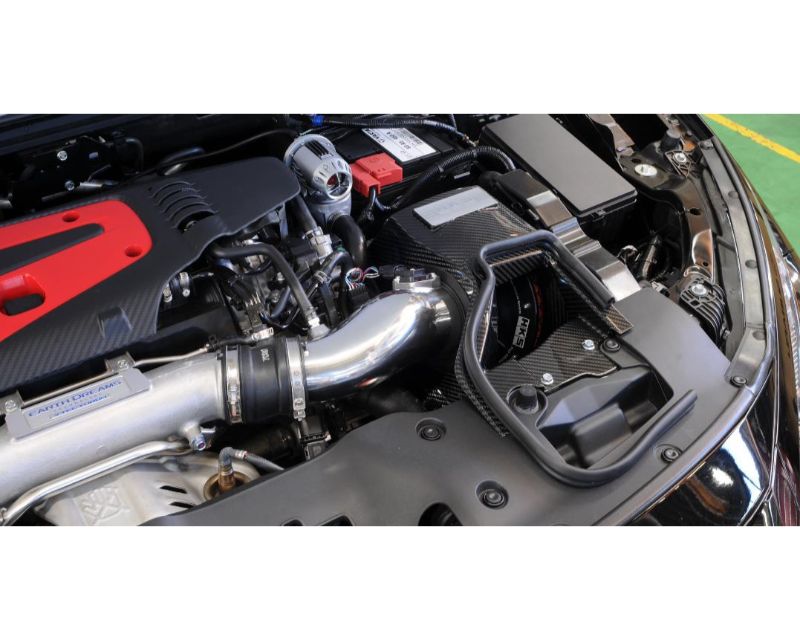 HKS is known for providing well-integrated, reliable, and environmentally sound performance systems since its beginning. Monitoring consumer reaction and input on issues about material quality, external appearance, sound quality, and of course, performance, HKS has made this combination of carefully crafted carbon cold air intake box and high-performance Racing Suction intake that adds a premium touch to the engine bay and significantly improves the quality of air supply to the engine. The carbon intake box is effective protection from hot air around the engine, and it also provides a constant supply of fresh air when you are driving which will help to decrease the intake temperature. HKS is known for making the best intake systems in the aftermarket market, as they are designed to be user-friendly and easy to install.
Features:
Dry Carbon Cold Air Intake Box for an exquisite and sporty look
Polished Aluminum Piping to replace stock rubber hose and further improve airflow
Various separately available parts to select the desired combination
Please note that a kit without AFR requires ECU recalibration.

3. ECU Flash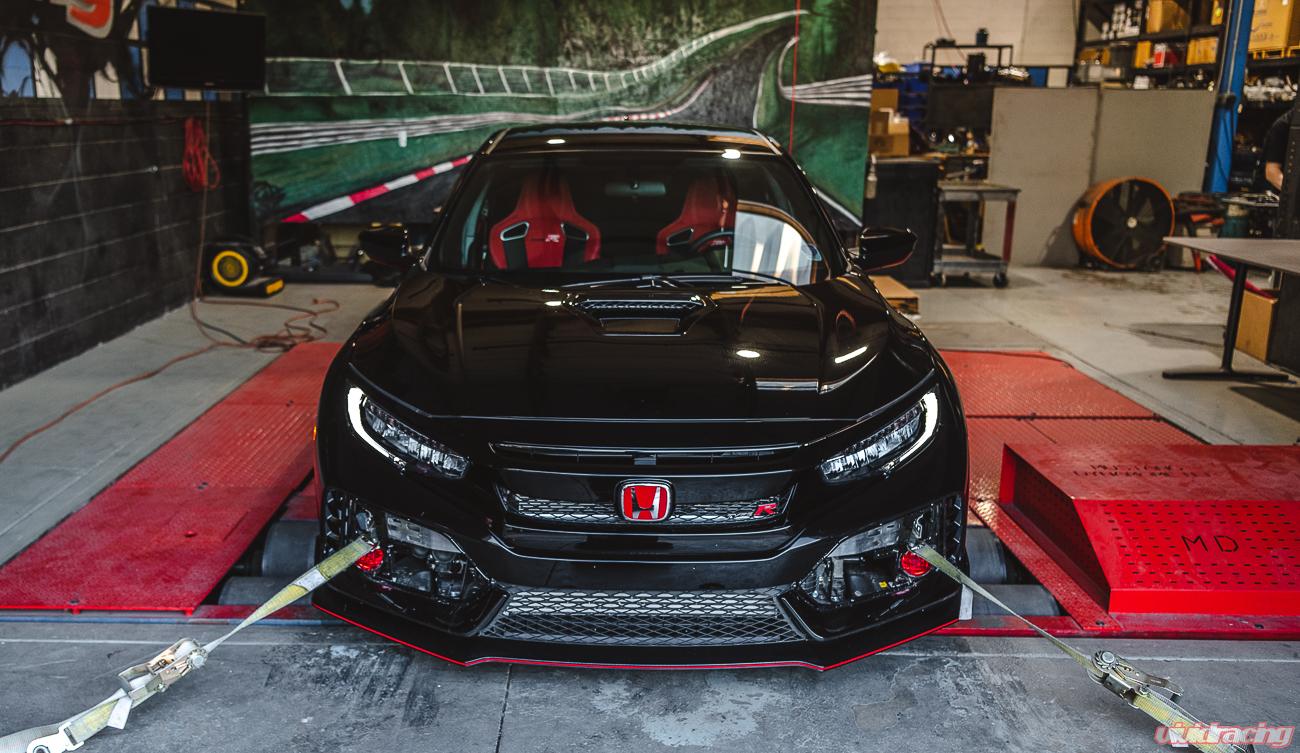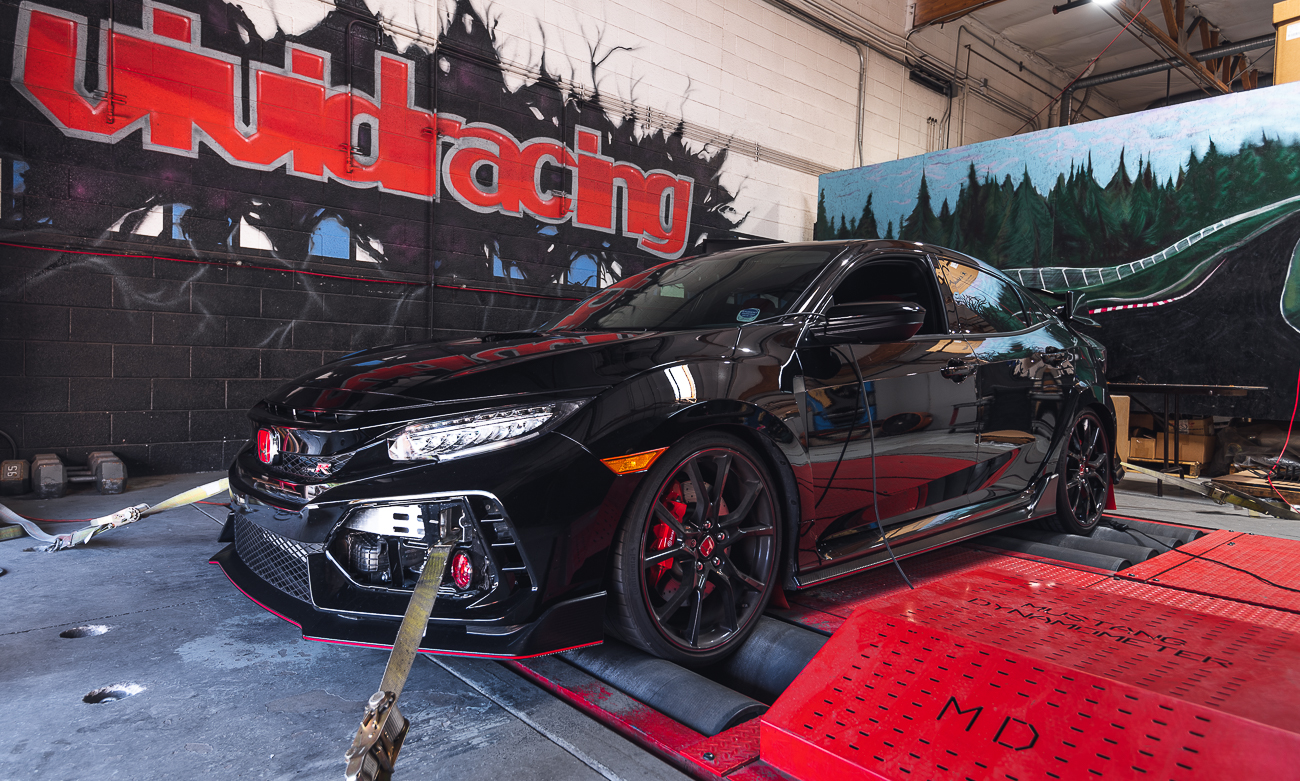 Tuning the ECU of your Honda Civic Type-R 2.0L Turbocharged engine is possible with VR Tuned. VR Tuned is the offshoot of globally known, high-performance retail parts specialists, Vivid Racing. VR Tuned flash adds power gains across the power band in both horsepower and torque, so with VR Tuned ECU Flash, you will get to improve the driving characteristics of your vehicle while gaining the additional benefits that your engine craves. This additional programming will adjust your ECU calibrations, and also make changes to the torque limiter to provide a better throttle response. VR Tuned products include everything you need from booster pedals, ECU flashes, and gearbox tuning to tuning accessories and complete tuning box kits.
Crank Horsepower Ratings:
Stock Power: 320HP | 295FT/LB
Stage 1 Power: 360HP | 369FT/LB
Stage 2 Power: 374HP | 382FT/LB

4. Suspension | Coilovers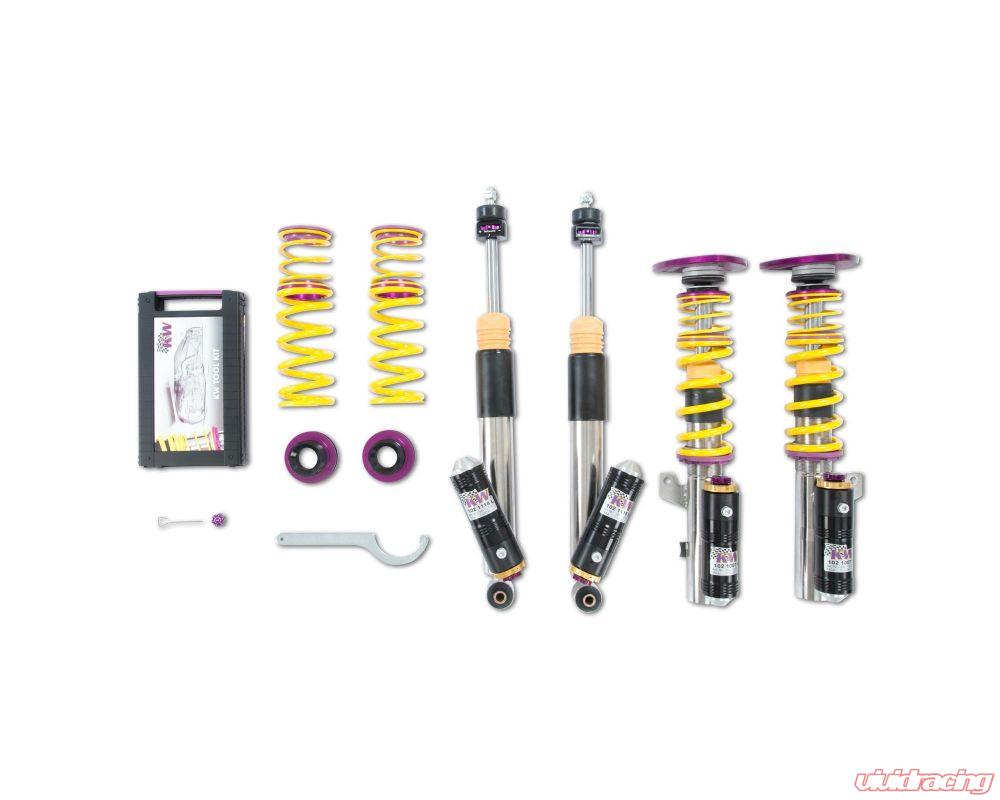 KW Suspension makes products that offer the perfect suspension for every driving demand. Whether you are looking for a comfortable ride in your hometown or something to help you maximize your car's speed and handling, KW Suspension has got you covered. For your Honda Civic Type R, KW Clubsport coilovers 2-way is the answer to your needs. The KW Clubsport coilovers utilize the uncompromising transfer of technology from the world of motorsports to track day/street driving. This coilover is an ideal product that will give the full potential of your sports car during track days, sports car driving clinics, and enthusiast drives on Grand Prix circuits and tracks. The KW Clubsport coilovers provide the ability to adjust for different track surfaces, sharp turns, and abrupt elevation changes.
Features:
Independently adjustable rebound and compression damping technology
Stainless steel technology "inox-line"
Continuous lowering
Tested adjustment range
High-quality components for a long-term durability
Adjustable rebound damping with 16 precise clicks
Adjustable compression damping with 12 precise clicks
Unique, independent damping force adjustment
Optional spherical bearing aluminum top mounts

5. Wheel Set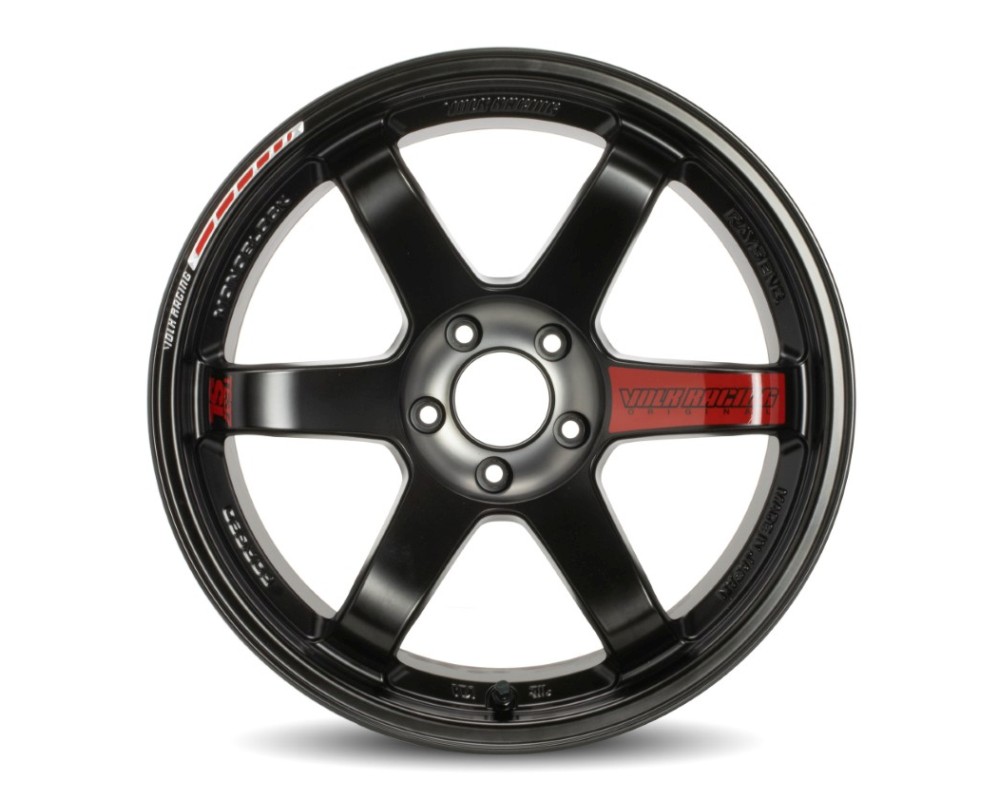 In the aftermarket wheel world, Rays Engineering has been one of the leading companies since its inception in the 1970s. Ray Engineering is a premium Japanese wheel manufacturer for both motorsport and street applications. All Rays products boast advanced forging processes exclusive to the company. This wheel by Volk Racing wheels is known for being both lightweight and high-strength thanks to the application of the latest and most advanced forging technologies out there. The Volk Racing Wheel brand represents the benchmark for high-performance forged sport wheels that leverage racing technology. The wheel is available in sizes 18 and 19 inches.
Wheel Specifications:
Forged 1pc Wheel
JWL+R Spec2
Color: Pressed Black/Rim REDOT(PR)
Included: Air Valve, Spoke Stickers
Size: 18×9.5
PCD: 5×120
Offset: 38
Bore: 73.1
Drill: 29-13