The BMW M3 is a high-performance version of the BMW 3 Series, developed by BMW's in-house motorsport division. M3 models have been produced for every generation of 3 Series since the E30 M3 was introduced in 1986. Upgrades over the regular 3 Series models include engines, handling, brakes, aerodynamics, lightweight materials and various interior upgrades. The M3's most notable implementation of technology came in 1992 when the E36 M3 featured the SMG-I gearbox. When they fitted the E46 M3 with the SMG-II gearbox, it officially took the title as the fastest shifting gear box in the world.
In 2014, the M3 version of the F30 3 Series was designated the F80. It was powered by the BMW S55 twin-turbocharged straight-six engine, making it the first turbocharged M3 model. Despite the smaller displacement than the V8 engine used by the previous generation of M3, the switch from naturally aspirated engines to turbocharging resulted in peak power increasing from 414 to 425 hp and peak torque bumping up to 406 lb-ft. The new performance numbers allowed the F80 M3 to achieve a 0-60 mph of just 3.9 seconds with the M-DCT transmission and 4.1 seconds with the manual transmission. But despite the impressive performance and sleek body lines, the F80 M3 wasn't designed for just anyone – you must be a true car enthusiast to really enjoy the thrill of such a machine.
One of those true car enthusiasts is
Alex Sczudio
(
@Automotive_Alex
), a top-tier photographer whom we recently had the pleasure of collaborating with. She had a passion for cars since she was a child, dreaming about owning an M series car in bright yellow when she became older. During college, she picked up a camera and started photographing cars for fun at local car shows – allowing her to make some extra cash to pay for her gas and food. Little did she know, automotive photography would soon become her biggest hobby – leading her to become one of the most prestigious photographers in the industry. After five years of shooting cars, ranging from sports cars all the way to million-dollar hypercars, she finally had the opportunity to make now of her dreams come true – owning a beautiful yellow M series car.
Learn more about Alex HERE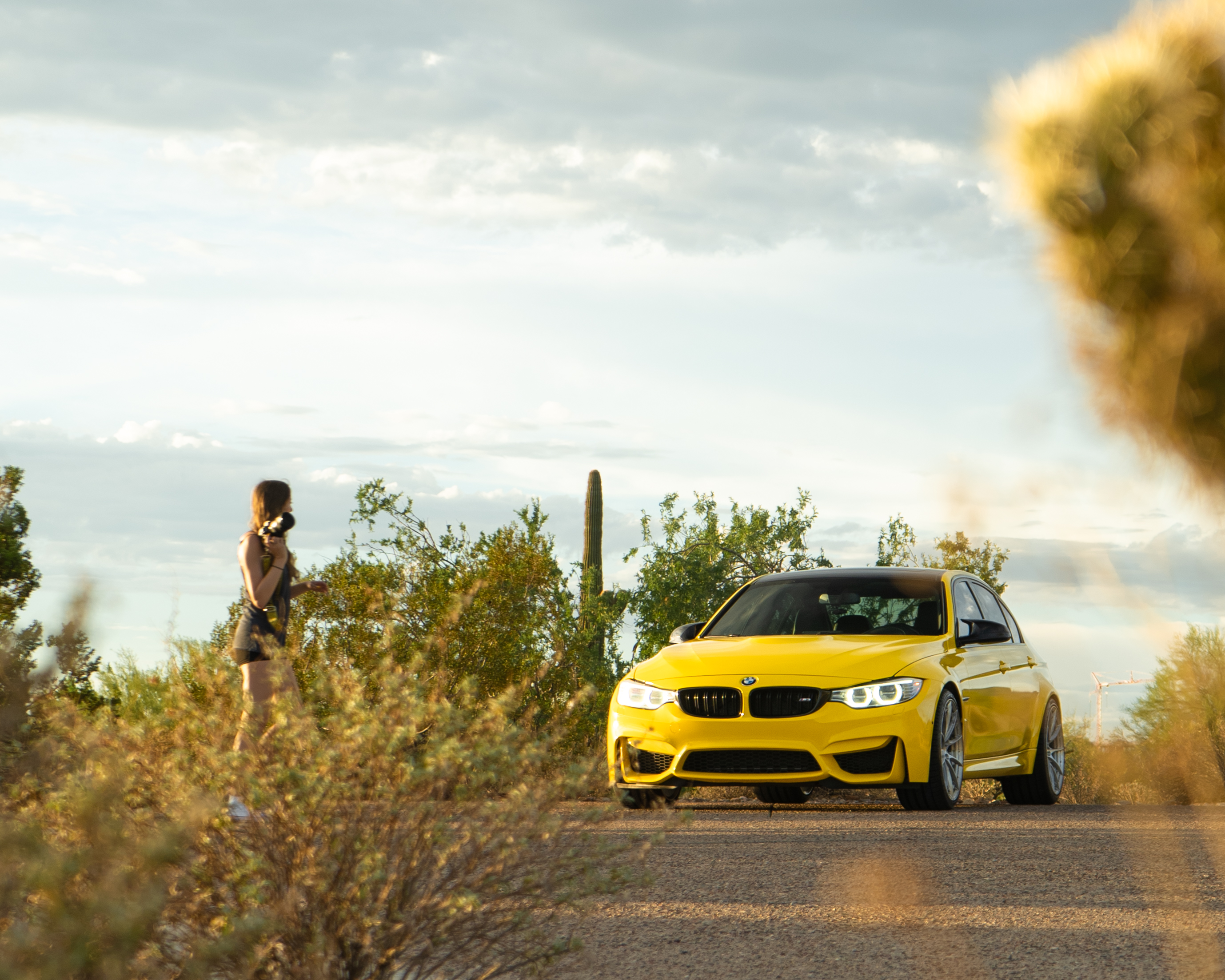 Once we discovered she had acquired a BMW F80 M3, we knew we had to collaborate and get her on a set of aggressive wheels to make her M3 really stand out. We decided to go with our very own
VR Forged D03-Rs
in a brushed finish. The front wheels are 20×9.5 with a +20mm offset, and the rears are 20×11 with a +37mm offset – giving the F80 M3, in our opinion, a near-perfect fitment. The
VR Forged D03-R
is a full 1pc forged monoblock wheel, manufactured using a 10,000 ton press – these wheels are incredibly strong to withstand any situation. The design of this wheel is similar to our D03 but with a very motorsports-inspired ring. It also features incredible machine work near the center of the wheel to draw your eyes in, while the stylish outside ring keeps the wheel visually stunning. So we knew this would be a perfect fit for Alex's stunning gloss yellow BMW F80 M3.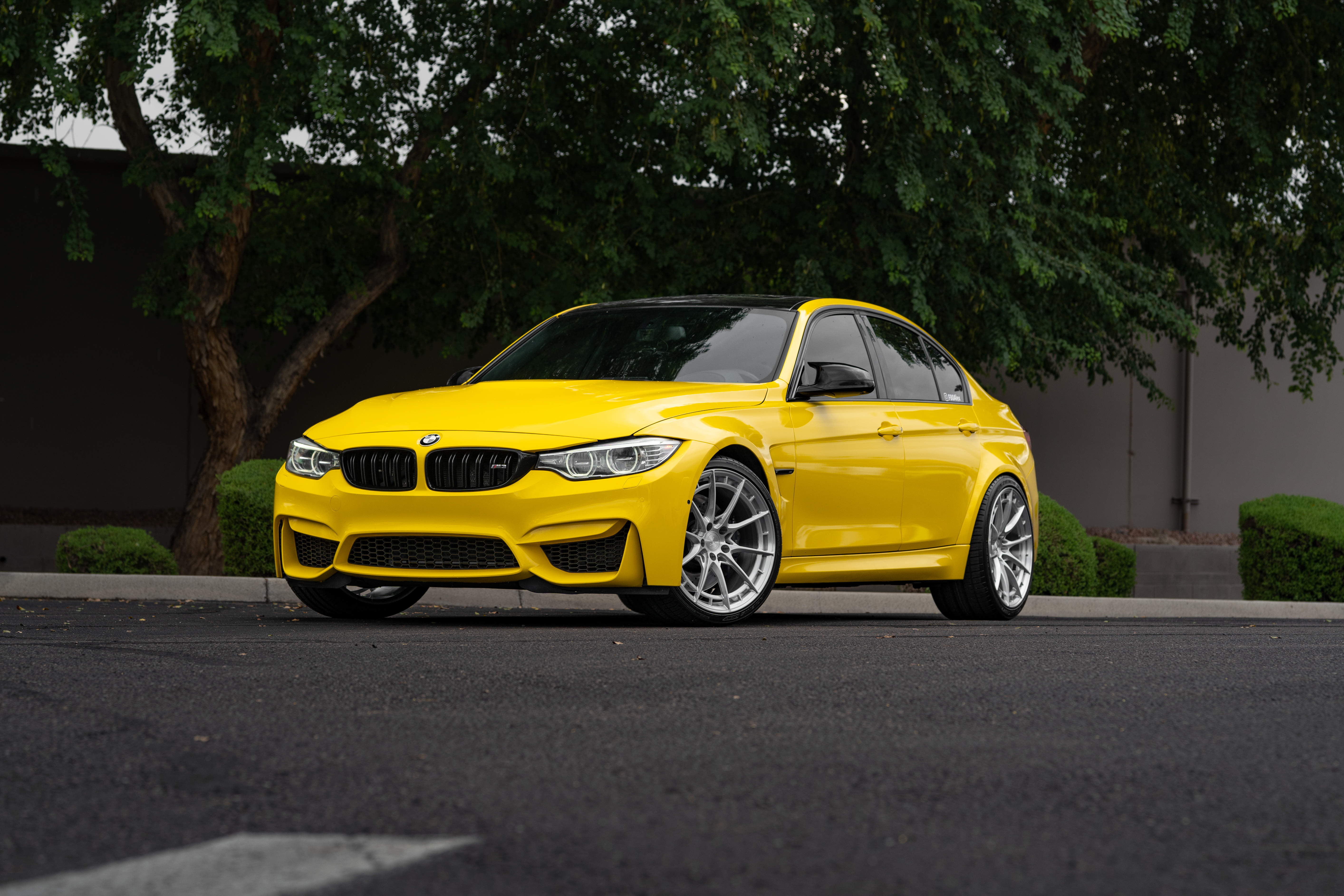 Once Alex saw the
VR Forged D03-R
s mounted on her car, she instantly fell in love – and so did we (Queue the happy tears). After seeing how much it had changed the appearance of her car, we decided to take the M3 to a local location and have Alex do her thing with the F80 and capture the art of the brand new VR Forged wheels. Not only did we see the behind-the-scenes of a typical 'Automotive Alex' shoot, but we also got to learn how she does it – so any photographer striving to find their way into becoming a professional photographer like, Alex can see how the pro captures their work first hand.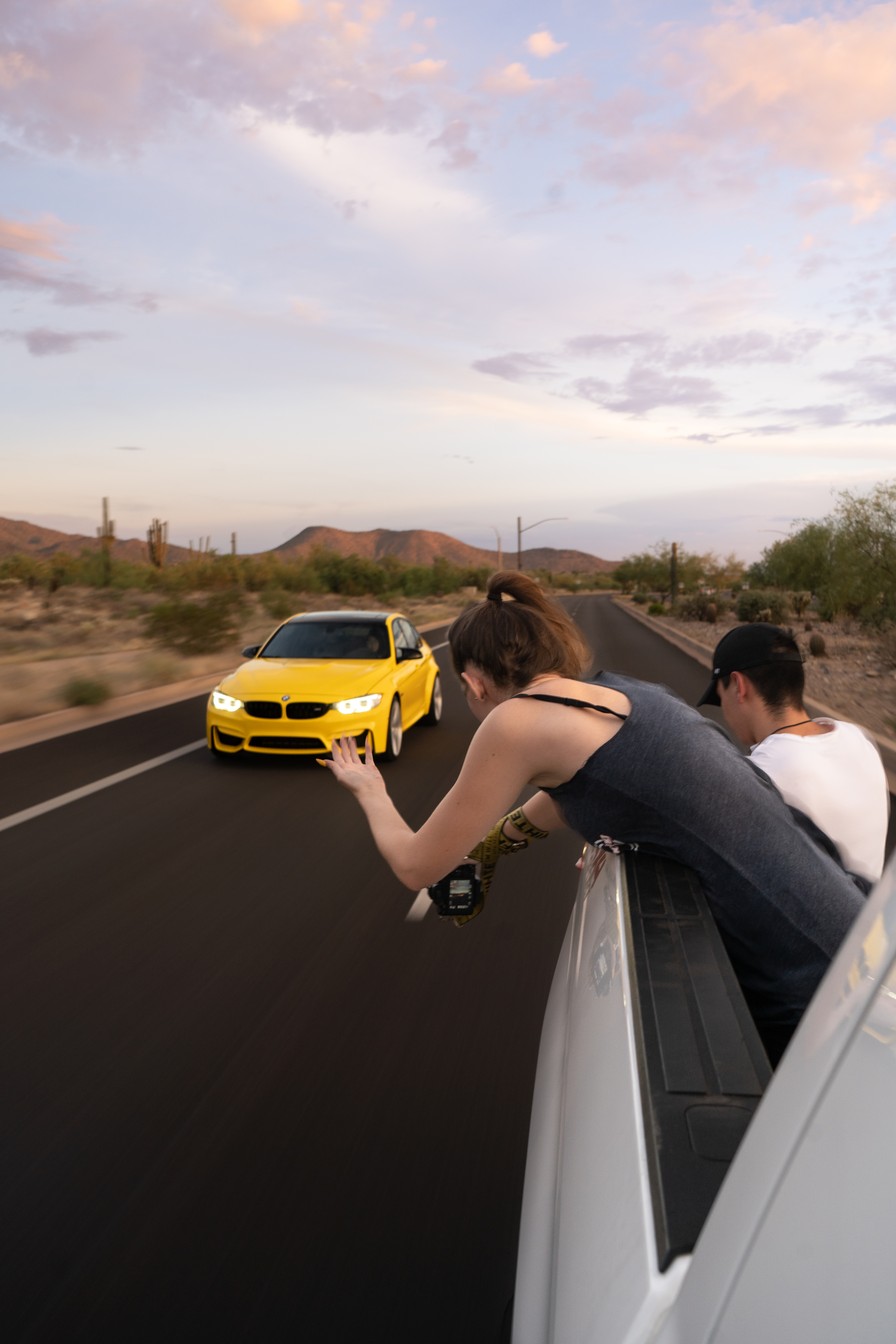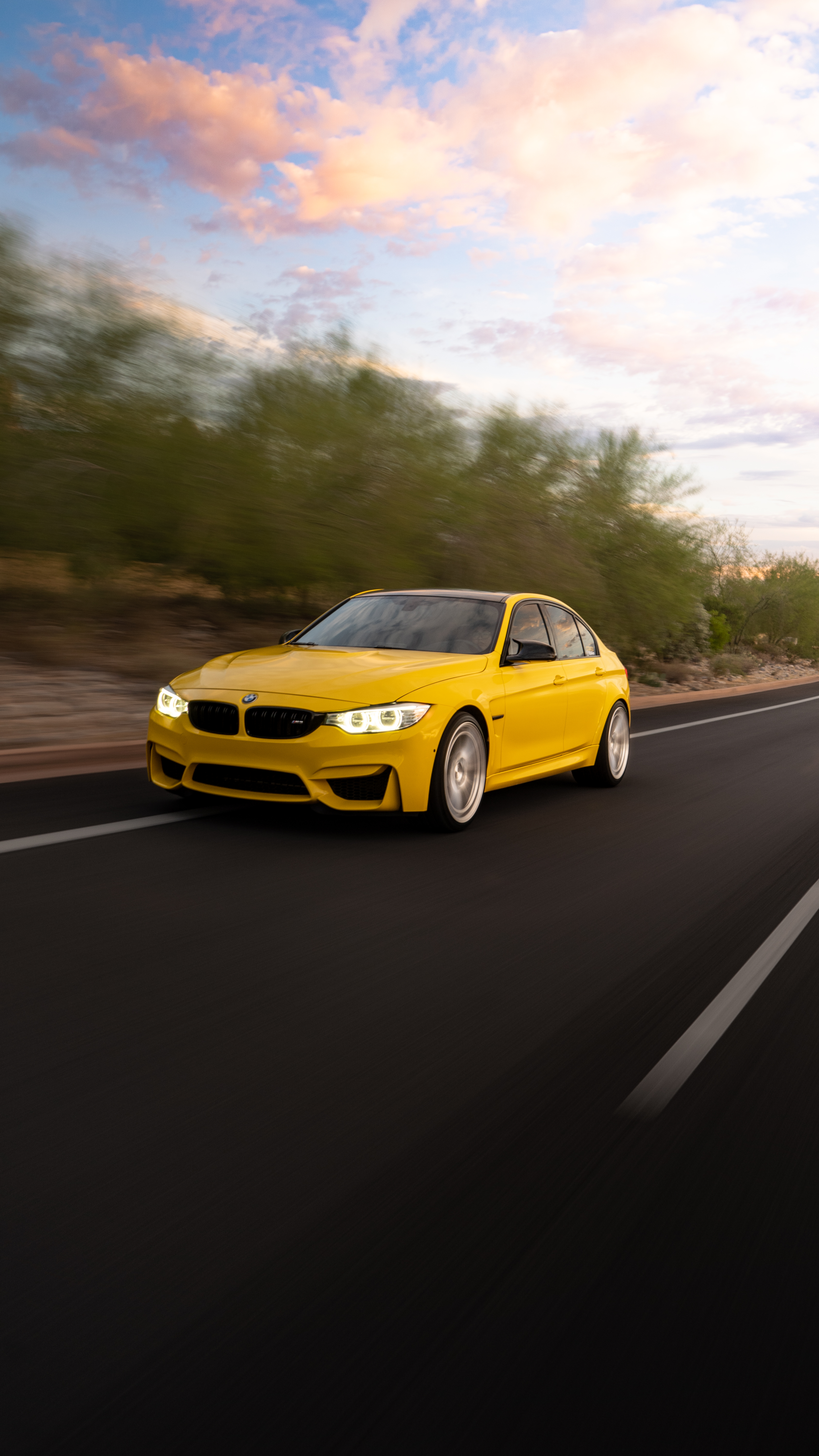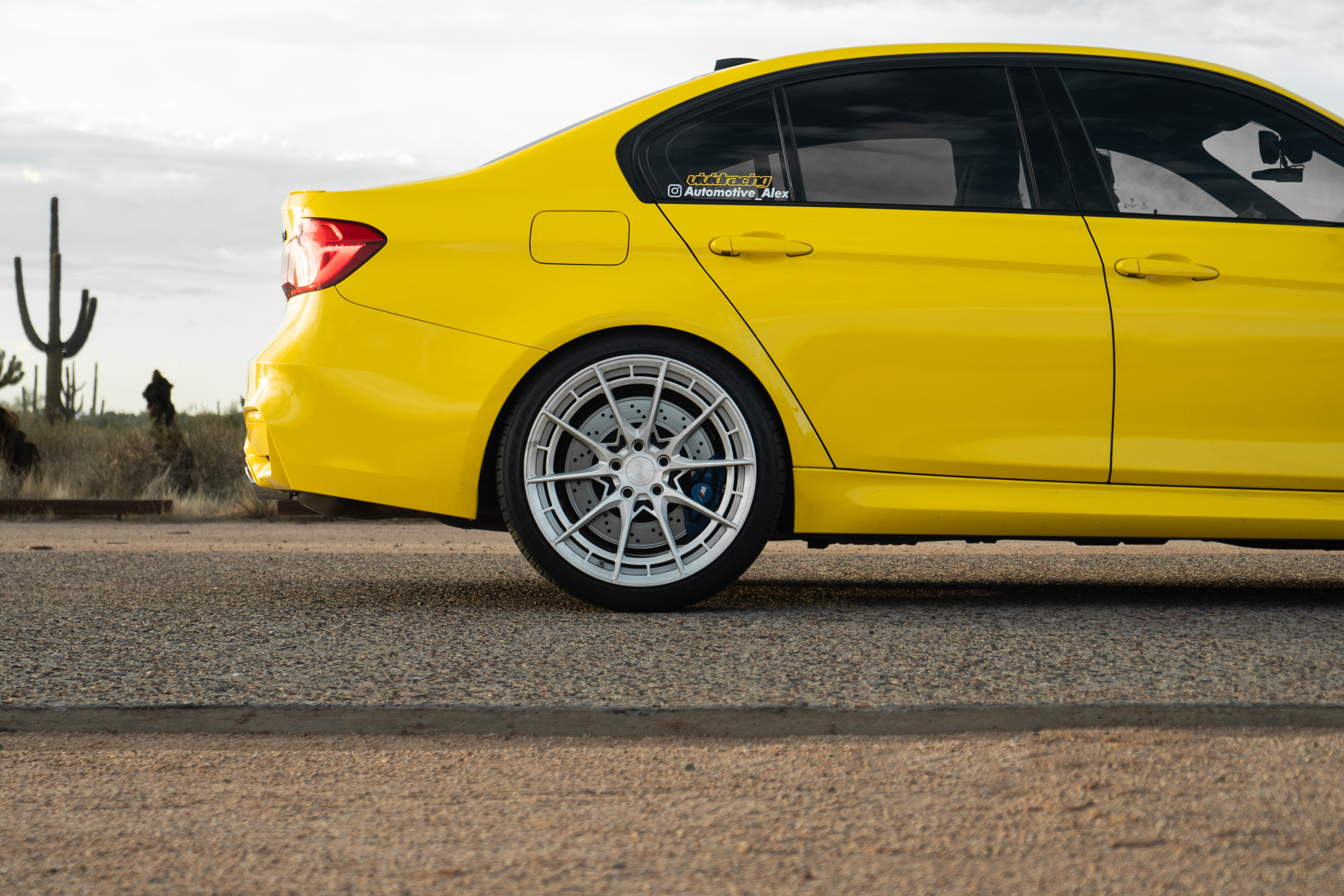 These VR Forged D03-R wheels are available in many different sizes, offsets, and colors to give your car that "Damn, that looks good!" effect that Alex's F80 has.
Color Options:
Matte Black
Brushed
Gunmetal
Stain Bronze
Make your own CUSTOM SET HERE
Check those different color options out
HERE
.