An open truck bed is dangerous and somewhat careless as it leaves your belongings at the mercy of the elements and passersby. The contents as well as the truck bed itself can fade from exposure to the sun, rust from moisture damage, and fall victim to the hands of criminals. That doesn't have to be the case though, as a tonneau cover can protect your belongings from harsh weather and sticky fingers to keep your bed looking its best for longer and give you peace of mind wherever you go. A weathertight bed cover will not only provide a line of defense against the aforementioned, but it can also elevate the rugged appeal of your truck with a streamlined look and OEM-type fit.
With so many different options on the aftermarket ranging from fold-up covers to roll-up covers and retractable ones in soft and hard varieties, it can be quite challenging figuring out which tonneau cover may be best for you. We here at Vivid Racing conducted research to find a list of the top 5 bed covers for your Toyota Tacoma in order to take some of the guesswork out of it. The following five products are in no particular order, but have checked the boxes when it comes to quality, utility, durability, styling, and overall protection. You can also browse our complete inventory of truck bed covers for the Toyota Tacoma right here.
1. Tyger Auto T1 Soft Roll-Up Tonneau Cover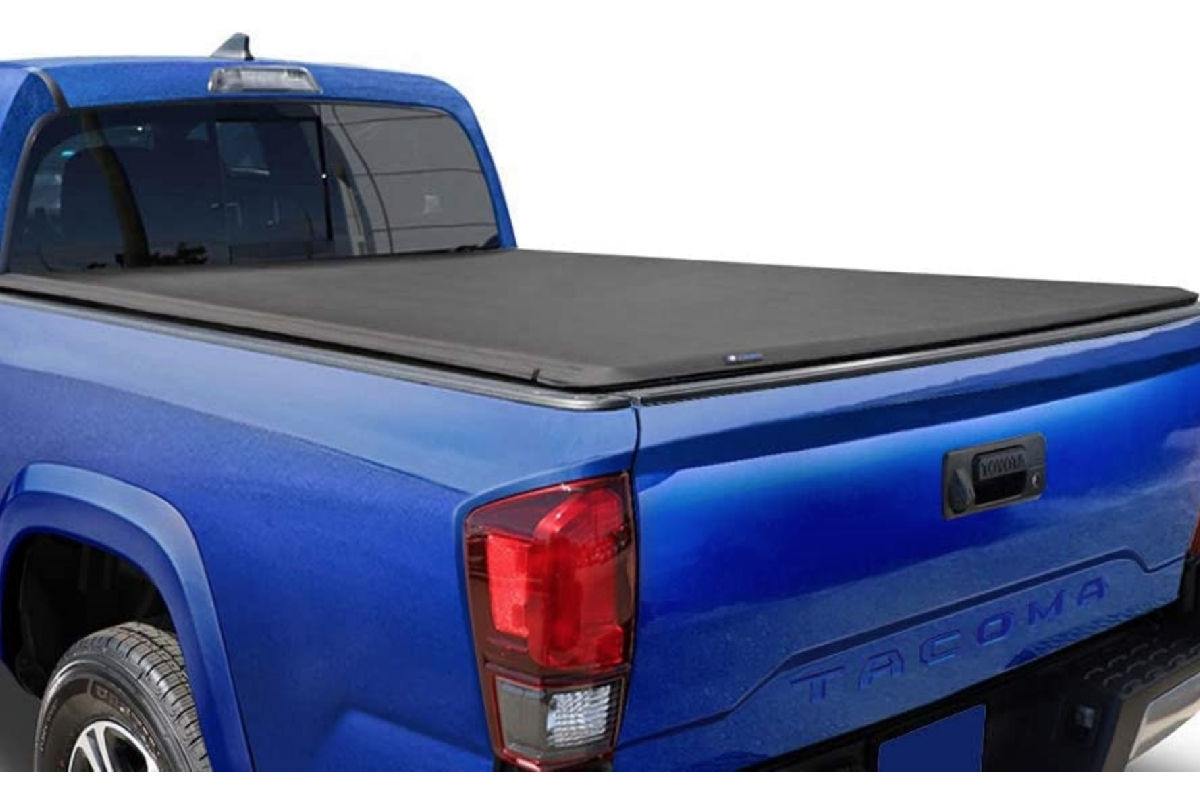 Tyger Auto's T1 Soft Roll-Up Tonneau Cover combines daily utility with clean styling in a complete and affordable package. The cover sits only slightly above the Tacoma truck bed to complement the sleek lines of your pickup for a seamless low-profile look that also increases gas mileage with 13 percent savings! Made from tear-resistant vinyl for longevity, this cover offers superior resistance against wear so you can be sure it will last for years and years. After all, it is guaranteed to withstand exposure to changing temperatures and harsh weather elements like UV rays, rain, and wind to keep it looking grat and performing optimally no matter what.
It comes with heavy-duty rails and crossbars that provide maximum support and strength for a secure fit that will keep all your cargo safe and dry. The adjustable tension and latching system allow you to firmly secure and tighten the cover for added protection. Opening and closing this bed cover is made super simple by way of a quick-release mechanism. Such allows for the Velcro-secured, marine-grade 24-ounce vinyl tarp to be rolled up and locked to the back of the cab to maximize access to the bed. This soft rolling and lockable tonneau cover mounts on top of the Tacoma's bed rails with the ease of a no-drill installation. All necessary hardware and instructions are included in the kit so you can install it in no time.
Features:
U.S. design patented tonneau cover
Made with marine-grade vinyl and aircraft-grade aluminum side rails
Cover is dual-coated for weather resistance and added durability
Seals with Velcro strip on the sides and secures with latch lock system
Tension system can be adjusted on the end of side rails to keep cover tight
Includes stainless steel clamps for mounting to the truck bed
Easy no-drilling installation with mounting hardware/instructions provided

2. Roll-N-Lock M-Series Retractable Tonneau Cover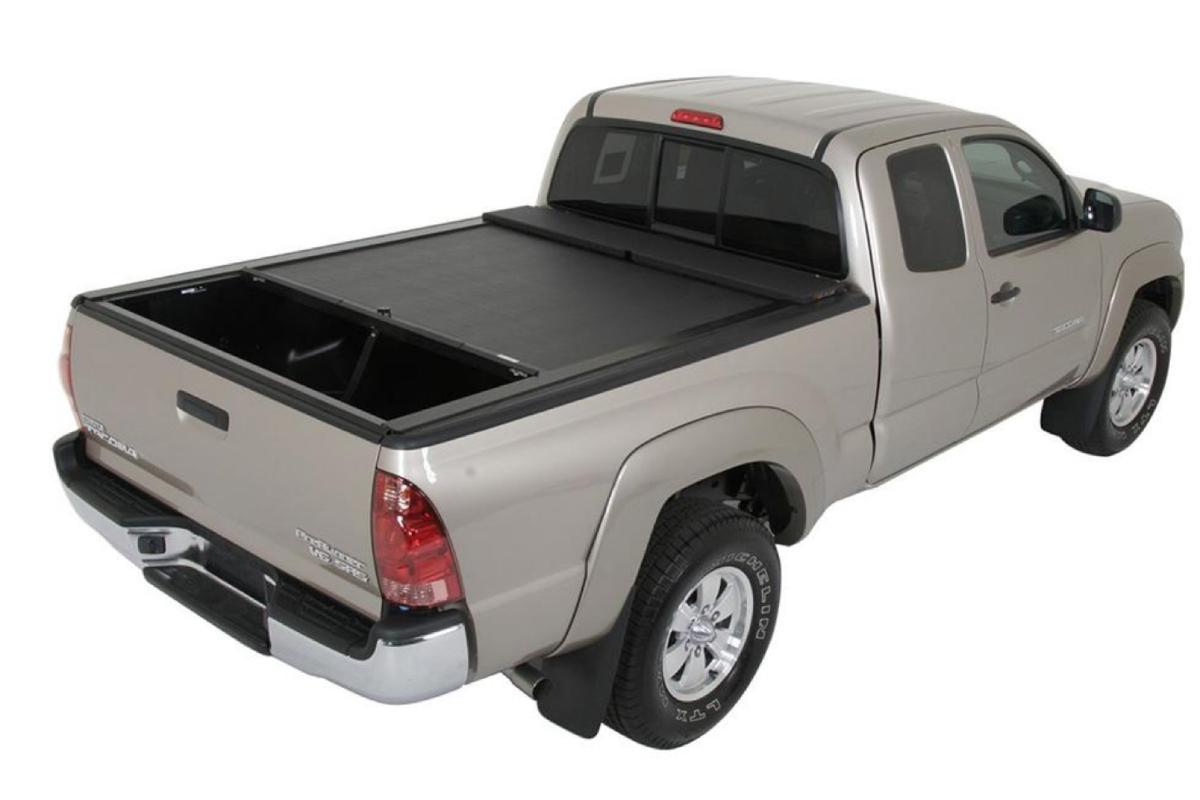 Roll-N-Lock's M-Series, the most advanced retractable bed cover on the market, has redefined the rules for truck bed security. From its retractable function, which allows for opening or closing in seconds, to its rigid, vinyl-over-aluminum laminated construction, this hybrid cover offers everything that the competition does not. There are no snaps to manipulate, no roll to lash down or stow, no crossbars to negotiate, no fabric shrinkage to struggle with, and, best of all, no worries about the security of your cargo. The Roll-N-Lock retractable bed cover is, by far, the most sophisticated and versatile truck bed cover available today.
This tonneau cover is made with heavy-duty aluminum slats that are laminated with premium-grade vinyl to provide high levels of strength. It also integrates a torsion spring for added toughness. In other words, this cover will serve you for years to come and will withstand road and weather abuse to protected and add value to your truck. The M-series is designed with great consideration for various weather conditions and includes a finger insulation grip that keeps your hands cool when operating the cover in high temperatures.
The M-Series tonneau cover provides you the security of a hard cover, the smooth appearance of a soft cover, and the convenience of a retractable cover. Its durable vinyl-over-aluminum hybrid cover design is dedicated to four-season protection and maximum bed security. It tackles durability while being extremely easy to operate with its unique frictionless construction and insulated grip lever. Simply use the key to unlock the cover and start to open it toward the cab as it retracts into its compact canister. The M-Series can open, lock, and close without ever having to open your Tacoma's tailgate and locks in multiple open positions.
Features:
Made with heavy-duty aluminum slats and vinyl
Compact canister design to ensure usage of maximum space
Boosts the security of your cargo and keeps it in place
Multi-dimensional locking system on three sides
Insulated grip to protect your fingers from the heat
Installs quickly and effortlessly with no drilling
Easily opens and closes with rear twist latch

3. ACCESS LOMAX Tri-Fold Tonneau Cover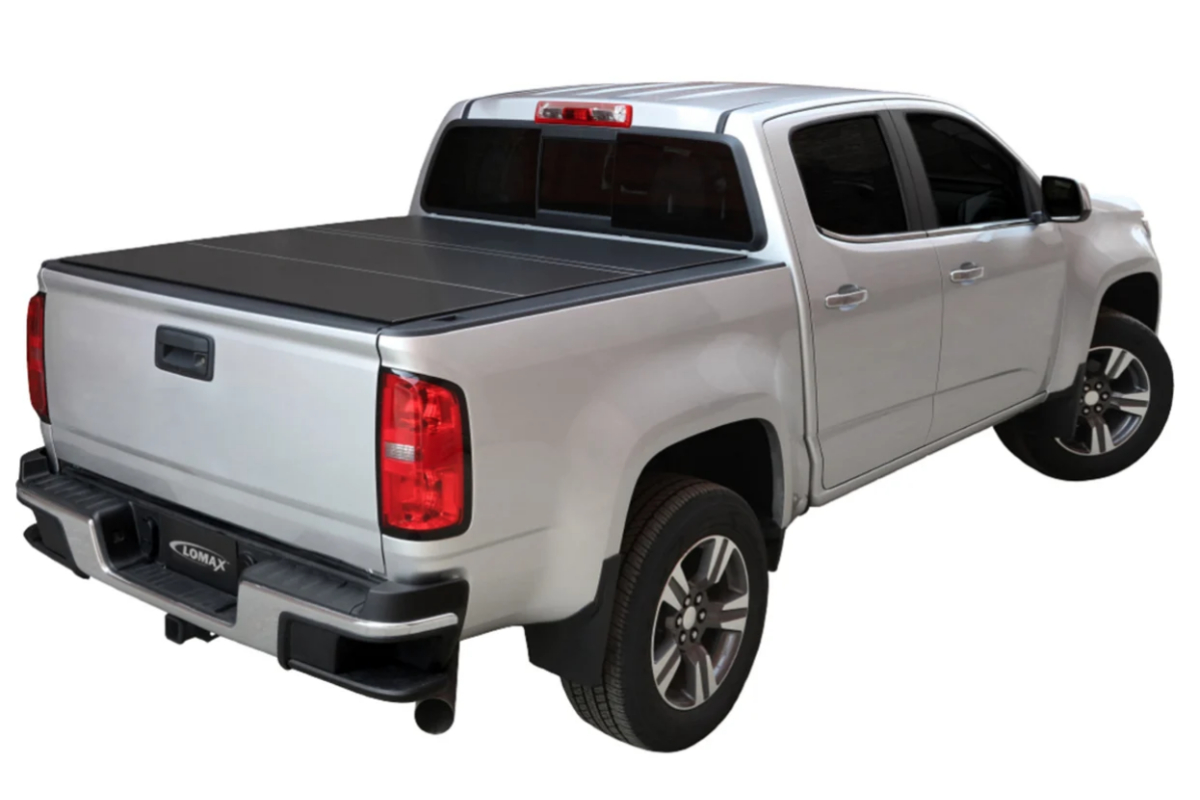 The LOMAX Tri-Fold Tonneau Cover from ACCESS Covers is a low-profile stunner that is ultra-lightweight and easy to operate. This tri-fold cover maximizes your truck's appearance with a sleek design and superior protection against the elements. While it is very light in weight, it is also extremely strong and durable. It was designed for the utmost in strength, styling, and security while also improving your truck's gas mileage.

The LOMAX truck bed cover boasts an easy-to-use operation that is convenient enough for just one person to install and remove. It is equipped with a string latch that can be accessed from either side of the truck bed. The cover can be opened easily by pulling the string to release the latches. A built-in handle is used to return the cover to its closed position. The cover locks at ten points along the bed for superior security. Bolt-on clamps are used to secure the tonneau cover rails to your Tacoma's truck bed. Once the rails are installed, the cover simply locks into place without the need for any drilling.
The LOMAX Hard Tri-Fold Cover uses durable aluminum panels with strong, waterproof hinges. Each panel is manufactured from top-grade aluminum alloy in either the textured matte black finish or diamond plate finish. Extruded aluminum channels support the panels, keeping the hard truck bed cover rigid and reducing its overall weight. More than 90 percent of LOMAX Hard Tri-Fold Covers can be recycled. Water-resistant hinges, rubber seals, and minimal metal-on-metal contact come together to reduce unwanted vibrations and noises for a quieter ride as well.
Features:
Low-profile design
Sleek aluminum construction
Ultra-lightweight and strong
Offers a weathertight seal
Incorporated storage kits
User-friendly operation
Easy to remove and reinstall
Simple installation process

4. BAK Industries Revolver X2 Rolling Tonneau Cover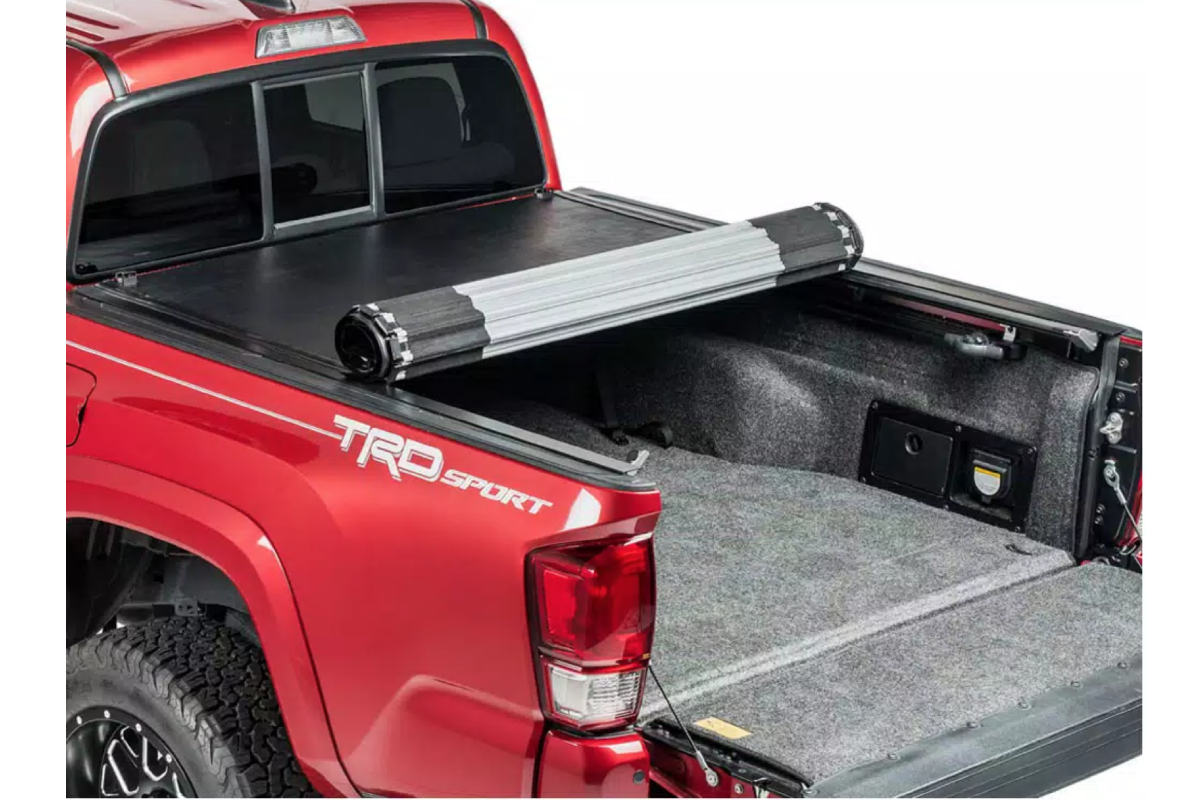 The BAK Revolver X2 Roll-Up truck bed cover does it all with unrivaled strength, security, and styling. This tonneau cover offers more flexibility than paneled hard tonneaus as it allows you to roll the cover up and use every inch of the bed without blocking your rear window. This is an important feature as driving with your tonneau cover rolled up could be a hazard for your rear windshield. For this reason, BAK provides four D-shaped cab bumpers that are stuck to the cover when it is rolled up. They prevent the cover from bumping against your windshield and damaging it.
This hard roll-up tonneau features hinged, ¼-inch thick rust-proof slats made from aircraft-grade aluminum with a black powder-coated finish. Matte black rubber and bulkhead seals keep the rain out and secure your belongings from nasty weather, while the premium vinyl finish keeps water from running through the aluminum slates. This cover has exclusive automatic rotational locking rails that secure the cover the entire length of the bed on each side. The automatic Patented Slam Latch system at the tailgate fastens the Revolver X2 along the length of your Tacoma bed to keep your cargo safe.
The Revolver X2 truck bed cover easily rolls up with one-handed operation and can carry up to 400 pounds of evenly distributed weight. To open, simply pull the hand release that is aligned with the Slam Latch system from either side. Underneath, there is an attached felt material to provide a soft and cool spot for your hands to operate the cover to keep them safeguarded from the rolling aluminum. Aluminum clamps hold the frame rails snug to the truck bed with mounting plates and secure bolts. Best of all, there is no drilling needed to install this tonneau cover.
Features:
Constructed of aluminum slats with vinyl overlay
Patented rotational locking rails
Side rail seals with a smooth flat design
Rear Corner Caps for a more refined appearance
Felt Replacement Cap System
Integrated Bulkhead Seal for superior sealing
Operate from either side with an automatic slam latch
Works with most 5th wheel hitches
Can hold 400 lbs of evenly distributed weight
Durable Safety Straps and buckles to secure cover when open

5. Extang Solid Fold 2.0 Hard Tonneau Cover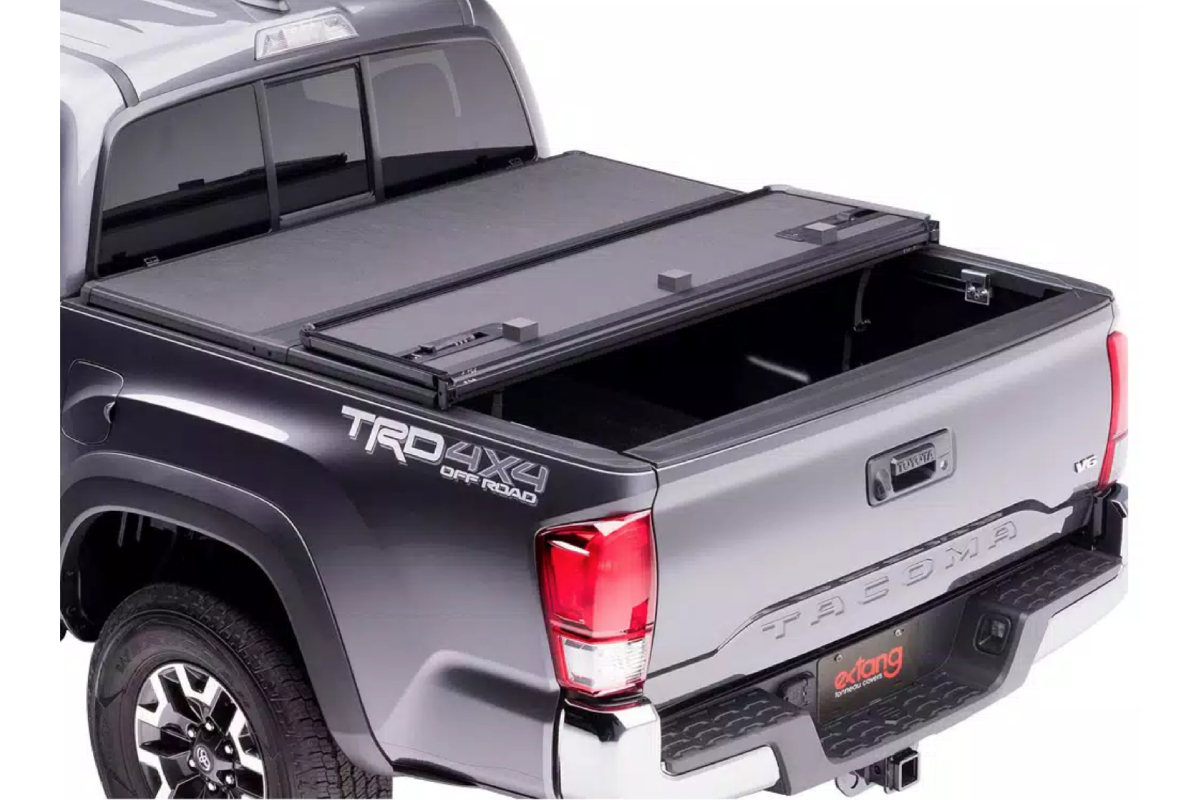 The Extang Solid Fold 2.0 Tonneau Cover is the brand's latest generation of hard tri-fold truck bed covers with new design elements that you simply will not find anywhere else. The Solid Fold 2.0 includes Extang's exclusive, patented Jaw-Grip and EZ-Lock clamps with 1-inch thick EnduraShield panels, and integrated corner and hinge seals. What's more, revolutionary snap-on perimeter seals further protect your Tacoma's bed from the elements to keep it looking and working like new for years to come.
The Solid Fold 2.0's EnduraShield panels feature an automotive-grade polymer that resists dents, scratches, and harmful UV rays better than aluminum or fiberglass panels. The matte black textured finish not only looks rugged and aggressive, but also proves to be highly durable. Extang's professionally engineered aluminum frame and hinges are also powder coated to match your truck's bed caps for a more integrated appearance with incredible protection from unwanted wear.
The Solid Fold 2.0 comes fully assembled out of the box and installs in just seconds. Extang's cab clamps attach directly to your Tacoma's bed flanges without any damage or alteration to your bed caps. On top of that, this package includes a re-engineered patented EZ-Lock Clamp that requires minimal effort to operate and self-locks in position for added security.
Features:
Lightweight, 1-inch thick EnduraShield panels
Weight rating of 600 lbs evenly distributed
Matte black textured finish for added durability
Offers that OEM look for a streamlined appearance
Ultra-resistant against harsh weather conditions
Re-engineered patented EZ-Lock Clamp
Easy to operate and self-locks in position