A winch is a device used for hauling or lifting; it's made up of a rope, cable, or chain wound around a horizontal rotating drum and turned by a crank or motor. A winch is something you don't necessarily need until you really need one. Having one ready to go, though, can alleviate a lot of stress when the time comes to use it. Whether you or someone you know gets stuck in the mud, is moving game, or getting branches out of the way, a winch is highly useful and a must-have for UTV or side-by-side owners. When exploring the off-roads and coming in contact with foreign obstacles and tricky terrain, a winch can really help you and your buddies enjoy it to the fullest without worrying about the possibility of getting stuck.
A winch is used for a lot more than just getting you out when you are in a rut. It is one of those versatile things that spring into action when you least expect it and come in handy more often than you even imagine. So you will probably be using it for everything from self-recovery to helping a neighbor with a fallen tree, and making some extra cash plowing around the wintertime. A winch is also good insurance for your UTV because it can really save you when you're in a less-than-desirable situation.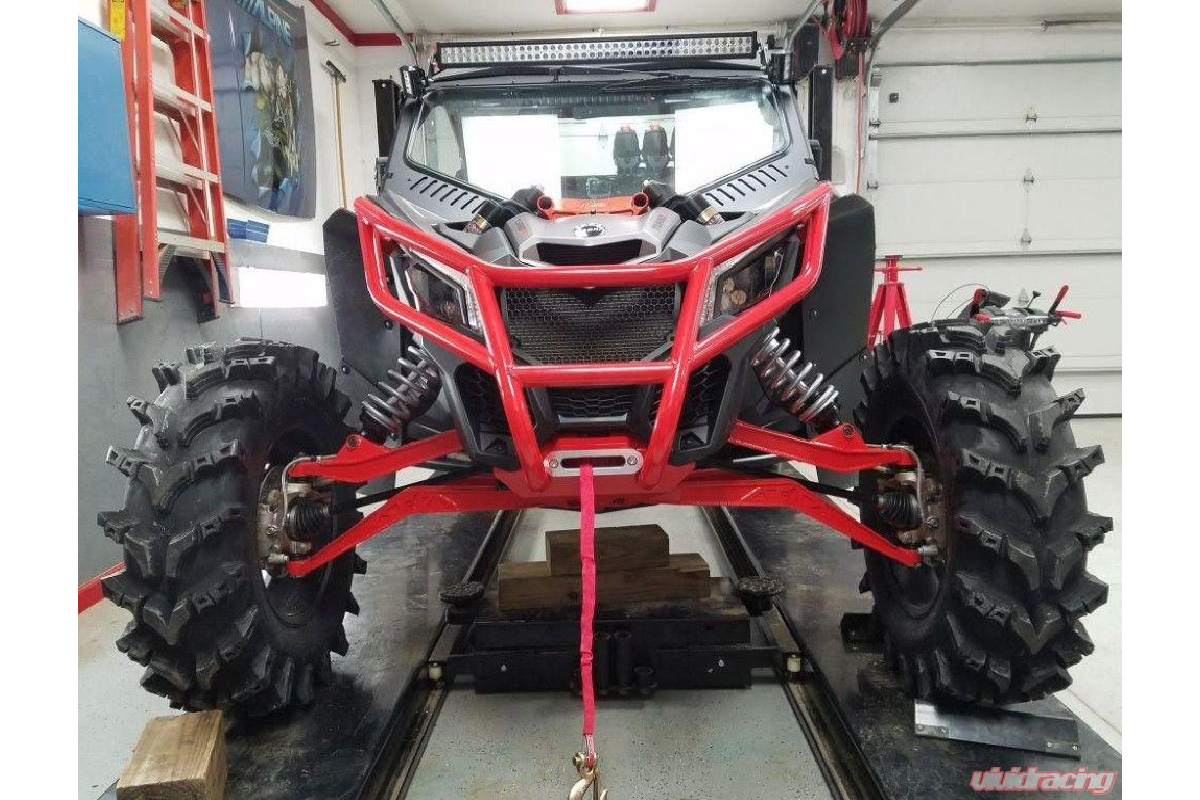 Winch Components
Below, we will go over the different winch parts you can or may need to buy along with a full winch kit that includes all of the pieces for the best experience possible.
Winch Mounting Plate: Before purchasing a winch, you need to think about how you will mount it to your UTV. Most of them do not have a place on the frame to mount a winch and a winch without a mount won't be very useful so a mounting plate will be crucial. Most brands of mounting plates are universal and will fit most brands of winches. You do, however, need to ensure that the mounting plate is made to fit your specific make and model of UTV and rated to handle the line pull capacity of the winch you plan to use. And, the two different width winch drums (short and wide) should mostly conform to the two mounting bolt patterns (standard and wide). The maximum size of a winch can sometimes depend upon the mounting plate available for your vehicle and what it can accommodate. On top of all that, it's important to note that not all mounting plates will work with the stock UTV bumper. The aftermarket, though, does offer customized bumpers and mounting plates all in one package to make life a bit easier.
Short or Wide Drum: The difference between a short and wide drum is the latter will hold a bit more line over the former. The extra line on a wide drum could let you reach an anchor point with your hook that could have been out of reach with the shorter one. The biggest advantage of a wide drum, though, is it lets you winch a few more wraps of line across the bottom of the winch drum where most of the pulling power can be found. Short drums are mostly used where space is limited as some machines do not have the room to accommodate wide drums.
Fairleads: A fairlead helps to guide the cable onto the winch drum. When pulling off at different angles, this part will keep the cable from riding up and over the drum or wrapping around other parts of the winch. Fairleads come in two different styles: roller or hawse. Steel cables are typically used with steel roller fairleads so that it reels in smooth under loads at different angles without any digging into anything. Hawse fairleads are used with synthetic rope and are usually made of aluminum. They have rounded, smooth edges to guide the rope in without abrasion and have no creases for the rope to get snagged.
Winch Brakes:

The two types of winch brakes available are dynamic and mechanical. A dynamic brake uses the gear system in the winch for resistance to automatically keep the drum from moving. A mechanical brake, on the other hand, actually locks the drum. Both systems can are suitable for a UTV winch; though, a mechanical brake is less likely to slip when holding a load.

Winch Remote: Instead of having a winch with a remote control switch mounted to your UTV, there are wired/wireless remote options that allow you to operate the winch at a safe distance from the vehicle.
Waterproof Winch: Not all winches are created equal and not all winches can stand up to the harsh elements of off-roading. When conducting your search, take into consideration what you will be using it for and where you will be riding. Understanding the elements that your UTV is bound to encounter will let you choose the better option for your machine. After all, you do not want a winch that will get corroded with water, dust, sand, or dirt. If those elements work their way into your winch, it could create a less-than-ideal situation when you are counting on it most. Therefore, look into a winch that has at least an IP-67 waterproof rating or even an IP-68 rating with corrosion-resistant paint and hardware.
Winch Kit: A complete winch kit is great to look into if you are looking to add some extra accessories that would provide added benefits to merely having a winch. A winching recovery kit, for example, could include a tree protector, D-ring, snatch block, gloves, and carry bag. A tree protector wraps around a tree to give you something to connect your winch hook to and protects the tree bark as well. A snatch block allows you to do a double-line pull to increase the winch pulling capacity by almost twice. The D-ring gives you the ability to attach the winch hook to an ideal recovery point. And the gloves and carry bag are cool goodies that protect your hands and the product itself.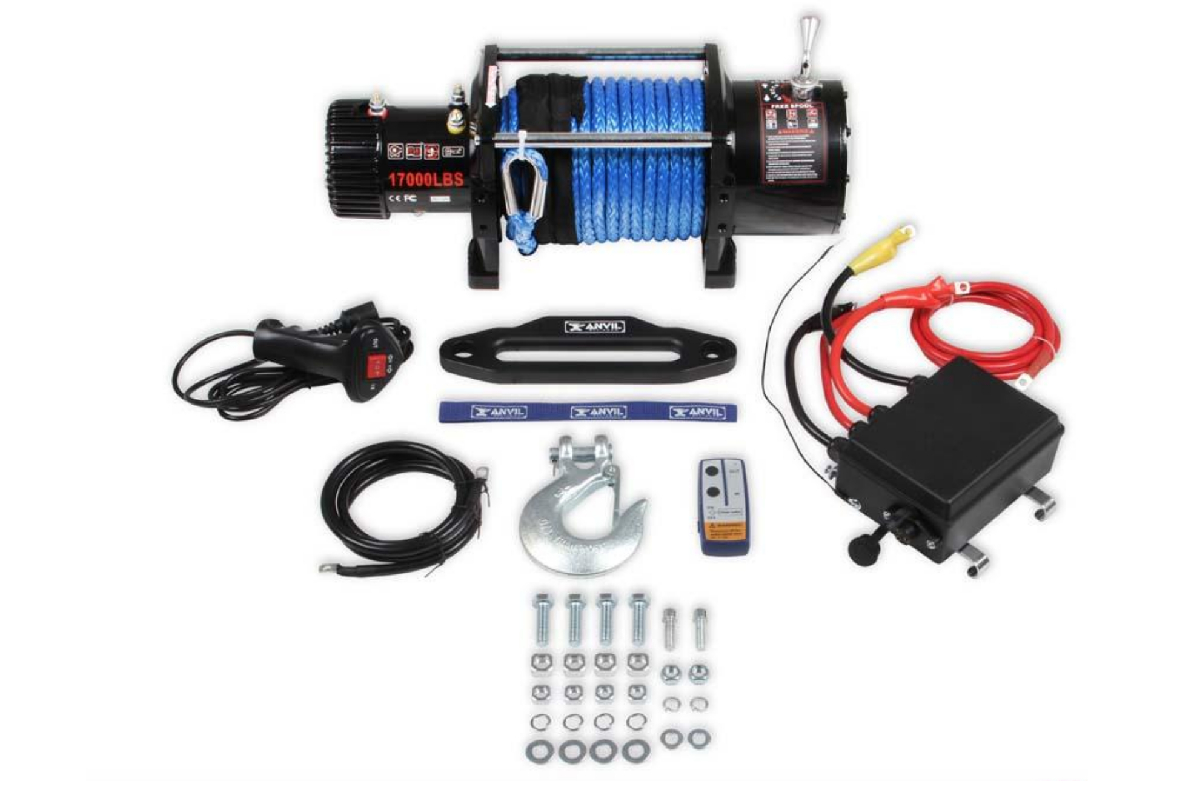 Things To Consider
When buying a winch for a UTV, there are some important considerations to keep in mind to help you find the right setup for your needs and budget. Having the right winch can make the difference between a fun ride and a more difficult or even dangerous one.
Purpose: Winches can be used for a number of different things, including hauling loads and getting vehicles unstuck. Before buying a winch, it's important to think of how it will be used and in what scenarios. Understanding where and when you will be using your winch will help you decide the next few factors as well.
Weight Capacity: When it comes to UTV winches, it is crucial to consider how much weight they can pull. Heavy vehicles should be equipped with 4000-pound or heavier winches, but lighter UTVs can successfully use models that have below 3500-pound pulling power.
Cable Composition: UTV winches utilize cables made from either synthetic rope or metal wire; both types have advantages and disadvantages. The former, however, is more lightweight and safer to handle without getting cuts (use gloves anyway). Choosing the right cable will help you get the most out of any winch you choose. Steel cables are typically best suited for utility-type work, where you would be winching in more abrasive situations. Synthetic rope is a better choice if you are handling your rope a lot.
Mounting: Since winches apply tremendous amounts of pressure and stress to a UTV frame, mounting equipment is a vital factor. To use a winch safely and securely, you will need to find the right mounting hardware. Think of it as a winch is only as strong as its mount plate. You can choose to mount the winch to the front or rear of your machine, depending on what you will be doing.
Budget: The cost of a winch is another thing to keep in mind when shopping for one. Different makes and models are available at varying price points as a result of their respective weight ratings and cable composition. By choosing the right balance between price and pulling power, you cannot go wrong.
Conclusion
Winches are an essential part of any offroading machine to help get you out of sticky situations (no pun intended) without overexerting or overstressing. While UTVs are versatile enough to go from long workdays to extreme fun weekends, they can still use some help from time to time. No matter how big and powerful your UTV is, chances are that you will get into a jam at some point or another. Not only can a high-quality winch get you unstuck, but it can also serve other useful purposes when you are out on the job site or trails. Finding the right winch requires a bit of research and careful consideration of numerous factors which we have gone over above.
Whether you are a new or seasoned UTV owner, choosing the right winch can be daunting. With the recommendations and tips in this buyer's guide, we hope that it will be easier for you to find the winch for your UTV. Need more clarification? In the video below, we go over the purpose of a winch, the instances in which you would need one, popular manufacturers, and how to mount one to your machine. Should you have any further questions, feel free to reach out to us by phone at 1-480-966-3040 or via email at sales@vividracing.com.
Featured Products: