Attention all overlanders and adventure seekers, Vivid Racing is pleased to announce that we now carry ORIS Skottle products and other accessories. For those who may not be familiar with the term "Skottle", it has a very interesting origin. Many of us are familiar with the regular grills, correct? That being said, the Skottle is actually gaining traction and earning well-deserved recognition since it was first discovered in South Africa. It has since been tagged a South African cooking utensil and it's a very interesting system with great benefits.
In short, a Skottle is a seasoned frying pan that has no side walls but features a slightly concaved shape to prevent your food from rolling off, and it is usually mounted on a tripod. If you have never tried this type of cooking before, get yourself this utensil and let the Skottle become your very own lifesaver whether you are out camping or trying to come up with something unique for a family holiday dinner. It's super easy to clean, fun to use, and viable for big groups, so you will be the hit at your next event. Whether you heard of it or not, one thing is for sure: the Skottle is quickly becoming a camp kitchen staple. Don't get left out! Get one today!
Made from heavy-gauge steel the, ORIS stand is made right here in the USA. The stand will support up to 150 pounds for all your cooking needs. Looking to cook a big pot of chili for all your friends? No problem. The ORIS has you covered. Even firing up some stir-fry on the Skottle is an easy task for its cast iron cooking surface. We also carry additional parts from ORIS, including cast iron cleaning brushes, bamboo spatulas, wind guards, high-altitude burners, Skottle lids and stands, storage bags, adapter hoses, and more!
Installation is simple, cleaning is easy, and storage is seamless. Remove the 17″ cast iron Skottle attachment with 3 thumb screws and no other tools are required. The cowboy wok or Skottle can be used for many different cooking tasks and tastes. Eggs and bacon in the morning or chicken fried rice at night. Whatever you can cook at home, you can cook on the ORIS cooking system right in the fresh outdoors.
ORIS is a complete cooking system that is fully portable. The brand has made these products, and a number of accessories, for the serious camping enthusiast looking for a high-quality solution to all their cooking needs. At camp, on the trail, or on the patio, ORIS is all you need to make almost anything you can think of. It is a cast-iron Skottle and multi-use stand that will transform your food adventures, camping trips, and overall Overlander lifestyle.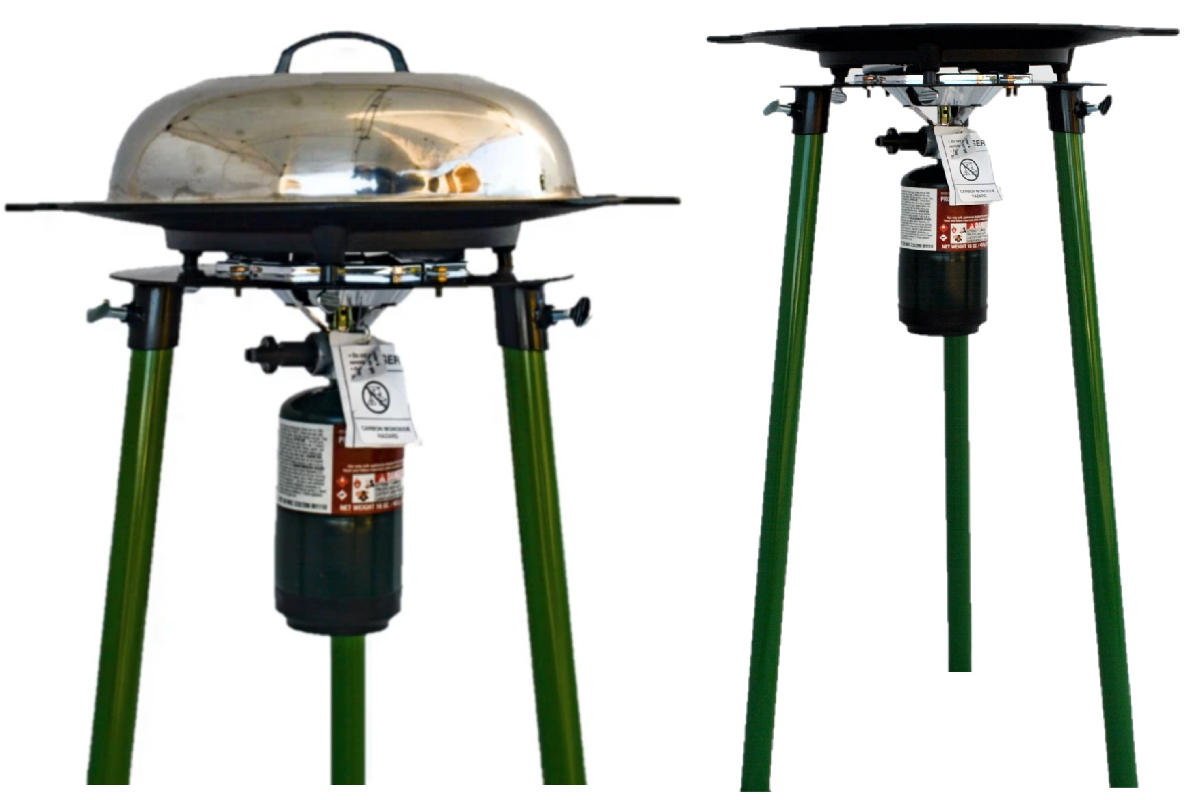 ORIS Cooking Kit Features:
17″ Removable Cast Iron cooking surface
Single burner 10,000 BTU
Stands 32″ tall
Removable legs for easy transportation
Heavy Duty all-steel stand construction
Powder-coated for durability
Interchangeable cooking surfaces
Boil water for coffee or cook eggs all on one platform
Made in the USA
Includes ORIS stand, single burner, and Skottle attachment
Propane bottle is NOT included
If you have any questions, please do not hesitate to contact the Vivid Racing team. You can reach us by phone at 1-480-966-3040 or via email at sales@vividracing.com.