Description:

Fujitsubo's spirit is to "produce the highest quality products". This has not changed since Fujitsubo was first established in 1931. This spirit does not only pertain to creating highly efficient and high quality exhausts and manifolds, but it also applies to our customer's satisfaction. This is the reason Research and development is performed with people, motor vehicles, society, environment etc, all thought as one, to create a product through diversity.

Fujitsubo is continuously pursuing advanced technologies. A chassis dynometer, 1/3 octave band sound analysis device, and other specialized equipment are utilized to accumulate important data from the latest technologies. Increased productivity through advanced 3D laser processing machines and automated pipe benders. Strict quality control with CCD cameras, image analysis software, and 3D CAD. Cumulative performance analysis through actual vehicle testing. This type of research, development, and production structure has led to the Fujitsubo patented exhaust manifold (Pat. No. 1320379).

Features:
Order production
Exit shape:90 round O Straight
Pipe diameter:50.8
Minimum ground clearance:Roof height 1616mm (car verification 1610mm) measured in the car, 307mm at the rear muffler front
Intermediate acceleration:Stock: 4.5 seconds - Fujitsubo: 4.5 seconds
Maximum output:Stock: 98.6kw (134.1ps) / 4860rpm - Fujitsubo: 99.9kw (135.9ps) / 4860rpm
Maximum torque:Stock: 219.5Nm (22.4kgm) / 4200rpm - Fujitsubo: 221.5Nm (22.6kgm) / 4200rpm
Weight:Stock: 11.4kg - Fujitsubo: 8.5kg
Volume idling:Stock: 55dB - Fujitsubo: 59dB
Middle RPM Sound:Stock: 70dB - Fujitsubo: 69dB
High RPM Sound:Stock: 77dB - Fujitsubo: 75dB
Mid RPM Acceleration Sound:Stock: 80dB - Fujitsubo: 95dB
Fitment:
Mitsubishi RVR 1.8 2010-2012
Note:
Images are for illustration purpose only. Actual product may vary.
Proposition 65

WARNING: Cancer and Reproductive Harm
Make

Vehicle

Model
Submodel
Year
Engine
Notes
2010-2012
Mitsubishi RVR


RVR
2010-2012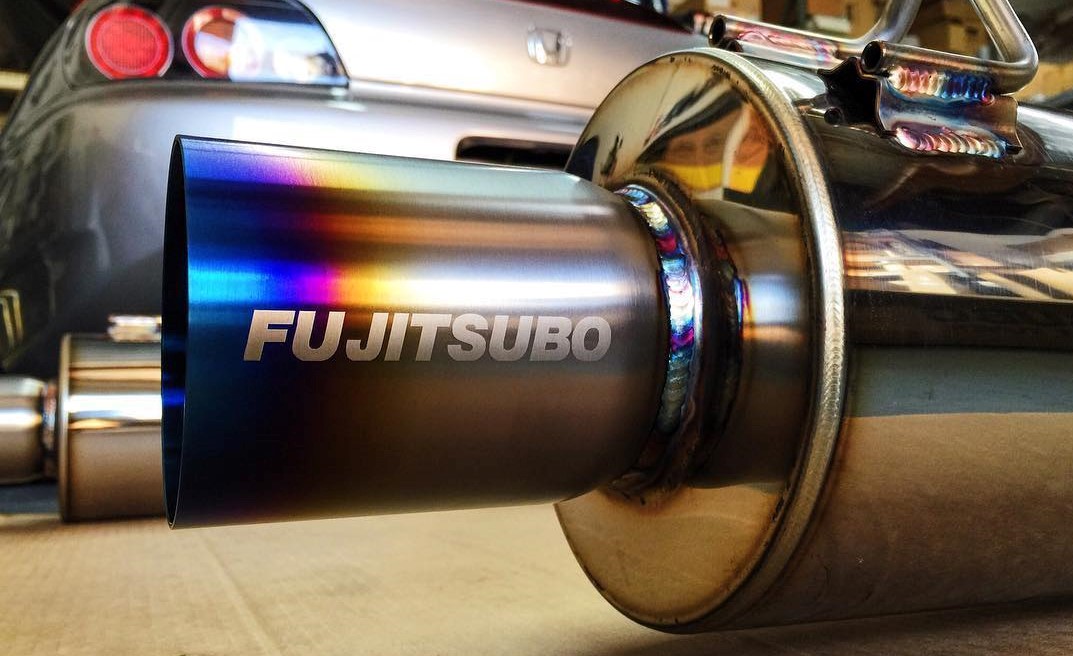 Who Is Fujitsubo?
FUJITSUBO was started in 1937 and is one of the most renowned Japanese exhaust manufacturers. They're best known for outstanding power output, manufacturing quality, and sustainability on the markets. Therefore, all products are built with the highest quality and carefully checked to ensure optimal performance while preserving an acceptable level of sound through continuous research and development at its ISO accredited manufacturing plant. The Japan Automotive Safety Regulation enacted on all Fujitsubo products.
Why Choose Fujitsubo Exhaust?
Fujitsubo produces the strongest and lighter steel in Japan, bending, cutting, and welding its products, and the finished product gives rivals around the world the leading edge. The naming of Fujitsubo is possibly familiar to those who spent time in Japanese performance vehicles. For those who don't know, for virtually every Japanese car that has ever rolled off a production line Fujitsubo has designed a high-performance exhaust.
In pursuit of a new exhaust system to optimize project efficiency Fujitsubo has been the first name to be used by the clients. They are also known for simple power improvements, but it is at the top of any change to update the stock cast manifold to a proper header
Fujitsubo Exhaust at Vivid Racing
You can contact Vivid Racing today by calling (480) 966-3040 if you are interested in learning more about Fujitsubo or wish to make the order.