Bilstein B6 Performance dampers are a performance upgrade to OE dampers designed to be paired with the OE factory spring. These dampers offer application specific valve settings with a monotube design to bring out the best handling performance of a vehicle. Each damper is rigorously tested for quality that meets or exceeds OE standards. B6 Performance dampers will provide improved safety and handling performance with the added benefit of world-famous Bilstein quality.
36mm Monotube Shock Absorber
Features
Title: Bilstein Shock Absorbers
Upper Mount Type: Stem
Finish: Yellow Paint
Lower Mount Type: Eye 10.4mm
Internal Design: Monotube
Series: B6 Performance
California Proposition 65: WARNING: Cancer & Reproductive Harm - www.P65Warnings.ca.gov
Boot Included: Black Straight
Notes:
You may need to order more than one of this item for your car. Please consult the table below.
Fits position: Front
Proposition 65

WARNING: Cancer and Reproductive Harm
Make

Vehicle

Model
Submodel
Year
Engine
Notes
1998-2003
Mercedes-Benz CLK320
Base

CLK320
Base
1998-2003
1999-2003
Mercedes-Benz CLK430
Base

CLK430
Base
1999-2003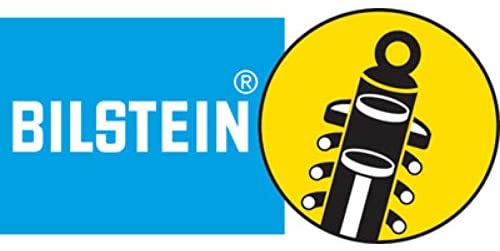 Bilstein Suspension
To put it simply, BILSTEIN Suspension is a manufacturer of both monotube and conventional design gas-pressure shock absorbers and struts for a wide array of applications ranging from street to Formula 1 vehicles. BILSTEIN has everything you need to improve your car's ride quality with a difference you'll immediately feel!
From Past to Present
BILSTEIN boasts a history of over 140 years, founded back in 1873 by August Bilstein. From its humble beginnings in the business of window fittings, nobody expected BILSTEIN to become the household name it is today, boasting a massive influence on road safety and driving comfort.
BILSTEIN's history is filled with numerous victories, manufacturing breakthroughs, and production milestones that helped it become the leader it is today. Since its inception, BILSTEIN has developed quality struts, coilovers, shock absorbers, and air systems for nearly every vehicle on the market.
To this day, the demands of BILSTEIN's customers in the automotive and tuning industries, combined with its commitment to motorsports, are what drive the brand's development and innovation. All AMG Mercedes in the DTM and over half of the teams in the 24-hour race on the Nurburgring approach the starting line with BILSTEIN accessories, and for good reason.
Noteworthy Accomplishments
For many decades, the name BILSTEIN has been closely associated with high technology in the field of suspension design, driving comfort, and safety. In order to expand this position in the future, BILSTEIN became a division of ThyssenKrupp Technologies AG in 1988, and a wholly-owned subsidiary in 2005. The partnership and co-operation within the group would enable the company to continue to inspire with innovations in the traditional BILSTEIN way.
Gas pressure technology is now used in all types of telescope shock absorbers developed for use on powerful, high-class cars. The latest highlight is the development of the air spring module that BILSTEIN supplies "just in sequence" to the Mercedes S-Class production line.
In order to achieve such an ambitious target, tremendous effort went into development, accompanied by substantial investment in the necessary production facilities. And it paid off. The introduction of the first mono-tube gas pressure shock absorber in a standard production Mercedes-Benz vehicle in 1957 is still considered a major contribution to active driving safety today.
Upgrade to BILSTEIN Suspension Today
Vivid Racing carries an extensive inventory of suspension products from BILSTEIN, including air suspension struts, coilovers, lift kits, steering components, springs, shocks, sway bars, and much more! If you cannot find a particular part above, please do not hesitate to call our specialized sales team at (480) 966-3040.
6. Warranty Claim
6.1 The regulations as stipulated in the German Civil Code, as far as no other agreements have been made. If the contract conditions are meant shall be judged at time of risk transfer. In case of production according to the drawing submitted by the Customer we shall only be liable for the parts to be made in accordance with the drawing and not for their function. A guarantee is only granted if expressed by our legal representative, handed over in writing and identified as such. The warranty period shall be to 24 months after the risk has been transferred.
6.2 The Customer shall inspect the goods in accordance with § 377 HGB (German Commercial Code) and without delay give notification of any defects that are discovered
6.3 We must be given the opportunity to examine the notified defects. If defects are discovered and notified in time, at our discretion, the parts will either be reworked our replaced by us. If we fail to comply with our warranty commitments or fail to meet them in accordance with the contract, the Customer shall be entitled to rescission or to claim a reduction in price. Further claims are excluded, except for the claims set out in Section 9. Customer claims for other necessary expenditures, especially for transport, traveling, labour, and material costs are unacceptable, if the costs increase due to any alterations with regard to the place of destination which are not relevant to contract.
6.4 As long as the parts supplied by us are directly or indirectly delivered from our immediate Customer to his final Customer, instead of sections 6.1 to 6.3, the legal regulations will apply. We shall, however, be liable for damage claims only as set out in section 9.
9. Compensation, Liability
9.1 The Customer shall bear the responsibility for the proper design including observation of any safety regulations, selection of the material and necessary testing procedures, accuracy and completeness, supply regulations and for the documents and drawings that have been handed over and any facilities and parts provided to carry out the work even if changes are suggested by us which meet his approval. The Customer shall also be responsible for ensuring that information that he has provided does not infringe industrial property rights or other third-party rights.
9.2 The Customer shall indemnify us against any claims for compensation asserted against us by a third party which originate within the Customer's spheres of responsibility.
9.3 We shall only be liable to pay compensation for infringement of contractual, non-contractual or other advisory or other ancillary obligations
in a case of intent,
in a case of gross negligence on the part of executive bodies and accomplices,
when and if a guarantee declaration has been explicitly confirmed by an executive body in writing,
where a claim can be declared, based on the German Product Liability Act.
in the case of culpable infringement of essential contractual duties, restricted to typical losses which were foreseeable when the contract was signed.
where lives are harmed, in body or health, in a case of intent or negligence by executive bodies and accomplices.
Warranty Information
Click to view the Warranty Information here
Installation Instructions
Click to view the Installation Instructions here