The Blue Oval deems its all-new 2020 Shelby GT500 to be the most powerful and fastest street-legal Ford in history as well as the most advanced Mustang to ever hit the street, drag strip, or track. And while the car was expertly designed in the aerodynamics department to strategically increase downforce and thermal management, the aftermarket still offers plenty of body components to improve the looks of your Mustang while maintaining optimal performance and handling. One such brand that offers these products is Anderson Composites. Located in the heart of Southern California, Anderson Composites specializes in carbon fiber body panels for late-model muscle cars with a primary focus on quality to deliver the best of form and function. Each Anderson Composites aero piece boasts performance advantages like weight savings, enhanced cooling, and improved aerodynamics.
Anderson Composites is proud to announce the release of its new Type-TPF Carbon Fiber Track Pack Fenders for the 2020-2021 Ford Mustang Shelby GT500. These new carbon fiber vented fenders were designed to release unwanted hot air from the brake location for enhanced performance benefits. The new design spotlights a semi-arched opening toward the top of the wheel well with a removable screen mesh. The molded vent was designed to work flawlessly with the Shelby GT500's body lines. It also adds to more heat extraction when used with the factory vented hood. The additional heat extraction translates to improved braking capability making it even more ideal for the track.
The Anderson Composites GT500 fenders are crafted from high-quality 3k, 2×2 carbon fiber twill fabric and high-grade marine resin with UV inhibitors. The vacuum infusion process used to manufacture these pieces provides the best fabric-to-resin ratio in order to deliver the best fitment and finish possible. These carbon fiber fenders have great show-quality looks with a high-luster finish and are also about five pounds lighter than the stock fenders!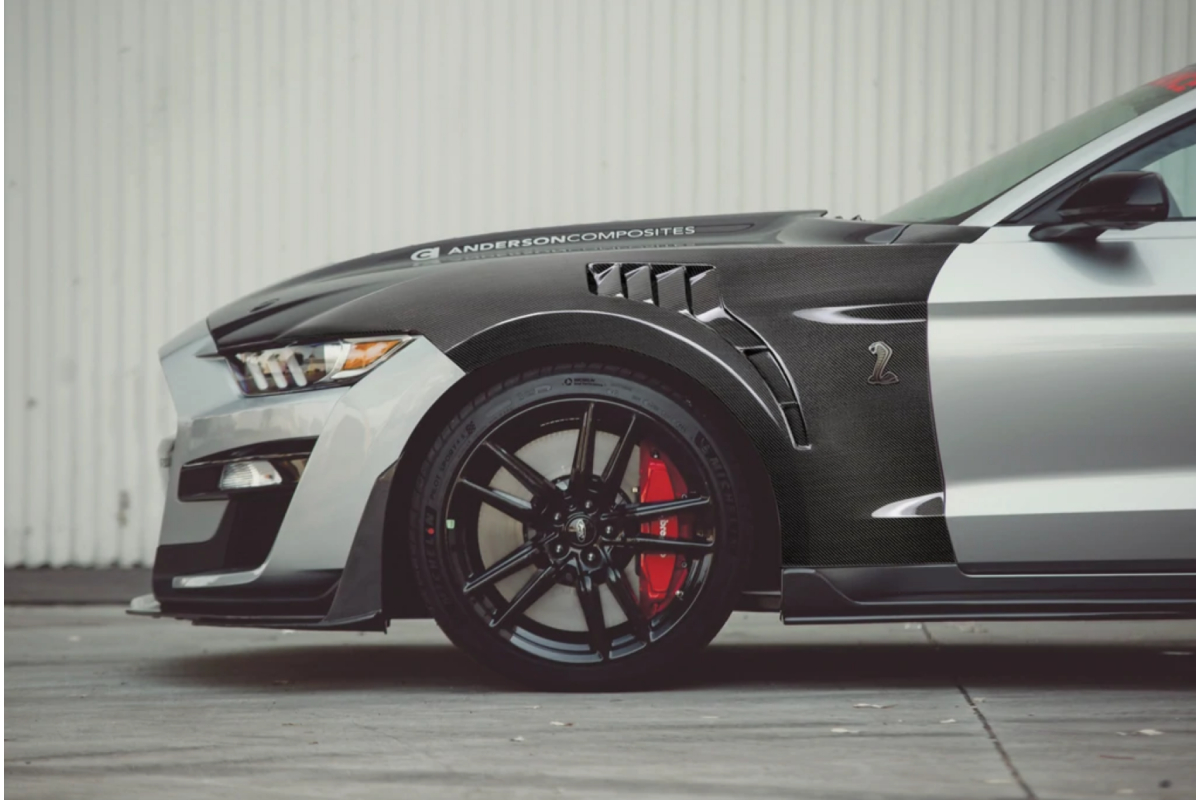 Features:
Fender Vents Release Hot Air From Brakes, Great For Track Days.
Requires Fender Liners To Be Trimmed To Be Functional.
Vacuum Infused Process With 3k, 2×2 Twill Carbon Fiber Cloth, Gloss Finish.
Each fender weighs approximately 5.05 lbs. (OE fender weighs 10.8 lbs.)
Mounting Tabs May Require Modifications For Correct Fitment.
Minor Adjustments May Be Necessary As Part Of Normal Installation Process.
Fitment:
2020-2021 Ford Mustang Shelby GT500

If you have any questions about parts for the GT500, please do not hesitate to contact us. You can reach us by phone at 1-480-966-3040 or via email at sales@vividracing.com.