Essex is pleased to announce the release of its new AP Racing 2-Piece J Hook Discs for the Porsche 991 GT3 OEM calipers. AP Racing J Hook Discs are the epitome of endurance racing components and hold up extremely well to any abuse you plan to throw their way. These discs have been proven time and time again in professional racing, winning many races and championships like ALMS, Rolex, and Grand-Am. These discs are made by the most trusted choice in professional and amateur motorsports to help you lower temperatures, weight, and lap times. And when you do the math, the long-term value of the AP J Hooks is tough to beat. With this kit, you'll enjoy all of the benefits associated with the world-renowned brand without breaking the bank. You'll also spend less time wrenching and more time driving. It's no coincidence that elite-level teams choose AP Racing discs because they know the company has done its due diligence to provide the best possible products as a result of their vast racing experience.
When you cut a slot or drill a hole into a brake disc, you impact the overall heat transfer. The area around the slot or drilled hole acts as a cool spot when the disc heats up, which is not ideal since they create stress risers and increase the likelihood of cracking. Competitive aftermarket offerings typically have straight slots, which tend to leave cool spots all across the disc face between those slots. During an extensive R&D testing phase, however, AP's J Hook design for the Porsche 991 GT3 was found to create a constantly pathway of evenly distorted material on the face of the actual disc. The hooks are spaced out as evenly as possible around the circumference as well as the inside edge to outer edge, with a slight overlap to promote more even heat distribution. In addition to minimizing cracking, the even heating also helps to provide an even transfer layer of brake pad material on the disc when you bed them in. The strategic J Hook slot pattern produces a greater number of leading edges for the pads to bite into versus the traditional curved slot design, particularly on plain-faced discs.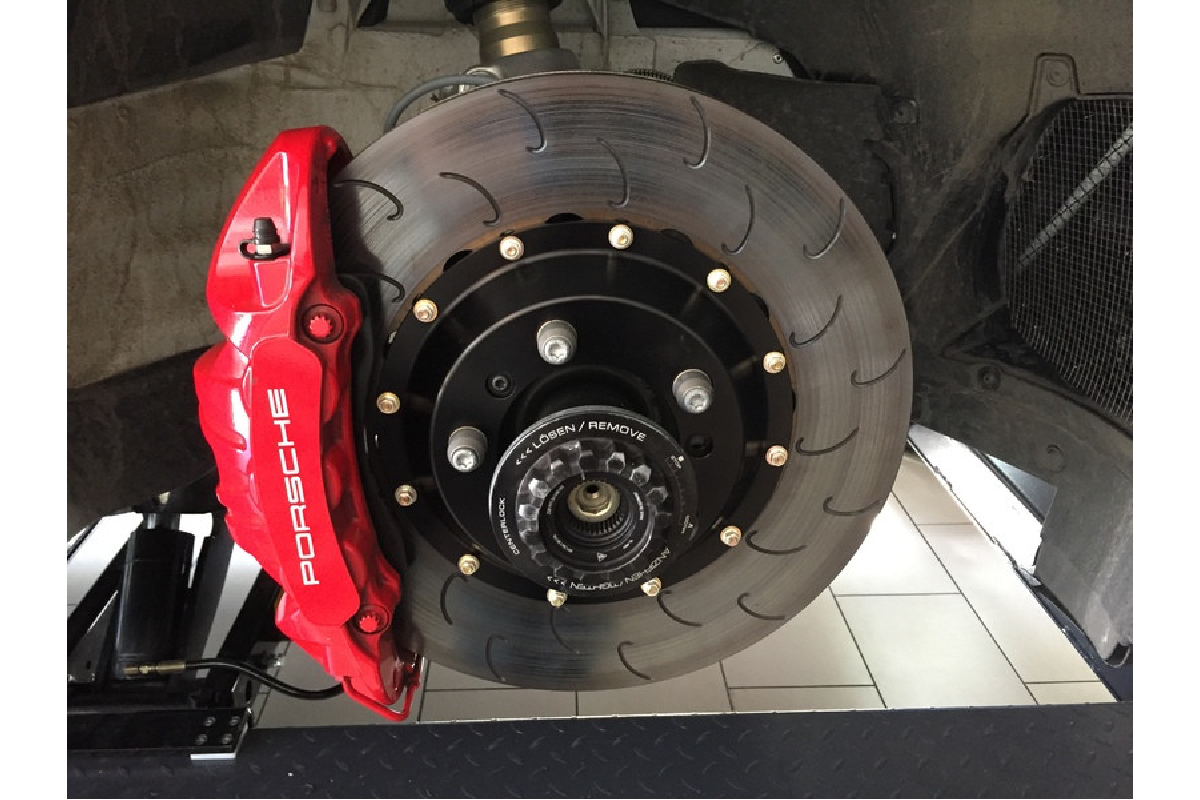 The AP Racing by Essex Competition J Hook Discs feature a two-piece floating design with an aluminum hat. The two-piece discs compensate for the expansion of the disc as it heats up much better than one-piece discs. Such is accomplished by building 'float' into either the disc itself or the disc hat/bell. In this case, the float is in the disc. The mounting holes for the hat attachment bobbins are an oblong shape rather than round. These channels allow the hat mounting hardware to slide as the disc is heated and expands, thus letting the disc run true in the caliper leading to less distortion, stress cracks, and pad taper. In order to help control the later movements of the discs, AP Racing uses an anti-knockback spring clip on every other disc attachment point. These clips help to keep the disc hat and iron ring in alignment, while still allowing the disc to float radially. This design also prevents the hat and iron disc from rattling and making unwanted noise. On top of all that, the mounting hardware used on these Competition Discs is specially made for their intended purpose. Instead of using cheap bolts like the competition, they are custom made in the USA and are the exact same components Essex and AP Racing use on professional racing products.
Features:
14.96″ x1.18″ (380mm x 30mm) 72 Vane, D67
Retains full parking brake functionality
Designed for: Club racing, time trial, autoX, HPDE
Works with OEM calipers, no modifications required
Ultra-light, fully floating, anodized billet aluminum hat with float control/anti-rattle clips
Advantages Over OEM Brake System
Saves 3-4 lbs. unsprung weight per side (sold as a pair)
Championship winning, 72-vane, fully-floating, AP Racing J Hook design
Huge increase in airflow, cooling capacity, and durability vs. OEM discs
Eliminates OEM drilled discs, which are prone to cracking around the drilled holes
Disc metallurgy is specifically designed to handle the temps typically seen on the track to offer a longer service life
Replacement iron disc rings are available at an extremely competitive replacement price ($399 each)
Anti-knockback/anti-rattle disc attachment hardware
Available disc burnishing service ensures that your kit arrives ready to be installed and driven hard immediately
Specifications:
for the Rear axle
Disc size (mm): 380×30
Number of vanes: 72
Weight per Disc (lbs): 21
Fitment: 2013-2019 Porsche 991.1 & 991.2 GT3 & GT3RS

If you have any questions, please do not hesitate to contact us. You can reach us by phone at 1-480-966-3040 or via email at sales@vividracing.com.