When it comes to the Toyota Tacoma, it's not a secret that the taco isn't the best-sounding truck rolling off the lot these days. To most, the Atkinson-cycle 3.5 liter V6 is rather gutless but is one of the last N/A motors being produced for newer truck models, leaving potential on the table to add a bit of pizzaz to the sound output. Along with some better performance and quality to the Tacoma. Typically when referring to exhausts and performance, we refer to horsepower gains, increase in torque, and reducing restrictions throughout the system. These are all things AWE does exceptionally well, but with aftermarket exhausts for trucks, there is more to "performance" than just that. Engineered with enthusiasts and adventures in mind, this system is well designed with off-road characteristics that are essential for Overlanding, Prerunning, Rock Crawling, Camping, or getting out beyond the scope of daily driving. Many of these features are an after-thought until you have an accident that could cause some significant damage. Did we mention this exhaust is also made in the USA? Let's roll into some key features of this new dual exhaust, but first, check out this video.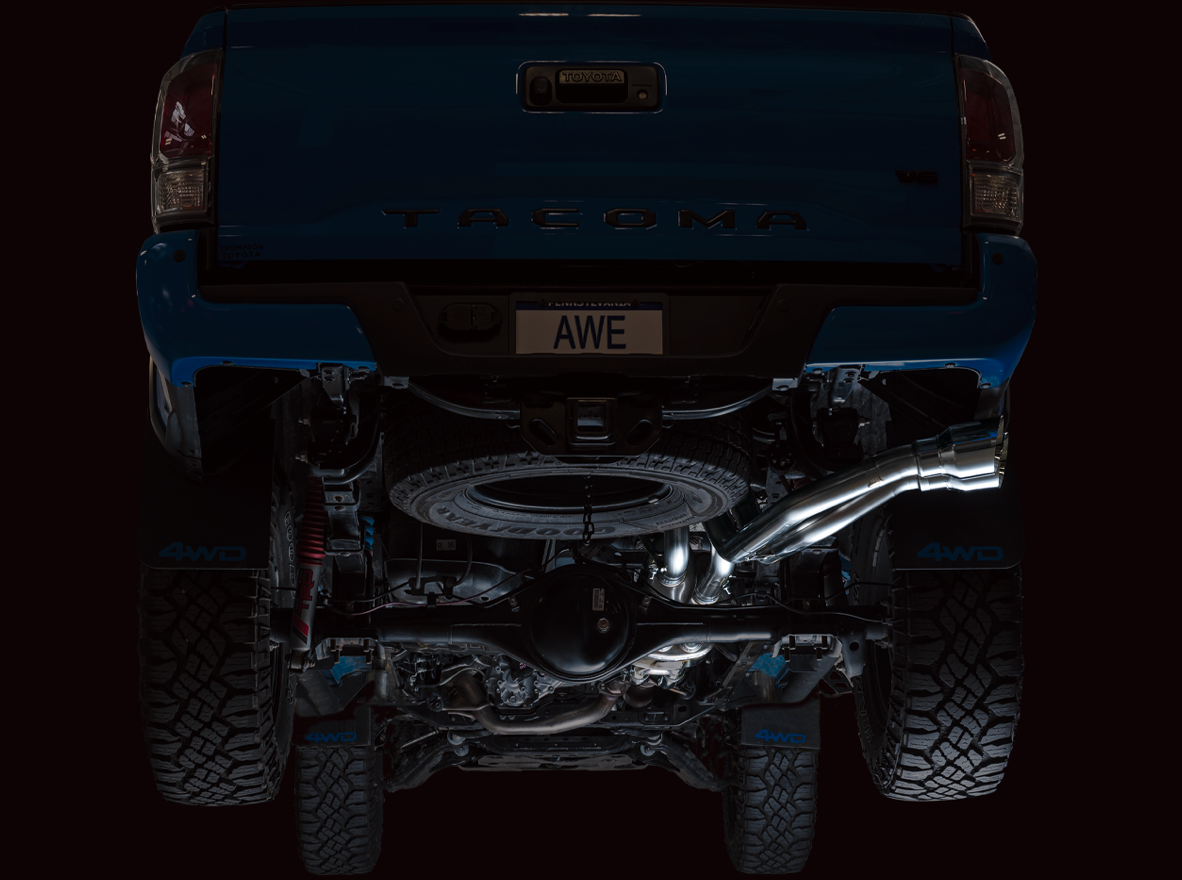 Features:
A true dual catback from inlets to tips – a first of its kind for Tacoma
Bespoke 2.5″ H-pipe and tuned mid-muffler combination provide unprecedented tone
Features AWE's patented drone-canceling 180 Technology®
Engineered to provide ample clearance for 32″ spare tires and aftermarket leaf spring upgrades
Modular BashGuards included in every kit to achieve max clearance on the trail
Dual 2.5″ diameter facilitates superior flow compared to single 3″
Handcrafted from dual CNC mandrel-bent 2.5″ U.S.-sourced .065″ wall T304L stainless steel
Factory-matched inlet flanges for ease of installation
Wheelbase extensions are included in every kit
4.5″ double-walled slash-cut tips available in chrome silver or diamond black
Less is more: clean, straight-through design maximizes performance
Direct bolt-on for factory-like simplicity
Manufactured in-house at AWE
AWE No CEL Guarantee
AWE Perfect Fitment Guarantee
AWE Lifetime Warranty
Sound Check
AWE always brings focus to their signature, aggressive exhaust sound that enthusiasts love, but they make it a point to keep that sound in check for the passengers in the cabin. This is ultimately for the best driving experience. As AWE explains, "exhaust gasses exit the 3.5L engine and flow into an AWE 180 Technology® equipped resonator, they pass through strategically located ports, and into reflection chambers. Sound waves, carried by these exhaust gasses, bounce off the walls of the reflection chambers. By controlling the size and location of the ports and the chambers, we also control when the sound waves exit the chambers. The specific timing of when the reflected sound waves rejoin the main exhaust flow creates a one-hundred-and-eighty-degree out-of-phase sound wave that cancels out problematic frequencies." – AWE
This technology basically practices as sound tolerance, regulating sound output being produced and keeping it at a moderate and tolerable level at cruising speeds. Then when the time is right, and the RPMs are high, the aggressive feedback will be there and this won't sound like your neighborhood Tacoma… Watch the video below for context!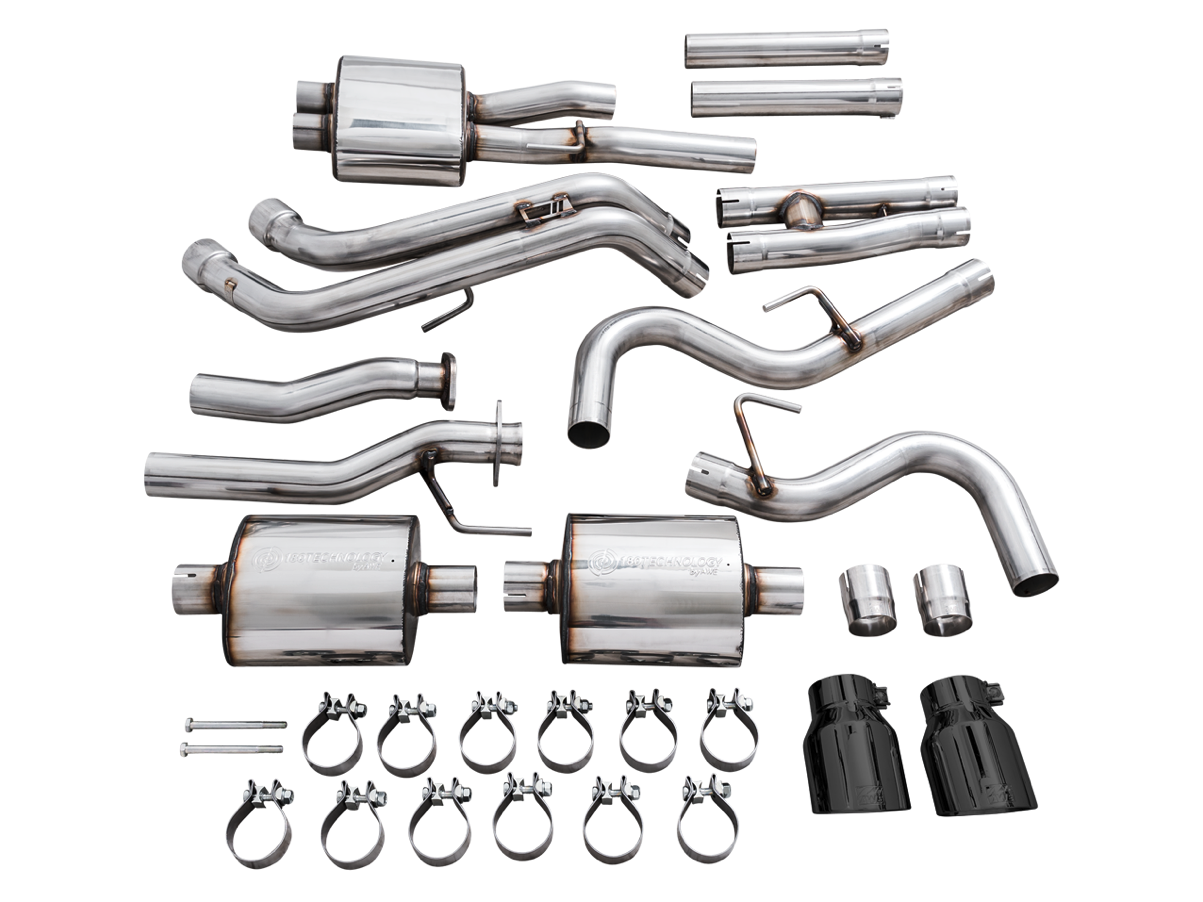 Performance
Each 0FG Catback features modular extensions for long wheelbase Tacomas, along with BashGuards™ for when things get rocky. You're looking at not only the Best Sounding Exhaust on the Planet™ for the Gen3 Tacoma 3.5L, but it's also the most versatile. The 0FG modularity shines at the final breakpoint in the exhaust route. Not only does the 0FG have the ability to accommodate dual 4.5" tips, but it also accommodates AWE's BashGuard™. What's BashGuard? Thanks for asking. The AWE BashGuard™ is appropriately equipped with a .125" thick reinforced stainless ring of the exhaust outlet, tucked up really high out of the way of danger. Come as a set of two because it's a true dual. This is truly underrated until your taco is in a situation that isn't suited for fragile, crunching shells… stay protected.
All tip options include the AWE logo and double-walling to ensure a mirror finish even under hard usage. The tip outlets, although conjoined, offer vertical adjustability, and the tips themselves are individually adjustable allowing depth into the bumper to be set according to personal taste.
For the Toyota Tacoma, we also highly recommend the Magnuson TVS1900 Supercharger. The AWE 0FG Exhaust paired with the Supercharger creates the ultimate power package for your taco.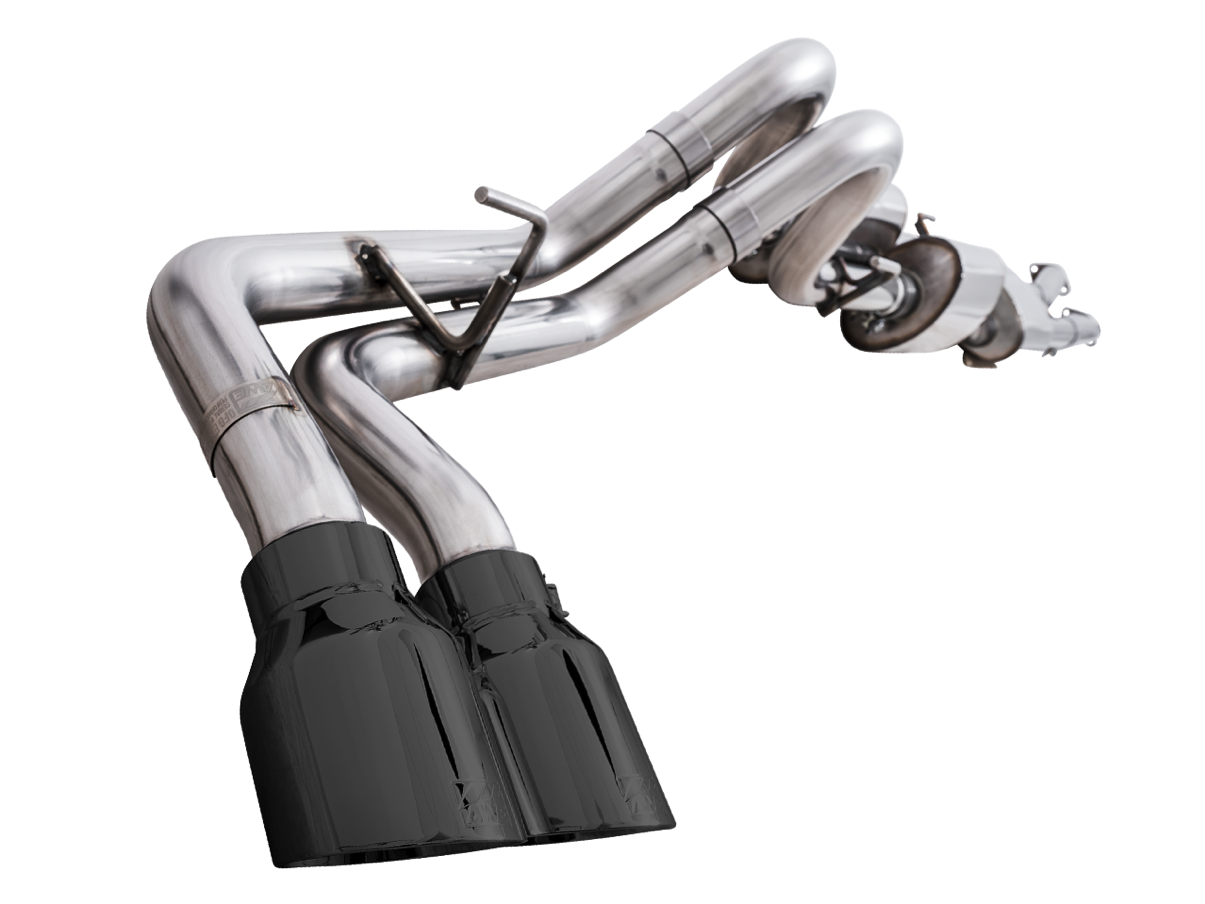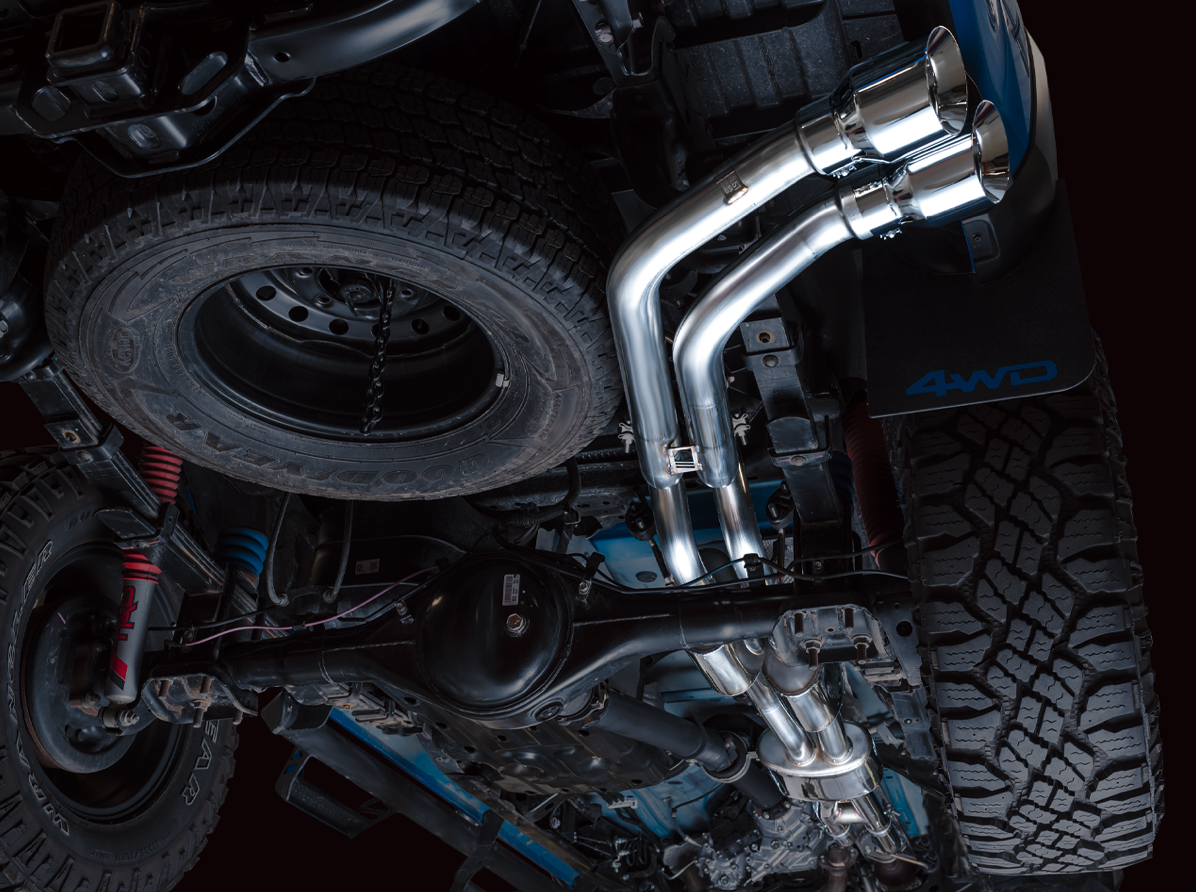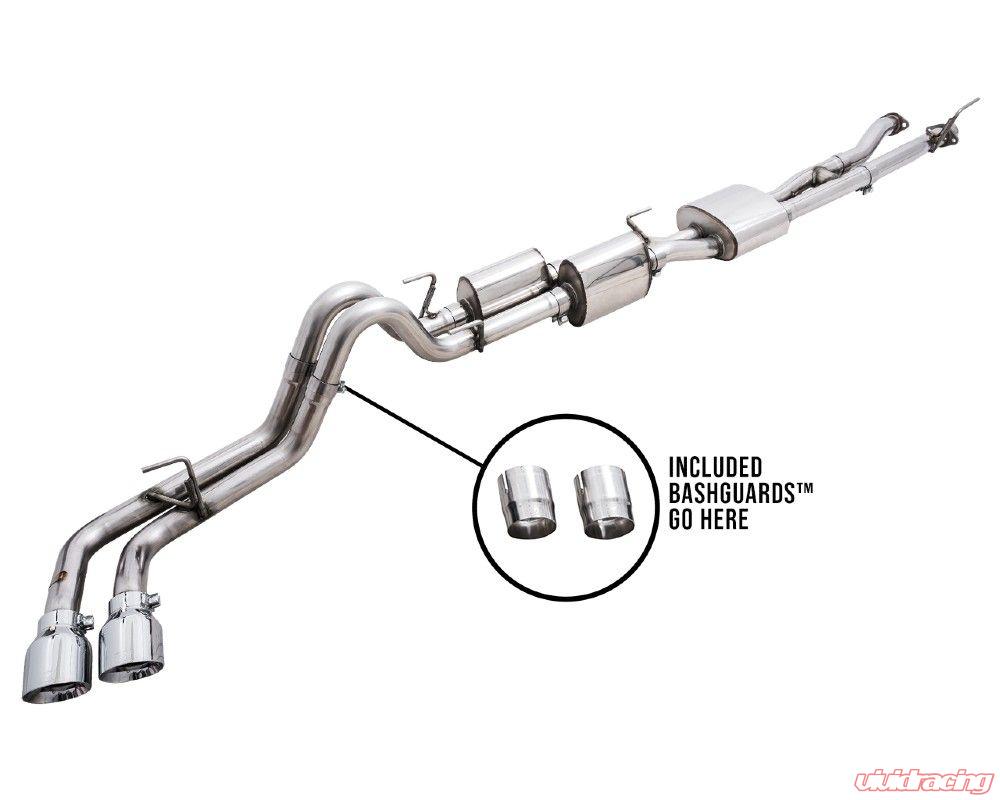 Install guide can be found HERE
Vivid Racing is your one-stop shop for all things aftermarket. We specialize in everything from Exhausts, Suspension, Air Intakes, ECU Tuning, Wheels, Interior Upgrades, Body | Aero, Lighting, and Superchargers.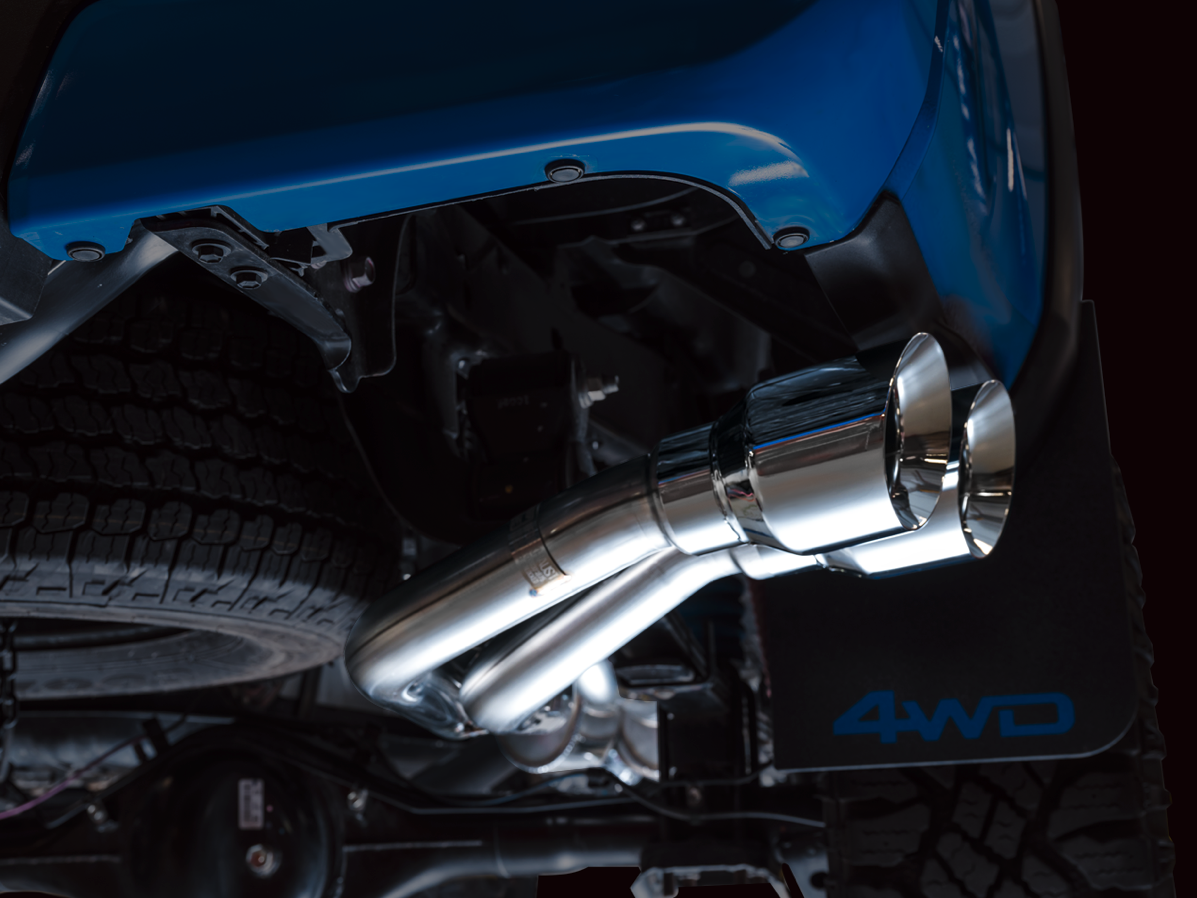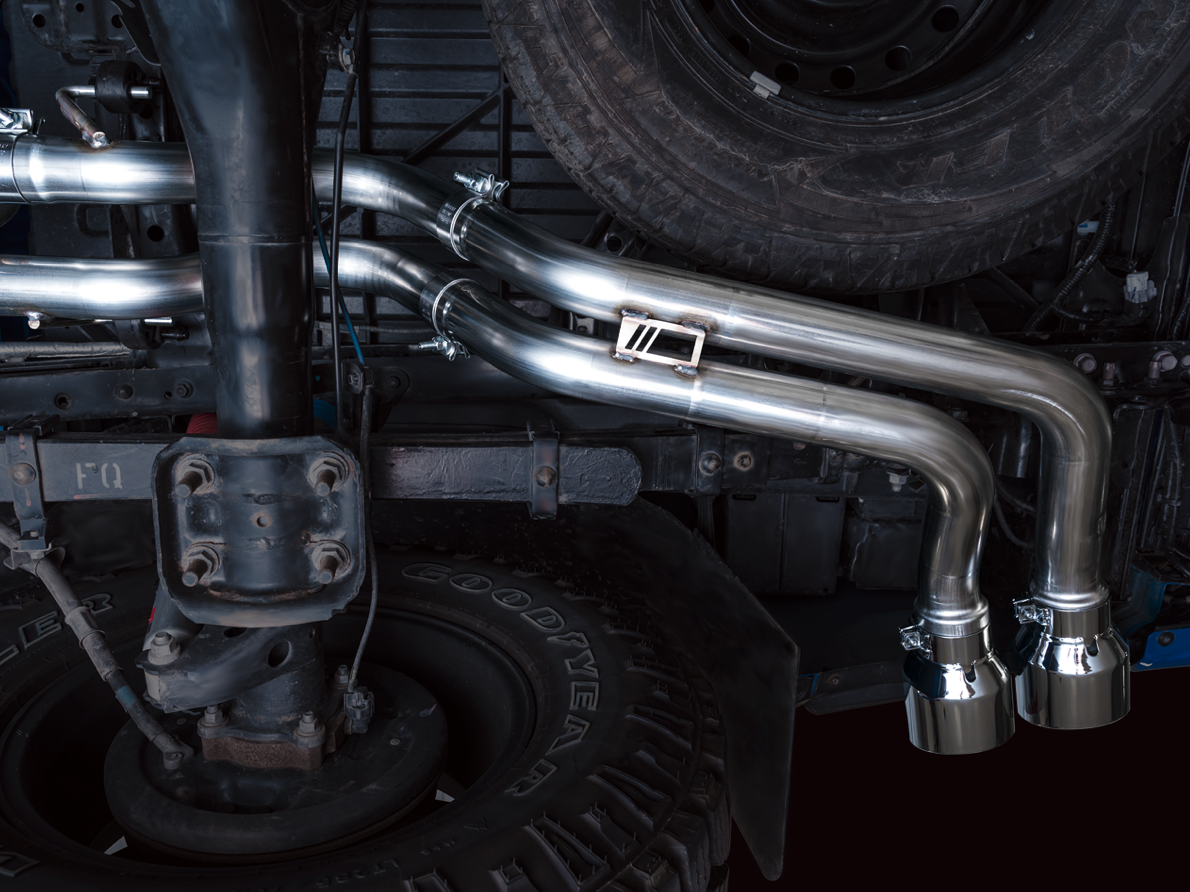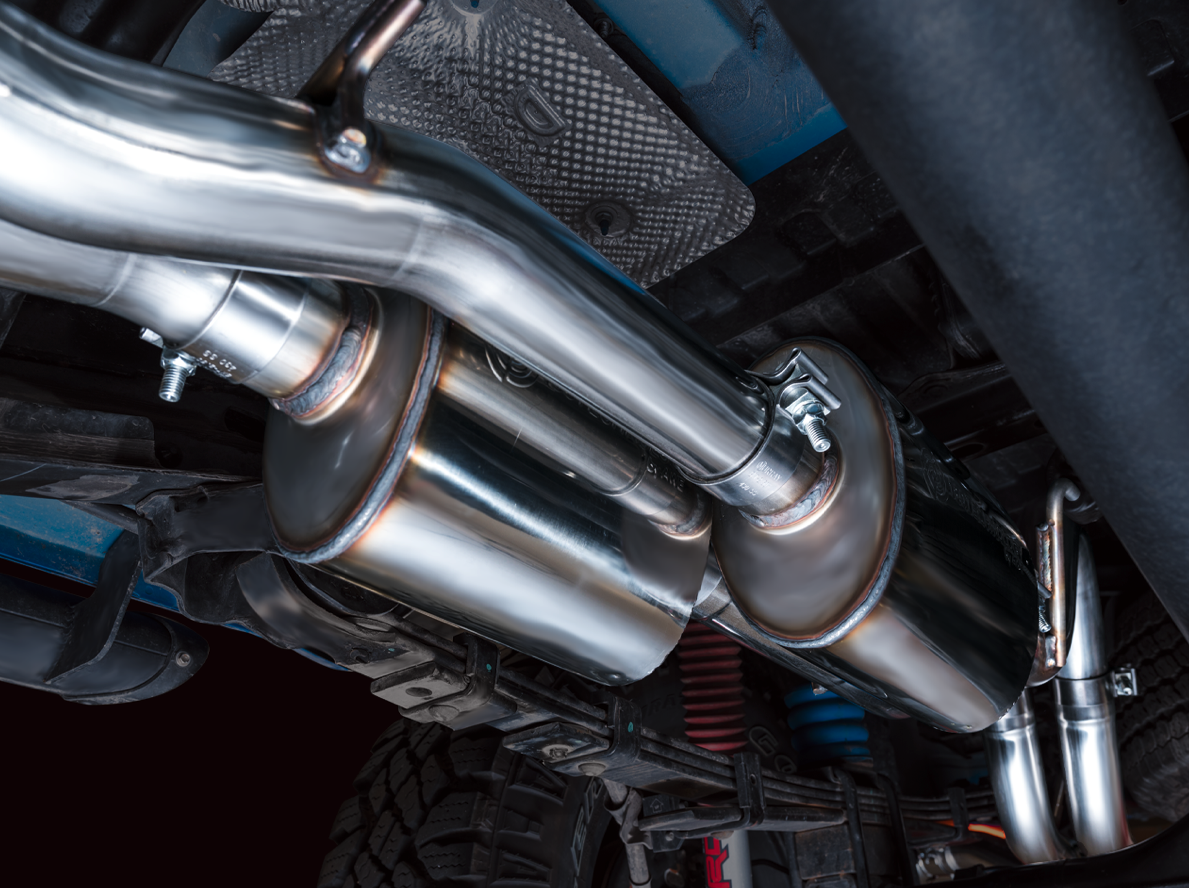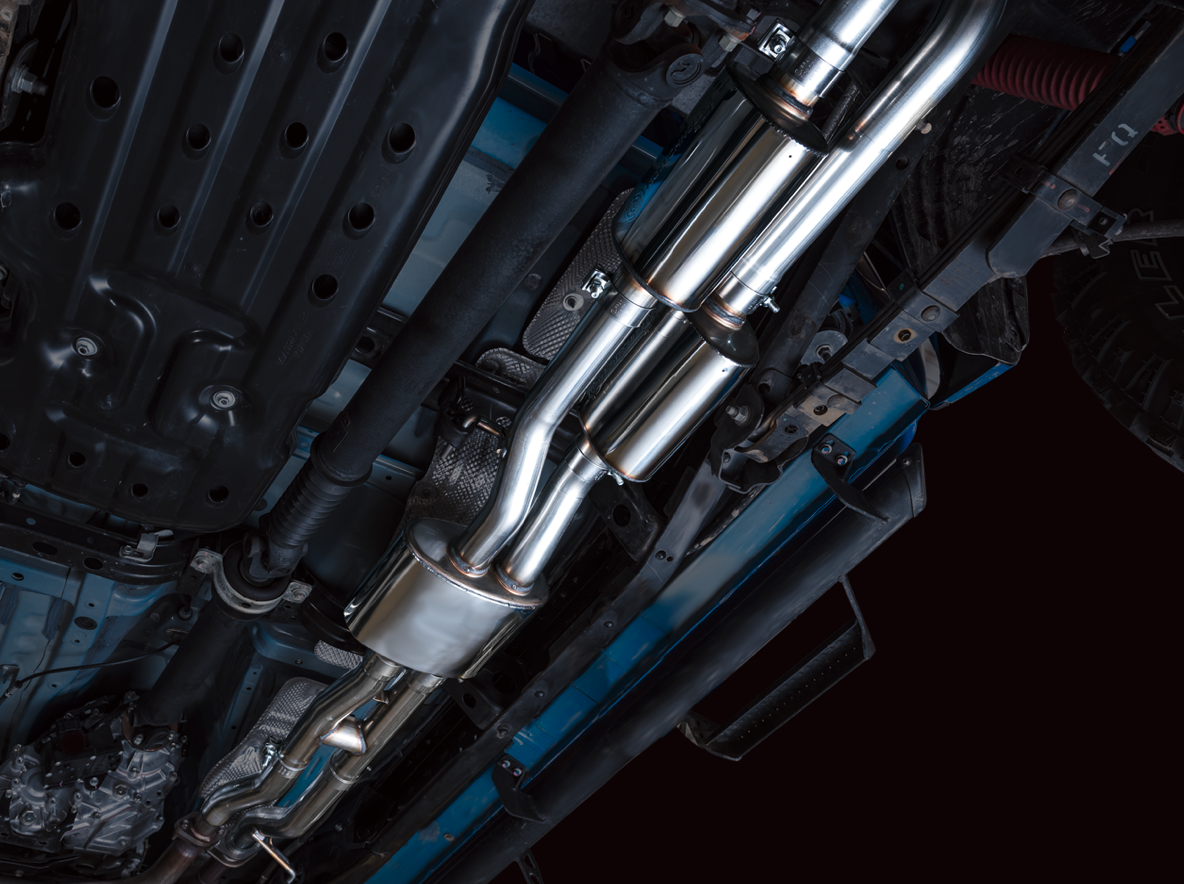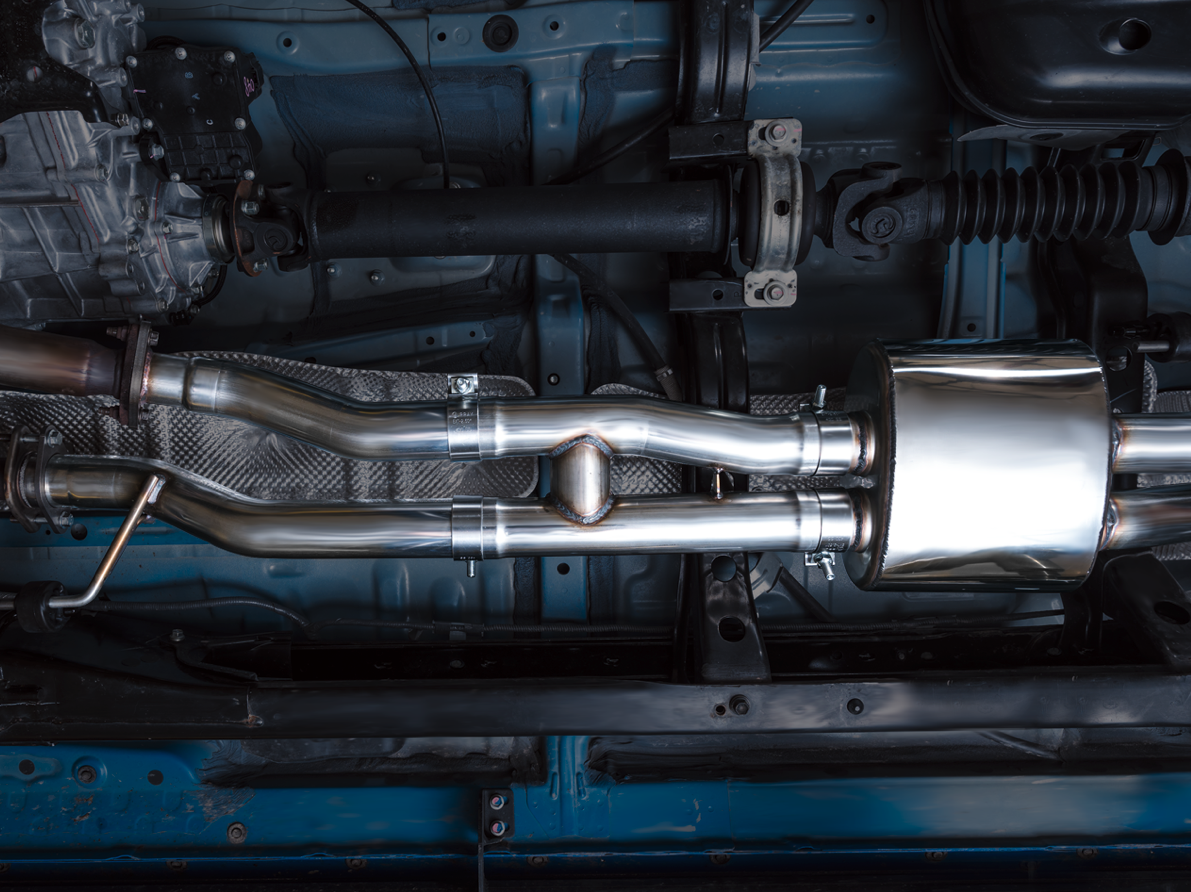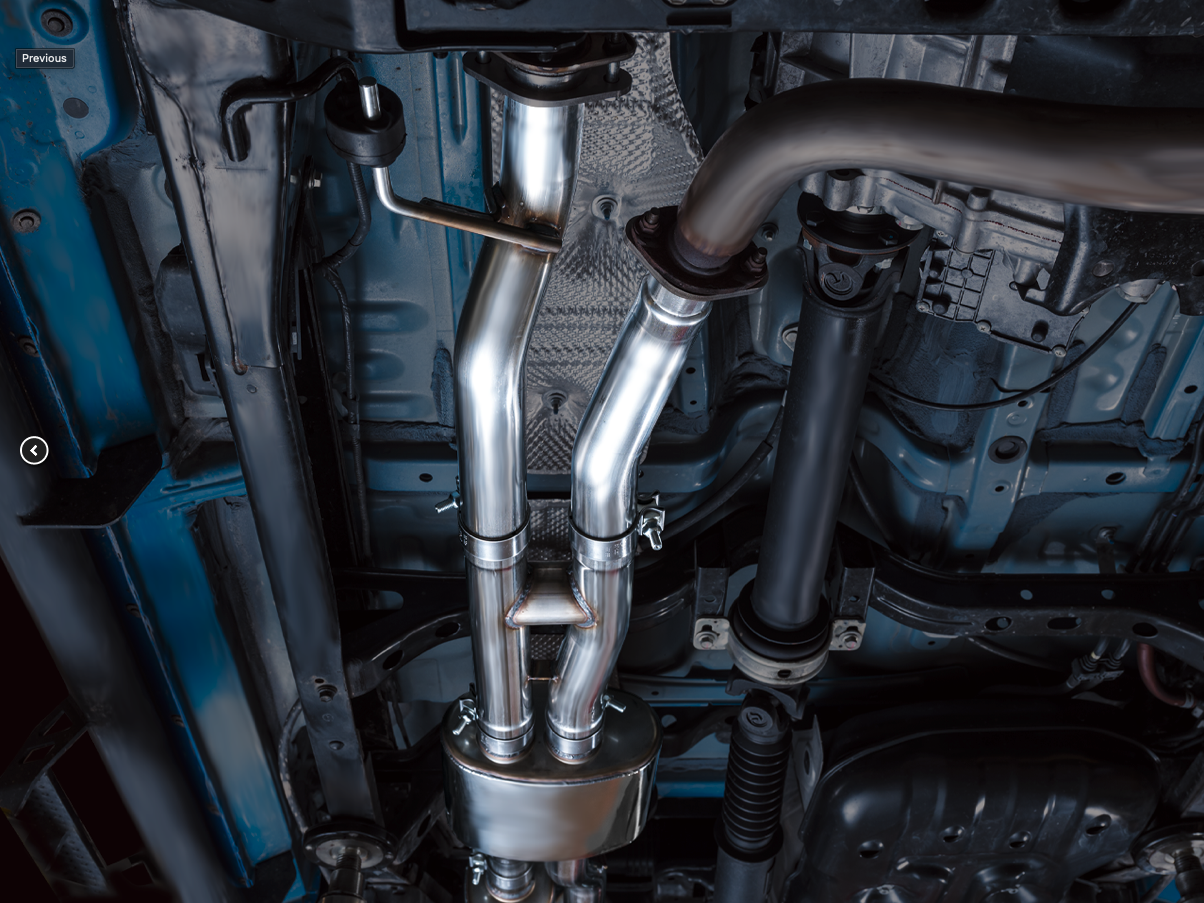 Still Not Sure?
This exhaust is relatively cheap and is a quality upgrade for your Toyota Tacoma. If you're still unsure what mods are best for you, connect directly with our performance specialists to find the best mods for your Taco! Reach us by phone at 1.480.966.3040 or via email at sales@vividracing.com.