FI Exhaust (Frequent Intelligent Exhaust) is the world's leading designer and fabricator of high-performance Valvetronic exhaust systems for sports cars, supercars, and luxury SUVs. FI Exhaust manufactures high-end systems for vehicles like the Nissan GT-R, Mercedes-AMG, Jaguar, Maserati, BMW M-Series, McLaren, Ferrari, and Lamborghini models. FI Exhaust's Valvetronic system technology offers cutting-edge intelligent ECU exhaust control valve and an emphasis on the optimization of acoustics and performance.
When the valves are fully open, it delivers an exotic tone and allows for the highest performance. When they are closed, the volume is reduced for a more comfortable and quieter driving experience. With FI Exhaust's latest tech, just one click on the remote control can setup any rpm to automatic mode. The auto mode enables the system to detect your car's engine RPM in order to intelligently change comfort and racing exhaust profiles.
Drivers can also choose to switch the valve on/off mode as desired when driving via the remote control instead. Lastly, with an upgraded remote control, users can control valves with a mobile app, which is available both on Android and iOS. The app also includes diagnostic tools that allow users to check and erase error codes.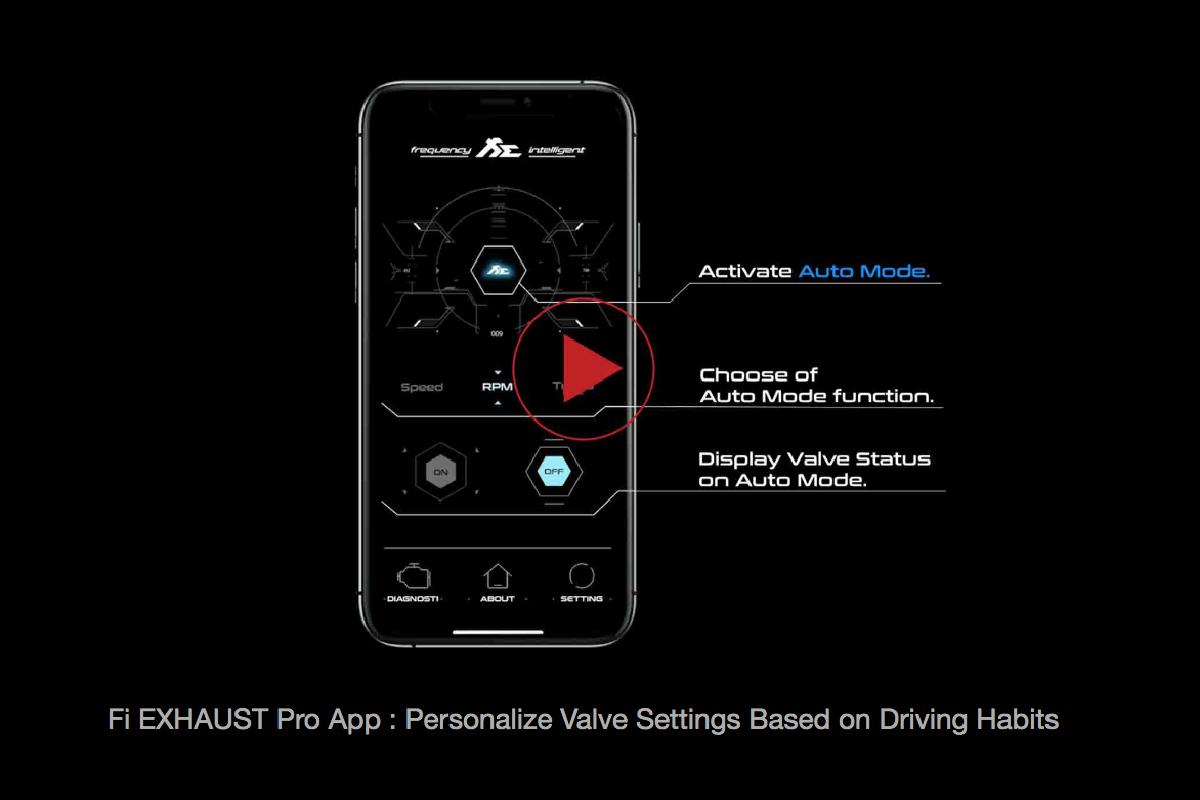 That's where FI Exhaust's Pro App and Remote Control Kit comes in to make your exhaust even more intelligent with numerous capabilities and customizations. After more than a year of development, the FI Exhaust team is proud to present the new and improved Fi Exhaust Pro version control box, mobile app, and redesigned remote control. The app remembers your settings and automatically connects to the FI Exhaust Pro Version control box after first-time pairing. In addition, the interactive interface design is easy and a joy to use.
Each time the app is launched, it's like having a pleasant conversation between your FI Exhaust system and your vehicle. After all, feeling connected and feeling one with the car is one of the most important things when you are in the driver's seat. Plus, in a world where technology seems to reign supreme, FI Exhaust proves that it is dedicated to staying at the forefront of the automotive aftermarket with cutting-edge products that boast the latest tech.
Features:
FI Pro Version control box for remote access to vacuum valve systems
Fast pairing and Bluetooth connectivity
Pair multiple remote controls to FI Exhaust Pro App
Intelligent App for managing sound and Check Engine errors
Monitor real-time valve status with FI Exhaust Pro App's intuitive and friendly interface
Automatically scans and erases annoying CEL related to the catalytic convertor
Customize what the 2 buttons on the physical remote control do
Manually open/close valves or activate Auto Mode
Intelligent Fi EXHAUST Pro Version control box can be used with Fi EXHAUST vacuum valve system and OEM electric valves for Mercedes-Benz, BMW, and Audi models.
Fitment:
Designed for FI Exhaust's line of Vacuum Valve Systems
Note: Check out the videos below to get an up-close and personal look at the FI Exhaust Pro App and Remote Control Kit and how it functions.
If you have any questions about FI Exhaust or its products, please do not hesitate to contact us. You can reach us by phone at 1-480-966-3040 or via email at sales@vividracing.com.