If you want sound with your performance (or performance with your sound), you need the Go Fast Bits VTA. This product is made in Australia for legendary performance with the great blow-off sound enthusiasts love. It's not just a noise-maker, though; it sends out heart-racing sound with the power to back it up. Instead of merely venting that factory diverter valve to atmosphere, the VTA replaces the weak factory valve internals. In doing so, it delivers an aggressive blow-off valve sound, improved throttle response and boost recovery, as well as superior boost holding and reliability in extreme conditions. With that said, Go Fast Bits just announced the availability of its VTA for the Ford F-150 EcoBoost pickup.
Go Fast Bit's philosophy for its VTA design is: "Keep what works, replace what doesn't." This means that GFB retains ECU control and the solenoid from the factory diverter to guarantee the fastest possible response time, without the added and unnecessary costs associated with replacing it as other companies do. The weak part of the factory diverter has always been the plastic valve mechanism – this is the part that GFB replaced. GFB's design philosophy makes its VTA not only the best performing blow-off valve solution, but also the best value on the automotive market.
The VTA features CNC-machined billet components that are meant to last a lifetime, and an upgraded valve operation method for improved performance. Go Fast Bits pioneered the use of "pilot operation" in the DV+ range, which works by re-purposing the factory solenoid to control the pressure behind the piston rather than the piston itself. This allows for the solenoid stroke to be much shorter, speeding up the response time and increasing the actuation force. More importantly, it allows the piston to open and close progressively in response to the amount of boost pressure present, which smooths boost transitions and reduces the lag caused by the factory diverter valve.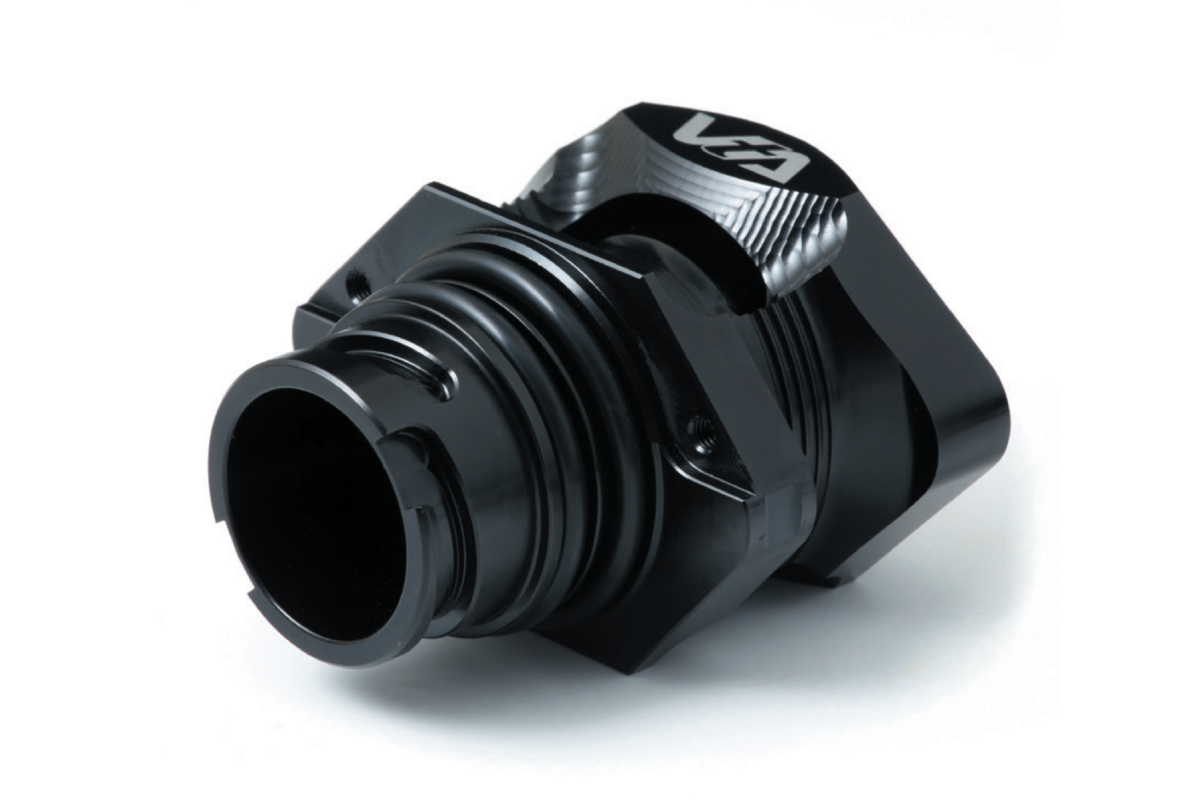 As you would expect from a Go Fast Bits product, the VTA for the Ford F-150 EcoBoost truck comes as a direct bolt-on kit with all the necessary hardware. GFB's bracket is powder-coated stainless steel, and is designed to replicate the footprint of the OEM diverter valve mount. This means it fits all 2013-on models and aftermarket intercoolers. Furthermore, the blanking plug is attached to the bracket so it plugs the recirc and holds it securely in the engine bay.
Features:
TMS Technology for faster boost recovery on gearshift and during throttle modulation
Improved boost holding ability
Atmosphere venting for blow-off sound
Retains ECU control
Simple, direct bolt-on kits include everything you need to install
Manufactured in Australia in accordance with ISO 9001
If you have any questions about GFB or its products, please do not hesitate to contact us. You can reach us by phone at 1-480-966-3040 or via email at sales@vividracing.com.