The Avant Garde brand is all about absolute personalization, and its name is no coincidence either. Known for its exquisite lineup of wheels, AG uses a unique manufacturing process that allows the team to engineer every wheel individually and ensure each set provides the ultimate opportunity for customization. Avant Garde's cutting-edge production methods also allow for completely custom configurations resulting in wheel fitments that are catered to each owner and vehicle specifications for maximum benefit. So if you are in the market for a new set of shoes for your pride and joy, Avant Garde has what you need to elevate your car's appearance without compromising ride quality.
While the Rolls-Royce Ghost may not need much help in the aesthetics department, new wheels can really make the vehicle yours and speak volumes when it comes to voicing personal taste. The gallery below features a stunning Rolls-Royce Ghost sitting on 24-inch AGL50 Monoblock wheels in a brushed finish with gloss black windows for the ultimate contrasting effect. A luxurious car such as the Rolls-Royce Ghost deserves only the best treatment and it's safe to say that these Avant Garde wheels are more than fitting. The unique spoke design provides an elongated and sleek appearance that steals the spotlight without taking away from the car's natural DNA.
The Avant Garde Luxury AGL50 Monoblock wheel is crafted from aerospace-grade 6061-T6 forged aluminum for the optimum strength-to-weight ratio. These wheels are individually engineered for each design and vehicle, as well as precision CNC machined to your preference for any custom application. The AGL50 wheels are also TPMS compatible and work with your car's OE mounting hardware for added convenience.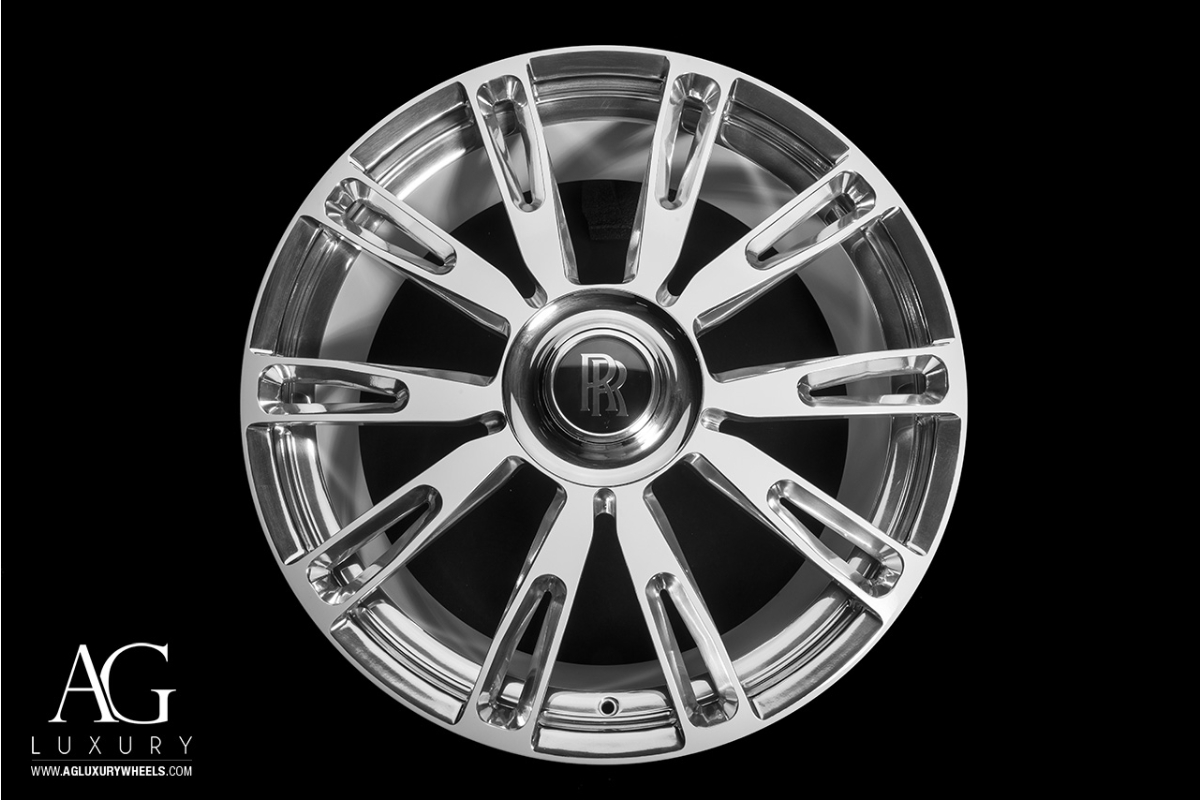 Avant Garde AGL50 Monoblock Wheels
Custom bolt patterns, offsets, and finishes available
Available in Sizes 19″, 20″, 21″, 22″, 24″, and 26″
Available Wheel Configurations:
Monoblock
Dual Block
3-Piece Flat Lip
3-Piece Step Lip
Standard Center Profile
Concave Center Profile
Rolls-Royce Ghost Gallery Below:
Design: AGL50 Monoblock
Size: 24X9.5″ / 24X9.5″
Finish: Brushed Face w/ Gloss Black Windows
If you have any questions about Avant Garde or the wheels shown above, please contact us by phone at 1-480-966-3040 or via email at sales@vividracing.com.