The Nissan 350Z is one of the most popular tuner cars on the market and for good reason. Plus, as they continue to fall in price, these vehicles only become more popular with enthusiasts looking for a platform on which to build a project. The advantage here is that the automotive aftermarket houses a wide range of replacement parts, upgrades, and accessories to take an ordinary 350Z to the ultimate level and really set it apart from others on the road. With so many products available, there are virtually endless possibilities when it comes to taking your Z up a notch or two whether it be in terms of aesthetics or performance.
Like any tuner car, one of the first modifications many enthusiasts choose to do is install an aftermarket exhaust system. Not only can an aftermarket exhaust improve airflow, thereby increasing horsepower and torque figures, but it can also deliver a tantalizing exhaust note that will be music to your (and your passerby) ears. On top of all that, many offer customizable exhaust tips that leave a more sporty and lasting impression in the rear as you leave your competition in the dust.
There are quite a few 350Z exhaust systems out there, and all of them have different pros when it comes to their build quality, sound, and looks. Finding the perfect exhaust for your build can be stressful, so we created a list of our favorite 350Z exhaust systems to make it easier for you to decide. In addition to the following systems, you can browse through more exhaust options right here.
#1 Agency Power Single Exit Cat-Back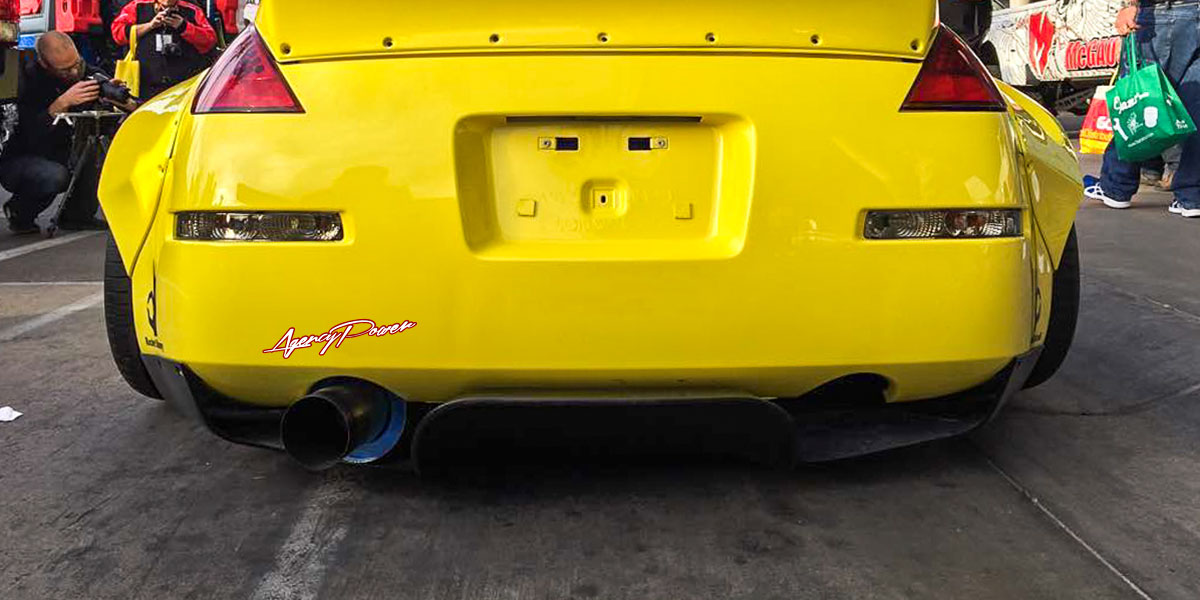 Some people like single exit exhausts and others do not. There aren't any real performance gains or losses, as it's all about the look. Many older JDM cars use a single exit system, and this Agency Power exhaust is somewhat of a tribute to that. This exhaust system uses a big 4.5" blued titanium tip which makes for a killer look. It is crafted from top-grade T304 stainless steel with 3″ piping and 0.5″ thick flanges and the entire system is TIG welded for ultimate durability. This combination results in a very strong design that is sure to last for many years of "abuse" (i.e. daily driving, canyon runs, autocross events, and track days). Coming in at a mere $850, this exhaust system from Agency Power is pretty hard to beat and, therefore, has made it to the top of our list.
Ti Tip
T304 main piping
$850

#2 HKS Hi-Power Dual Exit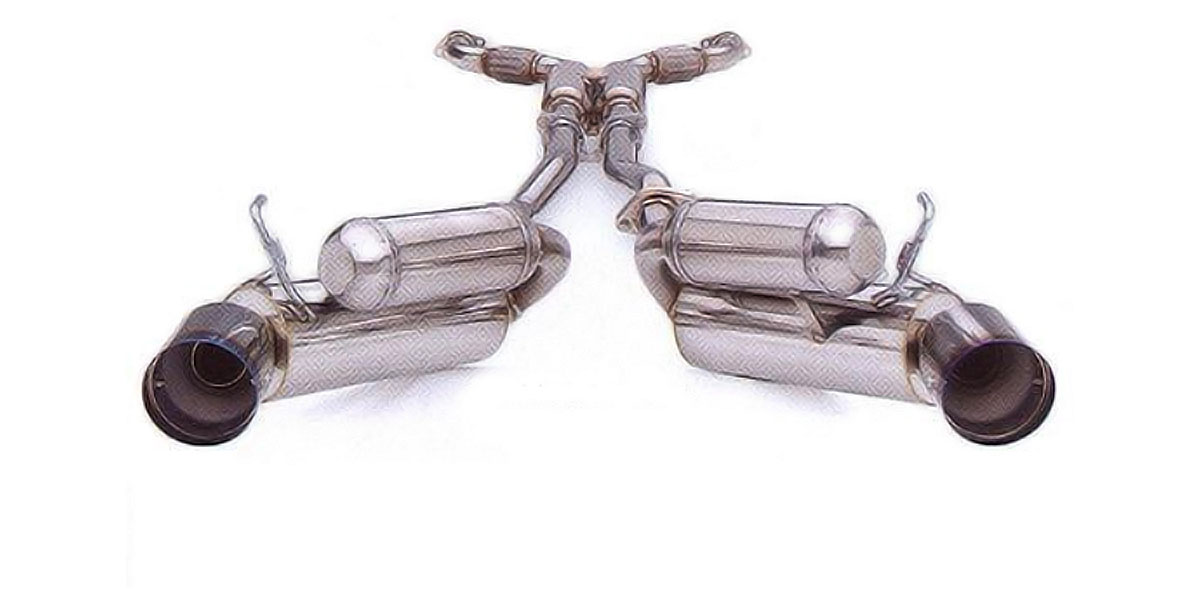 For those of you who prefer a dual-exit design, but still want something high quality, the HKS Hi-Power system is a great option. HKS is a really big name in the JDM market, and has garnered a solid reputation for its high-quality, although expensive, exhaust systems. The Hi-Power system uses 60mm piping, which is quite a bit smaller than the 3" piping on the Agency Power exhaust. This exhaust is crafted from SUS304 stainless steel with 120mm blued titanium tips. What is extra nice about this system is the included H-pipe, which improves overall sound and increases exhaust flow for enhanced power. Unfortunately, this exhaust is relatively expensive coming in at $1,450.
Dual exit blue tip
SUS304 main piping
$1450

#3 Borla Dual Exit Exhaust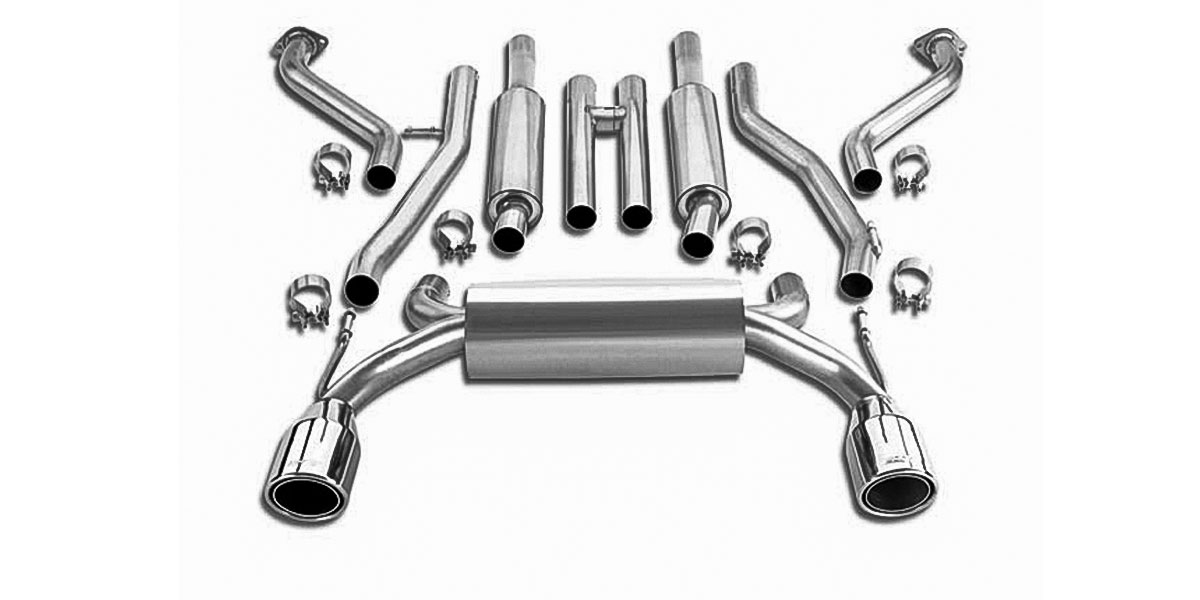 Although Borla is best known for its muscle car and truck exhaust systems, their 350Z exhaust system is pretty popular as well. The Borla exhaust system for the 350Z uses a dual-exit design like the HKS system listed above. It uses 2.25" tubing which is on the small side, especially if you plan on using any kind of forced induction in the future. This exhaust system from Borla uses SUS304 series tubing with a mandrel-bent design for the best flow possible. The tips use a 4.5" angle cut rolled design which fills up the stock tip cutouts on the bumper perfectly. If you don't like the look of blued exhaust tips, then this exhaust is perfect for you. Coming in around $1,300, it's less expensive than the HKS exhaust, but still way more expensive than the Agency Power exhaust.
Dual exit slash cut
SUS304 main piping
$1300

#4 Invidia N1 Dual-Exit Cat-Back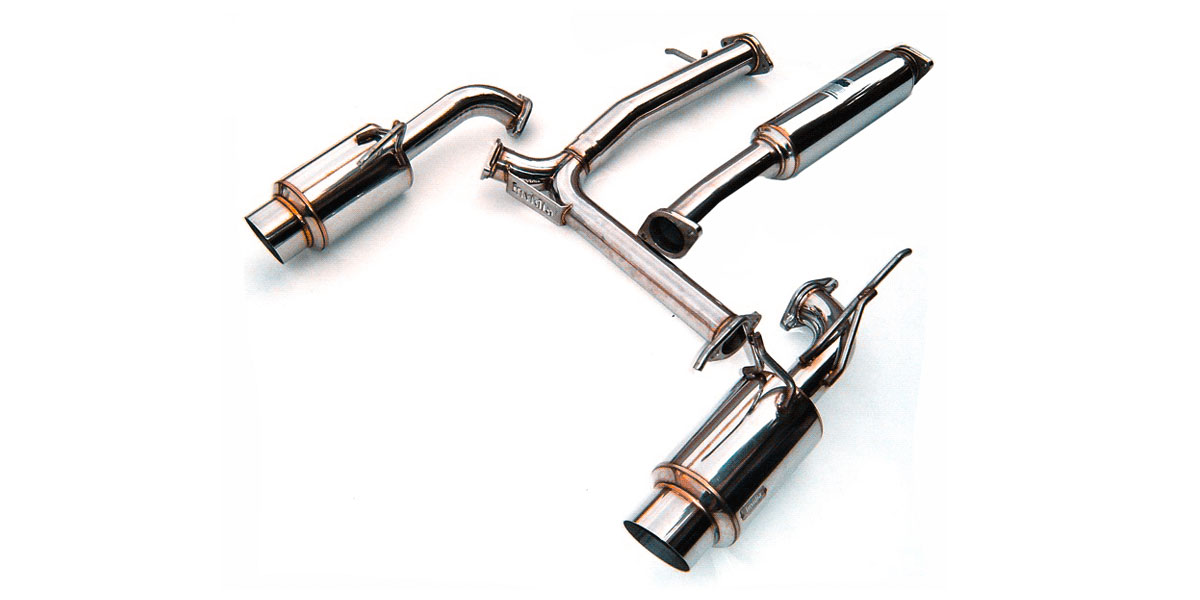 What's unique about this exhaust system is the placement of the mufflers, which are much further back and more exposed than any of the other dual-exit systems we listed. This system is engineered to produce strong mid- to high-end power gains. Just like the HKS Hi-Power system, the Invidia N1 uses 60mm SUS304 stainless-steel piping with a mandrel-bent design for maximum flow. Although the tips are on the small size at 101mm, the large muffler right behind the tips helps make up for it. Just like Borla exhaust, the Invidia N1 does not use a blue tip design. So if that's something you're looking for, then the Agency Power or HKS exhaust is probably a better option. The Invidia N1 exhaust comes in around $930 making it a pretty good deal, but still more expensive than the Agency Power exhaust.
Dual exit
SUS304 main piping
$930

#5 Tanabe Medalion Touring Exhaust
For 350Z owners who want the performance of an aftermarket exhaust without the loud sound of one, the Tanabe Medalion is a perfect choice. This exhaust is just slightly louder than the stock one thanks to its very large muffler. With 70mm piping, it flows significantly more air than stock, offering you a big bump in power without a big bump in sound. Like the other exhaust systems on this list, the Medalion Touring exhaust is built from high-quality stainless steel. The tips are simple double-walled 115mm dual tips with a polished finish. They don't have the fancy burnt titanium finish of the other exhausts, however, the simple design will draw less attention to your Z which can be a good thing.
Very quiet
Stainless steel main piping
$890

#6 Amuse R1 Titanium Exhaust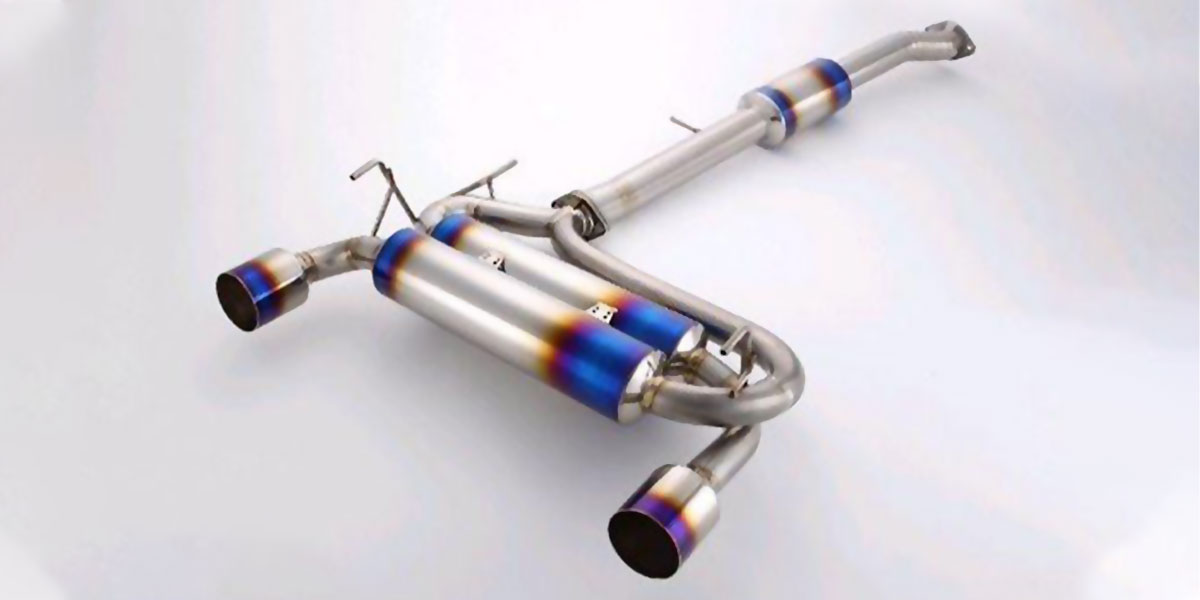 Next on the list is the Amuse R1 Titanium exhaust. This exhaust is perfect for any 350Z owners who love the dual tip look, but want a super lightweight exhaust system. Most aftermarket exhaust systems are significantly lighter than the OEM exhaust system, however, some are lighter than others. As you probably already know, titanium is much lighter in weight than standard stainless steel. There are multiple versions of the Amuse R1 available, including some specifically designed for Nismo models. Unfortunately, the high-quality titanium comes at a significantly higher price than most 350Z exhaust systems, but you get what you pay for.
Dual exit blue tip
Titanium main piping
$3,990

#7 Megan Racing Cat-Back Exhaust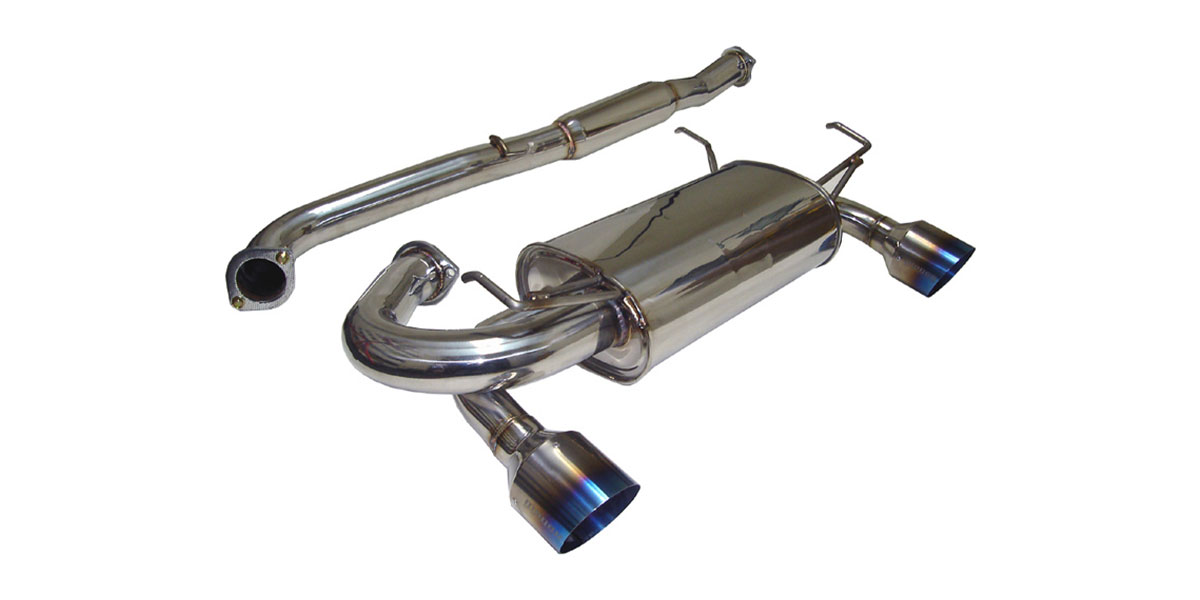 While the Amuse exhaust listed above is great if you want a lightweight dual-exit system, it comes at a pretty steep price. If you want the same dual-exit titanium look without breaking the bank, we recommend the Megan Racing cat-back. Unlike the majority of aftermarket exhaust systems for the 350Z, the OE-RS cat-back is designed to be slightly louder than stock. It is based on the factory-style exhaust but with larger diameter piping to reduce restriction and increase overall power. With 3″ piping throughout and large 4″ tips, plus a very affordable price tag, this exhaust is a great choice for anyone who wants something that looks great but won't break the bank.
Dual exit blue tip
Stainless steel main piping
$586

#8 Tomei Expreme Ti Titanium Catback
One of the most iconic Nissan 350Z exhaust systems to ever hit the aftermarket comes from Tomei. If you want a super lightweight, loud, and wild-sounding single-exit exhaust, this one is for you. Using only the highest-quality materials means that Tomei's systems can handle the intense strain and heat a purpose-built engine will experience, whether it be on the street or the track. With 1mm thick piping and full titanium construction, this exhaust is incredibly lightweight compared to your stock exhaust system. To say this exhaust is loud would be an understatement. By itself, this is likely the loudest exhaust found on this list; and when compared with an aftermarket Y-pipe, you can expect this system to become the loudest car on the road.
Single exit design
Titanium main piping
$1,090

#9 Greddy Revolution RS Exhaust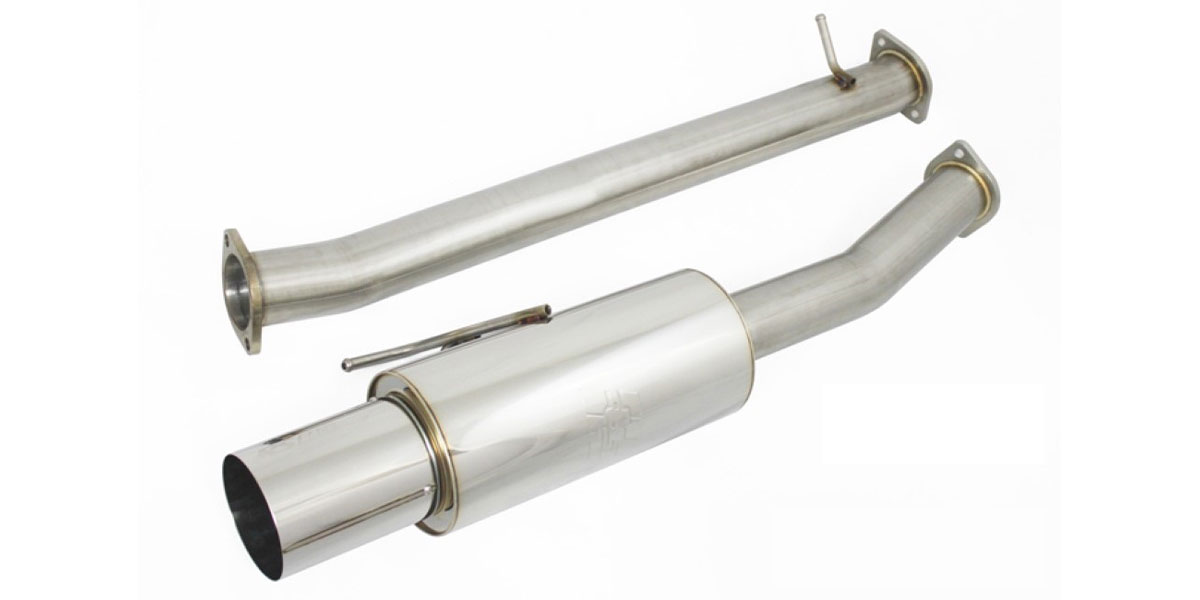 If you love the single exit design of the Agency Power or Tomei exhaust, but want to spend under $500, we recommend the Greddy Revolution RS exhaust. With a full stainless steel construction, this exhaust is incredibly cheap, but you won't get that awesome titanium blue look on the tip or any other part of the system. The RS-Race system is lightweight, provides an aggressive exhaust note, and is cost-effective. The 3.0″ cat-back connects to the factory Y-pipe. The race muffler with a longer 170mm long tip exits the driver-side and eliminates the pre-resonator. For added customization, the RS-Race tri-bolt tip allows for the installation of optional RS tip silencers, various tip lengths, and styles in both stainless steel and genuine titanium.
Single exit design
Stainless steel main piping
$730

#10 Motordyne True Dual X-Pipe Exhaust
Last on our list is the Motordyne True Dual X-Pipe exhaust system. Motordyne is one of the best-known names in the VQ aftermarket and their exhaust systems are best known for delivering great sound without the typical raspiness you'll hear on most exhausts. This system has been fully TIG welded for the ultimate strength and is crafted from polished stainless steel 304L alloy. It features progressively expanded dual 2.5″ primary tubes and dual 3.0″ exhaust tubing for the best overall power curve. Choose from stainless steel or burnt titanium 4.5″ rolled exhaust tips for added customization.
True dual design
304L stainless steel main piping
$1,781

Best Y-Pipe Upgrades
Because the Nissan 350Z uses the VQ35 V6 engine, two headers eventually converge into one tube, which is typically where most cat-back exhaust systems start. If you want the most performance possible from the 350Z, you'll need to upgrade your full exhaust system. The first step in this process is upgrading the Y-pipe.
Your Z exhaust goes from headers, catalytic converters, Y-pipe, then cat-back. Upgrading your Y-pipe is a pretty easy process and the logical next step after installing a cat-back exhaust. Here are some of our favorite options on the market today:
#1 Motordyne
When it comes to Y-pipes for the VQ platform, Motordyne is one of the most popular options because they offer multiple versions of their Y-pipe. One of the problems with the VQ engine is that it can get very raspy with an aftermarket exhaust. This is easily solved with the Motordyna XYZ resonated Y-pipe. This is different from most Y-pipes that aren't resonated at all. If you want to get rid of that VQ raspiness, this is the best one on the market to get you to that point.
#2 Tomei
If you want the lightest Y-pipe possible, Tomei is the best option because their Y-pipe is constructed from titanium rather than stainless steel. When paired with a Tomei cat-back, you can expect an extremely lightweight and very loud exhaust system. Tomei doesn't offer any alternative Y-pipe variants, so if you need a resonator this isn't the system for you.
#3 Megan Racing
If you're looking for a very affordable Y-pipe, Megan Racing is a great choice. There isn't anything strikingly special or different about their Y-pipe, but it gets the job done. It's simple in design, constructed from high-quality T-304 stainless steel, and uses high-flow flex pipes to improve resonance and allow for a bit of wiggle room in the exhaust.
#4 aFe Power
The last option on the list is the aFe Power Twisted Steel, which is unique from all the other options on the list because it combines the cat section with the Y-pipe section. This means you can upgrade both sections of your exhaust at the same time, making life much easier. Apart from its unique design, this system is constructed very similarly to the Megan Racing Y-pipe above.
How Does an Exhaust Add Power to your 350Z?
After your VQ35DE goes through the intake, compression, and ignition cycles, it has to expel the exhaust gases to continue the cycle. The first point of contact for the exhaust gases is the exhaust ports and the exhaust headers.
Swapping out your heavy OEM headers for a set of aftermarket tubular headers is a great way to increase power; however, you'll still find a significant restriction in the rest of the system.
The whole idea with a larger diameter is increasing the flow. With increased flow, the piston has to do less work when pushing the exhaust gases out of the cylinder which ultimately leads to more power.
A good exhaust system will increase flow, possibly increase velocity, optimize exhaust scavenging, and use heat to its advantage. For the most part, aftermarket exhausts are all fairly similar as far as performance, though some outperform others as made evident by the above guide.
Summary
Out of all the exhausts listed above, the Agency Power system has the largest size and boasts the cheapest price. If you are looking to gain the most performance and sound possible, the Agency Power single exit exhaust is pretty hard to beat.
If you have any questions about which exhaust may be right for you, please do not hesitate to contact us. The Vivid Racing team can be reached by phone at 1.480.966.3040 or via email at sales@vividracing.com.