You do not have to wait until your Jeep Wrangler JL has its taillight crack or go out in order to replace it. In fact, the aftermarket houses a plethora of attractive options that check all the boxes in terms of durability, efficiency, styling, and illumination. One of the most popular product offerings is LED taillight assemblies because they feature super-bright LEDs with high-quality lenses that increase your visibility on the road while adding an elevated look to your ride. For the Jeep Wrangler, these taillights are sealed and rigorously tested for hassle-free performance and the ability to withstand impact, moisture, and dust/dirt – should you decide to take your vehicle off-roading.
Whatever your reason is for swapping out your Jeep's factory lights, Vivid Racing has what you need. We have compiled the following list of the top 4 taillights for the Wrangler JL to help you along. The products listed here boast direct bolt-on installations, meet quality and legal standards, and are guaranteed to deliver enhanced brightness with unparalleled strength to deliver the ultimate combination of aesthetics and functionality to your Jeep. You can also conduct your own search and browse our entire inventory of Jeep Wrangler JL taillights right here.
1. Oracle Lighting Black Series LED Taillights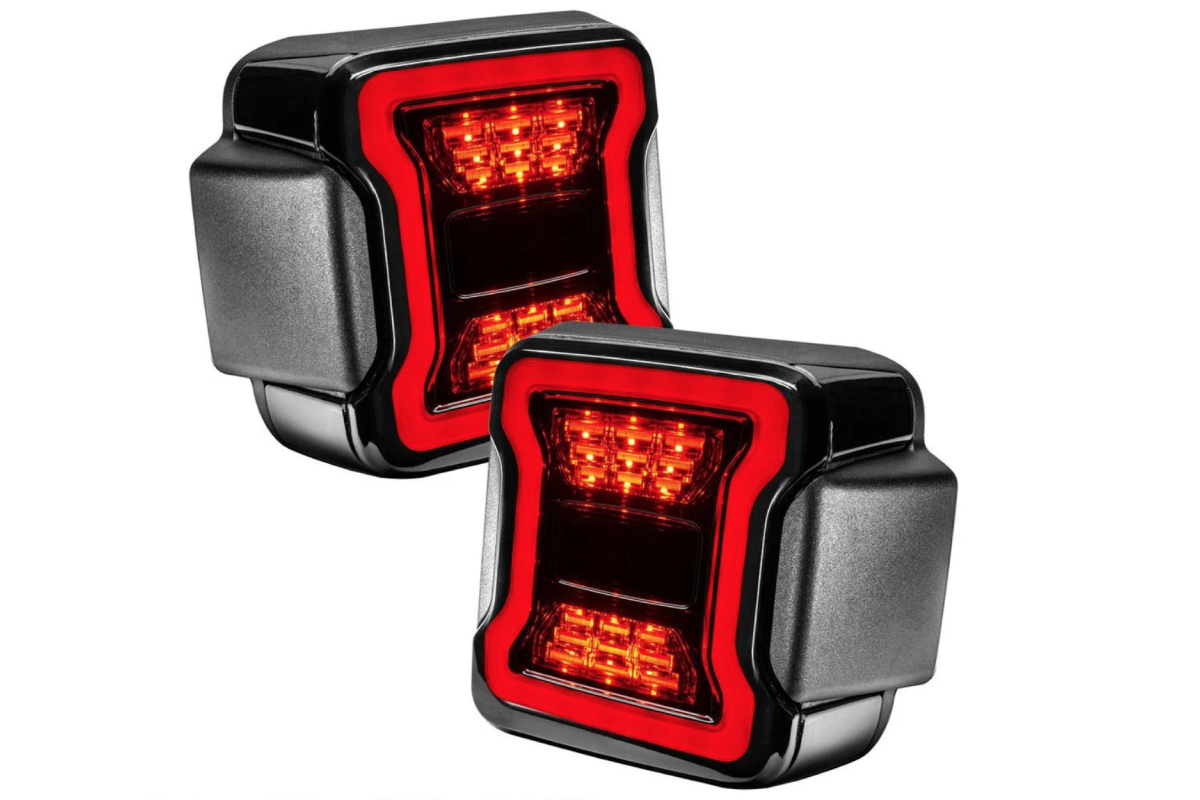 Oracle's Black Series LED Taillights will take your Jeep Wrangler JL to the ultimate level. Featuring an aggressive out design, these LED lights boast a show-stopping hourglass shape with black bezels, and smoked lenses to make your Jeep stand out among the rest. The Black Series JL taillights offer full functionality, including brake lights, reverse lights, driving lights, and turn signals. Basically, these lights have all the functions of the factory setup but look way cooler! What's more, these taillights are sealed from the elements in a durable IP67 waterproof-rated housing with a corrosion-resistant coating, hard-coated polycarbonate lens, premium performance high-output LEDs, heavy-duty solid-state electronics, and CanBus-compatible load equalizers to prevent quick flash and dash warning lights. On top of all that, this taillight assembly boasts a simple plug-and-play installation that connects directly into the factory JL taillight socket.
Features:
Black bezel color with smoked lens
Premium performance high-output LEDs
Corrosion-resistant coating
Superior energy efficiency
Durable IP67 waterproof
Heavy-duty solid-state electronics
Hard-coated polycarbonate lens
Easy plug-and-play installation
Will not cause warning dash light

2. Anzo USA LED Red/Clear Taillights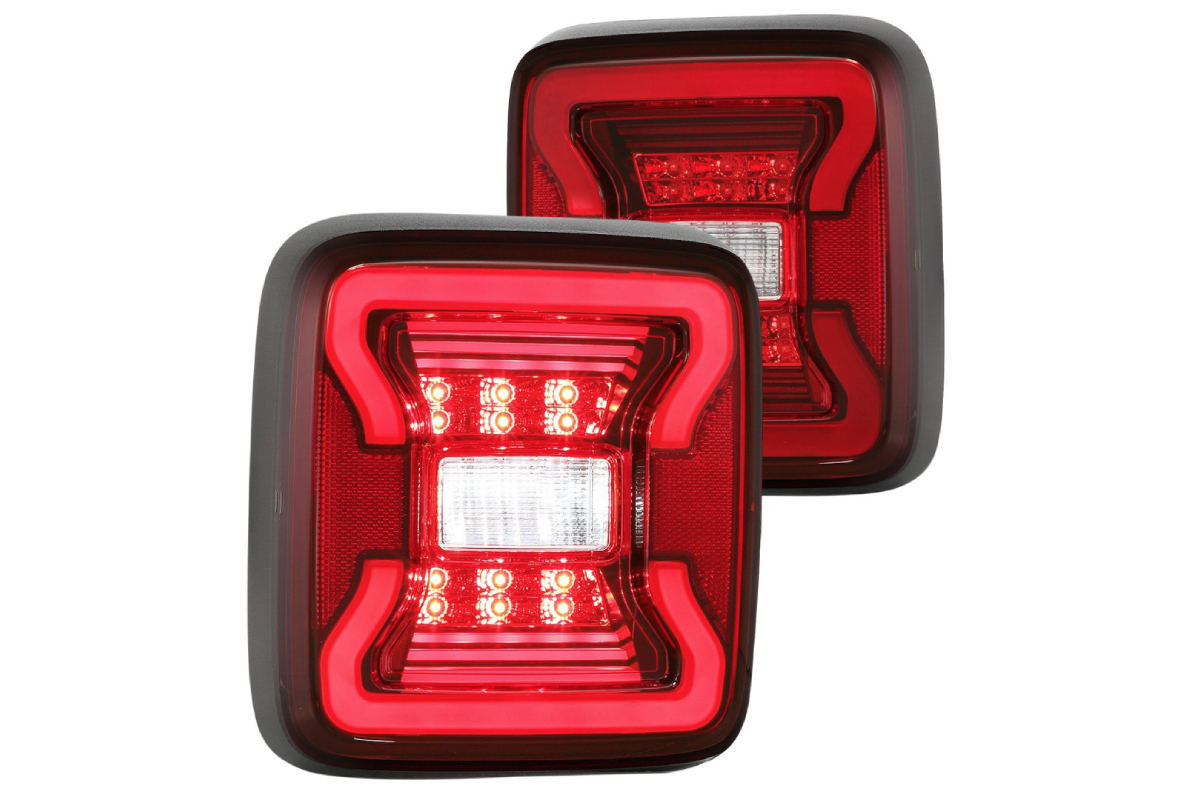 With over 35 years of professional experience, Anzo USA surpasses the competition in terms of quality, innovative styling, and product offerings. All Anzo USA LED taillights are 100 percent street-legal and manufactured to the highest standards to ensure you enjoy the brightest and best-functioning rear lighting assembly on the market. These lights provide enhanced visibility over the stock setup and come with external resistors to regulate the turn signals. This direct replacement taillight set features a red/clear lens for that factory look but with customized styling to elevate your Jeep's appearance. What's more, these taillights are completely sealed to keep out moisture and are fully operational during extremely cold or hot temperatures. This pair uses your Wrangler JL's stock mounting locations and hardware and can be installed using common hand tools as this package is plug-and-play.
Features:
Improves your vehicle's appearance
Rigorously tested for fitment and function
D.O.T. compliant to S.A.E. standards
Uses stock mounting locations/hardware
Simple plug-and-play installation
No modifications required
Sold as a pair

3. Race Sport Lighting Smoked LED Taillights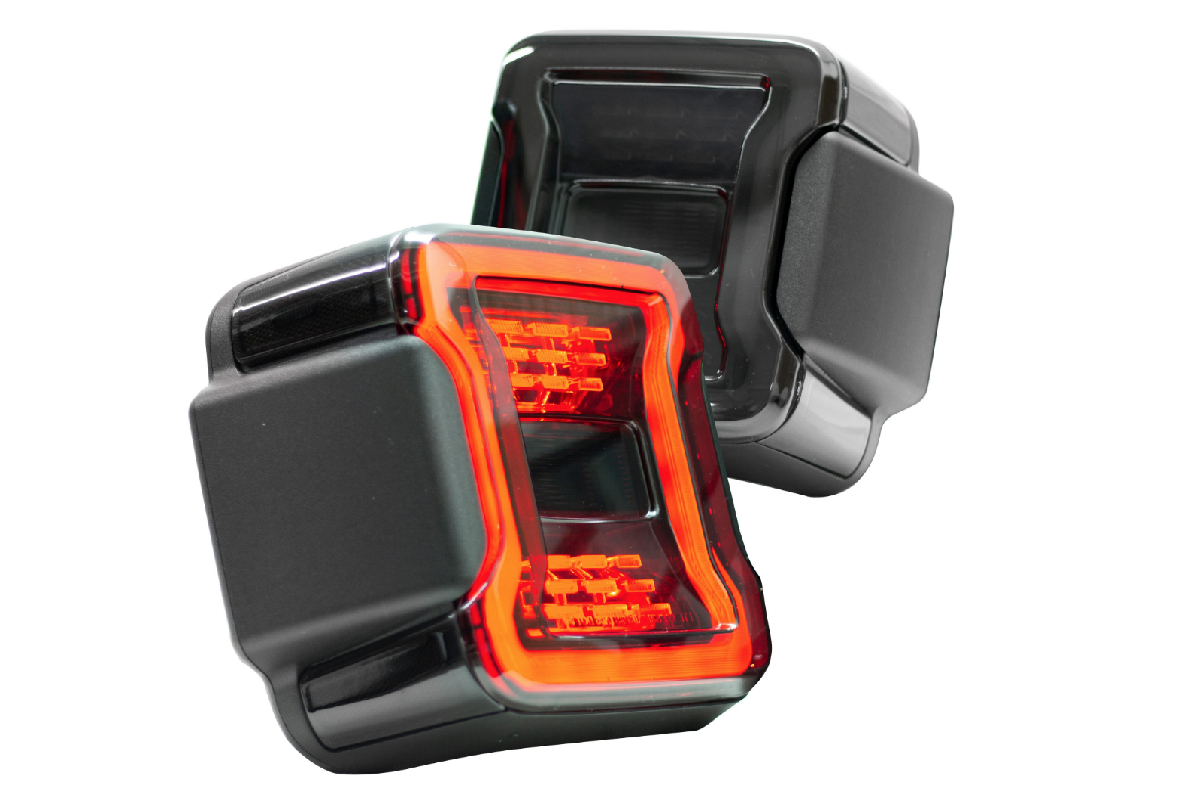 Race Sport Lighting is one of North America's premier suppliers of lighting solutions, catering to the automotive, power sport, and marine markets. With a solid reputation that spans over a decade, Race Sport Lighting is the trusted brand among Jeep enthusiasts for its high-quality lights and durable assemblies that stand up to the elements. This pair of LED taillights from Race Sport spotlights a black housing with a smoked lens for that aggressive appeal. They replace the ordinary factory lights with a high-end upgrade that combines cutting-edge advances in fiber optics and LED technology to offer the ultimate lighting setup. These lights boast an exclusive look to give your Jeep Wrangler JL a rear facelift while shining brighter and consuming less energy than the stock ones. The simple plug-and-play installation will have you on the road in no time, enjoying more visibility with added styling to boot.
Features:
Voltage: DC12V
Reversing light: 5-Watt Rear tail light
Side marking light: 1-Watt
Brake light / Turn signal: 24-Watt
LED Color: Red/white light
Material: PC lampshade
Shade color: Blackened
Service life: 50,000 hours
Complete plug-and-play install

4. Motobilt Jeep JL Round Taillight Conversion Kit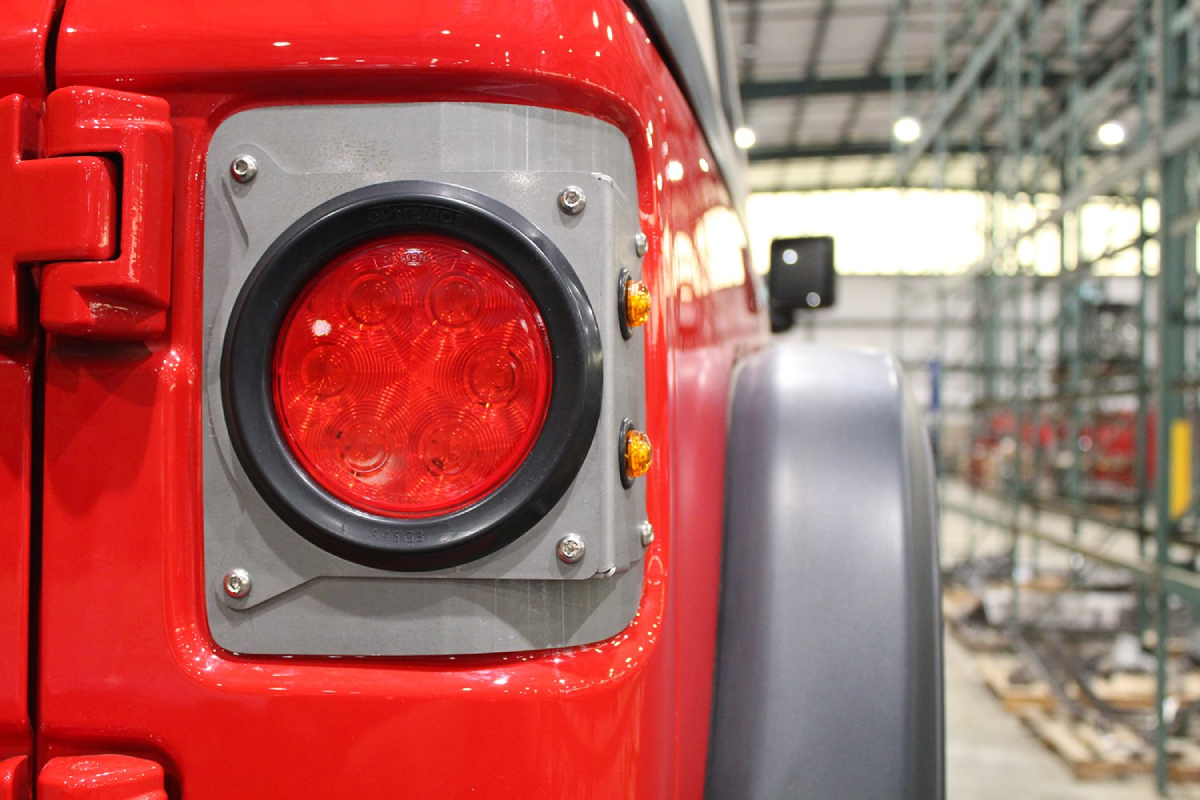 Motobilt, the experts in parts for Jeeps and other off-road vehicles, has developed the first aftermarket steel replacement taillight for the Jeep JL Wrangler (2-door and 4-door). The multi-part assembly allows you to paint the pieces in a color combination that compliments the theme of your Jeep build. This kit also lets you choose between two different types of round tail lights: Surface Mounted or Grommet style. The problem with the factory taillights when off-roading is that they extend up to 2 1/2 inches out from the Jeep JL body. This puts them in a vulnerable position to trail damage as they come in contact with trees and rocks. Motobilt came up with a solution to remove the large factory plastic taillight housing and replace it with a tighter-fitting steel alternative. This setup allows obstructions on the trails to merely slide down the side of the body and not "hook" onto the plastic taillight housing. Not only does this conversion kit solve the big extended issue but it also changes up the styling on your Jeep to make it stand out.
Features:
Allows for surface mount or grommet style tail lights (not included)
Includes two different mounting plates to use with either style of lights
Two 3/4″ round openings for LED grommet style side marker trailer lights (sold separately)
Made from heavy-duty 14 gauge steel construction for the ultimate durability