The innate desire to take a stock Jeep Wrangler JL and add a lift or leveling kit to it is something that has been ingrained into many owner's minds. Not only do these kits offer a more rugged appearance, especially with larger tires, but they also help the Jeep Wrangler attack just about any type of off-road adventure. Most trucks are made with a rake and the rear sits a bit higher than the front so that it is level when fully loaded. Leveling kits improve the factory look of the truck by raising up the front (usually about two inches) to match the rear when unloaded. Lift kits consist of more components and allow for more lift than leveling kits do as they basically require a new suspension system. No matter which one you choose, you will enjoy increased a bolder aesthetic increased ground clearance, larger tire accommodation, and enhanced performance. Here, we have compiled a list of the top 5 best leveling kits and lift kits on the market for the Jeep Wrangler JL. Should you have any further questions or need help to decide which is right for you, feel free to reach out to us by phone at 1-480-966-3040 or via email at sales@vividracing.com.
1. Anvil Off-Road 2.5-Inch Leveling Kit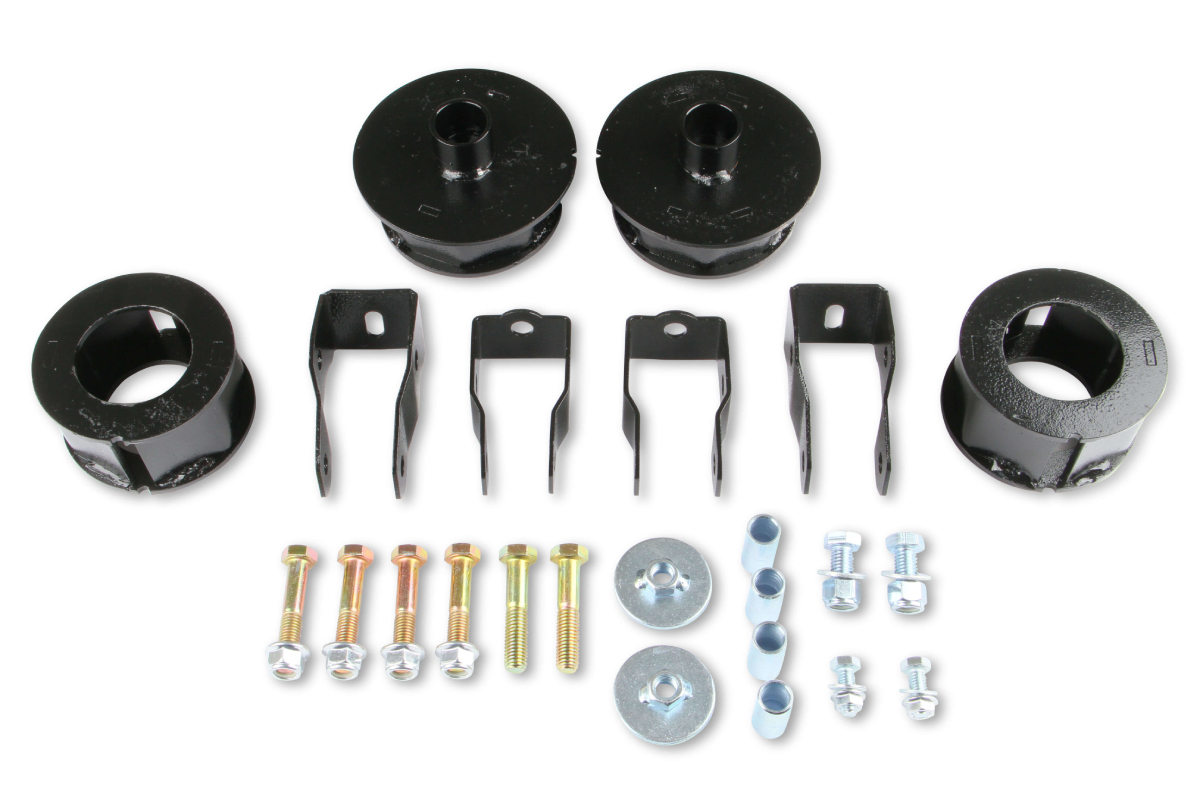 Anvil Off-Road is an aftermarket company operating under the Holley name, one of the most well-respected brands in the automotive parts industry. The company specializes in producing off-road parts for Jeep, trucks, and UTVs. The Anvil Off-Road 2.5-inch leveling kit provides extra clearance for up to 35-inch tires on the new Jeep Wrangler JL & JL Unlimited – including the Rubicon. By leveling out the front of your Wrangler with the rear, you will improve the appearance of your rig while maintaining factory-like ride quality. At the same time, you will enjoy increased ground clearance and additional space for larger tires. The package includes front and rear powder-coated steel spacers, shock extensions, brake line brackets, spacer retainers, and hardware. The bolt-on kit is simple to install without any cutting or trimming and can be completed in about 3 hours.
Features:
Front and Rear Lift: 2.5″
Improves the look of your Jeep
Adds clearance for larger tires
Works with stock springs and shocks
Includes all hardware and instructions
Maintains factory ride quality
Levels the front of the vehicle with the rear
Simple bolt-on install: No cutting (about 3 hours)
Recommended Tire Size: up to 35″ x 12.5″

2. Belltech 4-Inch Suspension Lift Kit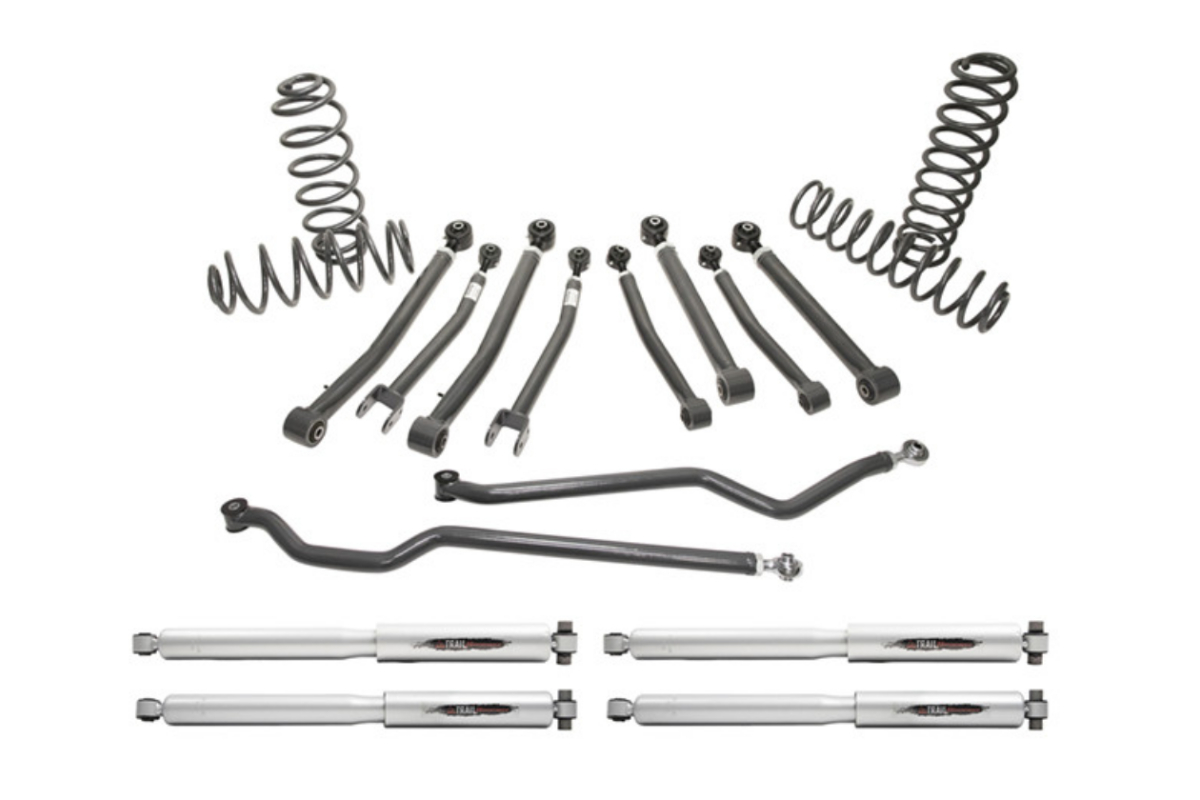 The new Belltech 4-inch Suspension Lift Kit System for the Jeep Wrangler JL is precision-engineered to provide the highest-quality lift to your truck without having to sacrifice its ride quality. This kit allows your JL to be lifted a full 4 inches while riding and handling great. It includes adjustable upper and lower front and rear control arms to allow for ultimate flex and maximum droop travel over almost any obstacle. What's more, the included extreme angle Heim joints are made with superior durability and are completely rebuildable. This kit was engineered to correct roll center for increased stability by providing heavy-duty 1.75-inch adjustable front and rear track bars. These advancements not only improve your Jeep's overall ride comfort but places the track bar more horizontal and includes a roll center correcting rear heavy-duty track bar bracket as well.
Just like with many of the other Belltech kits, you can expect to receive the highest-quality front and rear Trail Performance twin-tube shock absorbers on the market. These Trail Performance twin-tube shocks have 35mm performance rebound and compression valves that will decrease cavitation and hysteresis. Valving was also custom-tuned specifically for the JL platform with a large 55mm diameter shock body and OEM style bushings. Teflon guide bushings are also included to provide less friction and added longevity.
Features:
2″ diameter adjustable upper and lower front/rear control arms
Allows for ultimate flex and maximum droop travel
Extreme angle Heim joints (serviceable)
4″ Front/Rear Dual Rate coil spring
Front and rear sway bar quick disconnects
1.75″ diameter adjustable front/rear track bar
Roll center correcting rear track bar bracket
Front Trail Performance twin-tube shock absorbers
Rear Trail Performance twin-tube shock absorbers
Maximum tire diamater: 35″
Recommended wheel backspacing: 4.5″ – 4.75″

3. DV8 Off-Road 2.5-Inch Lift Kit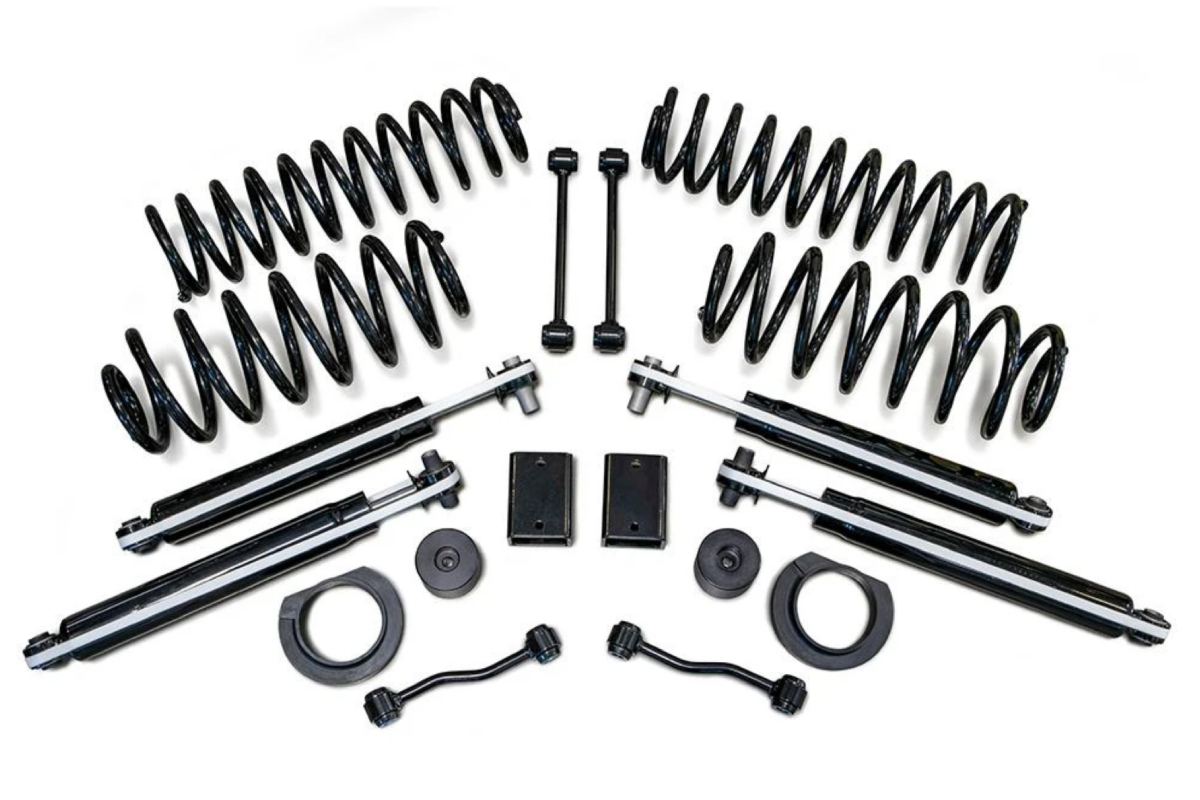 DV8 Off-Road's mission has always been to produce the best-looking, most durable, and functional aftermarket Jeep products on the market. The DV8 Off-Road 2.5 Inch Lift Kit for the Wrangler JL was expertly designed for those who want to gain additional ground clearance and accommodate 37-inch tires without compromising the factory ride. DV8 accomplished this with longer springs and all of the necessary components to correct the suspension geometry for the lift. DV8 monotube shocks are dialed in for increased articulation and a factory-like ride. The package includes progressive rate coil springs, extended sway bar end links, and front and rear bumpstop extensions. Each and every part was form-fitted, CAD designed, laser-cut, CNC machined, bent, welded, ground, and finished with DV8 pride in addition to being trail tested to guarantee the highest levels of performance and durability.
Features:
Provides 2.5 inches of lift
Clears 37-inch tires
Easy bolt-on installation
Vehicle-specific spring rates
Stock driveline compatible
DV8 Progressive rate coil springs
Extended sway bar end links
Front and rear bumpstop extensions

4. Daystar Comfort Ride 3/4-Inch Lift Kit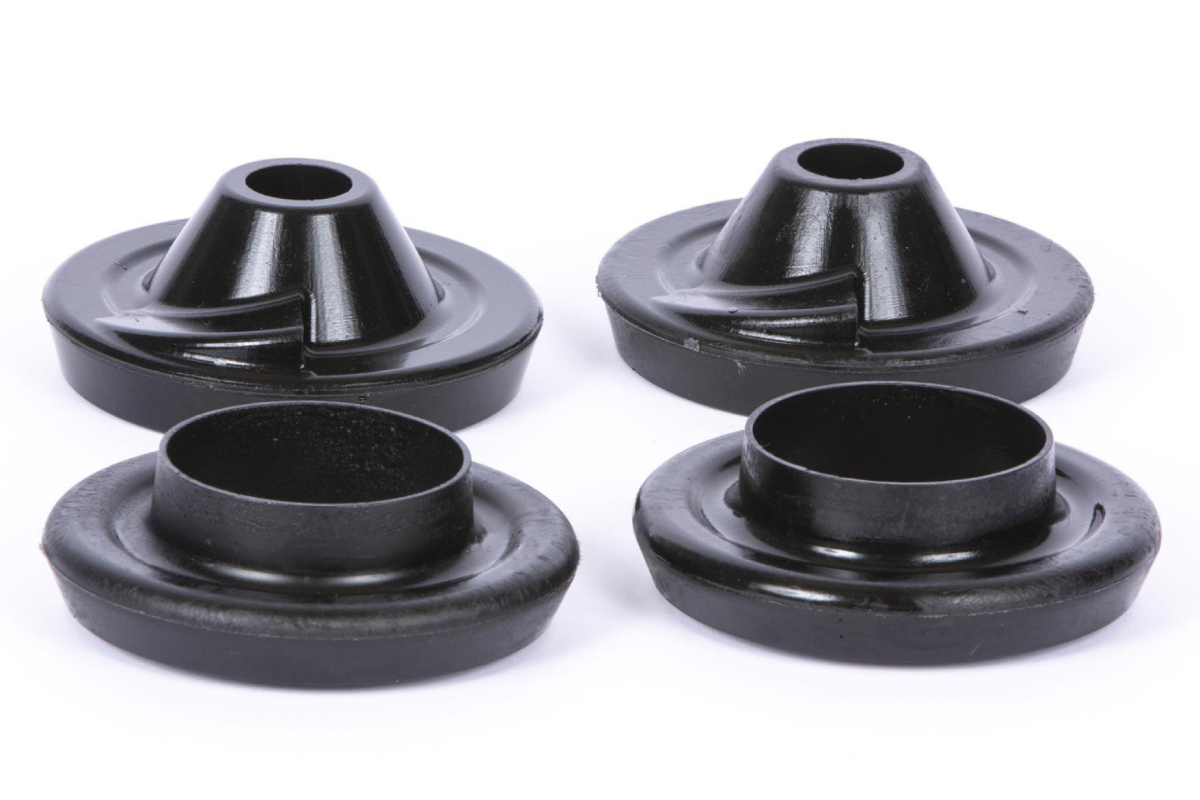 Daystar Comfort Ride Lift Kits are designed to raise your vehicle while leaving the factory stance on your vehicle. This lift kit is designed for the Jeep Wrangler JL and includes heavy-duty, progressive-rate, polyurethane spacers. These spacers will lift your Jeep to allow for larger tires while maintaining the stock ride quality and load-carrying capacity. Adding front and rear coil spacers are the simplest way to add a bigger wheel-and-tire package on your Jeep. Daystar's 3/4-inch Comfort Ride Coil Spring Spacers for the Jeep Wrangler JL are a perfect front and rear lift method that works within the factory's design parameters to increase ride height while maintaining the performance and reliability of your rig.
This kit is a simple solution to improve ride quality, gain more ground clearance, and accommodate larger wheels – all while reducing noise and vibration while you drive. This kit is also a safe and affordable way to lift your Jeep using merely coil springs. All Daystar Comfort Ride Lift and Leveling Kits are backed with a lifetime, no questions asked, Go Everywhere Warranty. The coil spring spacers are made of super durable polyurethane, so when installed there will be no metal on metal contact. All the necessary hardware and instructions are included in this package to make the installation process a seamless one.
Features:
Engineered to raise your vehicle 3/4 inches
Maintains your Jeep Wrangler's factory ride quality
No stud cut design for an easy, 1-2 hour install
Manufactured from high-density, progressive, polyurethane
Lifts vehicle without sacrificing ride quality or load carrying capacity
Made in the USA with Daystar's Go Everywhere Warranty

5. Quadratec 1.75-Inch Spacer Lift Kit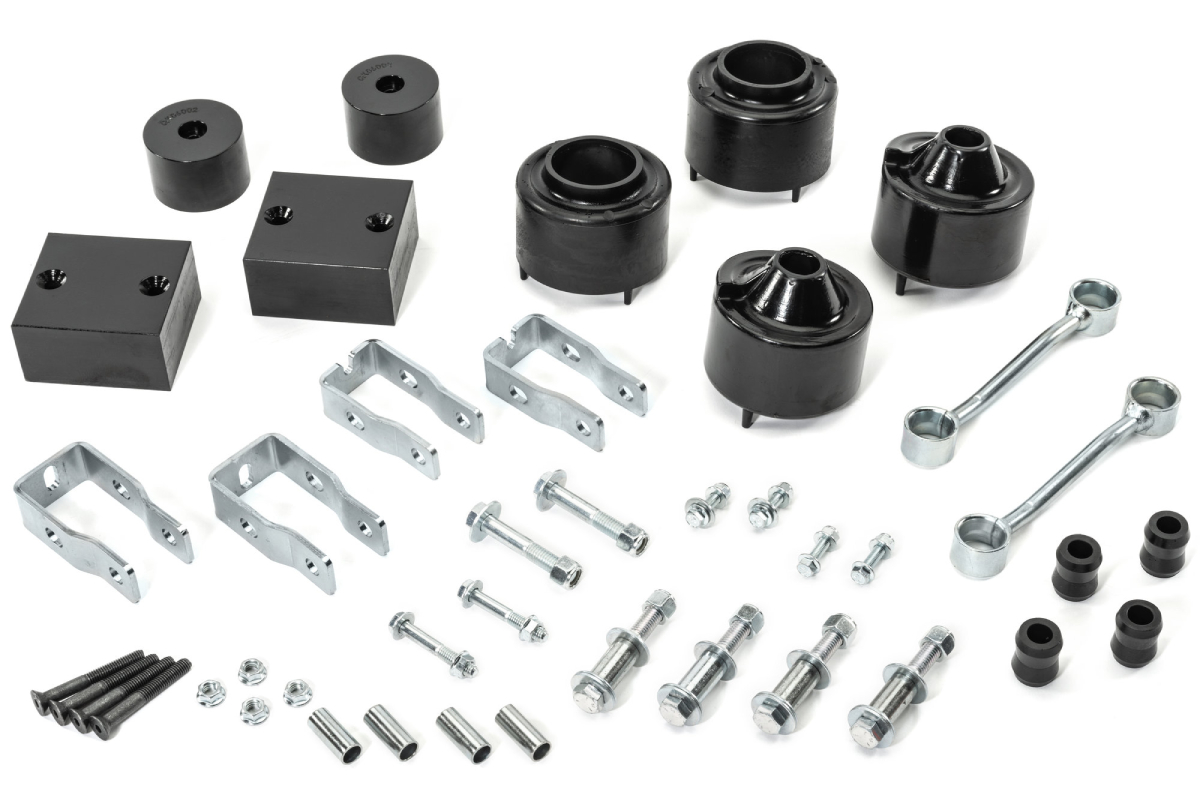 The Quadratec 1.75-Inch Spacer Lift Kit for the Jeep Wrangler JL (2-door and 4-door) will provide the clearance you need to run 37-inch tires on Rubicon models and 35-inch tires on non-Rubicon models. This easy-to-install spacer kit features shock extensions that let you reuse your Jeep's factory shocks. Unlike most spacer lifts, this one includes extensions to save on cost while retaining the stock ride quality. By keeping the JL's OEM springs and shocks, the Quadratec spacer lift kit maintains your Jeep's ride and handling characteristics to deliver optimal performance without sacrificing any of it for the lift. With a 2-inch spacer in the front and a 1.75-inch spacer in the rear, this spacer lift kit reduces the factory positive rake. With only minor drilling required, the majority of this kit is merely bolt-on.
Features:
1.75 in. Front Spacer Pair
1.75 in. Rear Spacer Pair
Front Sway Bar Link Pair
Front 2in. Bump Stop Pair
Rear 2 in. Bump Stop Pair
Front Shock Extension Pair
Rear Shock Extension Pair
Installation Hardware